Nabana no Sato: Spectacular Winter Illumination 2022-2023
Nabana no Sato Winter Illumination: Enjoy the Spectacular Light Displays in Japan!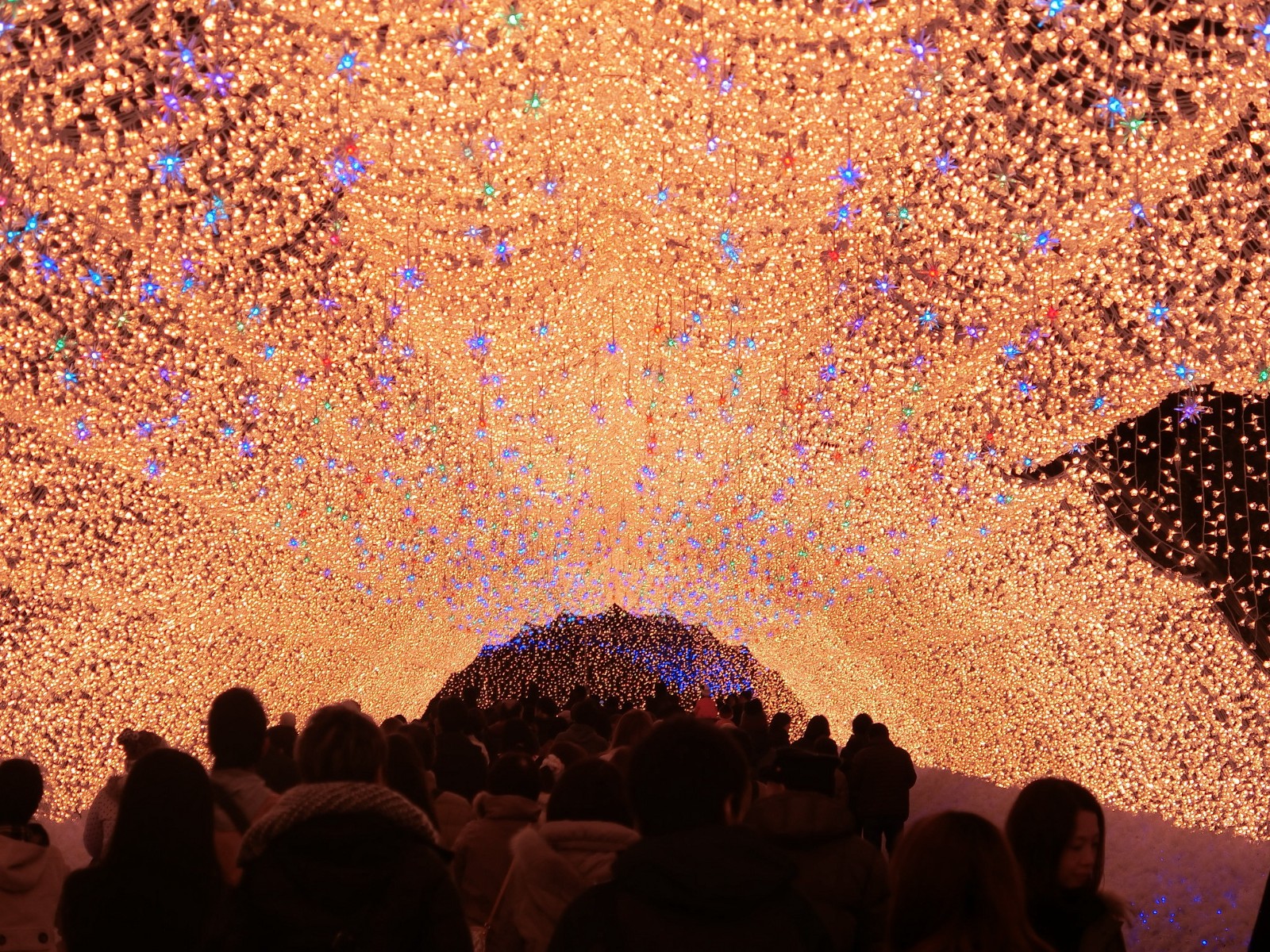 One of the things that make Japan such an attractive country to visit is the night scenery. Especially during wintertime, when you can find illuminated displays throughout big cities around the country. There are various famous places in Tokyo for this purpose. But did you know that near the City of Nagoya, there's one of the largest winter illumination spots in all of Japan?
Nabana no Sato (なばなの里) is a botanical garden/theme park in Kuwana City, in Mie prefecture (Tokai Region). People from all around the world come to see the large variety of flowers and vegetation. But what really makes this place so popular within visitors is its illuminating installations.
What makes Nabana no Sato so special in comparison with other illumination events in Japan? The answer is simple. It is its vast scale. Here, we will introduce some of the most attractive things about Nabana no Sato and hopefully, it will make you consider visiting the Tokai Region next time you plan in visiting Japan.
1. There are 7 different illuminated installations
Over 8 million LED lights are used to illuminate the different installations within the 210,000 square meter-area that is Nabana no Sato Winter Illumination. The illuminated areas can be divided into 7 different parts, which include; The main area (which has a theme that changes every season), The great river of lights (which is a river 5m in width and 120m in length, all covered on the surface by lights), and 2 Tunnels of Lights (both which are over 100m long, completely illuminated by flower-shaped LED lights).
All installations have their own charm, but they all have one thing in common; they are all thoughtfully created in a way that there is a good balance between the lights and nature.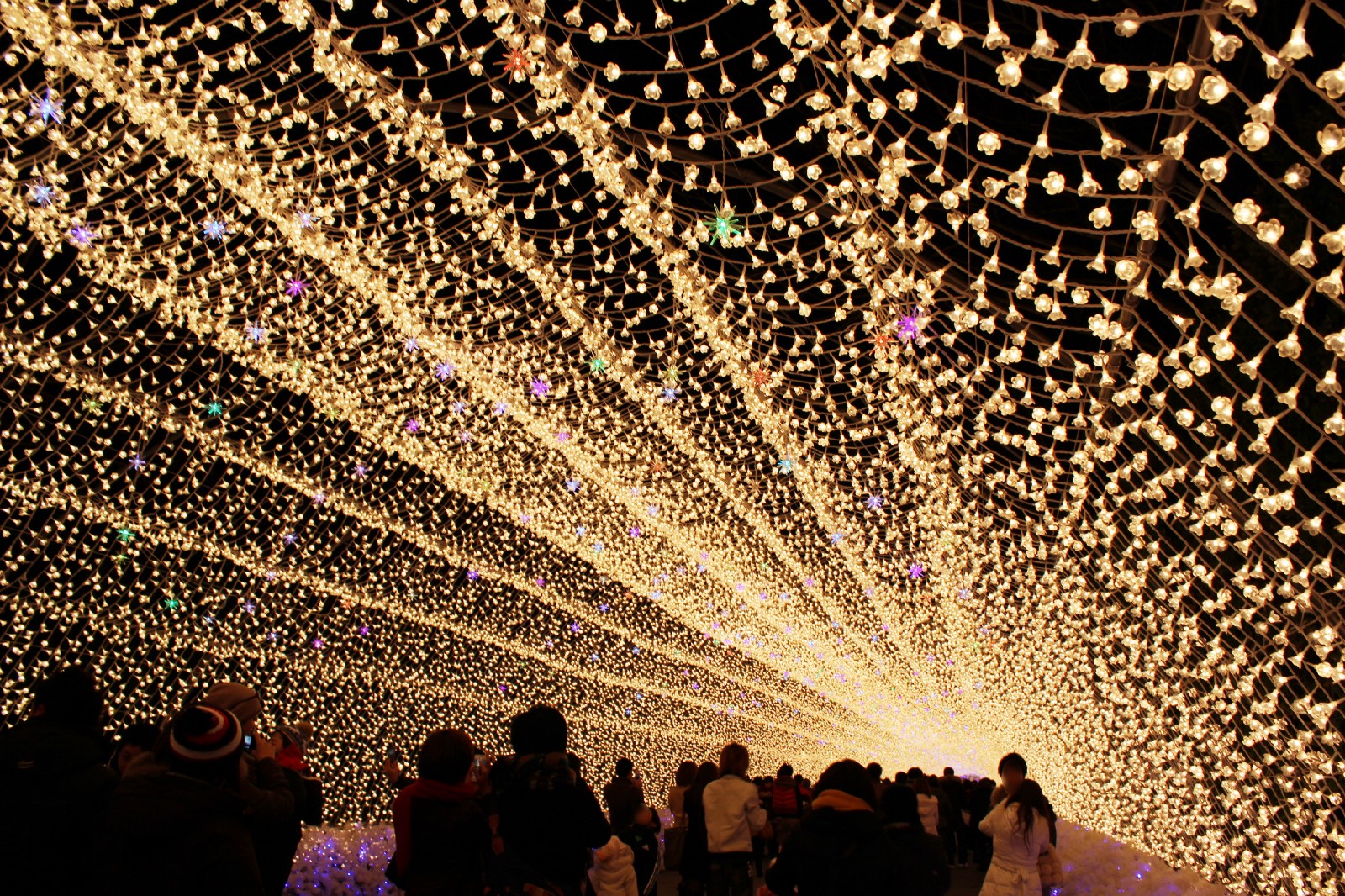 Especially, the main area is what most people are looking forward to when visiting the park. The main area consists of a display of 30m in height and 155m wide, covering an area of 26,400 square meters. Each LED light is lit in a specific way so that the entire thing looks like a picture with movement.
The 2019–2020 season's main theme was "SAKURA ~ The beauties of nature ~". It contained 12 different views of cherry blossoms as they changed throughout the changing seasons.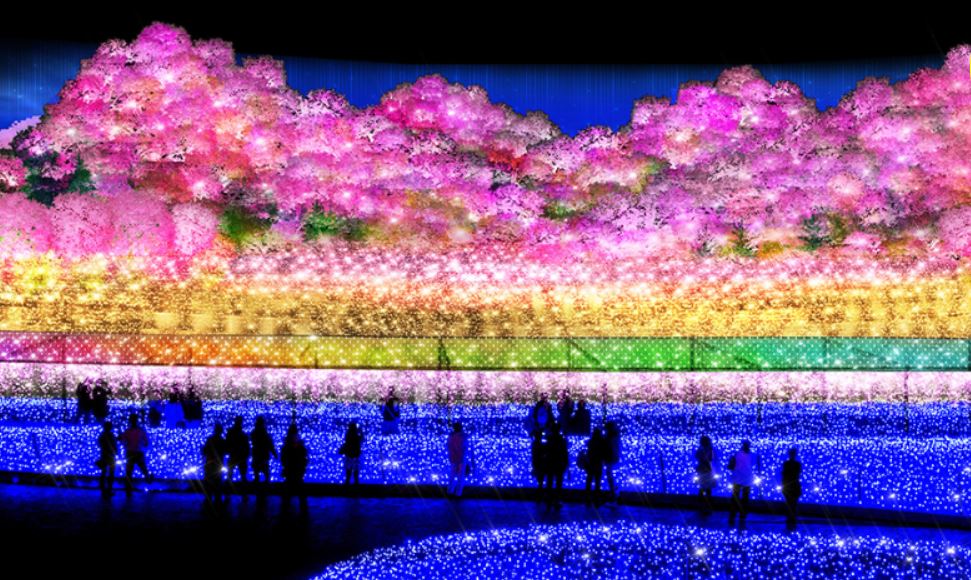 2. Long seasons and easy access
The light illuminations season of Nabana no Sato is from mid-October all the way until the first week of May. This gives an opportunity for more people to come and see the installations more in comparison to other light illuminations in Japan.
Another attractive thing about this place is its easy accessibility. You would think such a large-scale theme park should be far from the city, but It only takes about 35 minutes from Nagoya station by train or direct bus (approx 30 minutes by Meitetsu Bus).
3. Various restaurants, shops, onsen, etc. to enjoy.
Light shows and illuminating installations are not the only attractive point in this theme park. You will be able to find a variety of restaurants throughout the park. Japanese food, Chinese food, western food, locally brewed beer, elegant cafe's, you name it. Also, you will find various shops, including a bakery, a souvenir shop, and a flower market.
And if you feel tired of walking around the park, or just want to warm up before leaving, there's also an Onsen (Hot springs) within the park where you can rest and recharge energies.
4. Watch the stunning scenery with a birds-eye view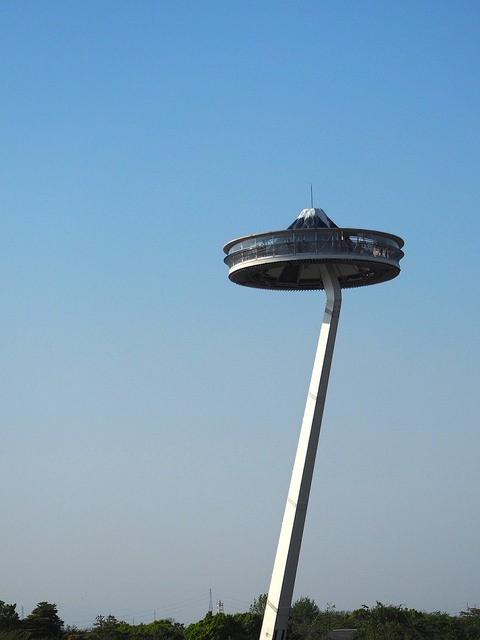 In the middle of the theme park, you will find the "Island Fuji", which is an observation platform that rises to 45 meters above the ground. There, you will have a 360-degree panorama view, making it possible for you to look down at the entire theme park.
Being able to look down at illumination displays is not something you are usually able to do at other places. Surely you won't want to miss out on this opportunity!
5. Don't forget this is still a botanical garden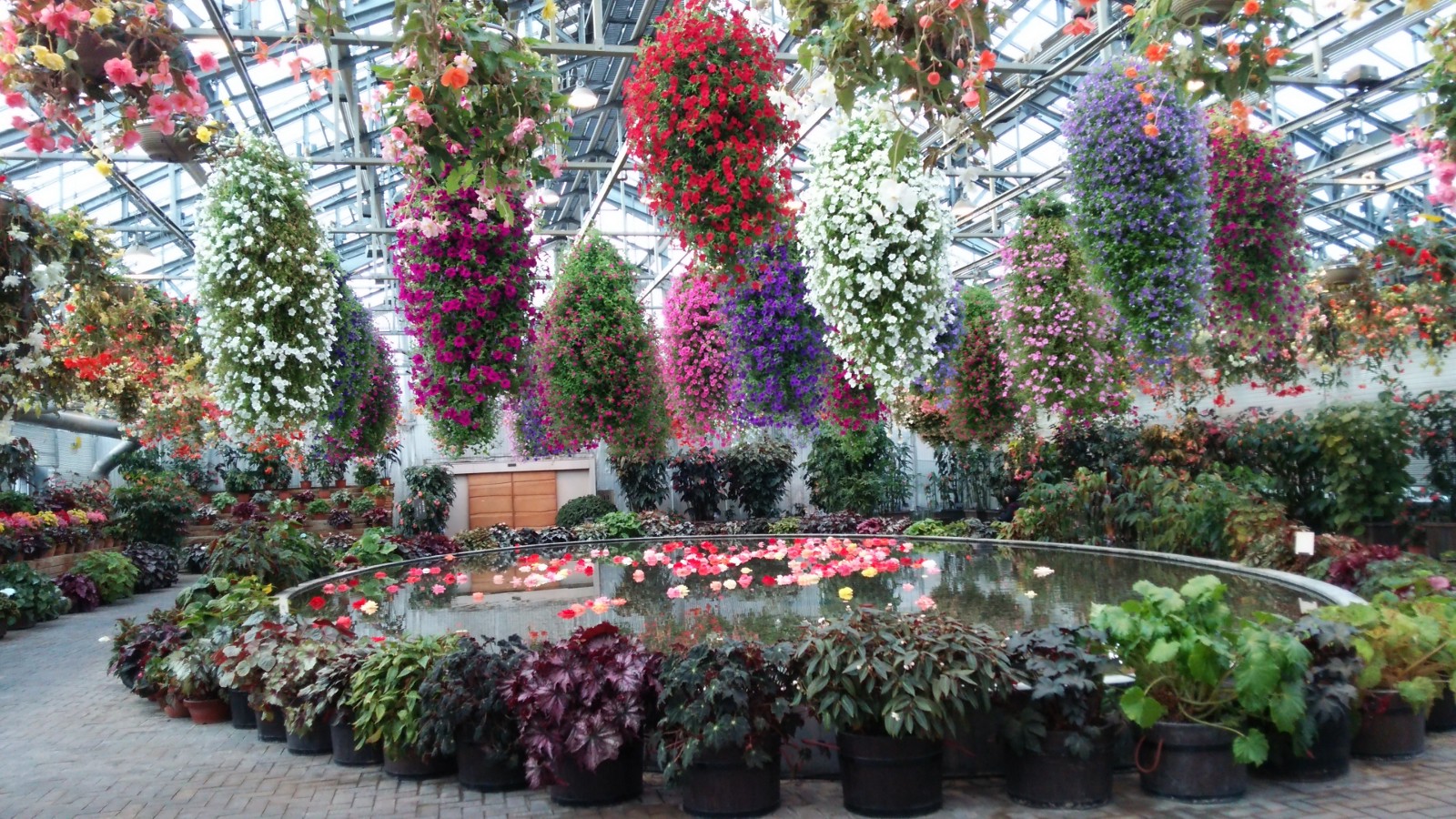 The downside of going to see illumination displays is that you can only enjoy it during nighttime. The good thing about Nabana no Sato is that, even though most people come to visit specifically to watch the lights, this place is not only enjoyable when it gets dark.
If you come during the daytime, you will still have lots of things to do as this is one of the largest botanical gardens in the Tokai region. The flower park is home to various colourful flower gardens including rose, hydrangea and begonia gardens.
Map: https://goo.gl/maps/JQZGrJYPqm92
Access:
35 minutes from Nagoya station (25 minutes by Kintetsu express train to "Nagashima Station" + 10 minutes on a non-stop direct bus to Nabana no Sato)
*For more detailed information click the following link: https://www.nagashima-onsen.co.jp/nabana/illumination/index.html
Date:
22 October 2022 to 31 May 2023
*The illuminations will not be canceled when there's rain. In fact, the illuminations look more beautiful reflecting on the wet ground.
Hours:
Mondays to Fridays: 10:00~21:00
Saturdays, Sundays, Holidays: 10:00~22:00
*Illumination displays start about 10 minutes after sunset.
Website: https://www.nagashima-onsen.co.jp/nabana/illumination/index.html
---
As you can see, Nabana no Sato is not only a big scale flower garden where you can enjoy the numerous large illuminating installations. It also offers many other things for you to do to make sure you spend an unforgettable time with whomever you come to visit.
Whether you come with all of your family or with that special someone, Nabana no Sato is certainly a place that will make your visit to Mie prefecture totally worth it.
For more information about spectacular winter light festivals/illuminations in Japan, please check out the links below!
▽Related Articles▽
▼Editor's Picks▼
---