Converse x Nissin Cup Noodles Sneakers
Converse × Cup Noodle collaboration sneakers to be released in January 2023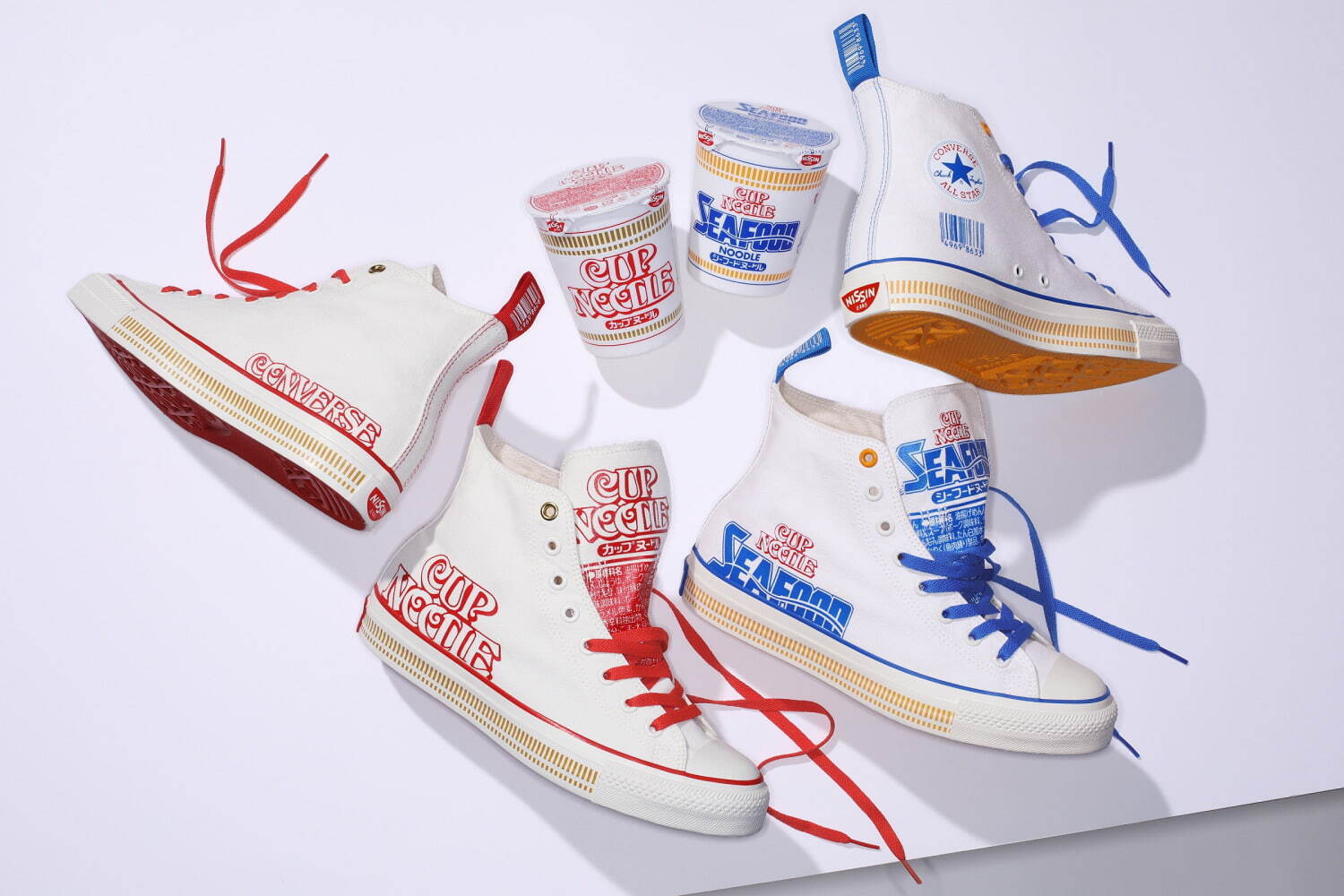 The Japanese food company Nissin Foods is one of the biggest food companies in Japan and one of its star products is cup noodles. The instant ramen (noodles) that was invented in Japan in the 1970s has been a real life saver for many people. Inexpensive, quick and easy to prepare, it is ideal for when you don't have time to cook or are too tired.
The person who invented instant cup noodles was Momofuku Ando, founder or Nissin and its brand "Cup Noodles" is the most recognisable cup noodles in the world and a top selling product.
In January 2023 Converse, the famous American footwear brand and Cup Noodle by Nissin Foods are collaborating to create a new original and limited line of sneakers! Based on Converse's new standard "All Star (R)", sneakers with and unique design of Cup Noodles will be available in two types: a high-cut model and a low-cut model.
The High cut model "All Star Cup Noodle HI" is an All Star with a high-function insole incorporated, It also includes a detailed design that resembles the package of Cup Noodle such as the logo, barcode, ingredients table, and even the iconic golden strips at the side.
The design features the iconic Converse logo with the logos of Cup Noodle and NISSIN. In addition to standard red Cup Noodle version, a blue Cup Noodle Seafood Noodle version will be also available.
In the other hand, All-Star (R) Cup Noodle slip OX, a low-top version of the Converse All-Star, come covered in a monotone color scheme with package graphics!
Converse x Nissin Foods Cup Noodle
Release date: Around January 2023
All Star (R) Cup Noodle HI: 13,200 yen
Color: Cup Noodle, Seafood
Size: 22.0-28.0, 29.0, 30.0 cm
All Star (R) Cup Noodle Slip OX: 13,200 yen
Color: Black
Size: 22.0-28.0, 29.0, 30.0cm
---
How cool?! For more special collaborations or shopping information in Japan, you can check these articles too!
▽Related Articles ▽
▼Editor's Picks▼
---