Best Sakura Food and Drinks in Japan 2023
Best Cherry Blossom Food and Drinks in Japan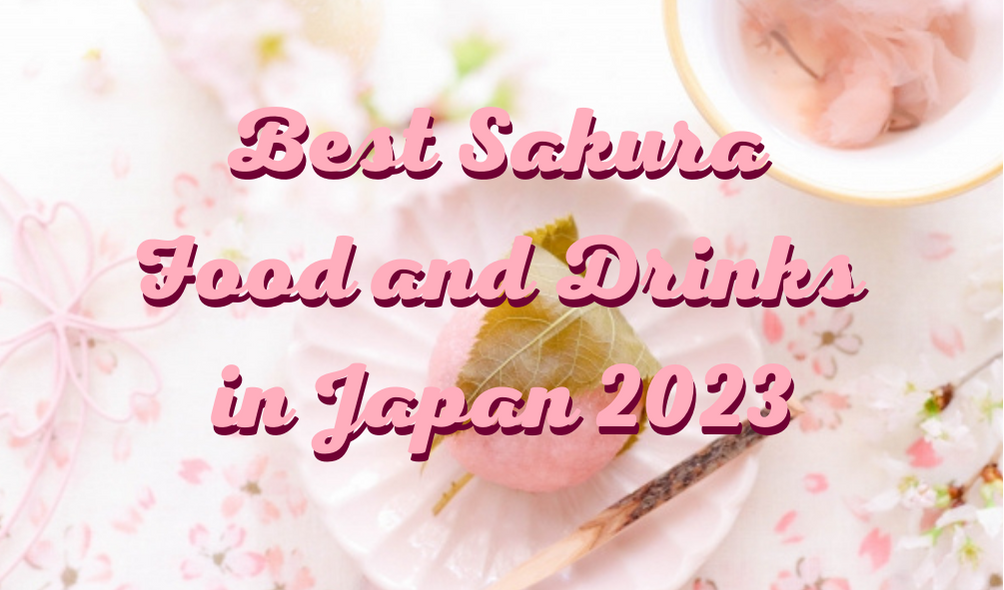 Cherry blossom season (called sakura in Japanese) is no doubt the peak season in Japan and the most awaited moment for many. Especially for many companies, which launch special products only available during Spring in Japan. Cherry blossoms are beautiful but ephemeral and last a breath. Fortunately in Japan they are several ways you can enjoy cherry blossoms besides from viewing them! Different food brands, restaurants and shops release sakura-flavor food and drinks every year for a limited time.
There are numerous products and some of them are highly popular. In this article I'd like to introduce some of the best cherry blossom food and drinks released in Japan this Spring 2023. If you are in Japan in sakura season don't miss the chance to treat yourself with delicious and adorable cherry blossom food and beverages, only available this time of the year!
---
The best selling and most popular sakura product is the Starbucks Japan Sakura collection released that includes merchandise, drinks and food extremely popular among Japanese and foreigner. This year the Sakura drinks are Sakura Blooming Saku Saku Frappuccino & Sakura Blooming Saku Saku Matcha Frappuccino (cold) and Sakura Soy Latte (hot).
For more details about Starbucks Japan Sakura Collection 2023 check this article:
STARBUCKS RESERVE® ROASTERY TOKYO is the largest Starbucks store in Japan, located in Meguro, Tokyo. Yearly they launch a special cherry blossom themed menu featuring drinks, pastries and merchandise, different from the ones in Starbucks Japan.
For more details about 2023 Sakura Collection of STARBUCKS RESERVE® ROASTERY TOKYO
-Starbucks Chilled Cup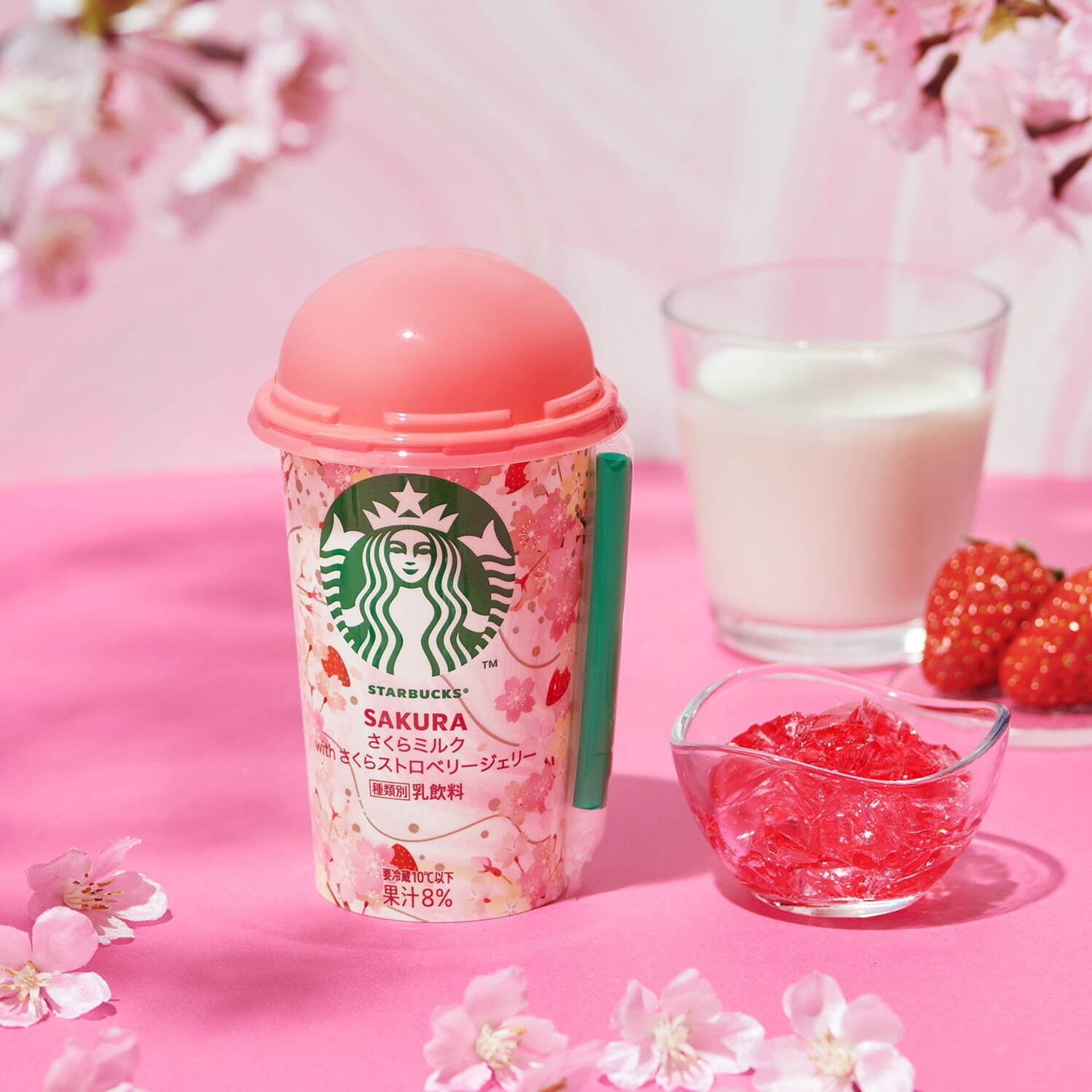 In 2023 the yearly spring-edition of Starbucks Japan Chilled Cup series is Sakura Milk with Sakura Strawberry Jelly, the creamy milk is combined with the slightly sweet and gentle aroma of cherry blossoms and sakura strawberry jelly to create an unique texture with a gorgeous, spring-like flavor. The product is available at convenience stores nationwide from early February for a limited time.
Price: 237 yen
-ROYCE
Hokkaido famous chocolate maker Royce will sell spring-only cherry blossom sweets for a limited time and in limited quantities at Royce's directly-managed stores and other locations. The lovely Sakura Sweets have a soft cherry blossom aroma and light pink and white color.
The collection includes their top selling product, nama chocolate in a Sakura Fromage version made with strawberry-scented white chocolate combined with the taste of cherry blossoms, cream cheese and strawberry liqueur. Another popular product is Sakura Berry & Sakura White Chocolate, a spring-like chocolate with a cherry blossom pattern on its surface. The set includes two types of chocolates: Sakura Berry, a strawberry-scented chocolate with a gorgeous cherry blossom flavor and Sakura White, a white chocolate with the flavor of cherry blossoms.
Other items in the lineup include almond chocolate Sakura Berry & Sakura White, which is made by coating savory roasted almonds with two types of cherry-flavored chocolate, and praffeille chocolate Sakura Cube, which contains a cherry sauce with cherry blossoms added. The collection also includes Sakura Berry & Sakura White almond chocolates, which are made with roasted almonds coated with two types of cherry-flavored chocolate, and Sakura Cube praffeille chocolates, which contain a cherry sauce with cherry blossoms added.
A chocolate bar Sakura Berry Cherry & Almond that allows you to enjoy the sweet and sour taste of cherry blossoms, cherries and almonds is also available. The dried cherries and almonds sprinkled generously are a key point. Mellow white chocolate is combined with strawberry powder and cherry leaf flavor to create an expressive chocolate bar with an appealing aroma of cherry blossoms, sweet and sour fruitiness, and the savory taste of almonds.
Raw chocolate: 864 yen
Chocolate board Sakura Berry Cherry & Almond: 648 yen
Sakura Berry & Sakura White Chocolate: 999 yen
Royce Sakura Chokomann: 1,026 yen
Almond chocolate Sakura Berry & Sakura White: 1,242 yen
Plafille chocolates Sakura cubes: 918 yen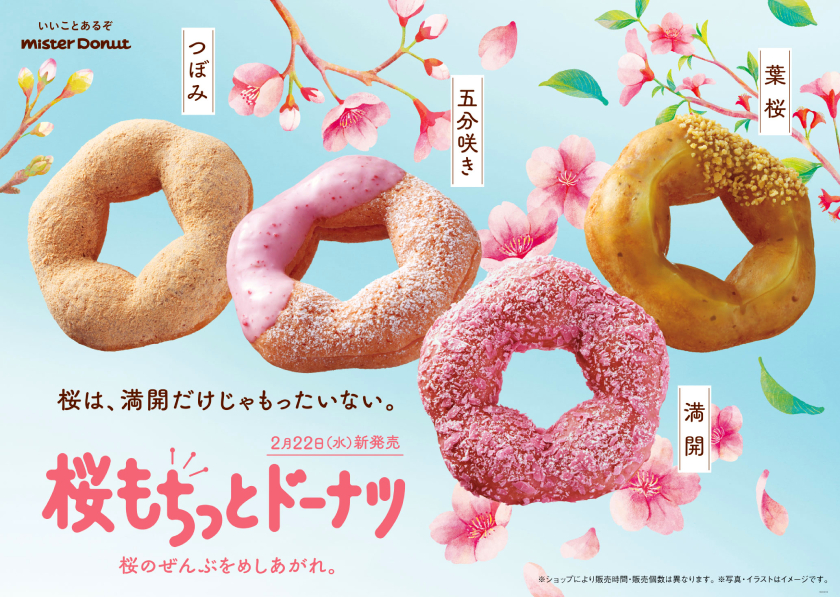 Mister Donut sakura collection doughnuts have become an annual Spring tradition. Sakura Mochitto Doughnut, a mochi-textured cherry blossom flavor doughnut is back again this year available with 4 different toppings that represents the transition of cherry blossoms from buds, to half-bloom, to full-bloom and then to leafy cherry blossoms.
Check the article for more information about this serie.
-Q-pot CAFE
Located in Harajuku, Tokyo, Q-Pot is a fashion brand that makes candy/cake-shaped jewerly, accessories, bags, clothes etc. Q-Pot Cafe born with the idea of bring their jewelry designs to reality. For Spring 2023 the delightful and photo-worthy menu features sakura meringue and sakura mont blanc, with a slight cherry blossom tint.
The cute Obake-chan (mini-Ghost) is made of strawberry mousse, whipped cream and chocolate crunch are wrapped in soft gyuhi (traditional Japanese sweet made of glutinous rice).
Q-pot CAFE Spring Menu ~SAKURA~
Period: Starting from March 1st (Wed)
Hours: 11:00-19:00
Price: 2,100 Sakura Mont Blanc Plate
Tully's Coffee Japan collaborated with the famous cartoon characters Tom and Jerry last year for the Spring edition, creating the Tom and Jerry Sakura Dance Special Coffee Time. The collaboration it was a big success so this year they are repeating with a different theme, Special Coffee Time with Cherry Blossoms and Strawberries. The collection offers a rich variety of beverages softly scented with cherry blossoms and strawberries, as well as food and goods that incorporate the world of Tom and Jerry.
You can check more details about Tully's Coffee x Tom and Jerry Collection 2023 here:
-Lindt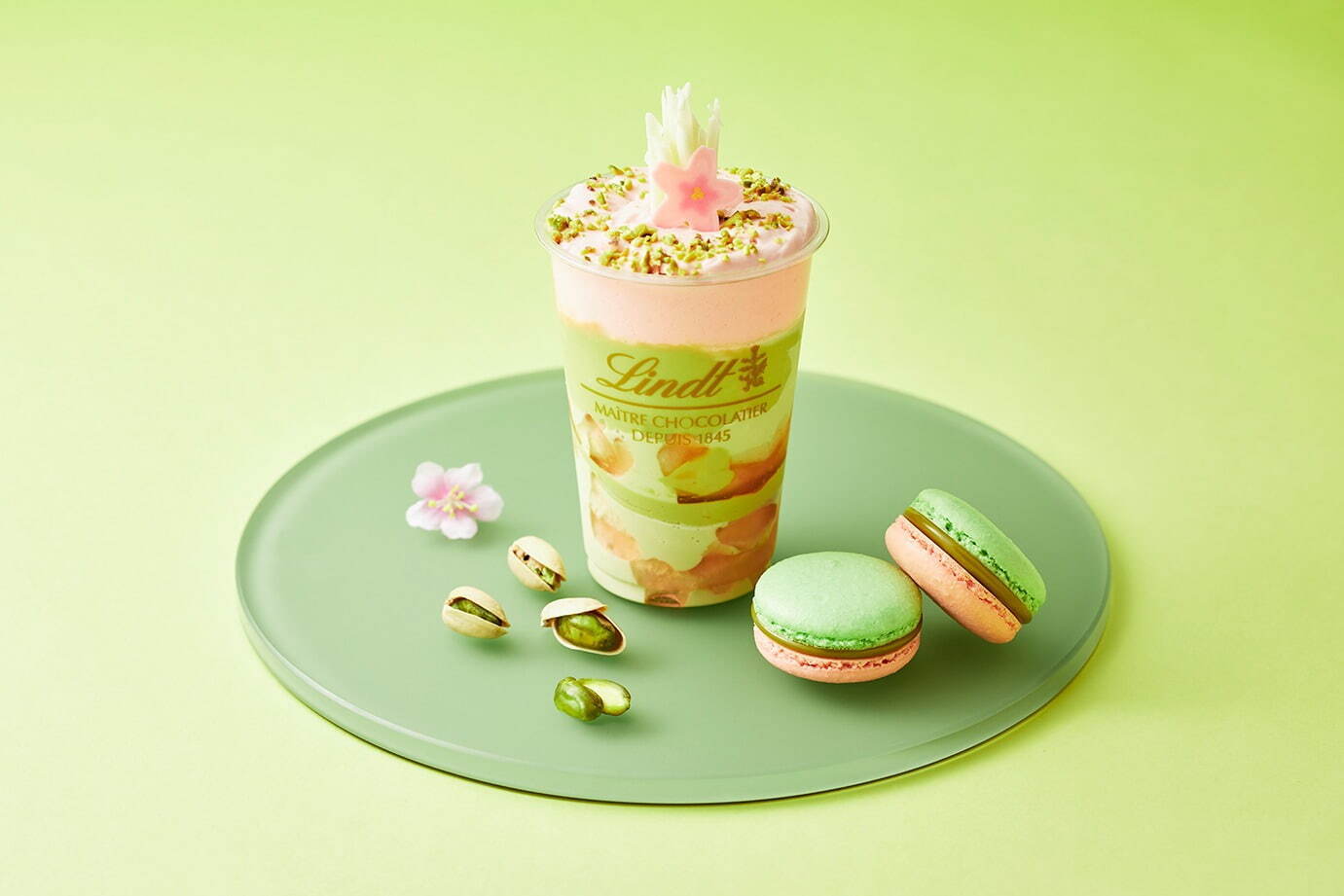 The worldwide famous Swiss chocolatier Lindt has introduced Sakura-scented Pistachio Chocolat Drink, a blend of Lindt white chocolate and pistachio paste, with pistachio cream using mellow pistachios from Sicily, Italy, and cherry blossom sauce to create a pink and green spring-like color scheme. The top is topped with a sweet and sour Sakura Espuma with a hint of cherry blossoms, white chocolate in the shape of cherry blossoms and chopped pistachios for accent.
The Sakura-scented Pistachio Chocolat Drink expresses will be available at Lindt Chocolat Boutique & Café nationwide for a limited time from February 16 (Thu) to April 9 (Sun), 2023.
During the same period, Lindt will also offer a new flavor of macarons called Delice with pistachio and cherry blossoms. The green and pink shells are reminiscent of pistachios and cherry blossoms, and are sandwiched between a savory ganache made with pistachio paste and a cherry compote based on strawberries with a hint of cherry blossoms.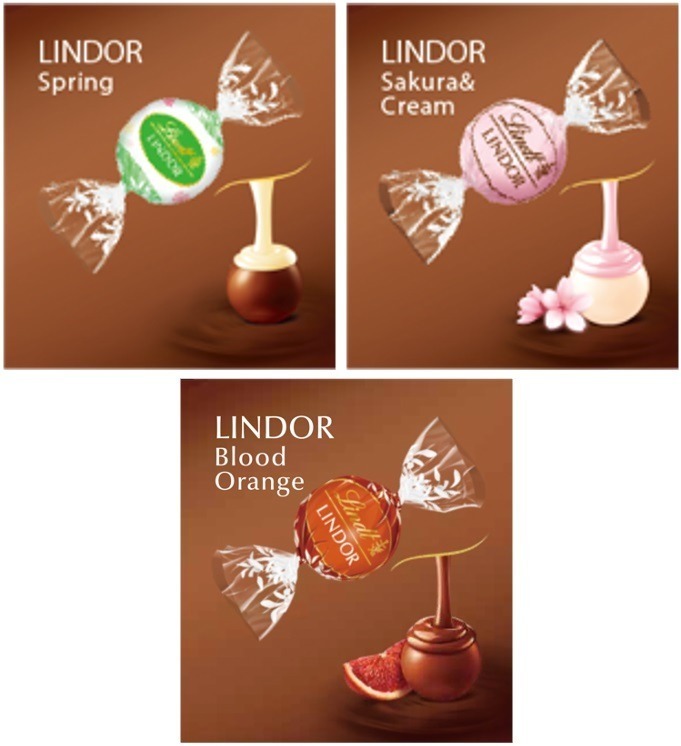 In addition, Lindt's flagship product the chocolate Lindor, will also has three new flavors. Spring and Sakura & Cream, with their gorgeous spring-like flavors, will be available for a limited time, while Blood Orange will be added as a new flavor that will be sold year-round.
Sakura-scented Pistachio Chocolat Drink
Sales period: February 16, 2023 (Thu) – April 9, 2023 (Sun) * Will end as soon as it's gone.
Price: 780 yen
Sales outlets: Lindt Chocolat Boutique & Café nationwide
Delice Pistachio & Sakura
Sales period: February 16, 2023 (Thu) – April 9, 2023 (Sun)
Price: 340 yen
Sales outlets: Lindt chocolate boutiques & cafes nationwide *Except outlet stores.
Lindor New Flavor
Lindor Spring/ Lindor Sakura & Cream
Sales period: February 16, 2023 (Fri) – April 30, 2023 (Sun) * Will end as soon as they are gone.
Price: 880 yen per 100g
Lindor Blood Orange
Sales period: February 16, 2023 (Fri.) – Available year-round
Price: 880 yen per 100g
-Eggs 'n Things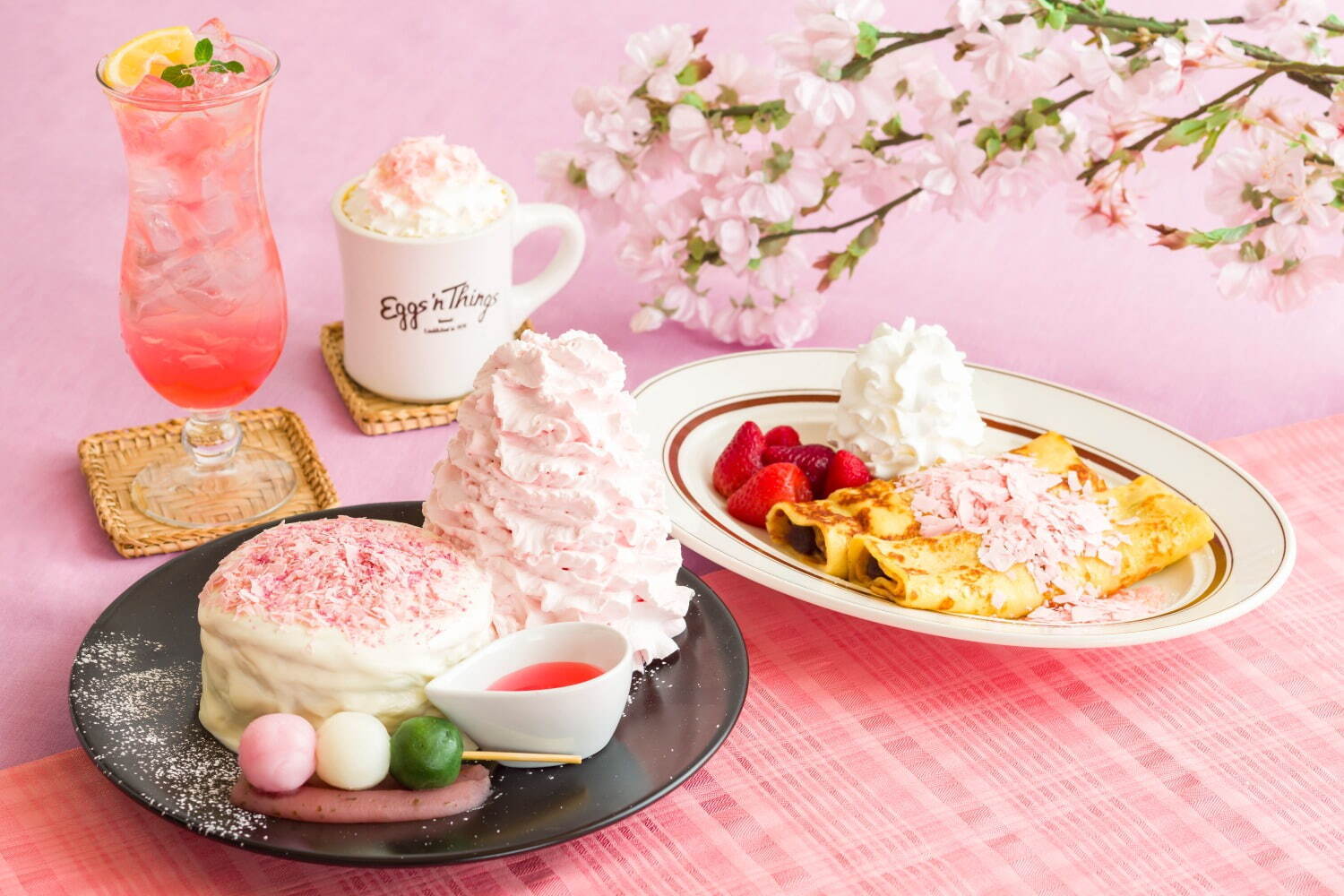 Eggs 'n Things, the popular Hawaiian pancakes restaurant, introduces two spring-only sweets: Sakura Pancake and An Butter Crepe, available at stores nationwide from March 23 (Thursday) to April 17 (Monday), 2023.
The Sakura Pancake is a fluffy pancake topped with a generous amount of gently sweetened mascarpone cream and pink-colored cherry chocolate topping. The pancake is served with cherry whipped cream, sanshoku dango (three-color dumplings) and cherry syrup on the side, creating a gorgeous spring flavor.
The An Butter Crepe, on the other hand, is a crepe with smooth sweet bean paste and butter wrapped in a sticky dough. The crepe is finished with an abundance of soft cherry-scented chocolate, whipped cream and fresh strawberries.
Price:
Cherry Blossom Pancakes: 1,848 yen
An Butter Crepe: 1,540 yen
Sakura Lemonade (ice cream): 715 yen
Sakura Milk (hot): 715 yen
-Godiva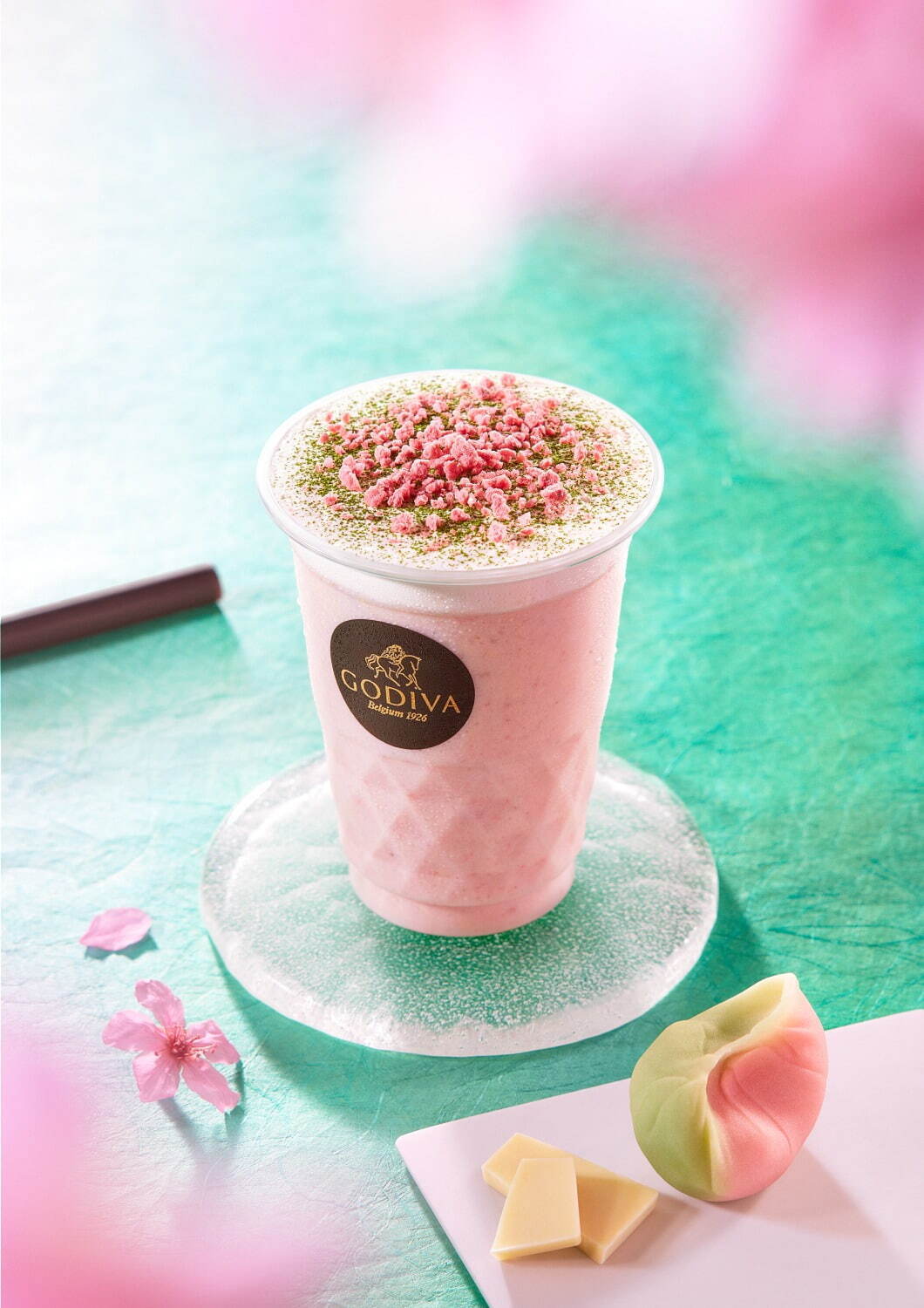 Every year the popular Belgian chocolatier, Godiva offers a spring-only cherry blossom flavored white chocolate-base beverage. The Spring Coming Sakura Chocolixer is a new Japanese flavor that uses the elegant taste of cherry blossom bean paste. Topped with cherry blossom crunch and Nishio's matcha powder, this limited edition drink is reminiscent of cherry blossoms in full bloom.
Price: 700 yen (regular size/210ml)/ 790 yen (large size-350ml)
-McCafé by Barista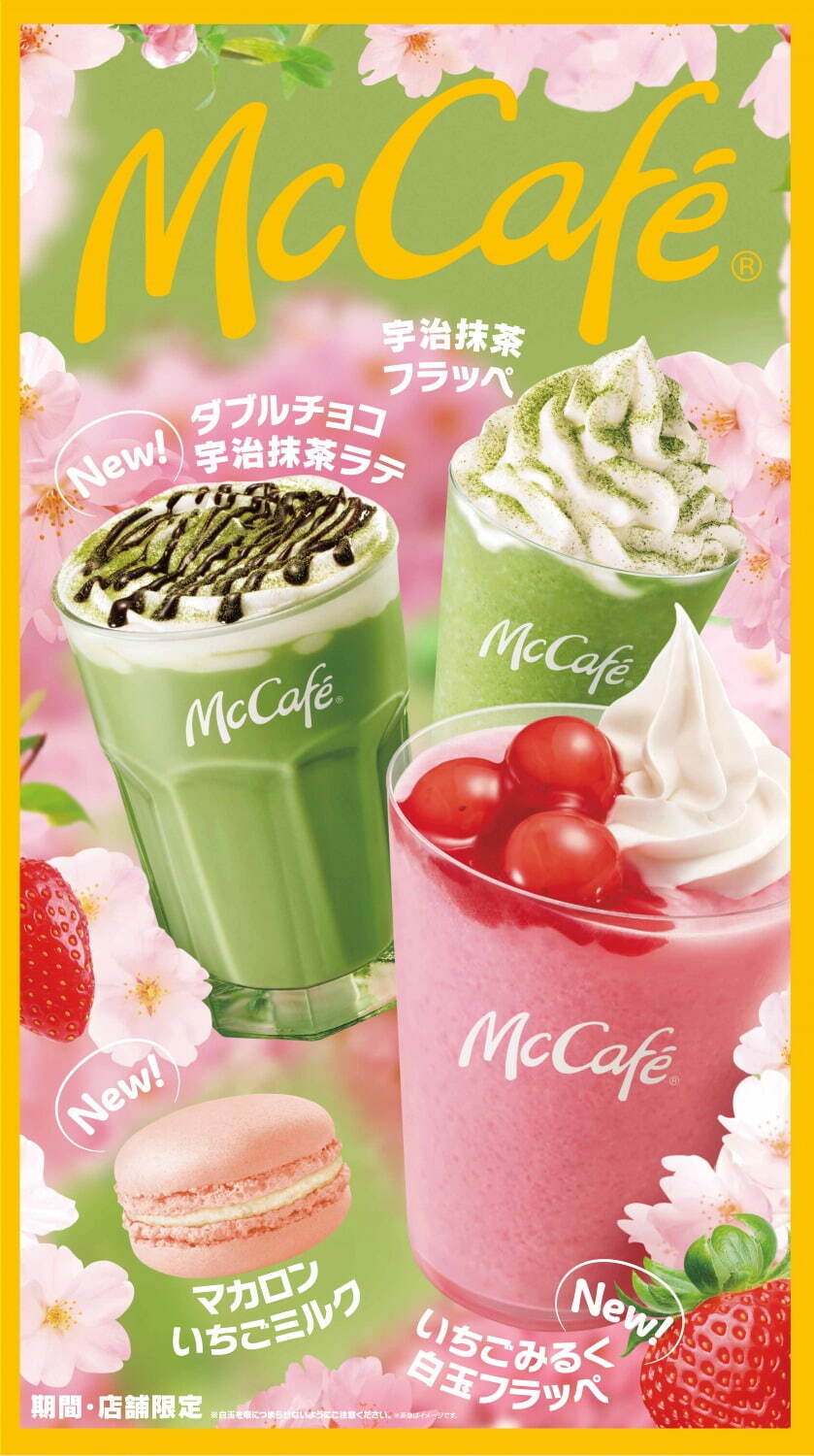 McDonald's Café by Barista is a café corner from McDonald's that offer drinks prepared by carefully selected baristas. For they Spring-limited edition they are selling three gorgeous new drinks and sweets in pink and green colors that remind us of spring and fresh greenery. Strawberry Milk Frappe with Mochi Mochi Shiratama, Double Chocolate Uji Green Tea Latte and Strawberry Milk Macaroon
Strawberry Milk Shiratama Frappe: 490 yen
Macaroon with Strawberry Milk: 190 yen
Double Chocolate Uji Green Tea Latte: 390 yen
–
Suntory's Horoiyoi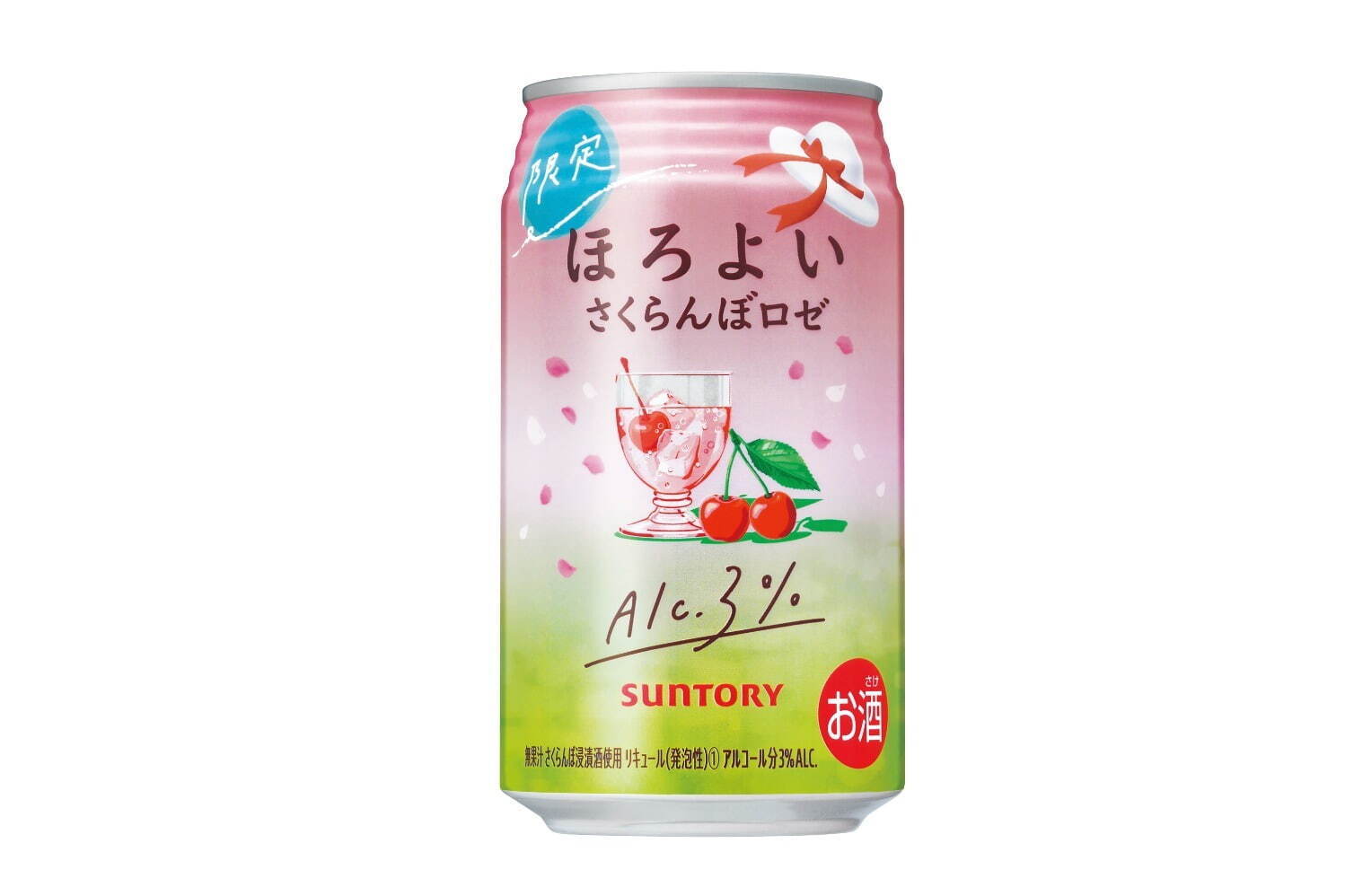 Suntory's popular alcoholic beverage Horoyoi has released its new flavor Sakura Rosé, which will be available for a limited time only from March 14, 2023 (Tuesday). The new flavor Cherry Rosé, is sweet and sour cherry flavor accented with wine to create a mature taste perfect for spring.
Price: 148 yen
---
Thanks for reading! Which Sakura food and drinks do you wanna try this spring?? For more information about Japanese cherry blossoms, please check out these articles, too!
▽Related Articles▽
▼Editor's Picks▼
---