20 Best Japanese Movies of All Time
20 Must-See Japanese Films to Watch in English from Classic Masterpieces to Contemporary Favorites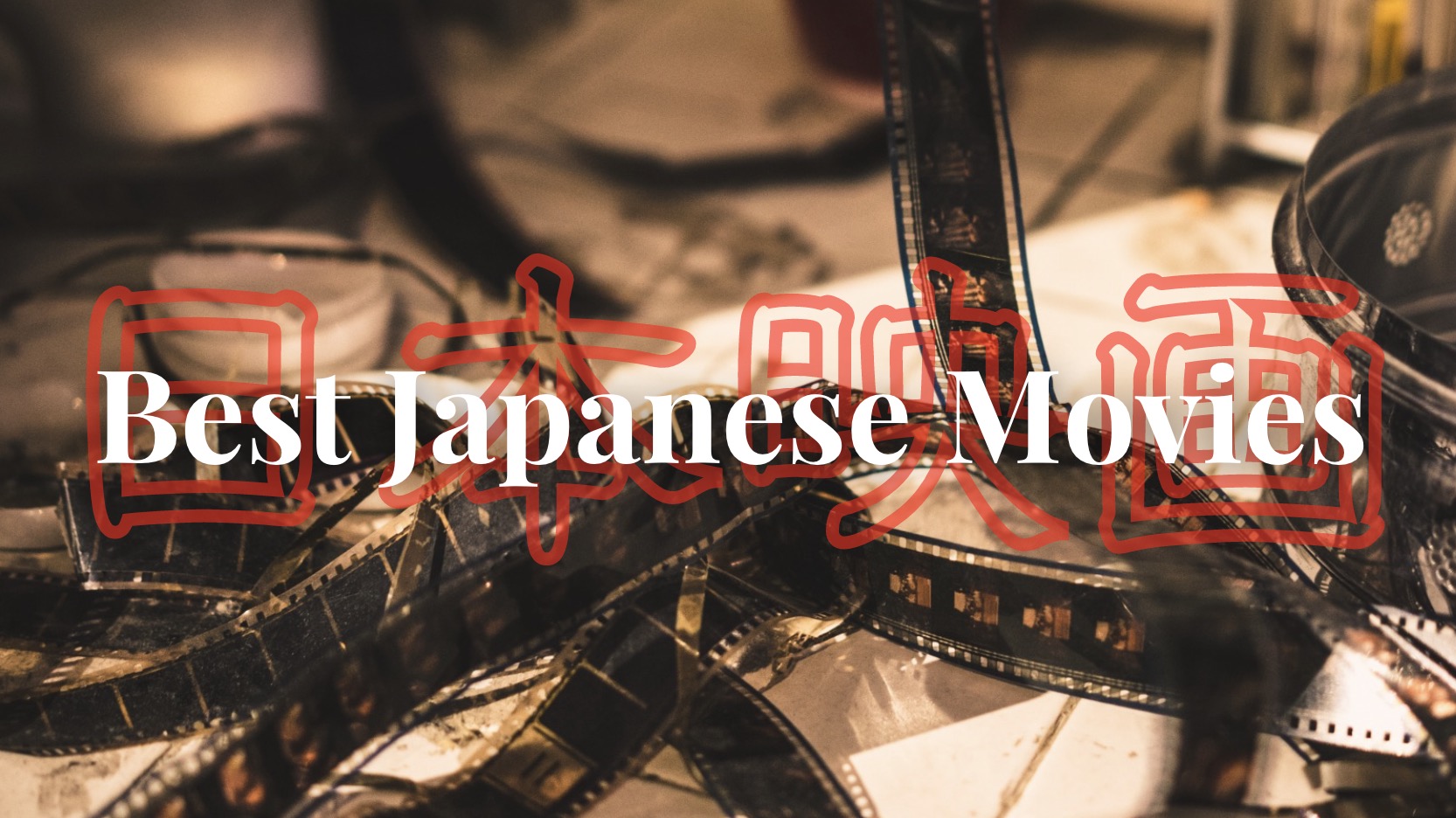 Japan has shown a significant presence in the global film industry for a long time even aside from the recent explosive success of Japanese animated movies. It is difficult to exactly define a Japanese movie, however, it includes films that are made by Japanese directors or actors, filmed in Japan, or composed of Japanese language if you make a broad definition.
Looking back on a long history of the cinema of Japan, its origin can be identified around the end of 19th century, when early short movies were originated by Japanese cinematographers incorporating the Thomas Edison's Kinetoscope: for example, Bake Jizo and Shinin no sosei by Shiro Asano.
During the 1950s, the Japanese movies that developed independently from the original style with the unique culture were establishing the international reputation through global film festivals. The Akira Kurosawa's Rashomon (1950) won the Golden Lion at the 12th Venice Film Festival, followed by the Kenji Mizoguchi's The Life of Oharu (1952) which got the International Prize at the 13th Venice Film Festival; Ugetsu (1953) and Sansho the Bailiff (1954) achieved the Silver Lion Award at the 14th and 15th Venice International Film Festival.
The current fame of Japanese cinema have been led by more movies created by several mass movie production companies such as Toei, Toho and Shochiku after the 1950s. Nowadays, Japanese movies are being distributed with subtitles and dubbings of international languages worldwide through varied online platforms. An anime, one of the most popular modern genres, is getting more famous around the world, which contains Studio Ghibli's works.
For international cinema lovers, here is the list of 20 best Japanese movies of all time which are produced by Japanese directors. You can enjoy a range of films from the traditional masterpieces to the latest animations.
Let's have fun with this list of well-selected recommendations!
*Please note that this article contains affiliate links.
20. Our Little Sister (2015)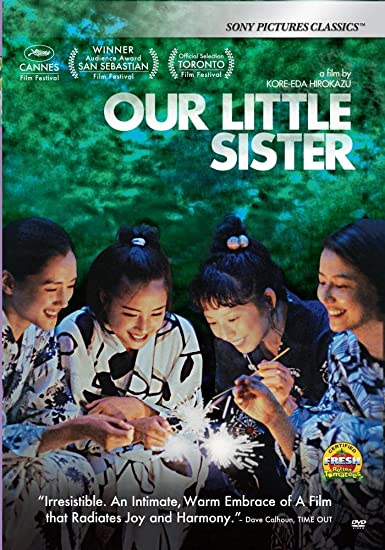 Director: Hirokazu Kore-eda
Our Little Sister (海街diary), which is also known as Umimachi Diary, is a popular Japanese drama movie released in 2015. It is based on the 9-volume manga series which was written by Akimi Yoshida between 2006 and 2018. There are three Kouda sisters Sachi, Yoshino and Chika, who meet their half-sister named Suzu Asano at the same time their father dies. Their new life starts in the traditional seaside town Kamakura welcoming the youngest girl. Our Little Sister is also known that it won the Best Work Award at the 39th Japan Academy Film Prize.

19. Merry Christmas, Mr. Lawrence (1983)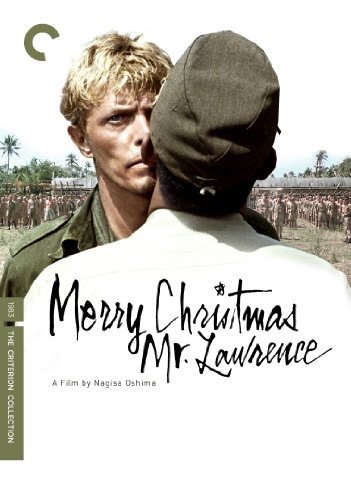 Director: Nagisa Oshima
As one of the masterpieces of Nagisa Oshima, Merry Christmas, Mr. Lawrence (戦場のメリークリスマス) has been highly rated worldwide since it was released in 1983. It is based on the two short stories The Seed and the Sower and The Night of the New Moon written by Sir Laurens Jan van der Post, a South African writer in the 20th century. The war-themed movie is set in Java around World War II. Some famous artists such as David Bowie, Ryuichi Sakamoto, Takeshi Kitano, etc. appear in the film.

18. A Silent Voice The Movie (2016)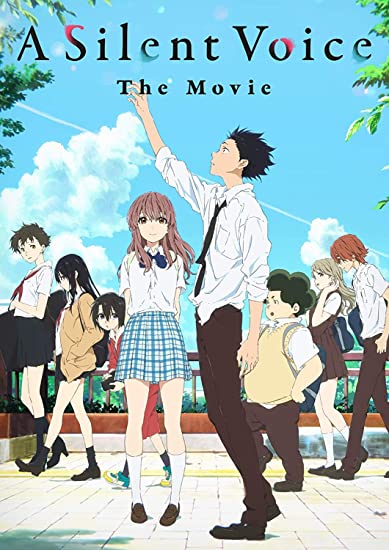 Director: Naoko Yamada
An anime is a leading genre of recent Japanese films, which has become more popular all over the world. A Silent Voice The Movie (映画 聲の形) is one of the greatest anime movies released in the 2010s. It is directed by Naoko Yamada, who is also famous for other Kyoto Animation films such as K-On! The Movie in 2011 and Liz and the Blue Bird in 2018. The drama animation depicts a severe story of a deaf girl Shoko and a bully boy Shoya in their elementary school and high school.

17. Gate of Hell (1953)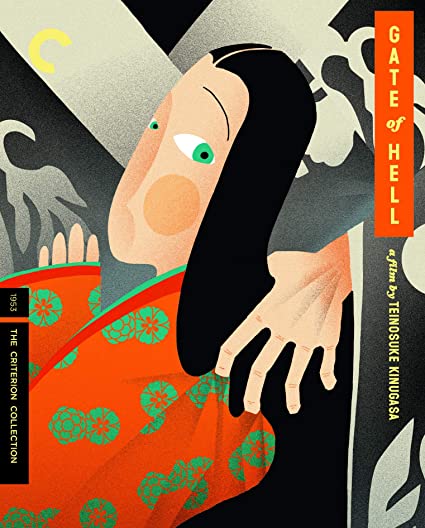 Director: Teinosuke Kinugasa
There are several old Japanese works that have been highly evaluated around the globe for a long time. Gate of Hell (地獄門), directed by Teinosuke Kinugasa in 1953, achieved Best Foreign Language Film and Best Costume Design at the 27th Academy Awards in addition to the Grand Prix at the 7th Cannes Film Festival. Gate of Hell is set in the late Heian period, when the Taira clan conflicts with the Minamoto clan. It revolves around a samurai named Endo Morito, who is obsessed by love for a court lady Kesa.

16. Kingdom of Dreams and Madness (2013)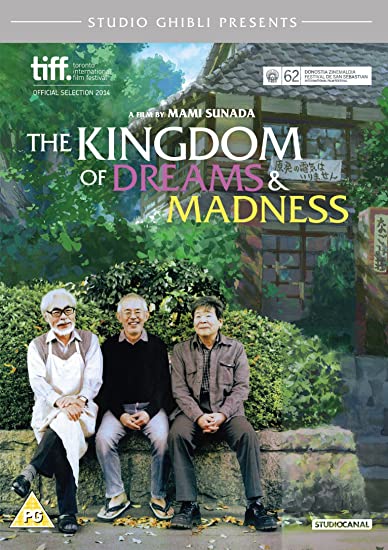 Director: Mami Sunada
Many Japanese non-fiction movies featuring a unique Japanese culture are watched by people around the world. Kingdom of Dreams and Madness (夢と狂気の王国) is a documentary film with the theme of Studio Ghibli, one of the most famous Japanese animation studios. Set in Studio Ghibli's headquartered located in Koganei, Tokyo, it tells the story of Hayao Miyazaki, who concentrated on making his 2013 directed movie The Wind Rises, and how other staff work there. There are also another leading director Isao Takahata, the well-known producer Toshio Suzuki, Hayao's son Goro Miyazaki and Hideaki Anno, who is famous for the Evangelion series.

15. Rurouni Kenshin (2012)
Director: Keishi Otomo
Some popular manga and anime are adapted into live-action films these days. Rurouni Kenshin (るろうに剣心) is a successful live-action movie based on the same-titled manga written by Nobuhiro Watsuki between 1994 and 1999. The historical adventure film follows a wandering samurai named Kenshin Himura, who attained the reputation as a mastered assassin in the precious era, set in the early Meiji period. He seeks a new way to live without killing anyone, attacked by opponents with malice at him. It was followed by Kyoto Inferno (2014), The Legend Ends (2014), The Final (2021) and The Beginning (2021).

14. Tampopo (1985)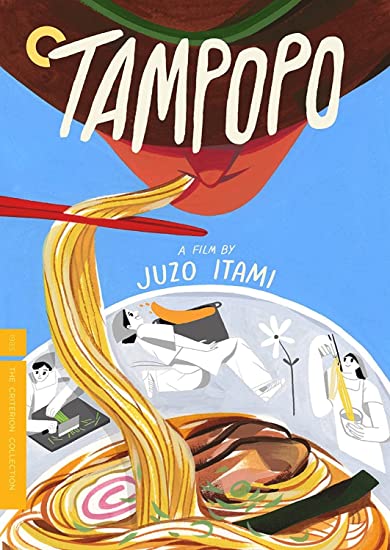 Director: Juzo Itami
Tampopo (タンポポ) is a classic comedy movie released in 1985, directed by Juzo Itami, who is also known for A Taxing Woman. It was first categorized as Ramen Western, which put on Spaghetti Western. Several distinguished Japanese actors such as Tsutomu Yamazaki, Nobuko Miyamoto, Koji Yakusho and Ken Watanabe costarred with each other in this film. A truck driver Goro helps a widow Tampopo to bring prosperity to her business: making her Ramen shop more famous.

13. Shin Godzilla (2016)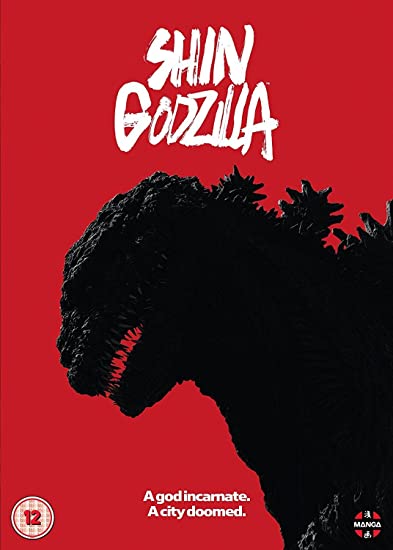 Director: Hideaki Anno/Shinji Higuchi
Shin Godzilla (シン・ゴジラ) is a modern title of the fictional kaiju character Godzilla's series, released in 2016. It is directed by Shinji Higuchi and Hideaki Anno, who is also famous for Rebuild of Evangelion (2007-2021). The two directors are also in charge of the production of Shin Ultraman in 2022. Set in an alternative modern Japan, Shin Godzilla depicts Godzilla as a catastrophe like earthquakes and tsunamis. The story is partly based on the system of the real Japan government.

12. Samurai I: Musashi Miyamoto (1954)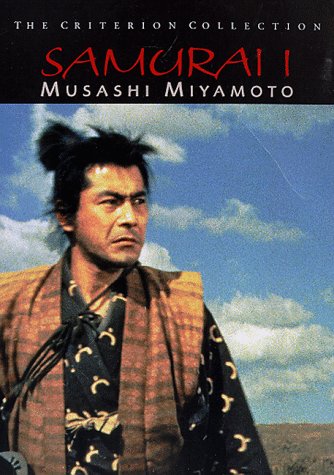 Director: Hiroshi Inagaki
The classic Japanese movie Samurai I: Musashi Miyamoto (宮本武蔵) is famous that it received a Honorary Award, which is presently known as Best International Feature Film, at the 28th Academy Awards. Based on the original novel written by Eiji Yoshikawa between 1935 and 1939, it was produced and distributed by a large Japanese filming company Toho. Samurai I: Musashi Miyamoto featured Japanese starts Toshiro Mifune and Rentaro Mikuni. It is completed with the following parts Samurai II: Duel at Ichijoji Temple (1955) and Samurai III: Duel at Ganryu Island (1956).
The samurai-themed story presents a well-known Japanese swordsman Musashi Miyamoto in his early days. The rambunctious boy dreams to become a strong bladesman and joins the Battle of Sekigahara, which bruke out in 1600. He grows up through knight-errantry.

11. Rebuild of Evangelion (2007-2021)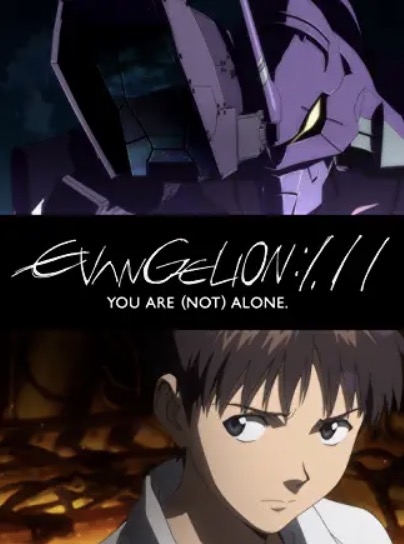 Director: Hideaki Anno
Rebuild of Evangelion (ヱヴァンゲリヲン新劇場版) is a series of remakes of the famous anime series Neon Genesis Evangelion, which initially aired with 26 episodes between 1995 and 1996. After three Rebuild of Evangelion movies 1.0 You Are (Not) Alone, 2.0 You Can (Not) Advance and 3.0 You Can (Not) Redo released in 2007, 2009 and 2012, the whole series was finally completed with the fourth movie 3.0+1.0 Thrice Upon a Time in 2021. The mecha action and drama anime films focus on teenagers who pilot gigantic humanoid robots Evangelion to fight against aliens called Angel.

10. Shoplifters (2018)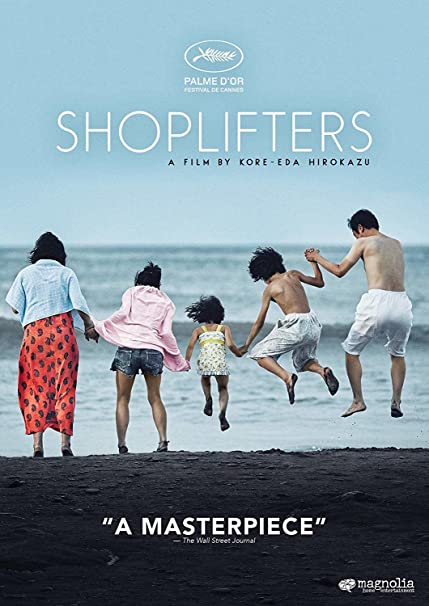 Director: Hirokazu Koreeda
Hirokazu Koreeda completed a renowned drama film Shoplifters (万引き家族) in 2018 following his past representative works such as Like Father, Like Son (2013) and Our Little Sister (2015). It received the Palme d'Or, the highest prize at the 71st Cannes Film Festival. Starring Lily Franky and Sakura Ando, Shoplifters is written by the director, too. This movie presents the story of a Japanese family suffering from poverty and repeatedly shoplifting.

9. Akira (1988)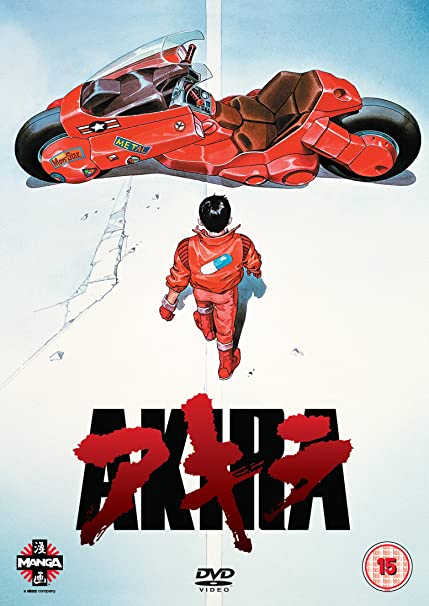 Director: Katsuhiro Otomo
Akira is one of the most famous Japanese animation films of all time, released in 1988. It is directed by Katsuhiro Otomo, based on his manga series published between 1982 and 1990. He was a Chevalier of the French Ordre des Arts et des Lettres in 2005 and an Officier in 2014. Akira is a sci-fi, cyberpunk anime movie telling a story of young bad boys, set in in the fictional, catastrophic city Neo-Tokyo in 2019. It presents how the world changes due to supernatural powers. Since it was made before the manga series completed, it contains its original episodes including the climax.

8. Battle Royale (2000)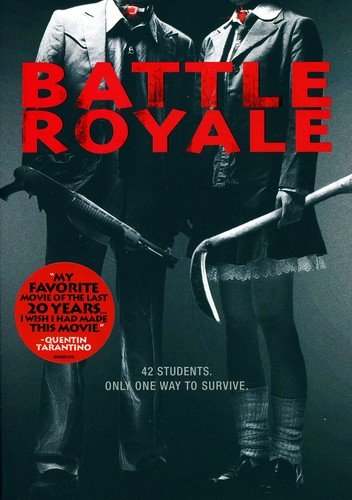 Director: Kinji Fukasaku
Battle Royale is one of the greatest action-thriller film in Japan, released in 2000. It is also known as a renowned work by Kinji Fukasaku, who also produced Battles Without Honor and Humanity in 1973. It features well-known actors and actresses such as Tatsuya Fujiwara, Takeshi Kitano and Chiaki Kuriyama. Based on the novel written by Koushun Takami in 1999, it focuses on violent contents, where junior high school students kill each other.

7. Rashomon (1950)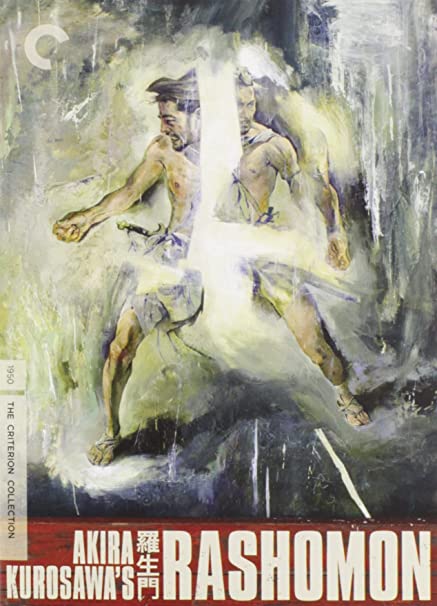 Director: Akira Kurosawa
Rashomon (羅生門) is one of the top-rated movie directed by Akira Kurosawa, adapted from the 1922 Ryunosuke Akutagawa's short story In a Grove. Its title was also based on his same-titled novel written in 1915. Rashomon was awarded the Golden Lion at the Venice Film Festival in 1951 and Best International Feature Film at the 24th Academy Awards. It stars Toshiro Mifune and Machiko Kyo.
Akira Kurosawa and this work has been valued for a then-new technique: one incident is told multiple times from various points of view. Rashomon is set in Kyoto in the Heian period (794-1185) presenting a weird story. About the same murder of a samurai, four characters give different testimonies of the incident.

6. Drive My Car (2021)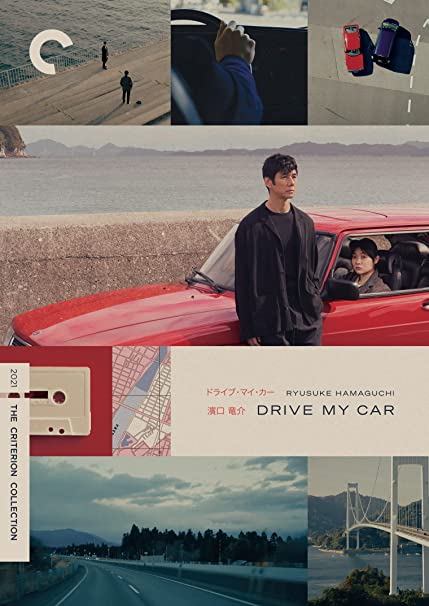 Director: Ryusuke Hamaguchi
As the smash-hit in the recent past, Drive My Car (ドライブ・マイ・カー) should be added to the best Japanese movies list. Released in 2021, the drama movie competed for the Palme d'Or at the 74th Cannes Film Festival and earned the Best International Feature Film at the 94th Academy Awards. Drive My Car was adapted from the same-titled short story and other two in the Haruki Murakami's collection Men Without Women.
Drive My Car revolves around a famous Japanese actor and theater director Yusuke Kafuku, who loses his daughter in her early childhood. It also features a young actor Koji Takatsuki and Yusuke's new driver Misaki Watari who drives his red Saab 900 Turbo, the icon of the film.

5. Tokyo Story (1953)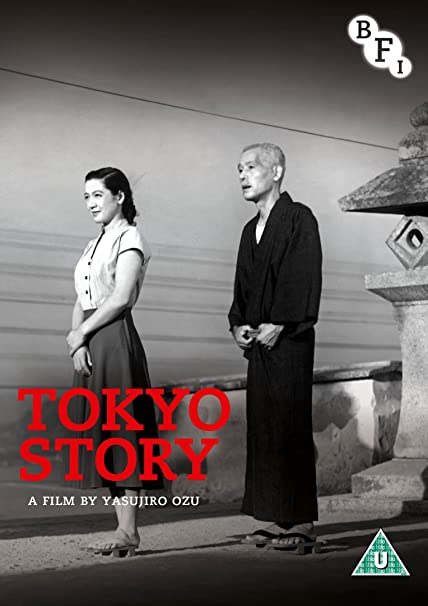 Director: Yasujiro Ozu
Tokyo Story (東京物語), a masterpiece of Japanese drama film of all time, was completed by a renowned director Yasujiro Ozu in 1953. This great work has been highly acclaimed both nationally and internationally. Setsuko Hara plays the heroine in this movie as well as other famous works of Yasujiro Ozu including Late Spring (1949) and Early Summer (1951).
Shukichi and his wife Tomi, who live in Onomichi, visit their children who live in Tokyo, but the busy children are unable to provide them with adequate and courteous care. The film depicts family ties, parents and children, aging and death, and human life from an unflinching perspective through the images of the elderly parents and their families who have moved to Tokyo.

4. Princess Mononoke (1997)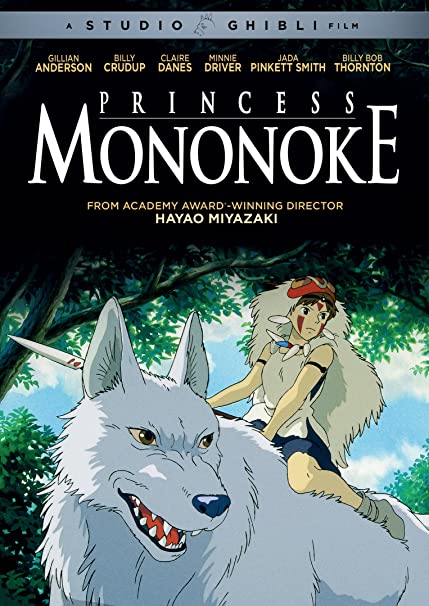 Director: Hayao Miyazaki
Princess Mononoke (もののけ姫) is one of the best Studio Ghibli movies directed by Hayao Miyazaki for many fans. The historical animation was released in 1997, grossing around 20 billion yen at the box office, and breaking the all-time Japanese box office record held by E.T. at the time.
Set in the Muromachi period (1336-1573), the story centers on Ashitaka, a tribal prince, and San, a young woman raised by wolves in the forest. The theme is the conflict between humans and nature, and Ashitaka seeks a way for the two to coexist.

3. Departures (2008)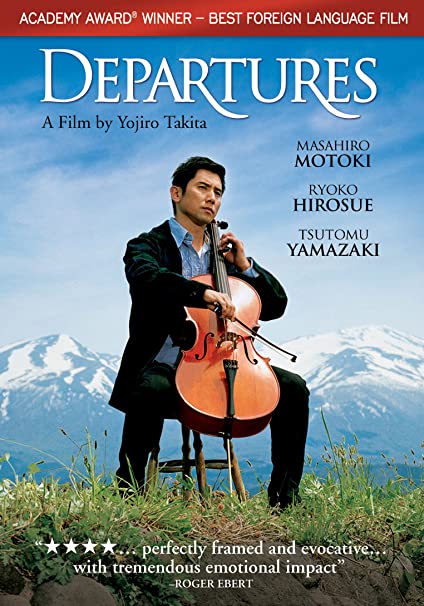 Director: Yojiro Takita
Departures (おくりびと) is one of the globally well-known Japanese movies that received the Best International Feature Film (also known as Best Foreign Language Film before) at the 81st Academy Awards in 2009. It is also known to win the Grand Prix des Ameriques at the 32nd Montreal World Film Festival. It is inspired by Coffinman: The Journal of a Buddhist Mortician (納棺夫日記), written by a Japanese writer Shinmon Aoki in 1993.
Departures has the unique theme of traditional Japanese funeral rites. Set in a countryside in Yamagata Prefecture, it follows a cellist Daigo Kobayashi, who returns home with his wife. He finds a new job as a nokanshi who maintains a corpse until the body is cremated dressing and making up it. He faces his complicated family problems and his view of life and death through the funerary rites.

2. Spirited Away (2001)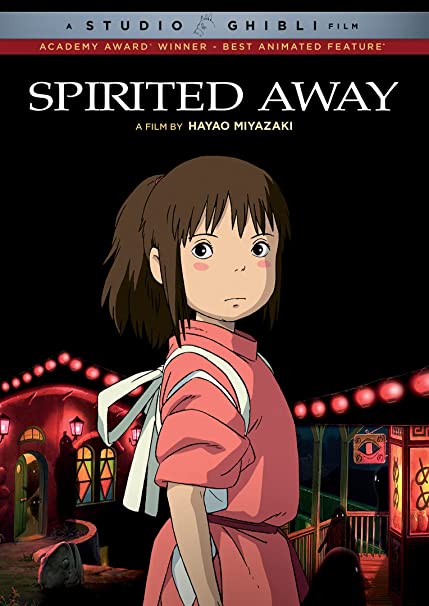 Director: Hayao Miyazaki
When you talk about Japanese films, there should be loads of anime movies on the table as a matter of high priority. Spirited Away (千と千尋の神隠し), one of the most renowned work of Studio Ghibli and Hayao Miyazaki, has been watched worldwide since it was completed in 2001. It is famous as the winner for the Academy Award for Best Animated Feature at the 75th Academy Awards. Making over 30 million yen at the box office, it remained the highest-grossing movie in the Japanese film history for about two decades until Demon Slayer: Kimetsu no Yaiba – The Movie: Mugen Train was released in 2020.
Spirited Away focuses on a 10-year-old girl Chihiro. The story begins when she wanders off into an abandoned site with her parents, which makes her end up surviving alone in the weird world. She becomes mentally tough through the severe work at a bathhouse, supported by unique colleagues.

1. Seven Samurai (1954)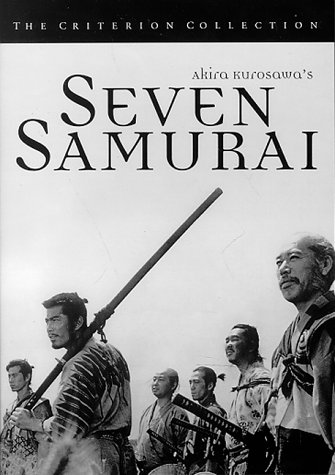 Director: Akira Kurosawa
Although there are many masterpieces in Japanese movies, many fans would still not disagree that Akira Kurosawa's masterpiece is considered the best. Seven Samurai (七人の侍) is one of the most famous Japanese films in the world, as well as one of the most acclaimed films in the world. Released in 1954, the epic drama film won the Silver Lion at the 15th Venice International Film Festival. It was more expensive to produce than other films of the time, took nearly a year to shoot, and was a huge box-office success.
Starring Toshiro Mifune and Takashi Shimura, the black-and-white film is directed by Akira Kurosawa, who is also appreciated for Rashomon (1950) and Ran (1985) worldwide. Set around 1586 during the Sengoku period, it tells the story of seven samurai hired by peasants, who are troubled by the plundering of wild samurai, to protect their village from wild samurai raids, working together to overcome frictions caused by their status differences.

In conclusion, the world of Japanese cinema offers a vast array of films that reflect not only the country's unique culture and history, but also universal themes that resonate with audiences worldwide. From the deeply emotional narratives of Yasujiro Ozu, the animated marvels of Hayao Miyazaki, to the raw and innovative works of Takeshi Kitano, these 20 films represent the best of Japanese cinema. They offer a diverse palette of genres and styles, each film a testament to the country's rich cinematic tradition. Whether you're a seasoned cinephile or a casual viewer, exploring these films will undoubtedly provide a rewarding and enlightening experience.
For more information about Japanese movies and other culture including anime, check these articles below, too!
▽Related Articles▽
▼Editor's Picks▼
---