10 Best Anime Movies for Beginners
10 Most Recommended Anime Films for Beginners to Watch First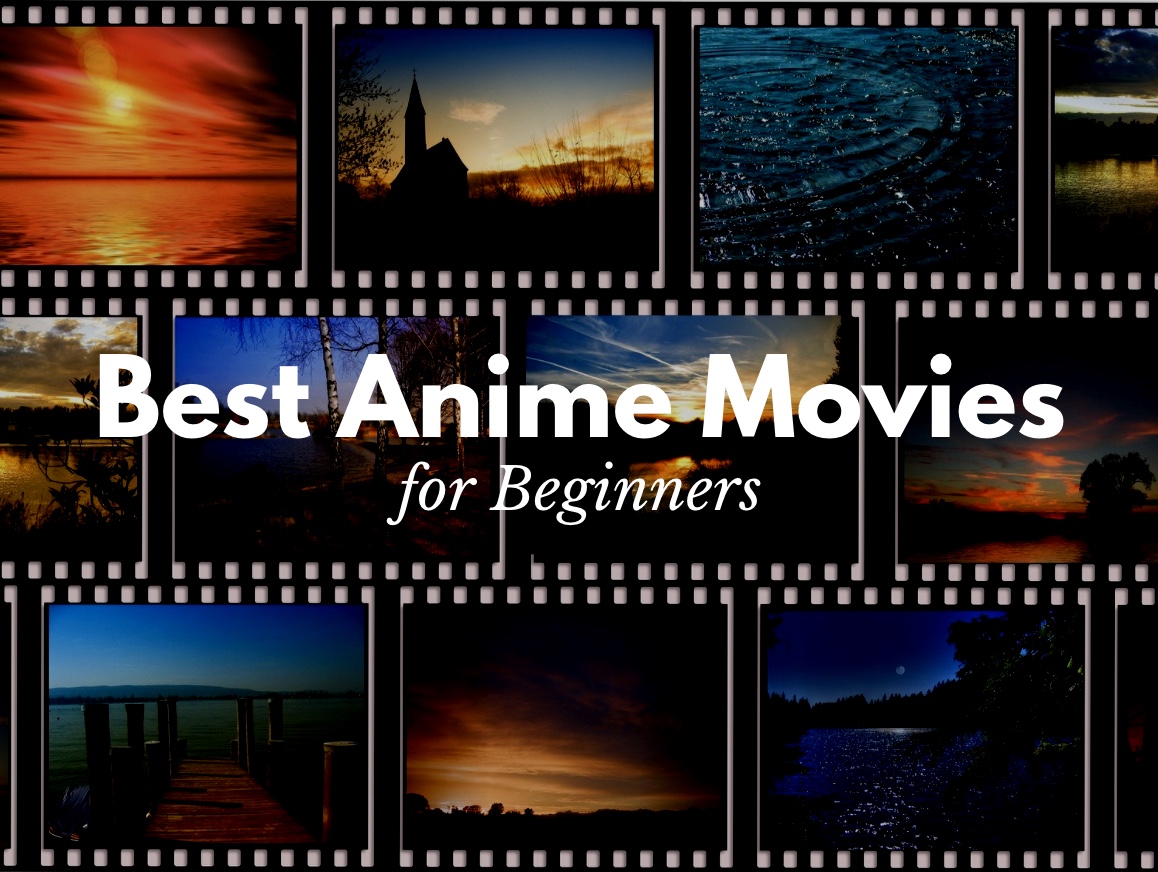 An anime, one of the most popular contents all over the globe, can be roughly divided into two categories: multiple-episode series and single-shot movies. Many anime freaks enjoy watching a series of anime titles every season, but anime movies are more suitable for anime beginners.
The one-shot type for a couple of hours is more recommended to starters of anime rather than the series consisting of tens of episodes. Here is the list of 10 best anime movies for beginners, which covers from the world-class classic films to the recent hits.
This list of anime movies for beginners will help guide to the entrance of the Japanese animation world if you have watched a few anime or none. Of course, it is not too late for advanced watchers to enjoy them if there are some missed films below.
10. Ponyo
It is easy to assume that the first experienced anime for many people is a Studio Ghibli movie, and Ponyo (崖の上のポニョ) is recommended to beginners including kids and their parents. The family-friendly fantasy anime movie was released in 2008, directed by Hayao Miyazaki.
It centers on a 5-year-old boy Sosuke, who meets the iconic same-age goldfish Ponyo that wishes to leaves the ocean and transform herself into a human being. Ponyo's father try to pull her back from the ground to the ocean influencing the human's world with the magic, but she runs away with Sosuke.
▶︎Check out Ponyo on Amazon.com!
9. Weathering With You
Makoto Shinkai is one of the most popular anime directors lately, and his recent work Weathering With You (天気の子) is what anime beginners should watch now. Following to the smash-hit film Your Name in 2016, he completed another masterpiece in the 2010s.
The fantasy anime movie revolves around a high school boy Hodaka Morishima, who flies from his home in a remote island to Tokyo. He wanders hopelessly around the unfamiliar metropolis without both enough money and a job. At the center of Tokyo, he meets a girl named Hina Amano who has an extraordinary ability to make the weather sunny temporarily.
▶︎Check out Weathering With You on Amazon.com!
8. Stand by Me Doraemon
Draemon is the Japanese classic anime that has been loved by all age groups around the world since the first anime series stared in the 1970s. Stand by Me Doraemon (STAND BY ME ドラえもん) is a modern Doraemon anime movie created with a 3D computer-animated technology.
Stand by Me Doraemon tells the story from when a protagonist Nobita Nobi meets a futuristic cat-shaped robot Doraemon to when they farewell. The 7 picked-out episodes are perfect for beginners of Draemon and anime movies. The sequel titled Stand by Me Doraemon 2 followed it in 2020.
▶︎Check out Stand by Me Doraemon on Amazon.com!
7. Princess Mononoke
For the greatest anime movie highly rated worldwide, even anime beginners should check Princess Mononoke (もののけ姫). The fantasy animated film broke the record of the highest-grossing Japanese film at that time when it was released in 1997. It is also famous as one of the masterpieces of Studio Ghibli and its director Hayao Miyazaki.
Princess Mononoke is set in Japan in the Muromachi period (1336-1573). It follows a 17-year-old man named Ashitaka, the last prince of the declining Emishi tribe. He meets the Princess Mononoke named San, who lives in the forest with wolves. Ashitaka insists that they can live with each other in the same world and exerts himself for the realization of his dream.
▶︎Check out Princess Mononoke on Amazon.com!
6. Akira
Without a doubt, Akira has helped promote the spread of authentic Japanese animations wolrdwide since it was made by Katsuhiro Otomo in 1988. The science fiction anime movie is based on the original manga written by himself that was published between 1982 and 1990.
The intense sci-fi story is set in Neo Tokyo in 2019, where Tokyo is destroyed after the outbreak of WWIII. There are two main characters in Akira: a leader of the Bosozoku group (Japanese biker gang) named Shotaro Kaneda and his childhood friend Tetsuo Shima. The story unfolds when Tetsuo gains a supernatural power after a motorcycle accident.
▶︎Check out Akira on Amazon.com!
5. A Silent Voice
A Silent Voice (聲の形) is a modern drama anime movie released in 2016. It is based on a manga series written by Yoshitoki Oima, which consists of 7 volumes serialized between 2013 and 2014. In addition to the Japan Academy Film Prize for Excellent Animation of the Year and other domestic awards, it has been highly rated all over the world.
A Silent Voice focuses on sensitive social themes such as teens bullying, suicide, disabilities, parental divorce and so on. There are two main characters: a deaf girl Shoko Nishimiya and Shoya Ishida who bullied her in elementary school.
▶︎Check out A Silent Voice on Amazon.com!
4. Anohana: The Flower We Saw That Day – The Movie
Anohana: The Flower We Saw That Day (あの日見た花の名前を僕達はまだ知らない。) is one of the most popular heartwarming modern anime series, broadcasted with 11 episodes in 2011. In 2013, its 100-min anime movie adaptation as a remake was released with some additional stories.
Set in Saitama Prefecture in, Anohana: The Flower We Saw That Day – The Movie follows a truant high school boy Jinta Yadomi, whose nickname is Jintan. One day in summer, his childhood friend Meiko Homma (Menma) shows up before Jintan as a ghost, who died in an accident years before. In addition to the two main characters, three other old friends are depicted in the anime film.
▶︎Check out Anohana: The Flower We Saw That Day – The Movie on Amazon.com!
3. Wolf Children
If you wonder which anime title is perfect to begin, Wolf Children (おおかみこどもの雨と雪) is one of the best choices. The fantasy anime movie, reelased in 2012, is directed by a renowned Japanese anime director Mamoru Hosoda, who is also famous for Summer Wars in 2009 and Belle in 2021.
A university student Hana meets a man in the university in Tokyo, and she finds he can transform into a wolf later. Then, they have two kids Yuki and Ame who can also change their forms into a wolf. As they grow up, they are beingpressed for a decision of whether they should live as as a human or a wolf.
▶︎Check out Wolf Children on Amazon.com!
2. Spirited Away
Spirited Away (千と千尋の神隠し), one of the most famous and popular anime movies all over the globe, is definitely what anime beginners should watch at first. The 2001 Studio Ghibli film, directed by Hayao Miyazaki, is also well known to won the Academy Award for Best Animated Feature in 2003.
Spirited Away depicts a story of a 10-year-old girl named Chihiro. She enters a fantasy world, where her parents are transformed into pigs and she is robbed of her name by a witch named Yubaba. However, she works hard at a bathhouse run by the witch to keep her identity in the strange world and to help her parents.
▶︎Check out Spirited Away on Amazon.com!
1. Your Name
As the best anime movie recommended to beginners, Your Name (君の名は。) should be piched out here. The modern fantasy anime movie was released in 2016, directed by the leading anime director Makoto Shinkai. It is now the second highest-grossing Japanese film earning about $250 million at the domestic box office and has been welcomed by over 120 countries and regions.
There are two main characters in Your Name: Taki Tachibana living in the metropolitan Tokyo and Mitsuha Miyamizu living in the countryside. One day, they find out their bodies are switched with each other and that is intermittently repeated. Taki and Mitsuha are getting more and more about each other while being puzzled under the strange condition.
▶︎Check out Your Name on Amazon.com!
If you are interested in the best anime series for beginners excluding movies, here is your information below.
For more information about anime and other Japanese pop cultures, check these articles below, too!
▽Related Articles▽
▼Editor's Picks▼
---