Best Japanese Drum "TAIKO" Experience in Tokyo: TAWOO
TAIKO workshop by TAWOO (GOCOO): The best cultural experience in Tokyo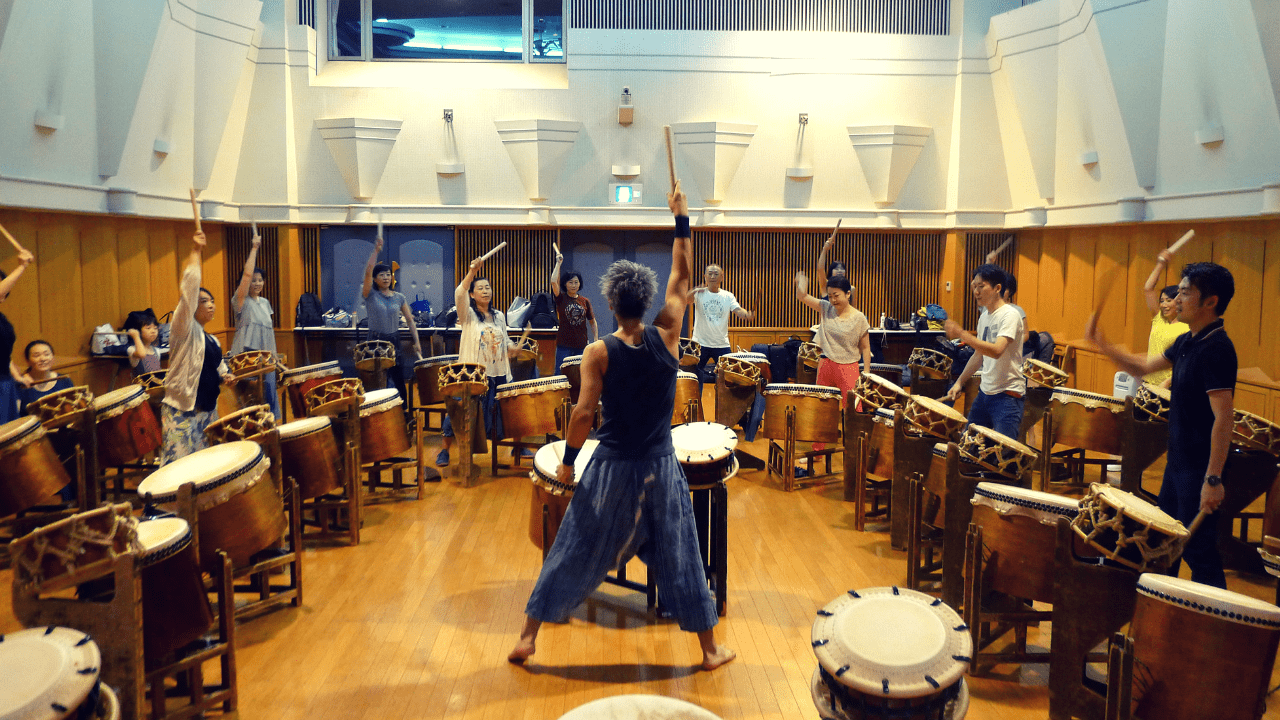 There are numbers of cultural activities in Japan which tourists can have authentic yet unique traditional Japanese experiences such as Sumo practice watching, tea ceremony class and Ninja experience. If you want to dig yourself into deep Japanese culture and have a fun and exciting moment at the same time, playing Japanese drum ("Taiko" in Japanese) is one of the best ways! Join a fun and exciting Taiko workshop, TAWOO produced by the well-known Taiko performing group, GOCOO! Lose yourself in the beat and feel the power of Taiko with your body and mind!
*Please note that this article contains affiliate links.
---
Have you heard of Taiko??
Taiko is Japanese drum, one of the traditional instruments to creates Japanese folk music. Although the origin of Taiko itself came from outside Japan, after it was introduced to Japan through Korea and China in early 6th century, Taiko became one of the most important instruments to create the significant sound of Japanese folk music and traditional performing arts, and it's been played for military action, theatrical accompaniment, and religious ceremony, etc for many centuries. Today, Taiko is most commonly played for traditional festivals as it creates the dynamic and powerful sound to boost up the excitements once people hear its sound.
Taiko is nowadays becoming a popular cultural attraction among foreign visitors as it's one of the most remarkable and fascinating Japanese culture. And by listening to its powerful sounds, you can immerse yourself into Japanese folk music and feel deeply connected to Japanese history and culture through the rhythm and the strong vibration.
If you wish to explore the world of Taiko in Japan, one of the best ways is to watch live Taiko performance shows held at several locations in Japan by different organisations. You can enjoyed the powerful and groovy sounds of the drum as well as the dynamic and energetic movements of performers.
Or for more unique and immersive experiences, I'd highly recommend you to join one of the Taiko learning classes. Some of the performing groups in Japan open Taiko workshops for visitors to learn how to play Taiko and feel the excitements of the drum sounds directly by hands with no previous experience required.
TAWOO is a Japanese drum group who organises various activities related to Taiko such as Taiko class (TAWOO Taiko Dojo), performances, workshop and special program for children. TAWOO's Taiko workshop is held occasionally at numbers of locations in Japan including Tokyo, and it would be the most accessible and convenient way to play Taiko for Taiko beginners.
I have recently joined a workshop in Tokyo hosted by TAWOO, and I'd like to share my first Taiko experience with my readers!
Review:
This time, the Taiko workshop was held at a venue in the east area of ​​Tokyo. The spacious practice room was situated at the basement of the building, and when I arrived there were sets of drums placed in a circular shape. It was a group lesson with over 20 participants from with men and women of all age including small kids, and most of us had no previous Taiko experience before!
As the class begun, each of us stood in front of the set of two drums (large and small) and a pair of drumsticks. The class was led by the teacher JERA who is a member of GOCOO, a well-known Japanese drum group who performs shows across the world, and a few other members to support the workshop. The lesson started off from simply tapping the drum by the drumstick (called Bachi in Japanese), and gradually making beats and rhythms with two drums by following the teacher who livened up and encouraged us to beat the drums using our whole body. I personally thought beating the drum was actually a really good relaxation for body and mind to release stress and concentrate, and as the drum sound vibrates, you can feel the sound through the body and feel connected.
The teacher instructed us not only how to create the drum beat but also how to make the dynamic movements, shouting out loud and posing while playing drums. We went through several different verses, and the atmosphere in the room was heating up and becoming very energetic. More we create the beats together, I really started enjoying the class more and also felt connected with other participants. As the time went by, I noticed everyone smiled and feeling the joy of playing Taiko from the bottom of hearts.
It's one hour lesson, and we only started from beating the drum randomly, but at the end of the class, we put verses together and managed to perform one whole Taiko session. When we complete the last performance at the very end of the lesson, it was pretty overwhelming and we enjoyed a feeling of accomplishment.
Through the lesson, I really thought Taiko lesson was a great way to immerse in Japanese culture, but it also felt amazing creating a thing (drum performance) with others as a group from one simple beat.
If you wish to have an amazing TAIKO experience with TAWOO just like I did, please check the information about TAWOO and their upcoming activities and events below!
About TAWOO/GOCOO
TAWOO is a drum group produced by GOCOO, a Japanese drum group who performs shows across the world. GOCOO creates innovative and groovy "free spirit" Taiko performances beyond the style of traditional Japanese drum. The group was founded by Kaoly Asano in 1997 and has performed at numbers of major music and art festivals, events and concerts across the world over the past 20 years.
TAWOO was founded as a platform to provide a place for people to discover and experience together the way of Taiko and engage in a variety of activities through the activity. The Taiko classes of TAWOO is open to all: kids and grown-ups, old and young, men and women, and no experience is required.
More info about TAWOO: http://tokyo.tawoo.tv/?page_id=770 (English page)
Where to See the Taiko Performance Show
GOCOO has been touring and performing their energetic Taiko shows across the world including several cities in Japan. Here are up-coming events which GOCOO will be performing in Japan.
-Nezu-Sendagi Shitamachi Matsuri
Date: 13 October 2019 (10:00–16:00)
Venue: Nezu Shrine (Map: http://bit.ly/2oJjlvC)
-Takibi no Oto TAKIBI MUSIC FESTIVAL
Date: 27 October 2019 (10:00–21:00)
Venue: Wakasu koen camp (Map: http://bit.ly/2oKtisk)
-Waseda Festival
Date: 2 November 2019 (10:00–17:00)
Venue: Waseda University (Map: http://bit.ly/2oGfteD)
-KISARAZU ORGANIC CITY FESTIVAL 2019
Date: 3 November 2019 (10:00–16:00)
Venue: Kisarazu Shiohama Park (Map: http://bit.ly/2pyXGGL)
Info: https://www.k-organiccity.org/news/1206/
-∞ Super Trinity ∞
Date: 10 November 2019
Venue: Ikegami Jissouji Temple (Map: http://bit.ly/2nPKZa9)
For the latest information about up-coming events and performances by GOCOO, please check their official website!
GOCOO Official Website: www.gocoo.tv
How to Join the Taiko Class
TAWOO hosts Taiko classes regularly in Tokyo, but if you are travelling to Japan and wish to experience TAWOO's Taiko lesson for a single session, it's recommended to join their workshop which is held several times a month. Anybody who wish to join the workshop and learn how to play Taiko are welcome regardless of generation and nationality. The workshop is usually held in Japanese, but language would not be a big deal during the lesson. It's really manageable without understanding the language as it's more important to feel the vibes by motion and connecting to the sound by heart!
Contact: http://tokyo.tawoo.tv/?page_id=49
TAWOO Workshop Schedule: http://tokyo.tawoo.tv/?page_id=45
Contact for more detail (staff: Watano)
Email: tawoo-dojoo@tawoo.tv
Phone: 090–7428–8931
---
Thank you very much for reading! Japanese drum "Taiko" is very fascinating traditional Japanese culture and also one of the most fun and unique cultural activities! If you are interested in Japanese culture or wish to try unique activities while travelling in Japan, how about joining TAWOO's Taiko workshop??
I have listed more articles introducing unique activities available in Japan/Tokyo today, so please check them out 🙂
▽Related Articles▽
▼Editor's Picks▼
---