Best Cherry Blossom Photography Spots in Tokyo & Free Sakura Photos
Cherry Blossoms in Tokyo: 5 Best Photo Spots in Tokyo 2020 Spring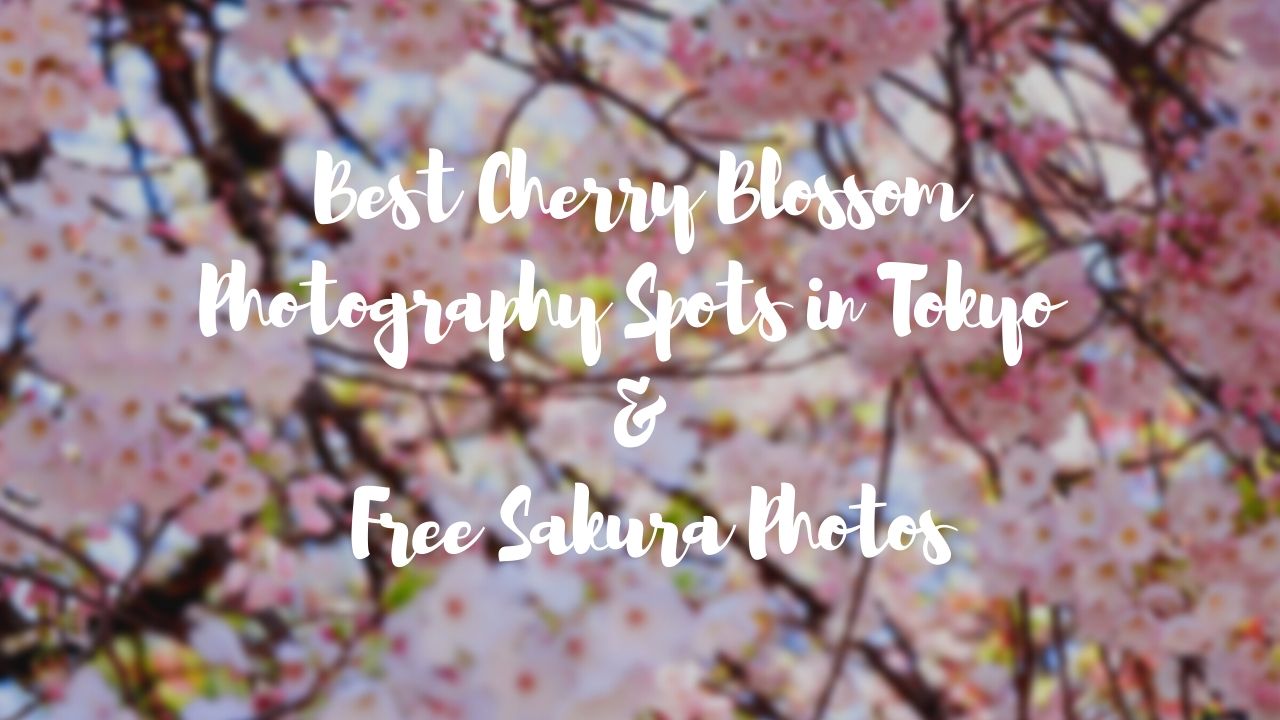 Enjoy the cherry blossoms in Japan from your home! We know that many people had to cancel their trips to see the famous sakura flowers in Japan so we decided go to some of the most popular places in Tokyo and take pictures for you. This way, we hope to make you feel that you are in Japan for at least a few minutes.
We're going to show you some of the best cherry blossom photo spots in Tokyo. Enjoy the photos and take good note of the places for your future trip to Japan! We will be waiting your pictures next year 😉
Also, the photos are free Copyright for all those travel blogs and influencers who want to use the photos for their websites or social networks. The only thing we ask in return is to give credit to us by meaning us in your blogs or social networks.
And if you're not a professional but want to use our pictures, please feel free to use them as you want! (wallpaper, references pictures for illustrations, etc). We also have some pictures in our Instagram stories in case you want some wallpaper for your phone as well. We would be really happy if you tag us on social media and show us how you are using our images.
Maybe I shouldn't say this, but my colleague is super talented and he takes amazing pictures so I'm sure you're gonna love them as much as I do! 😊 So make sure to check them out!!
Ueno Onshi Park (上野恩賜公園)
Ueno Park is one of the largest and most famous parks in Tokyo during the hanami. Many families go there throughout the year, but especially during the time of the hanami its popularity increases and it's the preferred place for many Japanese. The main attraction is the nearly 1,000 trees along the main street until it reaches the Tokyo National Museum.
Another favorite spot is the Shinobazu pond. Here you can take pictures of the cherry trees on the pond, or rent a small boat to walk around the pond and take pictures from inside.
Check all the pictures here! ▶︎ Ueno Park Free Photos
More:
Shinjuku Gyoen (新宿御苑)
The Shinjuku Gyoen or Shinjuku National Garden, having an entrance fee of 500 yen, is less crowded than other parks such as Ueno or Yoyogi. It's also a bit far from the center of Shinjuku and is harder to find for non-locals. However, it's a good place to go and enjoy the cherry blossoms in spring. It has three types of gardens: Japanese, English and French gardens. Since it is very spacious, in spite of the fact that many people visit it, it does not get as overcrowded as those previously mentioned. There is more space and there are different places where you can enjoy the sakura.
Download more photos in this link! ▶︎ Shinjuku Gyoen Free Photos
More info:
Tokyo Midtown (東京ミッドタウン)
Tokyo Midtown is a popular complex building for shopping and dining in Roppongi, one of the most famous and luxurious areas in Tokyo along with Ginza and Omotesando. Being in an area with thousands of shops, buildings, and skyscrapers, you may think that it might not be a good place to take photos of cherry blossoms, but you would be wrong. Tokyo Midtwon has a whole promenade full of cherry blossoms from where some of the best shots of the city are taken! Also, several restaurants offer great outdoor seats so it's especially recommended for dining or having lunch with the view of cherry blossoms.
Check this link for more photos! ▶︎ Tokyo Midtwon Free Photos
More:
Homyo-ji Temple (法明寺)
Homyo-ji Temple is a Buddhist temple which has an entrance with a short but pleasant promenade surrounded by cherry blossoms. It's considered by the Japanese as one of the best places to enjoy cherry blossoms in Tokyo since it offers a beautiful view with the contrast of cherry blossoms and a traditional Japanese temple in a calm atmosphere.
Enjoy more photos here! ▶︎ Homyoji Temple Free Photos
More info:
Chidorigafuchi (千鳥ヶ淵)
Hundreds of cherry trees decorate the moats of the ancient Edo Castle around the Kitanomaru Park, resulting in one of the most precious images of Tokyo in spring. Boats are available for rent, but picnics are not allowed on the lawn. Visitors can go to the nearby Yasukini shrine, with a thousand of other cherry trees. Also during these days they put food stands in the shrine. At night, the cherry trees surrounding the river light up turning the views even more beautiful.
Download more photos here ▶︎ Chidorigafuchi Free Photos
More:
-More Cherry Blossom Viewing Spots in Tokyo
▶ 7 Hidden Cherry Blossom Spots in Tokyo
▶ 5 Best Places to See Night Cherry Blossoms in Tokyo
▶ 5 Best Cherry Blossom Festivals in Tokyo
▶ 10 Best Cherry Blossom Viewing Restaurants in Tokyo
▶ 7 Best Cafes for Cherry Blossom Viewing in Tokyo
▶ 5 Best Cherry Blossom Viewing Cruises in Tokyo
▶ Best Cherry Blossom Spots near Tokyo
↓↓↓ Check more articles about Cherry Blossoms in Japan!! ↓↓↓
▽Related Articles▽
▼Editor's Picks▼
---