7 Hidden Cherry Blossom Spots in Tokyo
Off the Beaten Path Cherry Blossom Spots in Tokyo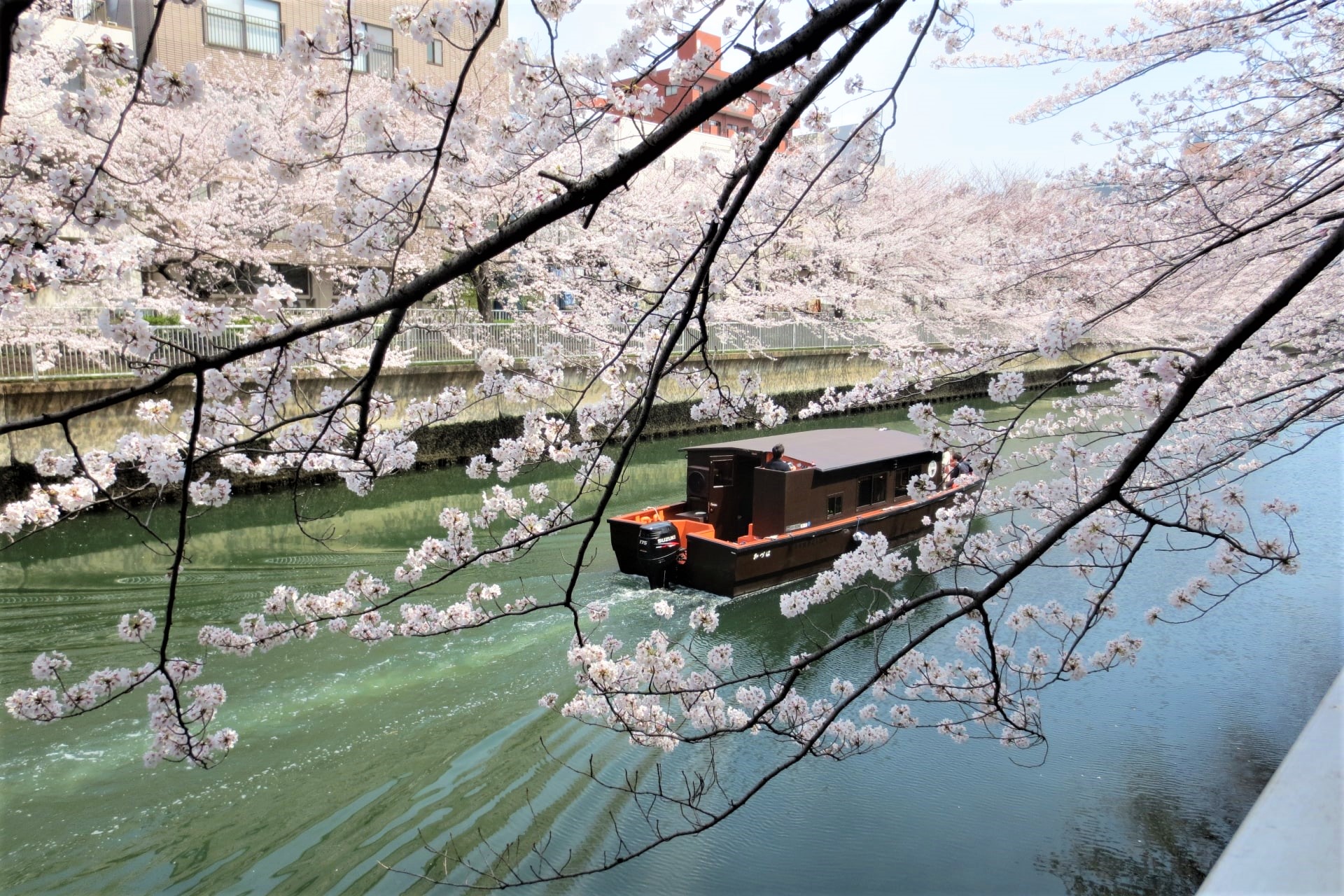 Cherry blossoms are the top tourist attraction in Japan, drawing a few million visitors during the season. There are numbers of places where astonishing Sakura scenery can be captured. Especially, the capital city Tokyo and the historic town Kyoto are two most popular destinations among international tourists.
Top cherry blossom spots in Tokyo: Shinjuku Gyoen, Meguro River, Chidorigafuchi, Ueno Park
Top cherry blossom spots in Kyoto: Maruyama Park, Daigoji Temple, Philosopher's Path, Heian Shrine
Because the cherry blossom season is relatively short (the peak blooming time is about 7 to 10 days), some of the most famous cherry blossom spots are overfull and it's almost impossible to take photos without any crowds.
But for those who wish to enjoy cherry blossoms in calm and peaceful atmosphere, there are still places which are lesser-known among tourists.
In this article, I would like to introduce some of the greatest hidden spots for cherry blossom viewing in Tokyo. They might be known by locals, yet they are much less busy than most of the popular cherry blossom spots in Tokyo.
So let's take a look 🙂
---
1. Aoyama Cemetery
Aoyama Cemetery or Aoyama Reien (青山霊園) opened as Japan's first public cemetery in 1874, and was the main locations of foreigners' graves during the Meiji Period.
Aoyama Cemetery may not be the first choice as a tourist destination, however, it attracts a lot of people during the cherry blossom season. Over 320 cherry trees are planted at the site, and especially the scenery of a row of trees lined along the promenade is breathtaking.
The cemetery is located in Aoyama area which is accessible from Shibuya, Harajuku and Roppongi area. Although it's located in the bustling area of the city, you can enjoy watching cherry blossoms in calm and peaceful atmosphere.
More info: Aoyama Cemetery Cherry Blossoms
2. Monzen Nakacho
Monzen Nakacho (門前仲町) is a district of Koto Ward, known as a part of Tokyo's old downtown, Shitamachi area. It's home to some of important historical monuments such as Fukagawa Fudodo Temple and Tomioka Hachimangu Shrine.
A cherry blossom festival, Oedo Fukagawa Sakura Matsuri is held at Monzen Nakacho and the surrounding neighbourhoods. The main venue of the festival is around Oyoko River where 270 cherry trees line along the river for 1.3 km.
Sightseeing boats and night illumination for cherry blossoms are also available during the festival. There are also numbers of food vendors offering authentic Tokyo cuisine such as Unagi (grilled eel), Bento (lunch box) and Wagashi (traditional Japanese desserts).
Access: Short walk from Monzen Nakacho Station
3. Zenpukuji River Green Park
Zenpukuji River Green Park (善福寺川緑地) is one of the most spectacular cherry blossom spots in Tokyo, yet it's lesser known among foreign tourists. Over 700 cherry trees line along the Zenpukuji River for 4.2km, offering picturesque spring scenery.
Locals enjoy strolling down under the row of cherry trees and stop by at small bridges to take photos.
The surrounding neighbourhoods are quiet residential area, and there are usually no big crowds even during the peak blooming season. It's a perfect place for those who wish to escape from the hustle and bustle of the crowded cherry blossom spots in Tokyo.
Access: 15 mins walk from Hamadayama Station or Asagaya Station
4. Tamagawa River
Along the bank of Tamagawa River (多摩川), there are over 500 cherries stretching for 2.5km. It's one of the most spectacular cherry blossom viewing spots located outskirt of Tokyo.
The contrast of the pink cherry blossoms, green grass and blue sky and river makes a breathtaking scenery.
During the peak blooming season, a cherry blossom festival "Fussa Sakura Matsuri" is held along the riverbank with numbers of vendors and special events. The illumination of cherry trees are also available after dark, and pink blossoms are lit-up by over 600 lanterns mystically.
Access: 10 mins walk from Kumagawa Station
5. Showa Memorial Park
Showa Memorial Park or Showa Kinen Koen (昭和記念公園) is a national park and the largest park in Tokyo, which is located in Tachikawa City, the suburb of Tokyo. It can be access directly from Tokyo Station or Shinjuku Station by JR Chuo Line (25–40 mins).
It's one of the most popular getaway from central Tokyo among nature lovers, and people relax and enjoy picnic and outdoor activities in the vast nature space.
A wide variety of seasonal flowers can be seen in this 165.3 ha park including cherry blossoms, tulips, sunflowers, cosmos and ginkgo trees. Approx 1,500 cherry trees in 30 varieties are planted in the extensive space of the park. Some of trees are late blooming so they can be enjoyed till mid April in case you miss the peak blooming period in central Tokyo.
More info: Showa Memorial Park : Best Flower Park in Tokyo
6. Kinuta Park
Kinuta Park (砧公園) is one of the biggest parks in Tokyo located in Setagaya Ward. The 39 ha park has a massive lawn space and it's home to over 800 cherry blossoms.
Kinuta Park is visited by a lot of families and groups for picnic during the cherry blossom season. Although it's city's one of the most visited cherry blossom spots, visitors can freely walk and enjoy the stunning cherry blossoms in wide open space.
Moreover, the park has a variety of cherry trees besides Somai Yoshino (the most common type of cherry trees in Japan), which makes the viewing time of the blossoms longer than other places (about two weeks).
Access: bus or 20 mins walk from Yoga Station
7. Yanaka Cemetery
Yanaka Cemetery (谷中霊園) is one of the largest graveyards in the city, housing more than 7,000 graves. It's located in Yanaka district, Taito Ward. It's one of the fewest neighbourhoods in Tokyo known as the Shitamachi area where the old downtown atmosphere still remains.
Approx 170 cherry trees are planted at the cemetery site, and there is a Sakura Dori (cherry blossom avenue) through the cemetery. Beautiful cherry blossoms can be enjoyed with peaceful and pleasant atmosphere.
If you feel hungry after viewing cherry blossoms, you should pop by at Yanaka Ginza, the popular shopping street in Yanaka area, where local shops and eateries gather and offer delicious and authentic street food.
Related article: Yanaka Ginza: Tokyo's Best Old-Fashioned Shopping Street
Access: 7 mins walk from Gaien-mae Station or 10 mins walk from Nogizaka Station
---
Thanks for reading! I hope you have enjoyed reading my list of the best hidden cherry blossom spots in Tokyo! If you are willing to explore new spots in Tokyo, these spots could be perfect spring destinations for you 🙂
For more information about amazing cherry blossom spots in Tokyo, here are some more articles for you to check out!
▽Related Articles▽
▼Editor's Picks▼
---