10 Best Things to Do in Ryogoku
Ryogoku Travel Guide: What to Do in Ryogoku, Tokyo Now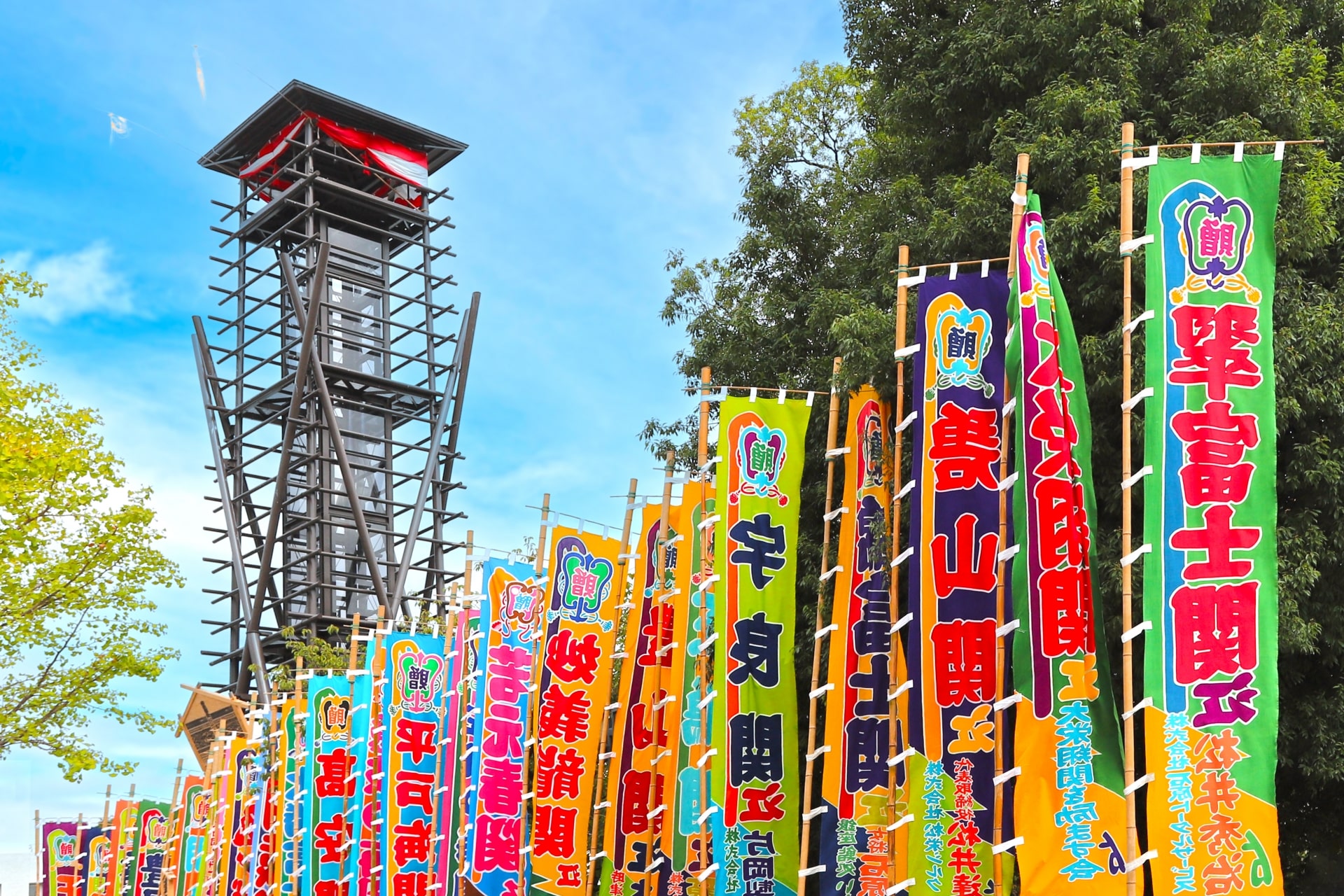 When you travel around Tokyo, it's easy to find new things and trending spots. However, don't you miss the Japanese traditional culture? Ryogoku is one of the tourist towns where you can enjoy the Japanese traditional culture.
Ryogoku is the area around the Ryogoku Bridge between Sumida ward and Chuo ward in Tokyo. The Ryogoku Bridge was built in 1659 over the Sumida River. The west side of the bridge is called West Nihonbashi and the east side is called Ryogoku.
Though Ryogoku is known as the town of Sumo Wrestling, which is a Japanese national combat sport, there are other tourist spots that are filled with Japanese history and traditional cultures such as Edo-Tokyo Museum and The Japanese Sword Museum. In this article, I would love to introduce the best things to do in Ryogoku. Let's go on a journey to see Japanese history.
1. Ryogoku Tourist Information Center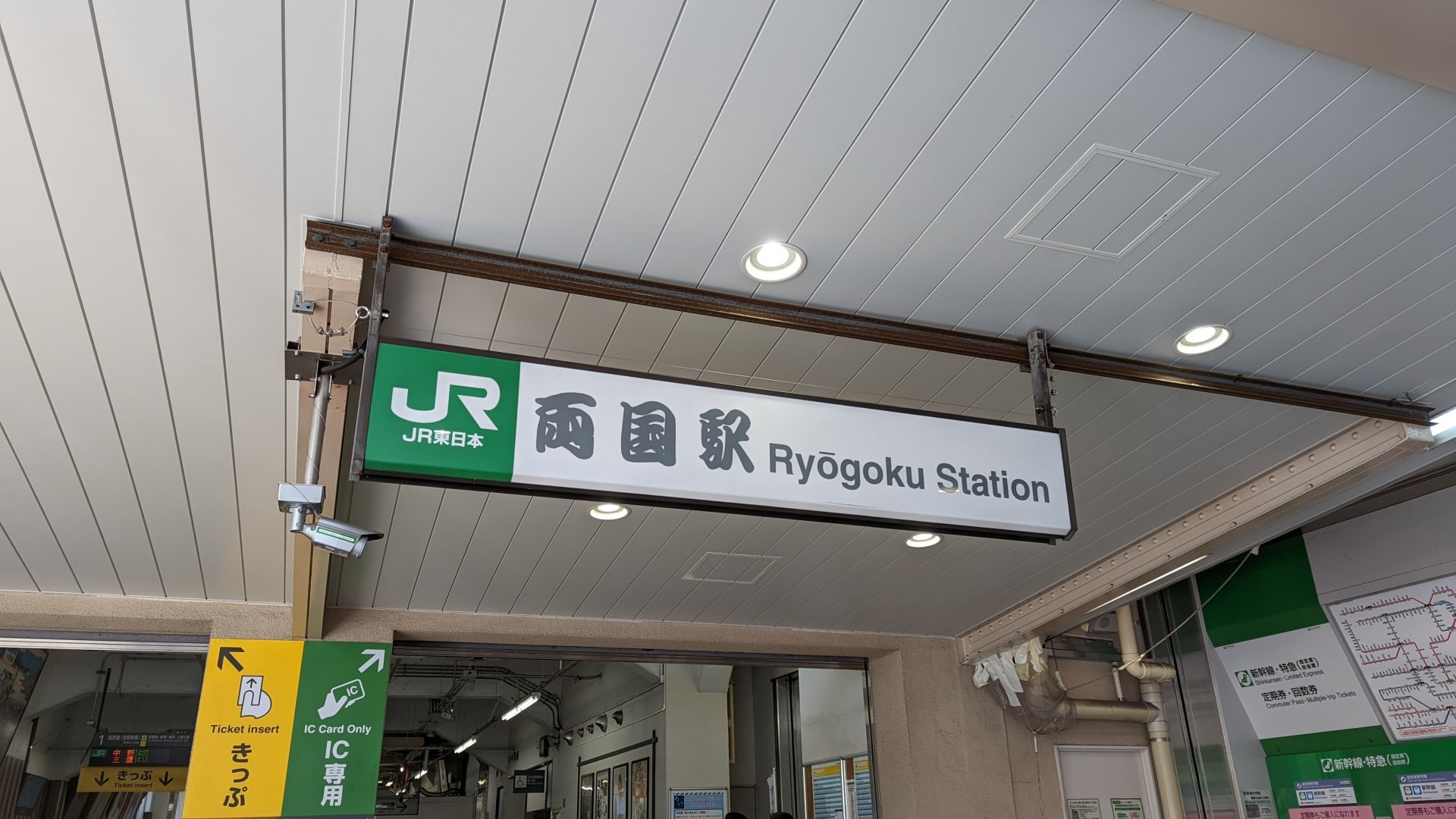 Tourists can visit Ryogoku Tourist Information Center at first to get information about things to do and places to visit in Ryogoku. Ryogoku Tourist Information Center is located in Ryogoku Edo NOREN, connected directly to JR Ryogoku Station.
There are travel maps and various event brochures. Every weekend and public holiday, a tour around the Ryogoku area is held. Especially during a tournament season of Sumo Wrestling, a Sumo tour is held. Let's join it and see what there are in the Ryogoku area. It also sells Ryogoku local souvenirs.
It provides tourism information in many languages like English, Chinese, and Korean. It must help you enjoy your journey around the Ryogoku area.
2. Watching Sumo Wrestling at Ryogoku Kokugikan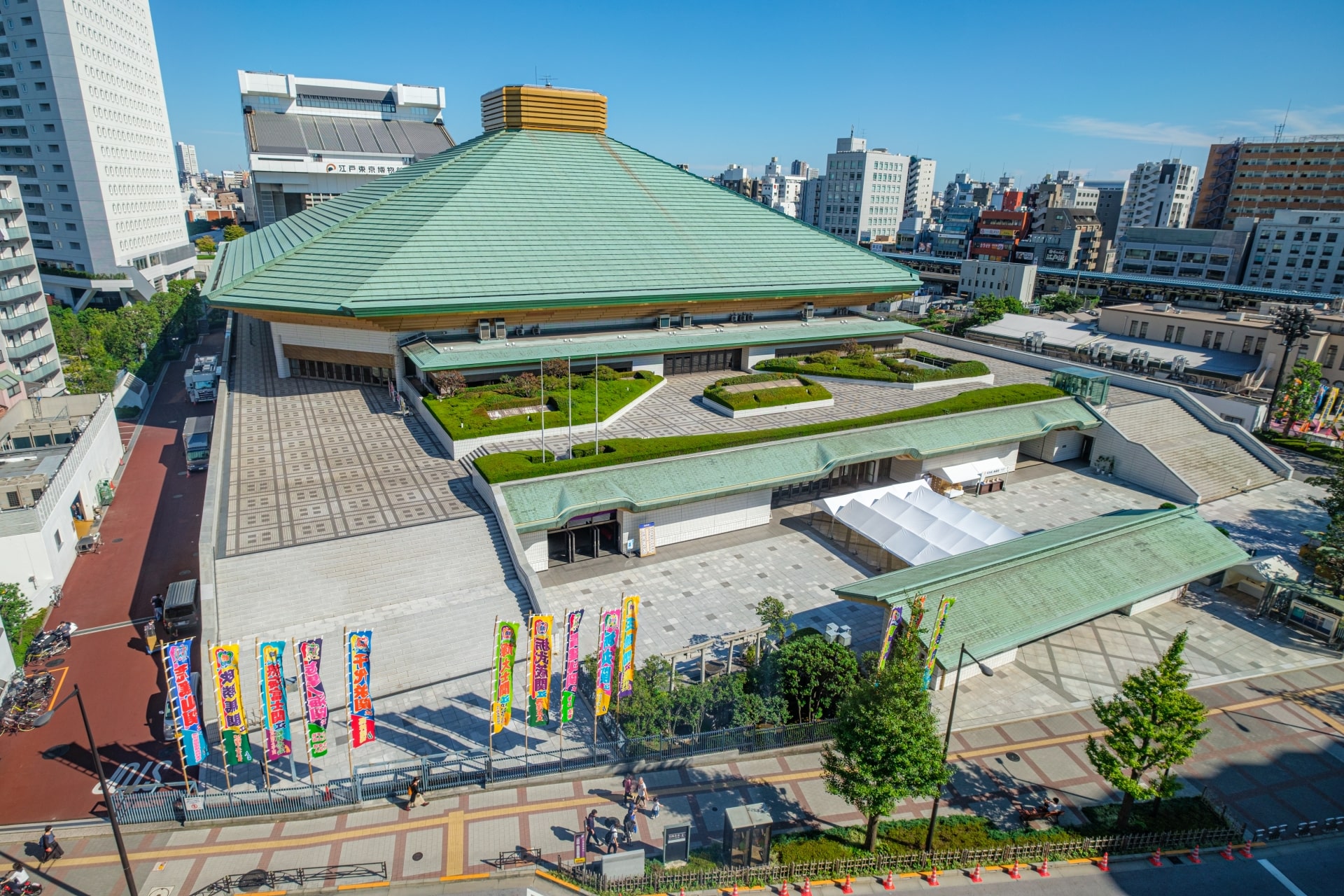 Ryogoku Kokugikan is a stadium for Sumo Wrestling. Sumo Wrestling has its origin in a scuffle in the 700s. In the Edo period, Sumo Wrestling was established as a national sport and was getting popular among local people as entertainment.
At Ryogoku Kokugikan, Sumo Wrestling tournaments are held in January, May, and September. If you come to Ryogoku in these seasons, don't miss it. You will have a live experience watching intense Sumo games with the sound of hitting bodies.
You can join a Tokyo Sumo Tournament Tour (Tickets Included) below!

3. Watch Morning Sumo Training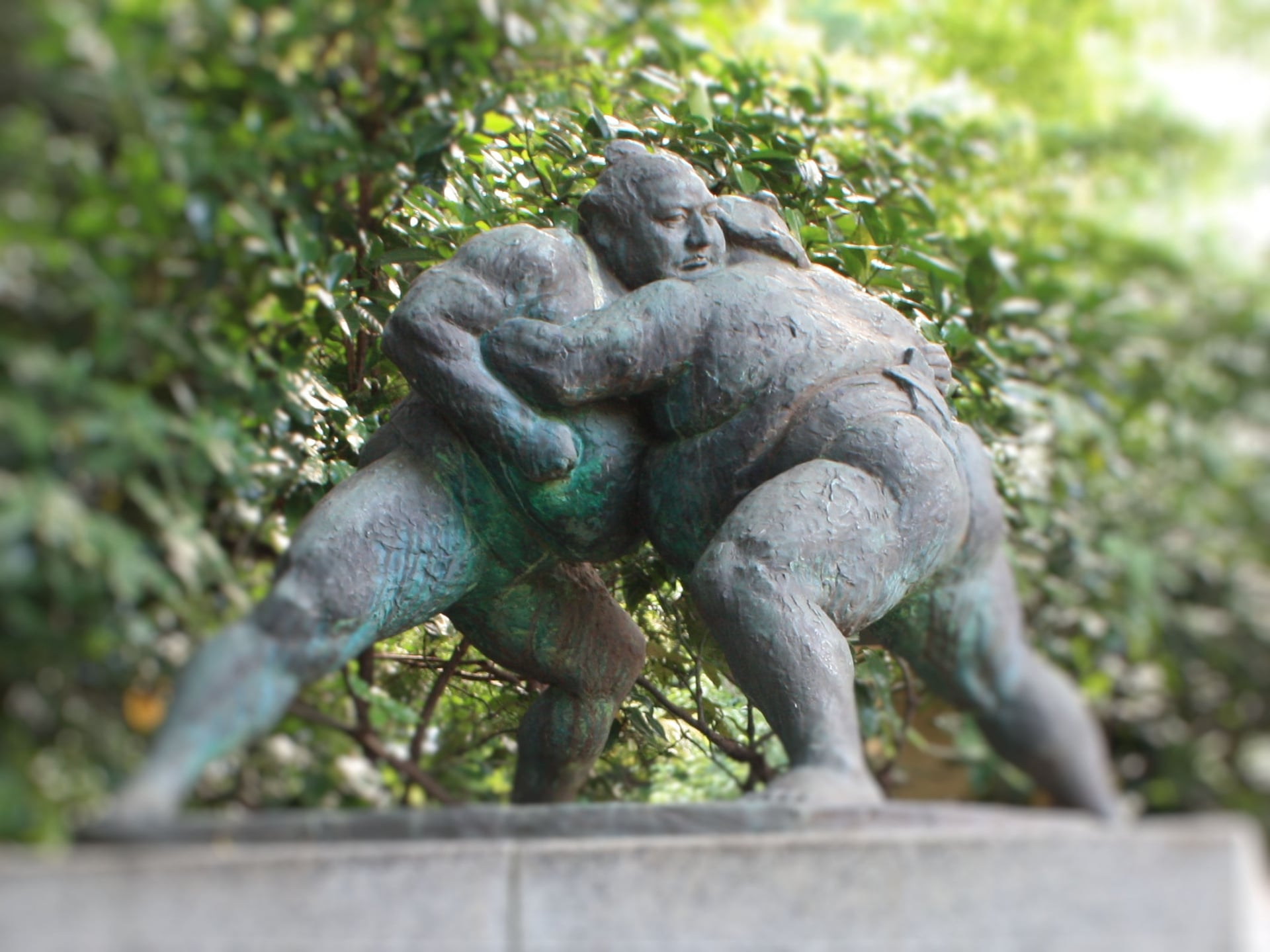 Are you interested in Sumo? Do you want to know more about what Sumo is like? Some Sumo stables (called a "heya" in Japanese) allow people to watch a morning Sumo training. The sumo stable is a training house for Sumo wrestlers. A morning Sumo training starts at 6:00 and should be done in a quiet and serious environment. So if you want to watch it, you have to be silent and follow the rules of each Sumo stable.
Here is an English guide tour of watching morning Sumo training!! On this tour, you can see Sumo training while learning Sumo history and how to behave in a traditional rigorous Sumo stable. If you're interested in it, let's book through the link below.

4. Former Yasuda Garden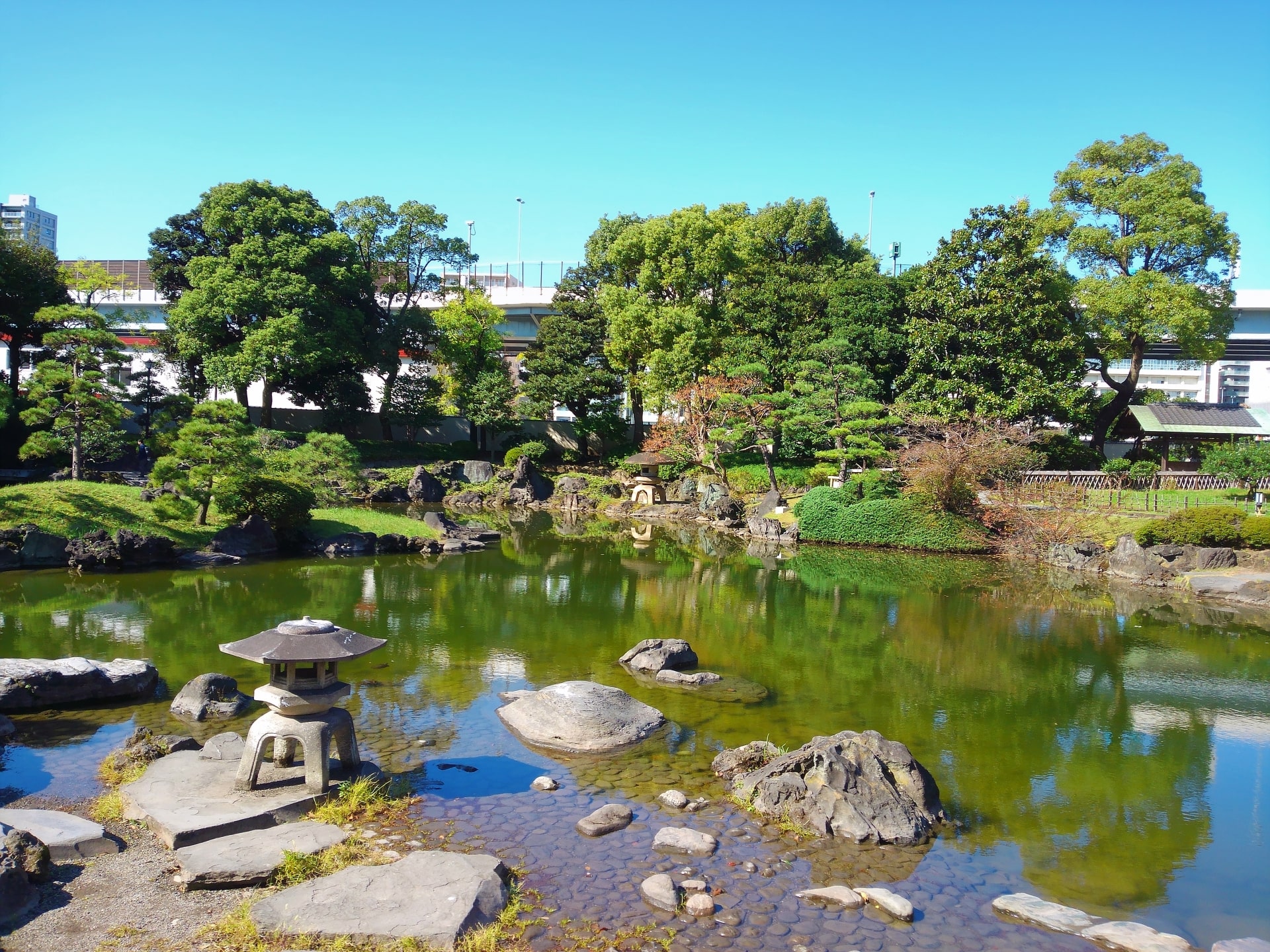 Former Yasuda Garden is a historical garden built as a stroll garden in the Edo period. A stroll garden (called "Kaiyu-shiki-garden" in Japanese) is a kind of Japanese style garden and means a garden with circulating walking paths.
Former Yasuda Garden is famous for its autumn leaves. Ginkgo and maple trees around Shinji pond at the center of the garden turn red or yellow and make a beautiful autumn scene. After sunset, they are lit up fantastically. People can be relaxed and enjoy their reading and chatting time in a silent, historical, and natural atmosphere.
5. Sumida Hokusai Museum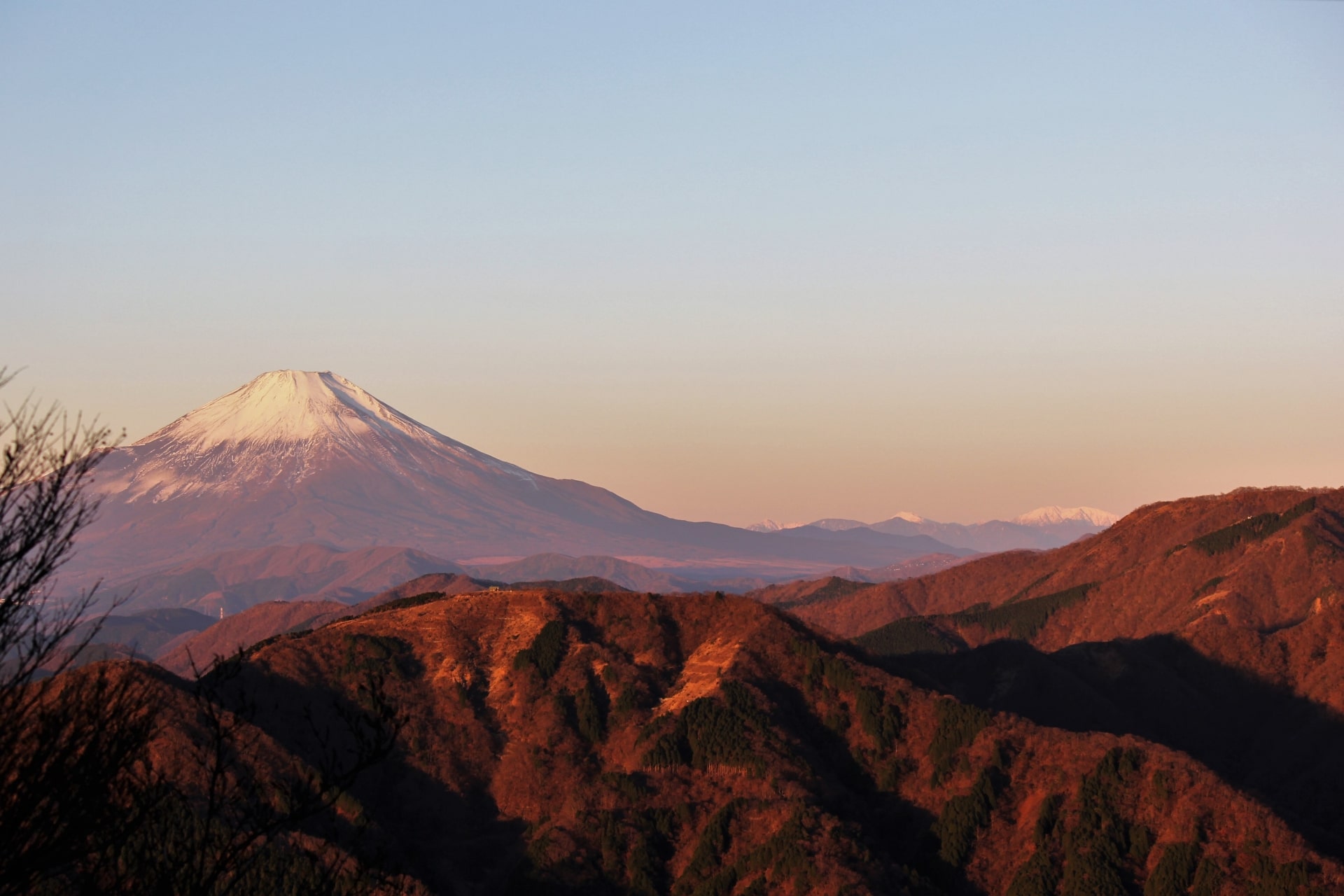 Sumida Hokusai Museum opened in 2016 as a museum featuring artworks of Katsushika Hokusai. Katsushika Hokusai is one of the most famous Japanese Ukiyoe artists from the Edo period. His representative artworks are "Thirty-six Views of Mount Fuji" and "Hokusai Manga". Ukiyoe is one of the traditional Japanese art styles and is known as works of woodblock print and painting.
Sumida Hokusai Museum exhibits the artworks of Hokusai and presents a relationship between Hokusai and Sumida ward. At a regular exhibition on the 4th floor, you can see the detail of Hokusai's artworks with a touch screen. There is also a replica of Hokusai's atelier. A special exhibition about Hokusai or Ukiyoe art is held periodically.
6. Edo-Tokyo Museum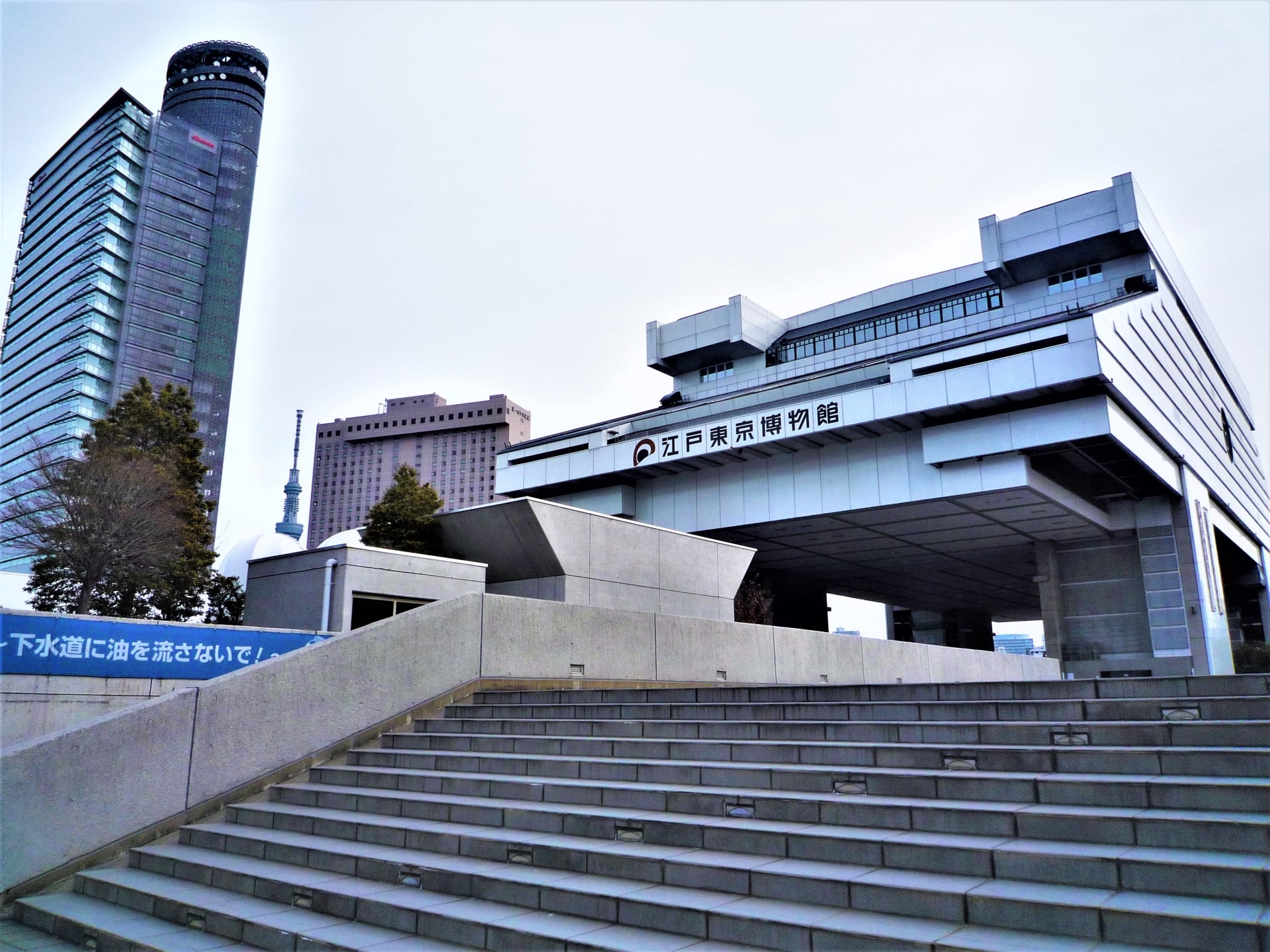 Edo-Tokyo Museum opened in 1993 as a museum inheriting the history and culture of Edo and Tokyo, located next to Ryogoku Kokugikan. The height is about 62 m, the same as the main palace of the Edo castle, and the structure is a unique raised-floor style to match the view of Ryogoku Kokugikan.
On the 5th floor, more than 2,500 stuff and documents are exhibited according to each theme of the Edo zone and Tokyo zone. In the Edo zone, there is an exhibition of the lifestyle and culture of the Edo period such as Ukiyoe and people's living. In the Tokyo zone, you can learn what happened after the Meiji period such as the Kanto huge earthquake and the Bombing of Tokyo.
NOTE: Edo-Tokyo Museum is scheduled to be fully closed from April 1, 2022 until sometime in 2025.
View Information
Hide
Information
| | |
| --- | --- |
| Access | 3 mins walk from the west exit of JR Ryogoku Station. 1 min walk from the A3 . A4 exits of Toei Subway Oedo line Ryogoku Station. |
| Address | 1-4-1 Yokozuna Sumida ward Tokyo 1300015 |
| Price | Adults ¥600 / University Students ¥480 / 13-18/65~ ¥300 |
| Official Website | https://www.edo-tokyo-museum.or.jp/ |
7. Chanko restaurants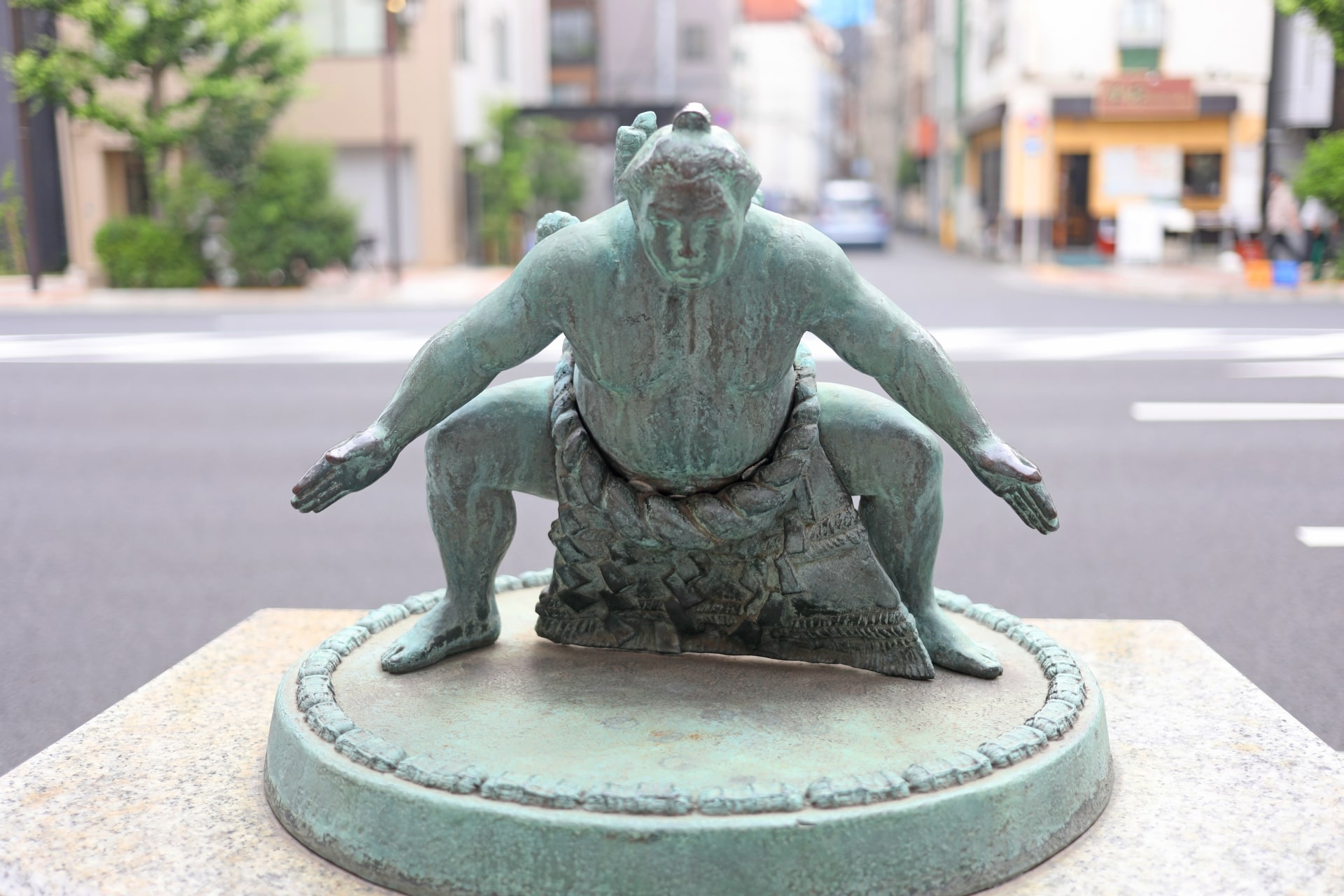 Chanko is a traditional hot pot that Sumo wrestlers eat. Chanko is a collective term describing dishes which are made by Sumo wrestlers who are in charge of cooking. Chanko hot pots are popular among not only Sumo wrestlers but also general people because it includes various vegetables and meats and is considered as a nutritionally balaneced meal.
Chanko Kirishima is run by a former Ozeki Sumo wrestler Kirishima Kazuhiro. Its Chanko hot pot is full of ingredients like chicken, pork, seafood, and various vegetables. The various ingredients soak up the original soup mixed with miso and soy sauce. In addition to the hot pot, there are many side dishes.
Near Ryogoku Station, you can find many Chanko restaurants. Let's try and find your favorite one!!
8. Ryogoku Station's Edo Noren
Ryogoku Station's Edo Noren is a food and beverage complex facility renovating the former Ryogoku Station. The concept is to enjoy the unique cuisine culture of Edo. There are 12 Japanese restaurants in a room like the Edo town.
Tsukishima Monja Moheji is one of the most popular Monjayaki restaurants in Japan. Monjayaki was born in Edo and now is famous as a Tokyo local gourmet. Fresh seafood and seasonal ingredients with special soup taste amazing. Let's try Monjayaki, which you can taste only in Japan.
Tsukiji Shokudo Genchan serves various seafood cuisines like Sashimi, seafood bowls, grilled fish, and boiled fish at a reasonable price. Eating raw fish is a part of Japanese particular culture. Don't miss the opportunity to try nice fresh raw fish.
As I wrote above, there is a tourism information center in Ryogoku Station's Edo Noren.
9. The Japanese Sword Museum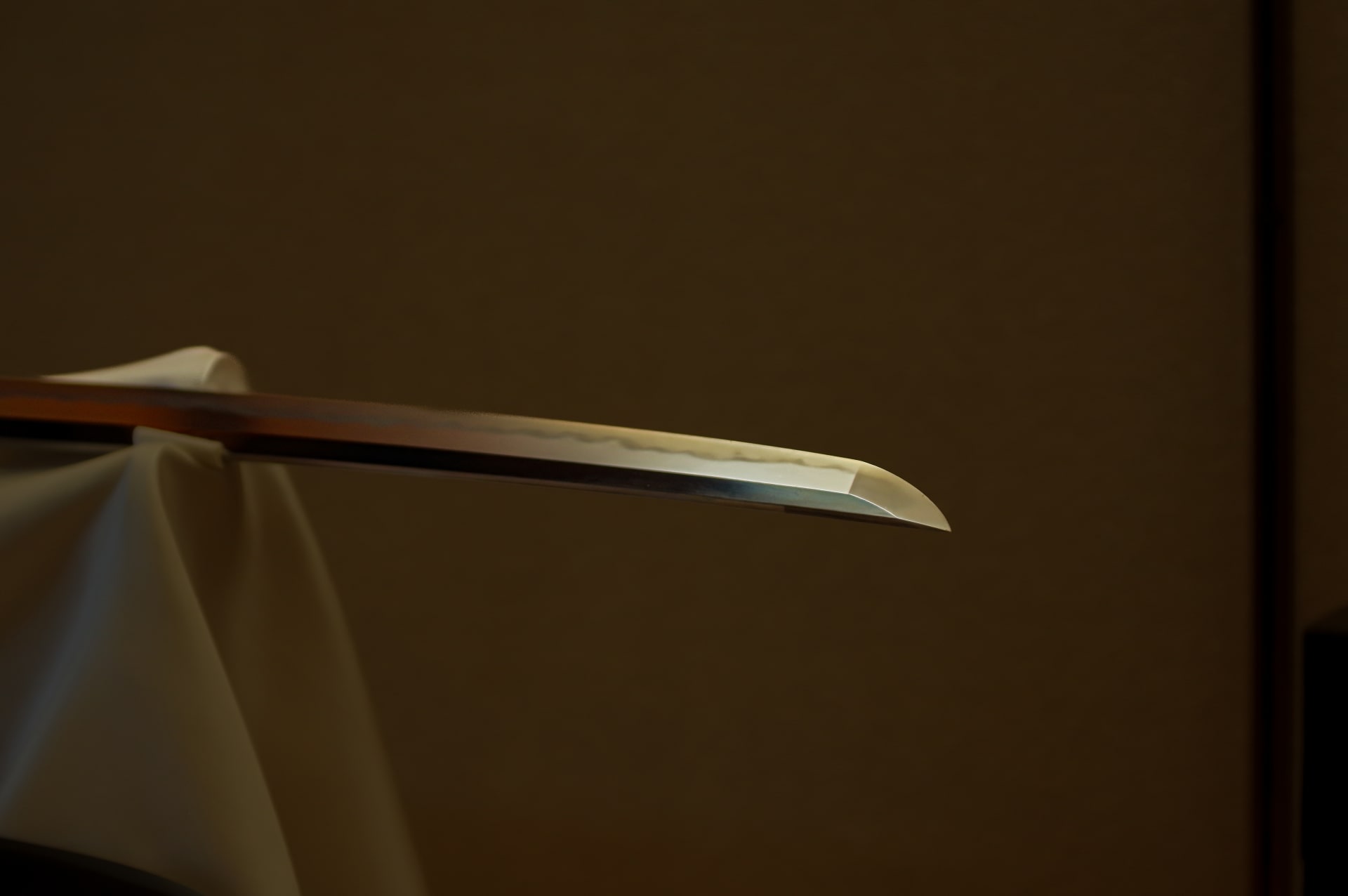 The Japanese Sword Museum preserves and exhibits Japanese swords to spread Japanese sword culture. Japanese swords were originally a kind of weapon, but now it attracts not only Japanese people but also foreign people for its beauty, as a cultural property of art craft work.
The collections in the museum are over 190 precious swords including a national treasure, important cultural property, and a special important sword. Some of the collections were donated by a person who loves Japanese swords. The appearance of each sword like shape and luster will make you feel Japanese craftsmans' delicate sensitivity.
View Information
Hide
Information
| | |
| --- | --- |
| Access | 7 mins walk from the west exit of JR Ryogoku Station |
| Address | 1-12-9 Yokozuna Sumida ward Tokyo 1300015 |
| Business Hours | 9:20-17:00 |
| Closed | Every Monday / New Year's holidays |
| Price | Membership ¥700 / Adults ¥1,000 / Students ¥500 / ~15 free |
| Official Website | https://www.touken.or.jp/museum/ |
10. Sumida River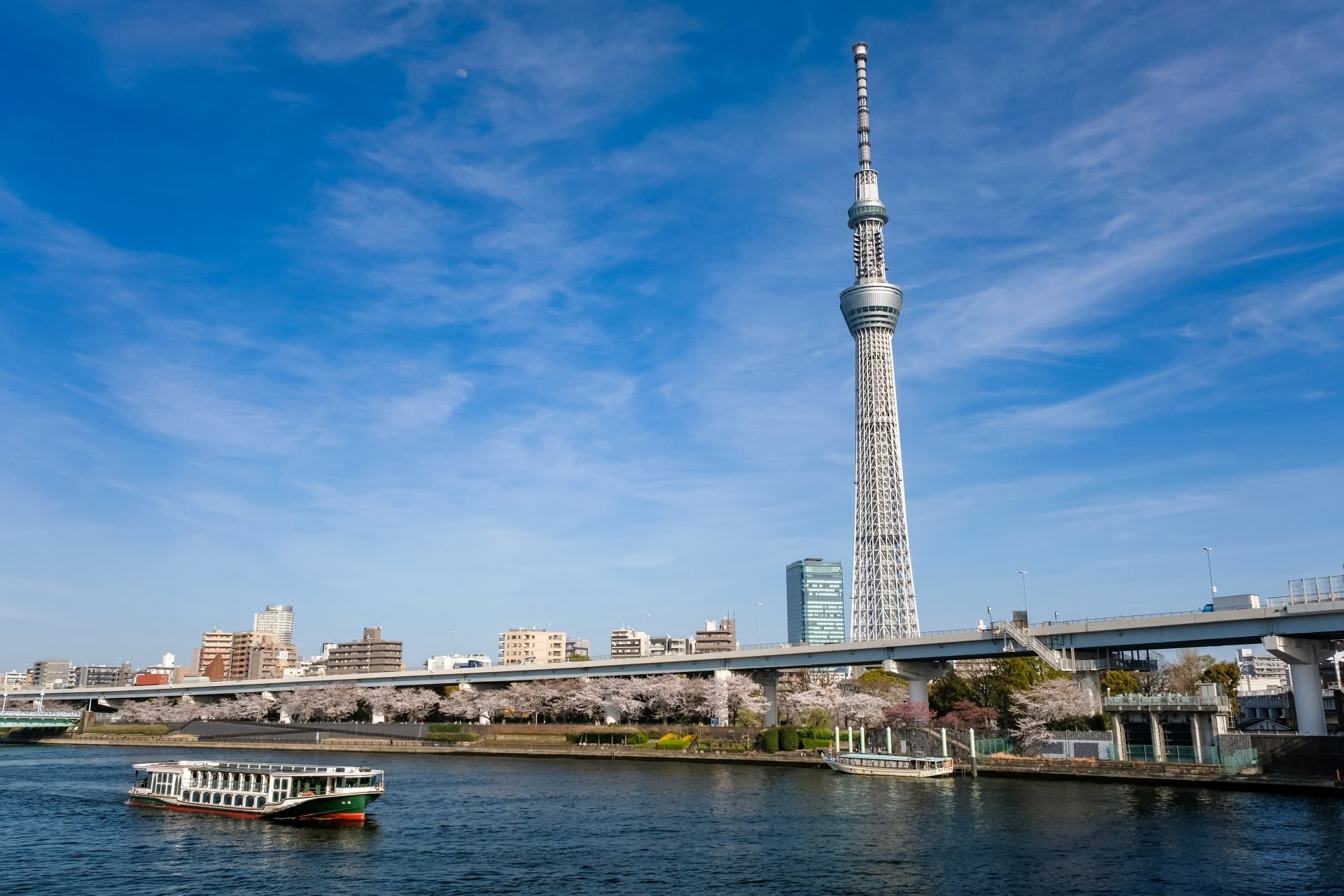 The Sumida River branches from the Arakawa River and flows into Tokyo Bay running for 23.5 km.
The Sumida River is very popular as a Hanami (viewing cherry blossoms) place in spring because plenty of cherry blossom trees bloom along the river. Especially the view of blooming cherry blossoms with Tokyo Skytree is amazing. At the end of July every year, the Sumida River fireworks is one of the biggest fireworks festivals in Tokyo. It is very crowded with many people watching it and a lot of night markets.
Let's go on a journey on the Sumida River with Tokyo Cruise. There are 3 courses, the Sumida River line, the Odaiba line, and the Toyosu line. You can enjoy a different view of each course. 3 different water buses, Emeraldas, Himiko, and Hotaluna have each attractive point. Let's find your favorite course and water bus.
You can get the details about the cruises through the link below:
https://www.suijobus.co.jp/en/
---
Thank you for reading till the end!!
As we see above, there are a lot of historical and cultural places in the Ryogoku area. If you're interested in Japanese history, the Ryogoku area could be your ideal tourist spot. Moreover, it's easy to get Asakusa from the Ryogoku area. In Asakusa, there are also many historical tourist spots like Sensoji Temple.
Tokyo Skytree is also not so far from the Ryogoku area. After you enjoy Japanese historical spots, going to the modern tourist spot could be another option. You can enjoy both sides of traditional and modern Japan in one day.
Which journey are you going on next?!
▽Subscribe our free newsletter!▽
For more information about traveling and living in Japan, check these articles below, too!
▽Related Articles▽
▼Editor's Picks▼
---