Yakatabune: Japanese Dinner in a Boat Cruise at Tokyo Bay
Enjoy a Tokyo dinner cruise with fantastic night views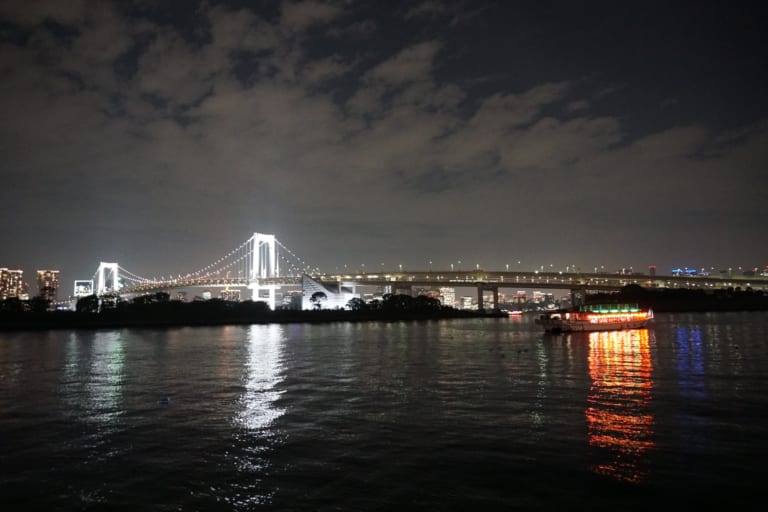 If you're thinking of doing something special and memorable, why not have some fun out on the water? For an only-in-Japan experience, take a yakatabune cruise to feast on a sumptuous dinner as you take in beautiful views of Tokyo Bay.
A yakatabune (屋形船) is a traditional Japanese-style boat adorned with lanterns and furnished with tatami mats and low tables. They're typically used to host parties; you can even charter them for private use. These boats are very popular among Tokyoites, especially in summer, and they're a great way to see the city.
*Please note that this article contains affiliate links.
The History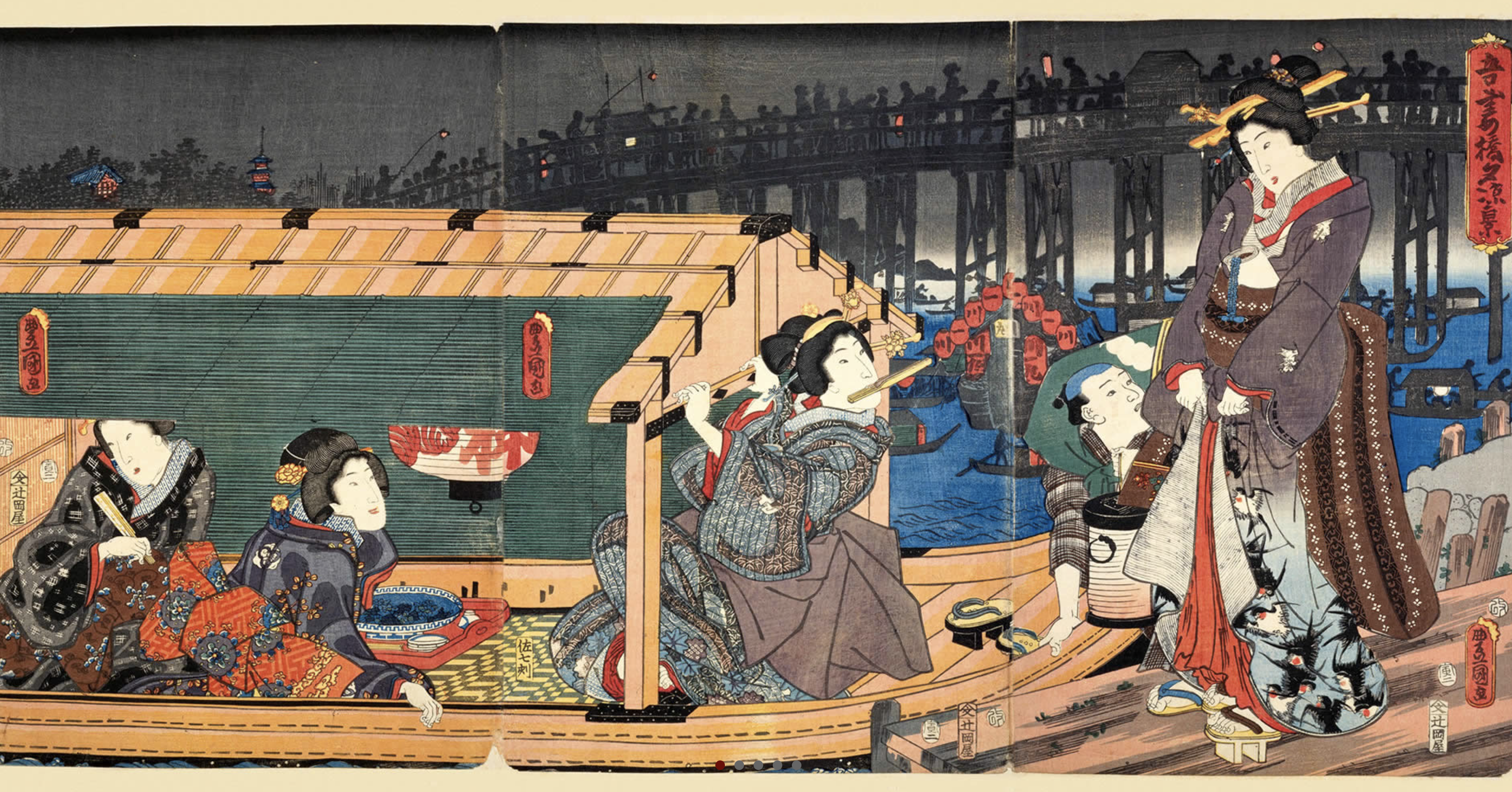 Yakatabune originated in the Heian period (794-1185). Symbols of ostentatious luxury, they were often opulently decorated with gold, silver, and lacquer, and were used to hold lavish parties. This is why yakatabune have historically been referred to as Japanese pleasure boats. Only aristocrats such as feudal lords, high-ranking samurai, and, eventually, wealthy merchants could afford to own these boats.
During the Edo period (1603-1867), yakatabune reached the height of their popularity. Around the start of the Meiji era (1868-1912), yakatabune became more accessible to the masses.
Today, you don't have to be a powerful elite to enjoy a yakatabune party! These are held for a variety of purposes, aside from just having fun with loved ones. Businesspeople sometimes invite clients to yakatabune parties or charter entire boats for employees, while couples have romantic dinners on board. In summer, there are several yakatabune parties that offer discounts to guests wearing yukata (summer kimono).
My first yakatabune ride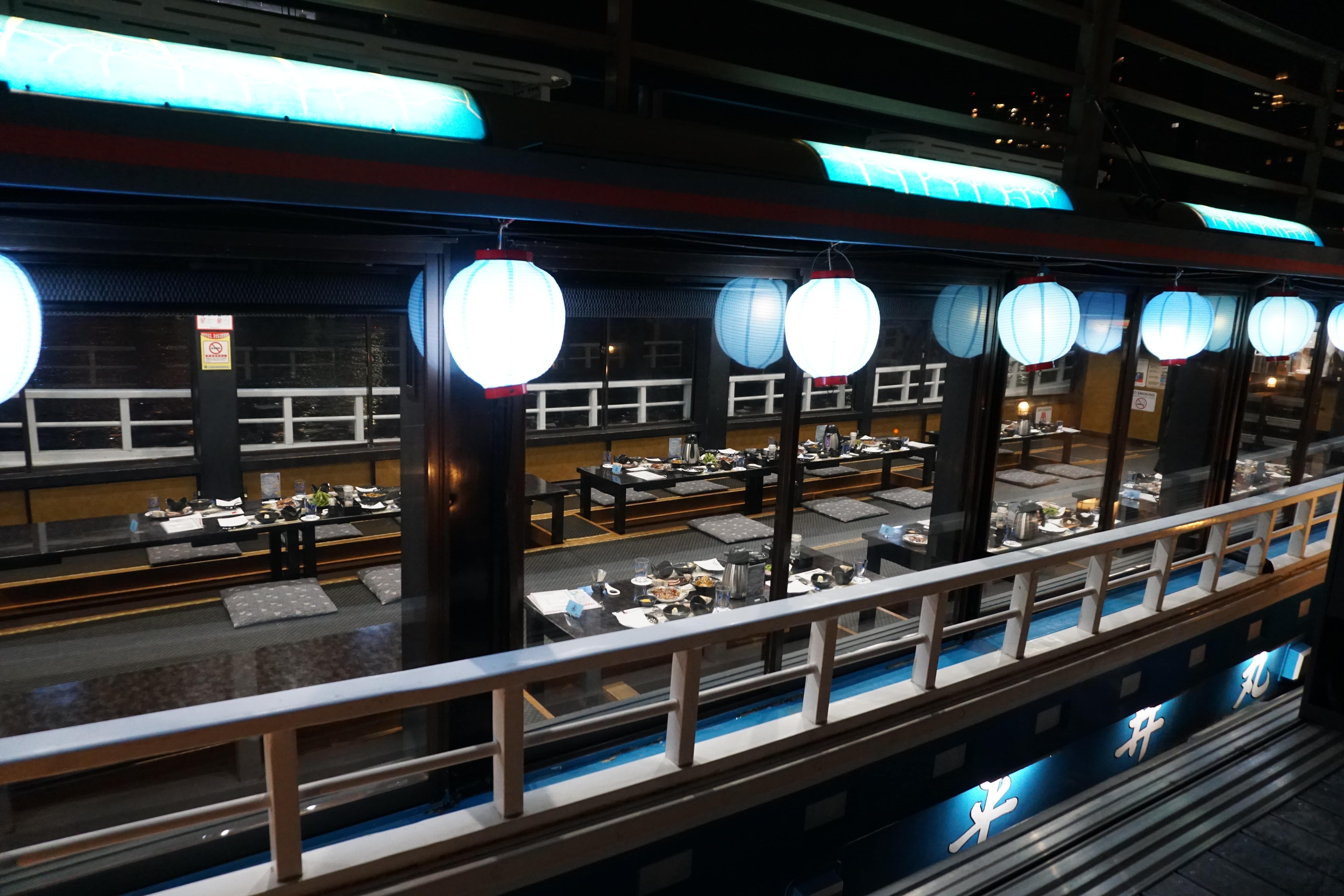 I boarded a yakatabune for a dinner cruise for the first time and loved it; the experience far exceeded my expectations! Upon arriving at the jetty, the staff checked our reservation, then guided us to the boat. (Be careful not to trip and fall into the water!)
After boarding, we had to take off our shoes; then we were guided to our table. At first, I thought that a three-hour ride was a bit much, but the time flew by so quickly! We've had dinner at other Japanese-style restaurants with tatami flooring before, but a Japanese-style dinner on a boat is a totally new and different experience that is worth trying at least once in your life.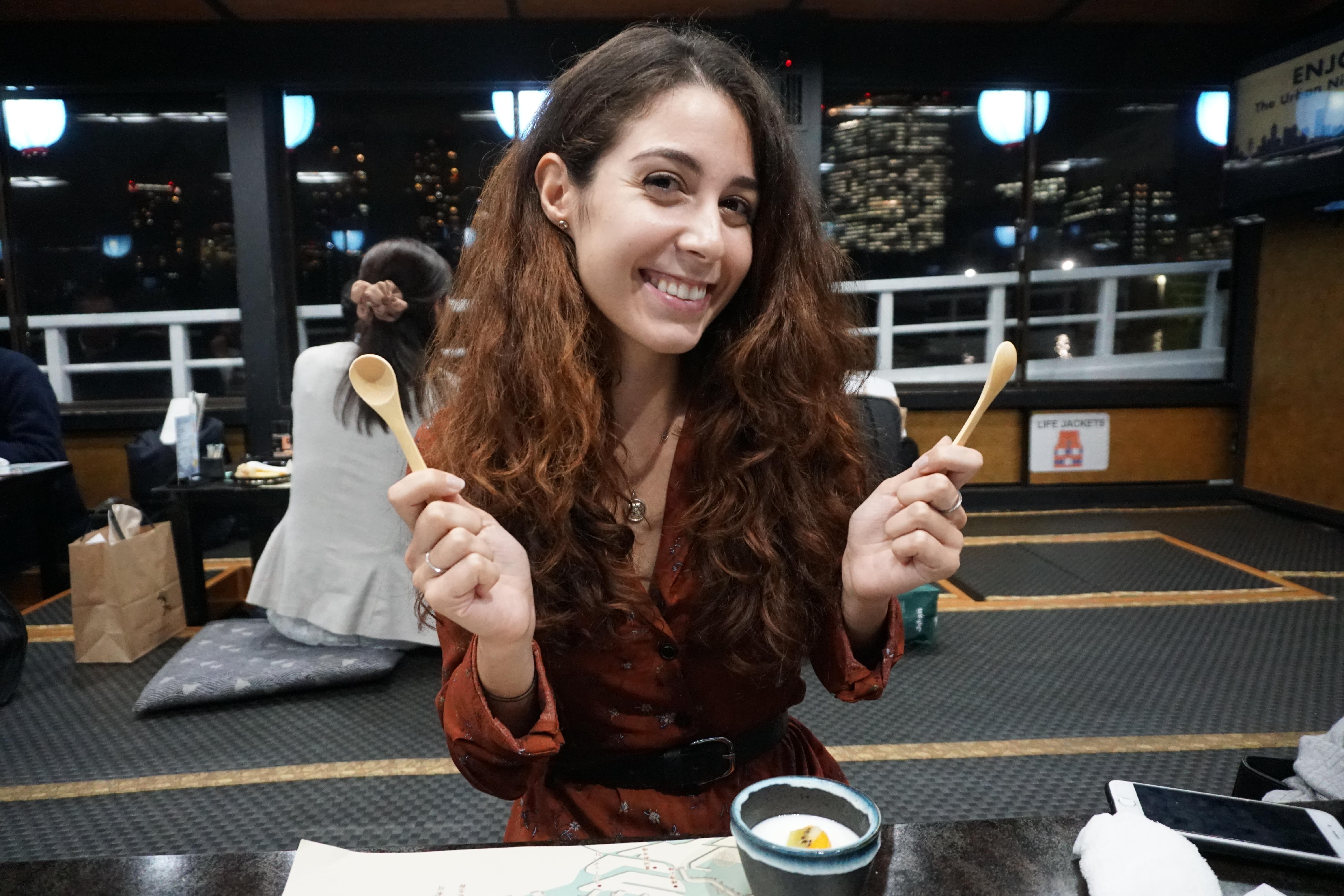 The staff was friendly and polite the entire time. We loved the food and made new friends. Speaking of friends, you will definitely have a blast with your loved ones, but even if you go alone, you can also make friends on board while enjoying fantastic food and drinks!
The food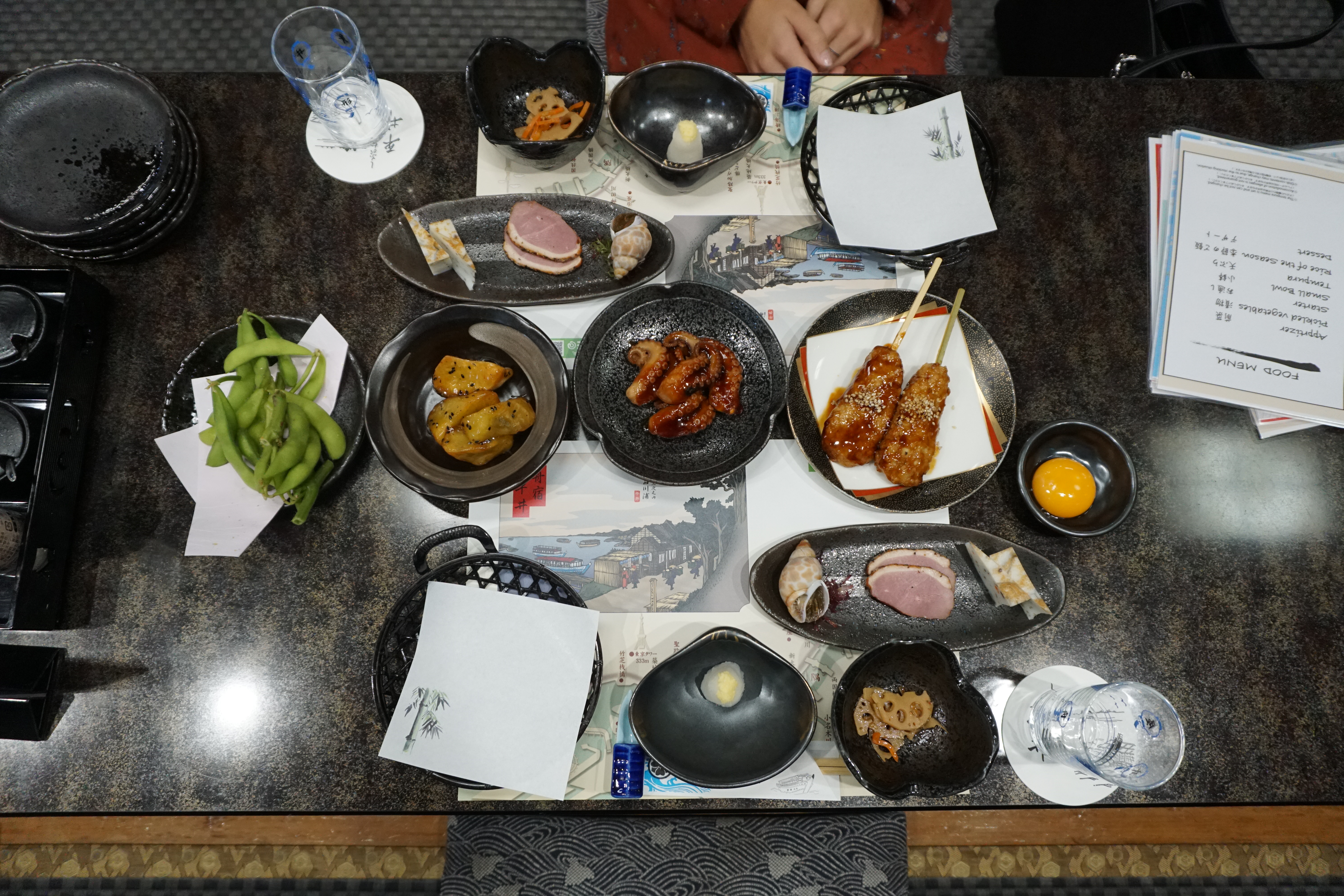 When we sat for dinner, the table was already filled with appetizers and entrees. There was a variety of Japanese delicacies including edamame (green beans), octopus, sweet potato, and tsukune (chicken meatballs). The dinner course also includes an open bar serving both alcoholic and non-alcoholic drinks, so we ordered our first drinks before setting sail and enjoying dinner.
At a yakatabune dinner, tempura is usually the signature dish. At most Japanese restaurants, tempura platters usually consist of prawns and vegetables, but this particular cruise served various types of freshly made fish tempura, which the servers brought to our table one at a time. Rice, soup, vegetables, and a delicious dessert were also part of the course.
The views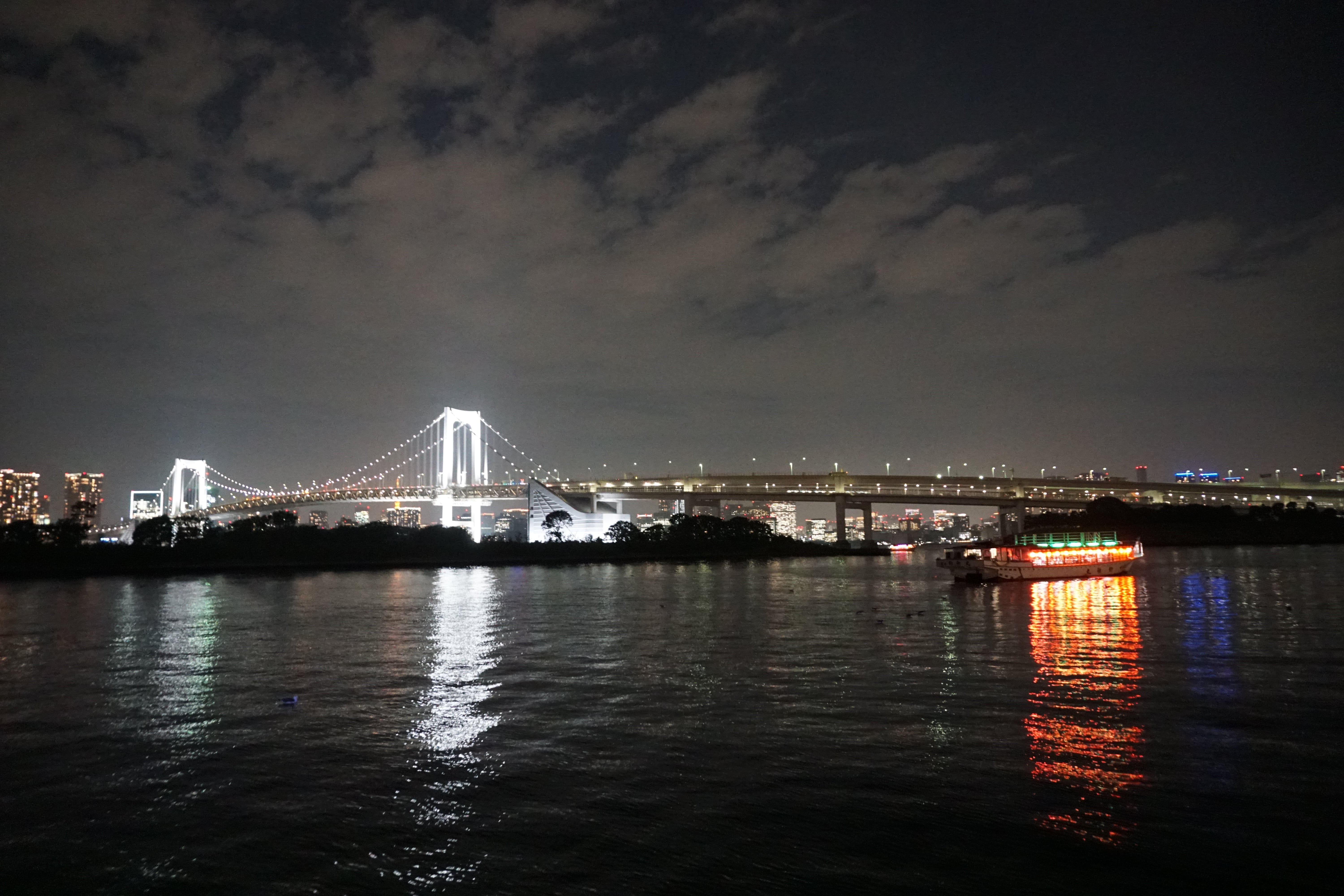 Both sides of the yakatabune have windows, so you can contemplate and take in the views while having dinner. Staff pointed to and explained the main points of interest and landmarks that we passed by.
The boat makes a total of two stops throughout its journey. During these times, you can go up to the open-air deck to enjoy the pleasant breeze and breathtaking views. These moments are also a good time to strike up a conversation with other passengers and make new friends. Even better, a professional photographer on board can help take your photos and immortalize the moment.
Tokyo Bay is one of my favorite places in Tokyo because I love the views from Odaiba. With its priceless night view, this is one of Tokyo's most attractive areas. I enjoy watching the boats afloat, with their colorful lanterns lighting up the water. But seeing these yakatabune up close and being surrounded by them, instead of just seeing them from afar, is even better!
It's really stunning to see Tokyo Bay and the Rainbow Bridge reflected on the dark water, with Odaiba imposing, modern, and sometimes quirky buildings behind you. If you look closely, you can even see more of the cityscape, as well as Tokyo's famous landmarks: Tokyo Tower and Tokyo Skytree!
The entertainment
Yakatabune cruises offer not only good food and beautiful views, but also great entertainment. These boats were originally created for pleasure, after all. Even today, yakatabune cruises typically put on a show, whether it's a traditional cultural performance, or musical entertainment.
The cruise I joined offered modern Japanese entertainment. Before dinner, we kicked off the cruise with kagami-biraki, a traditional sake barrel-opening ceremony. Then, over our delicious dinner, we shared laughs with a Japanese comedian. It was a lot of fun. Truly, there's so much you can do on a yakatabune cruise!
If you want to know more activities and things to do in Tokyo, check out these articles below, too!
▽ Related Articles ▽
▼ Editor's Picks ▼
---