10 Best Things to Do in Chichijima Island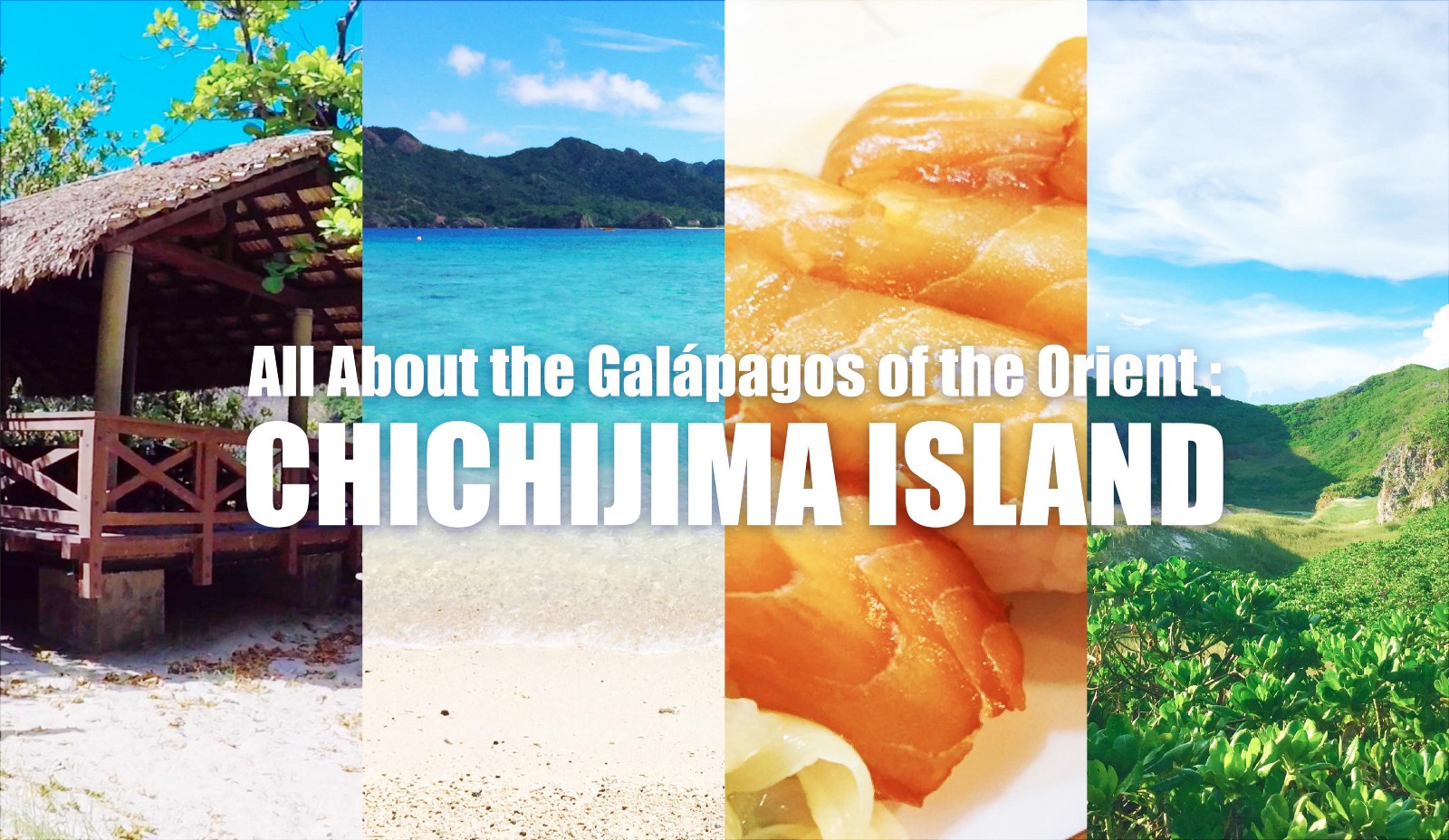 Chichijima Island (父島) is an island of Ogasawara Islands (小笠原諸島) controlled by Tokyo, about 1,000 km away from Tokyo in the main land. The island houses only less than 2,500 people and beautifully blue ocean and untouched rich nature.
Indigenous fish, birds, insects and plants which are native to the remote island exist now. That's why Chichijima Island is referred to as the Galápagos of the Orient. The island is surrounded by about 200–300m high mountains and small islands around. The name of the island Chichijima means "Father Island" in Japanese, and the islands with the name of "Mother" and "Brother" are located around Chichijima.
Ogasawara Islands including Chichijima Island were attacked during WWII and controlled by the U.S. until 1968. People and mass media tend to focus on Okinawa, but Ogasawara will celebrate the 50th anniversary of the reversion of Ogasawara to Japan in 2018.
You can taste their original Japanese food with fresh and unique ingredients. As for climate, Chichijima is warm and hot from 20 to 30 Celsius degrees all year. The island is totally visit-worthy even though it takes 24 hours to get there. Get away from the hustle and bustle of everyday life!!
There are a great number of exciting things to do only with rich nature in Chichijima Island. Let's see how to get and what you can do there!!
How to Get to Chichijima Island
The ferry named Ogawsawara-maru is the only way to get Chichijima Island. It departs from Tokyo Takeshiba Passenger Ship Terminal and it takes 24 hours to get to the island. A sailing trip needs 5 nights at least (2 nights on the ferry and 3 nights in the island.)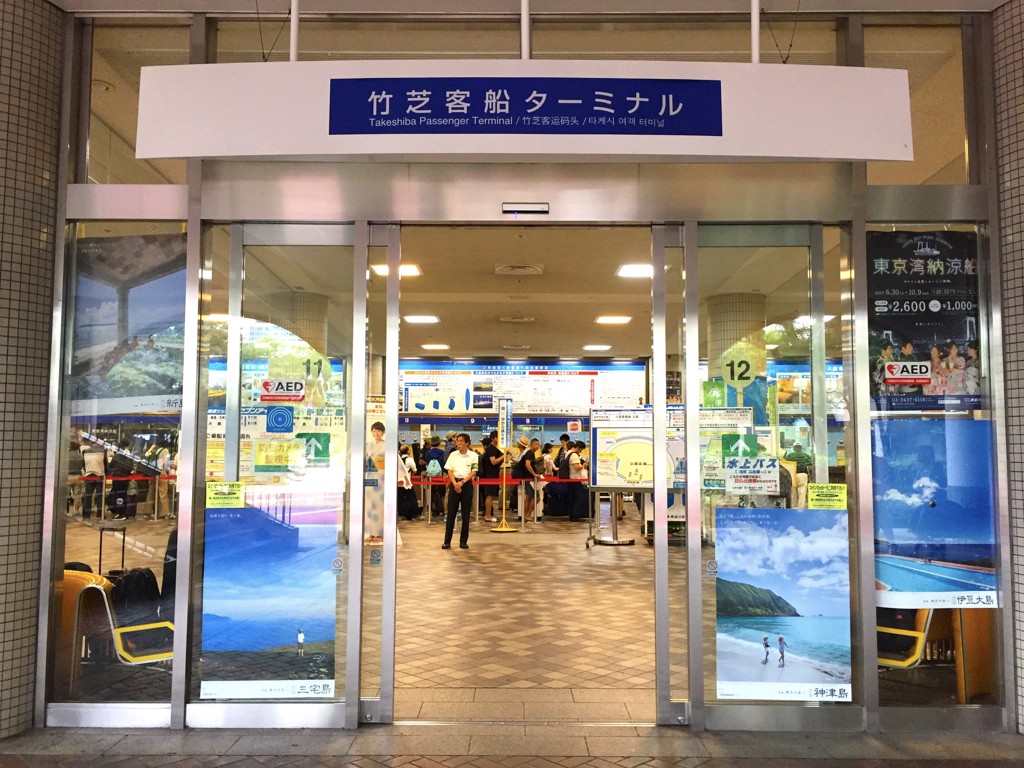 Ogasawara-maru was just renewed in July, 2016, and that allowed the ferry to shorten the time of the sailing by 1.5 hours (it used to take 25.5 hours to sail.)
You can spend the time much more comfortably than before with a restaurant, a lounge, shower rooms, souvenir shops and even suite rooms if your budget allows.
How to Travel in Chichijima Island
There are a few taxis and bus in Chichijima Island, but it is hard to freely move around the island. I believe motorcycle is the best way to travel in Chichijima Island, which should be the easiest and fastest way to move. Moreover, driving a motorcycle itself seeing beautiful wide scenery is an exciting activity.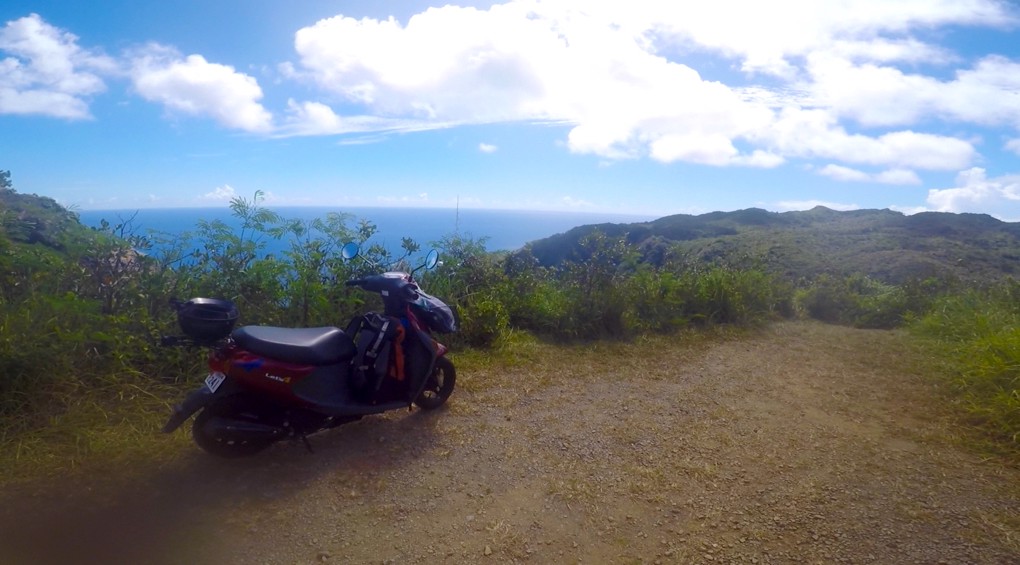 Bicycle is too hard to run in mountain areas, and bus departs only once an hour. Surprisingly, Chichijima has only one taxi.
That's why you should take a motorcycle, however, don't forget to bring an international driving permit stamped on "A" for motorcycles.
Best Things to Do in Chichijima Island
1. Beach hopping all around Chichijima Island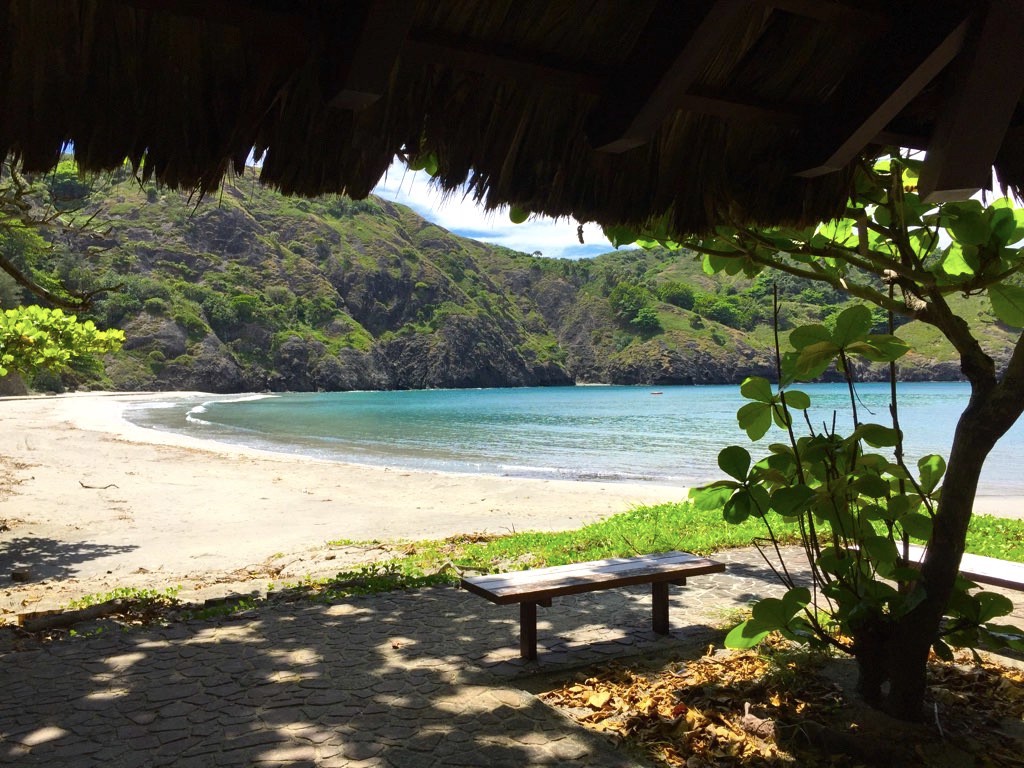 Chichijima Island is not so large, however, it has several beautiful beaches all over the island. It is recommended to explore the island by trekking and driving to find your favorite beach.
2. Swimming with dolphins and watching whales
It is not difficult to swim with wild dolphins up close in Chichijima as long as you join an optional tour. You can watch hundreds of dolphins on the boat with a little luck. There are also more than 20 species of whales around the island!! You will be be stunned by 10-meter-long whale's jumping and blowing.
3. Snorkeling and scuba diving in the clear water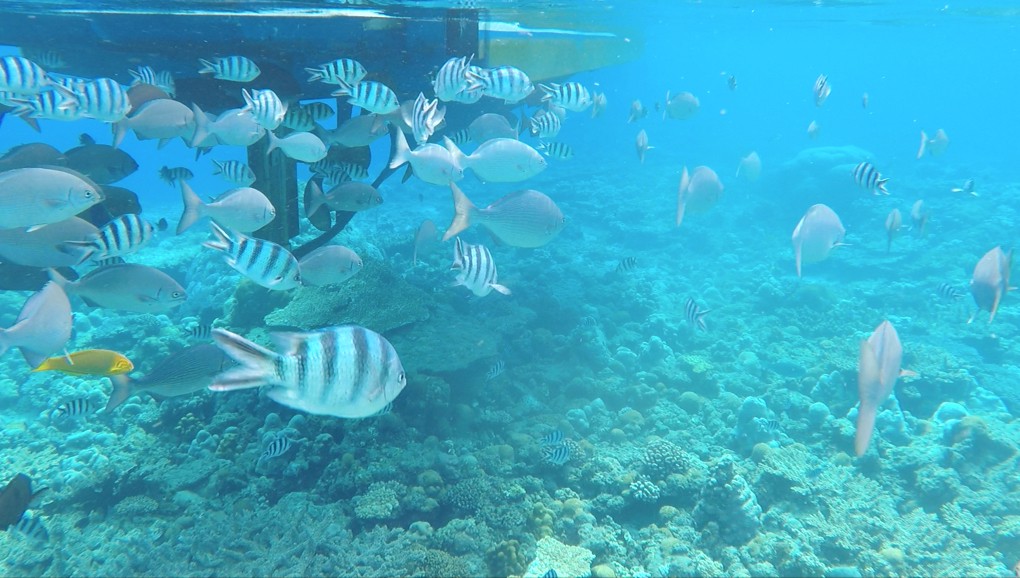 You can see even the bottom in the water at each beach, so it's also easy to clearly see a school of fish with snorkeling equipment. Chichijima has the most species and largest school of fish in Japan. Don't miss a chance to see them in the beautiful bonin-blue sea. With good luck, sea turtles and dolphins will swim around you!!
4. SUP and kayaking with sunset
Stand up paddle surfing is a light and easy activity, compared to surfing. Enjoy the beautiful scenery on the board with uninterrupted horizon. Kayaking at sunset is also one of the best things to do in the island. Breathtaking enough to forget to paddle. It is easy to reach hidden beaches by kayak such as Jinny Beach and John Beach!
5. Trekking in the neighboring Minamijima Island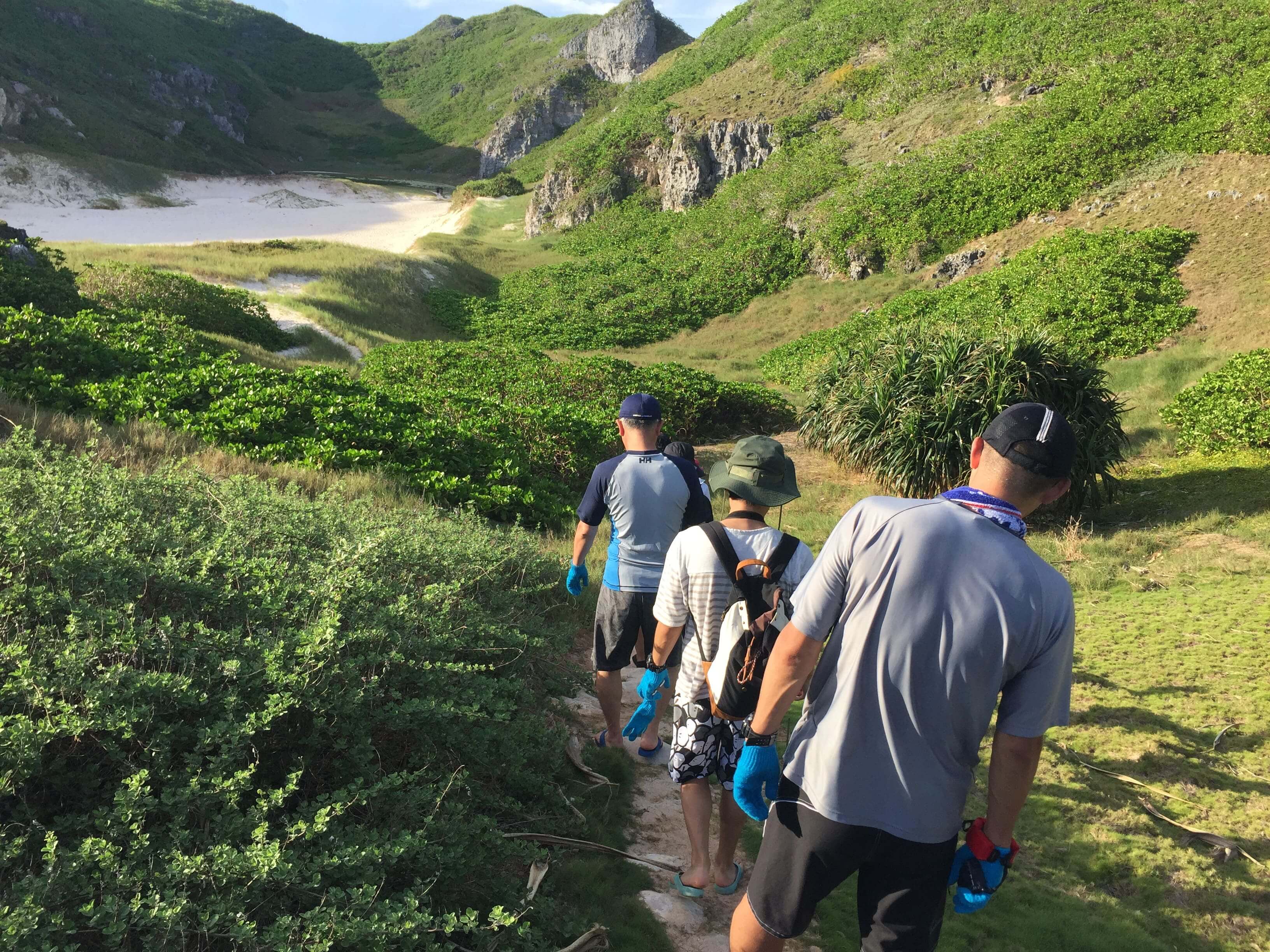 Chichijima is also popular for the best place to trek , in addition to sea activities. The Heart Rock route, which is the most recommended to trek, runs in the forest on the enormous heart-shaped rock. You can see gigantic banyan trees, remains of cars and dishes used during WWII and panoramic coastline at high points on the way, where you cannot enter without a qualified guide.
6. Eating fresh regional food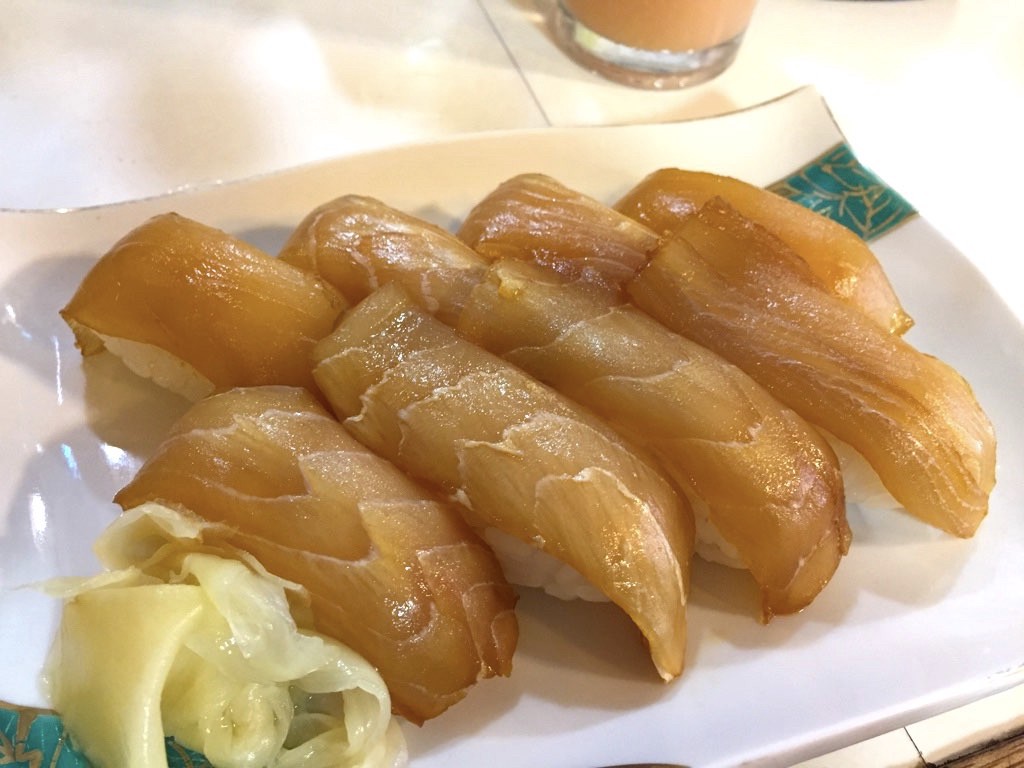 Chichijima Island boasts rich unique seafoods you cannot see except the island. Shima Sushi, made with slices of regional fish and soy sauce, is one of the most popular food in the island. Bananas, passion fruits and chili peppers are also its specialty.
7. Seeing breathtaking views of the beach from top of the mountains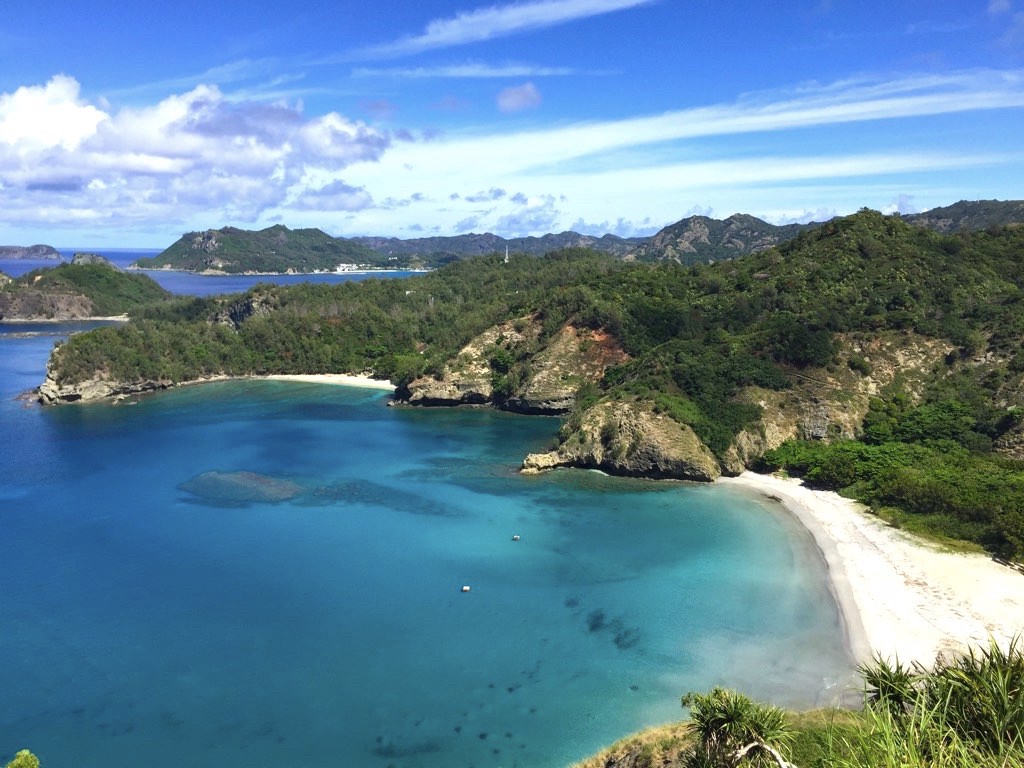 For views of the island from high places, it is easy to find nice observatory points during trekking in the mountains. There are some recommended observations that you can get to by motorcycle or car on the map in the town. You can view the panoramic scenery at Nakayamatoge Observatory for sunset and sunrise.
8. Visiting Ogawsawara Marine Center to see sea turtles
If you cannot see sea turtles in the sea, that would be no problem. Ogasawara Marine Center (海洋センター) provides you with a chance to touch them and to let them go to the sea at night which the center protects until growing.
9. Star Watching
It is not too much to say the island has the darkest night sky where you can watch stars the most clearly in Japan. Copepe Beach and Kominato Beach have been selected as No.1 place for star watching by Japanese government.
10. Getting souvenirs near the ferry terminal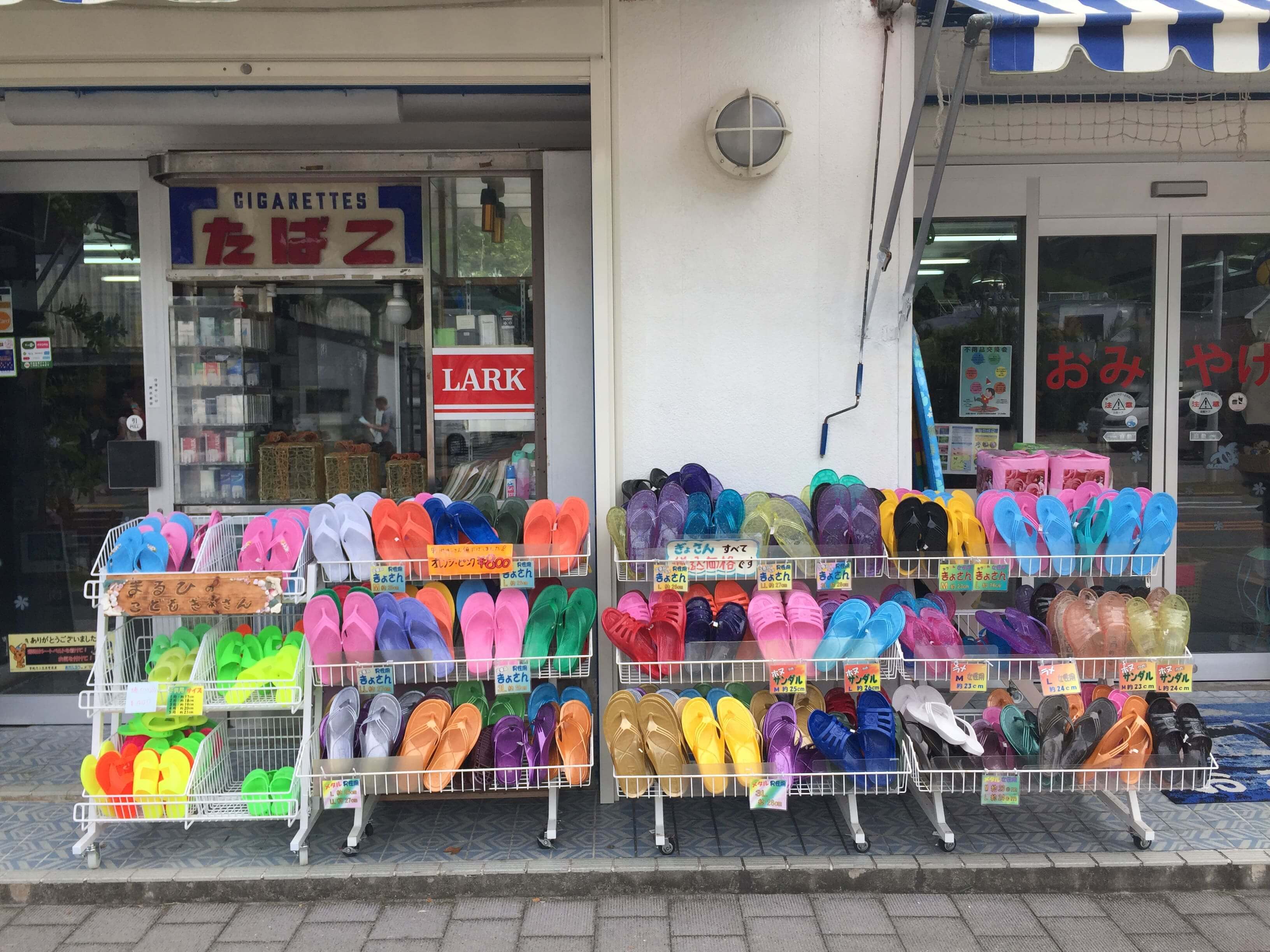 Get snacks and seasonings with the flavors as souvenirs. Most of the restaurants and shops gather at Omura area near the ferry terminal. Don't forget to get a pair of colorful sandals, called Gyosan in the island, which are loved by local fishermen.
Chichijima is a little far away from the main island of Tokyo and it needs a week at least to travel from Tokyo. However, it is worth spending the time since there are lots of unique things to do in Chichijima Island. If you are interested in the hidden island, check this travel blog about my trip to Chichijima Island below.
▶︎6 Days Trip to Chichijima Island, Ogasawara Islands
▽More secret islands in Tokyo
▶︎Hachijojima Island (Only 55 mins to get from Tokyo)
▶︎Mikurajima Island: the island of wild dolphins
For more info about unique travel experiences in Japan, check these articles below!
▽Related Articles▽
---