Teamlab: A Forest Where Gods Live
Teamlab Kami-sama ga Sumau Mori at Saga Prefecture in Summer-Autumn 2023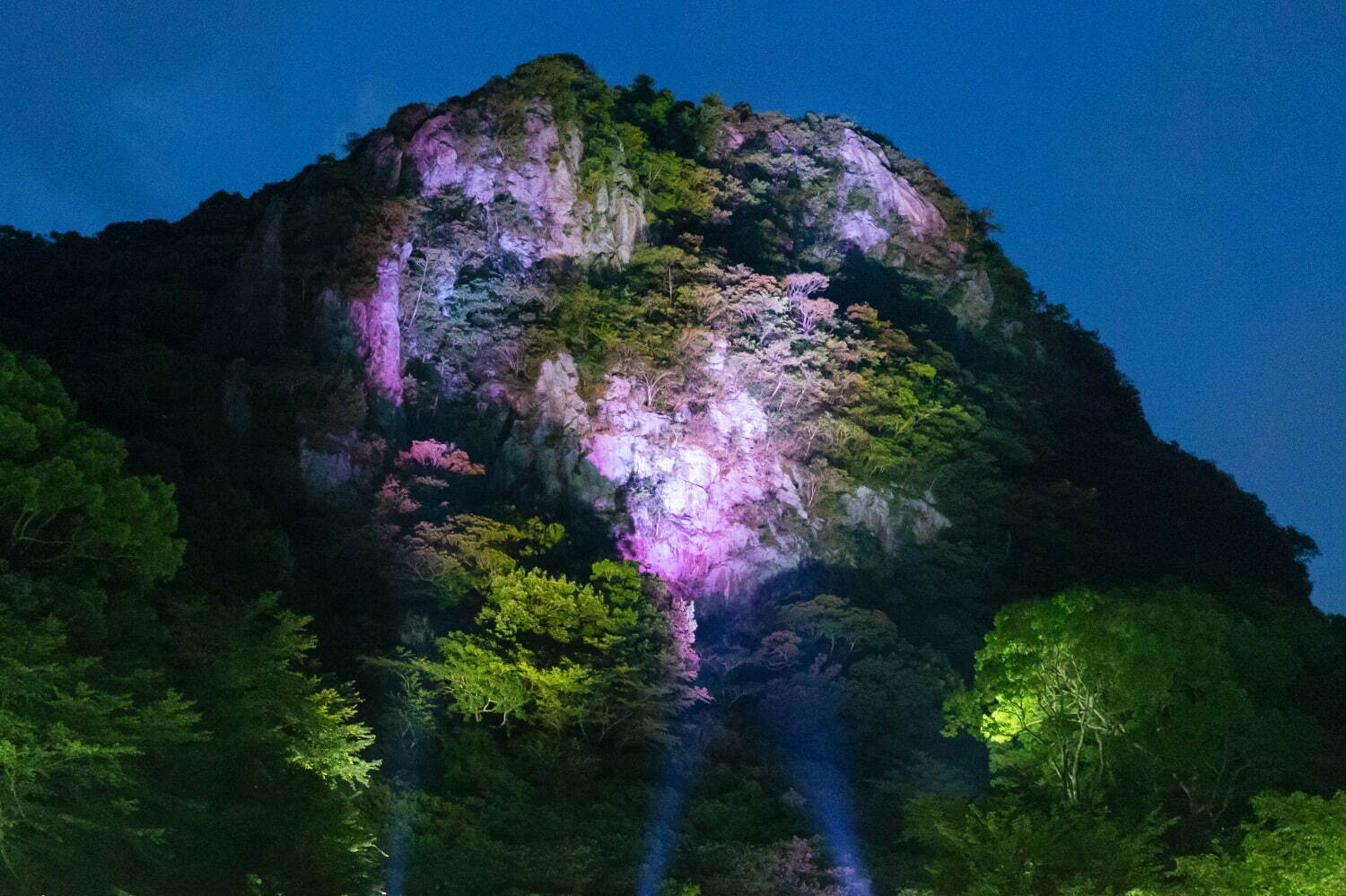 The ultra technologist art group teamLab became very popular after the opening of the teamLab Borderless, the world's first digital art museum in 2018. After that they have opened several museums such as teamLab Planets Tokyo, teamLab Forest Fukuoka and teamLab Botanical Garden Osaka, as well as several temporary exhibitions. Their most popular works installations are the ones where digital art merged with natural elements, such as in forests or parks.
In Summer 2023 teamLab's will hold an art exhibition, teamLab Kami-sama ga Sumau Mori (The Forest Where the Gods Live) at Mifuneyama Rakuen in Takeo City, Saga Prefecture, from July 14 (Friday) to November 5 (Sunday), 2023.
Now in its 9th year, Kami-sama ga Sumau no Mori is an art exhibition set in Mifuneyama Rakuen, a large garden created on a 500,000-square-meter site. It features supernaturally piled megaliths, a forest where 3,000-year-old trees exist, and a cave where the famous monk Gyoki enshrined 500 arhat statues. By transforming nature's natural forms, which have been shaped over time, into art using immaterial digital technology, the exhibition expresses the trajectory of the activities of nature and people and the continuity of time.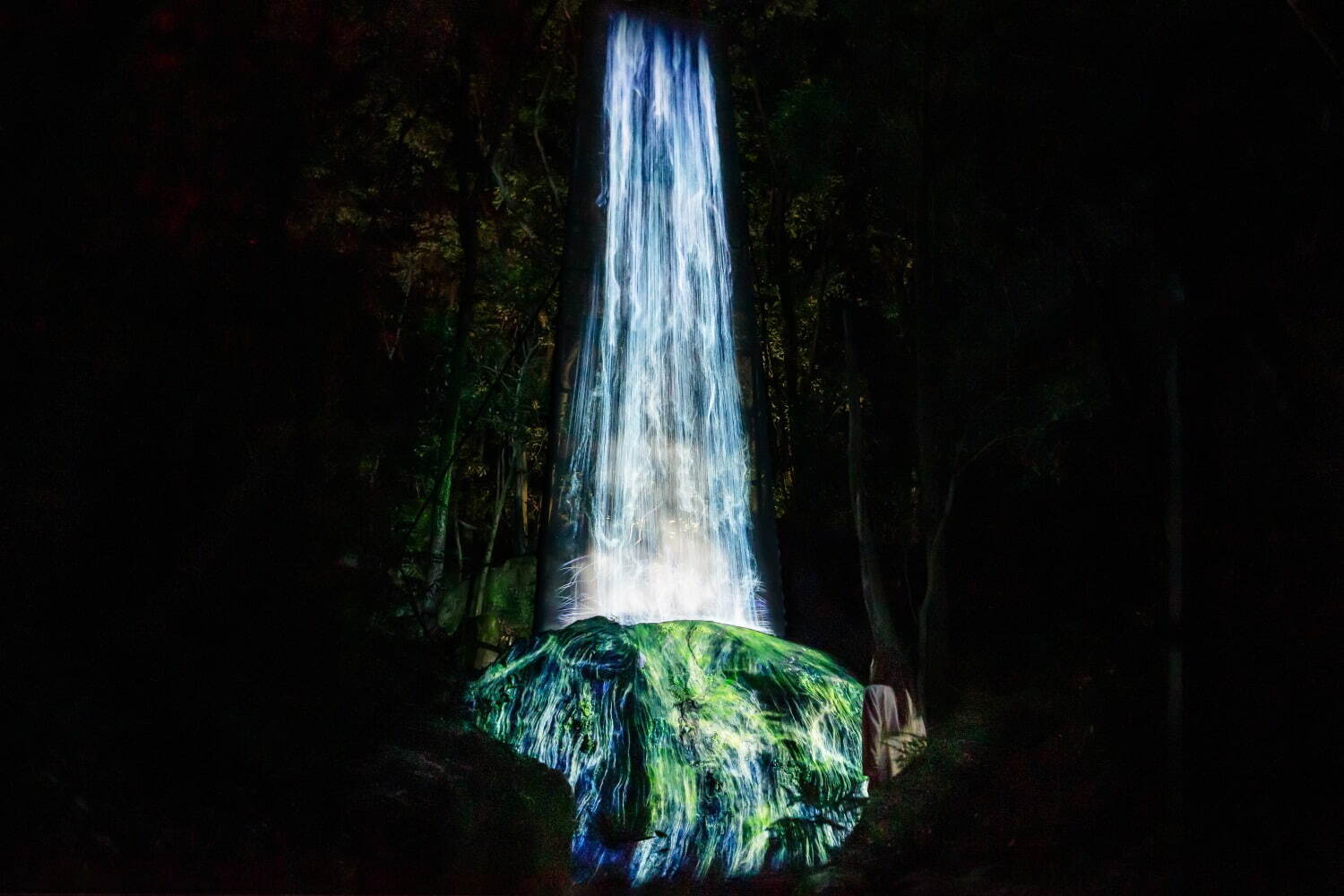 For example, Waterfall Possessed by a Rock in the Presence of God is an installation work in which a digital waterfall is projected onto a boulder approximately 3 meters high and 4.5 meters wide. Water is made to fall onto the boulder, which is reproduced in a virtual three-dimensional space, and its movement is simulated. Water particles, calculated down to the interaction between the particles, form lines that become a waterfall and color the boulder.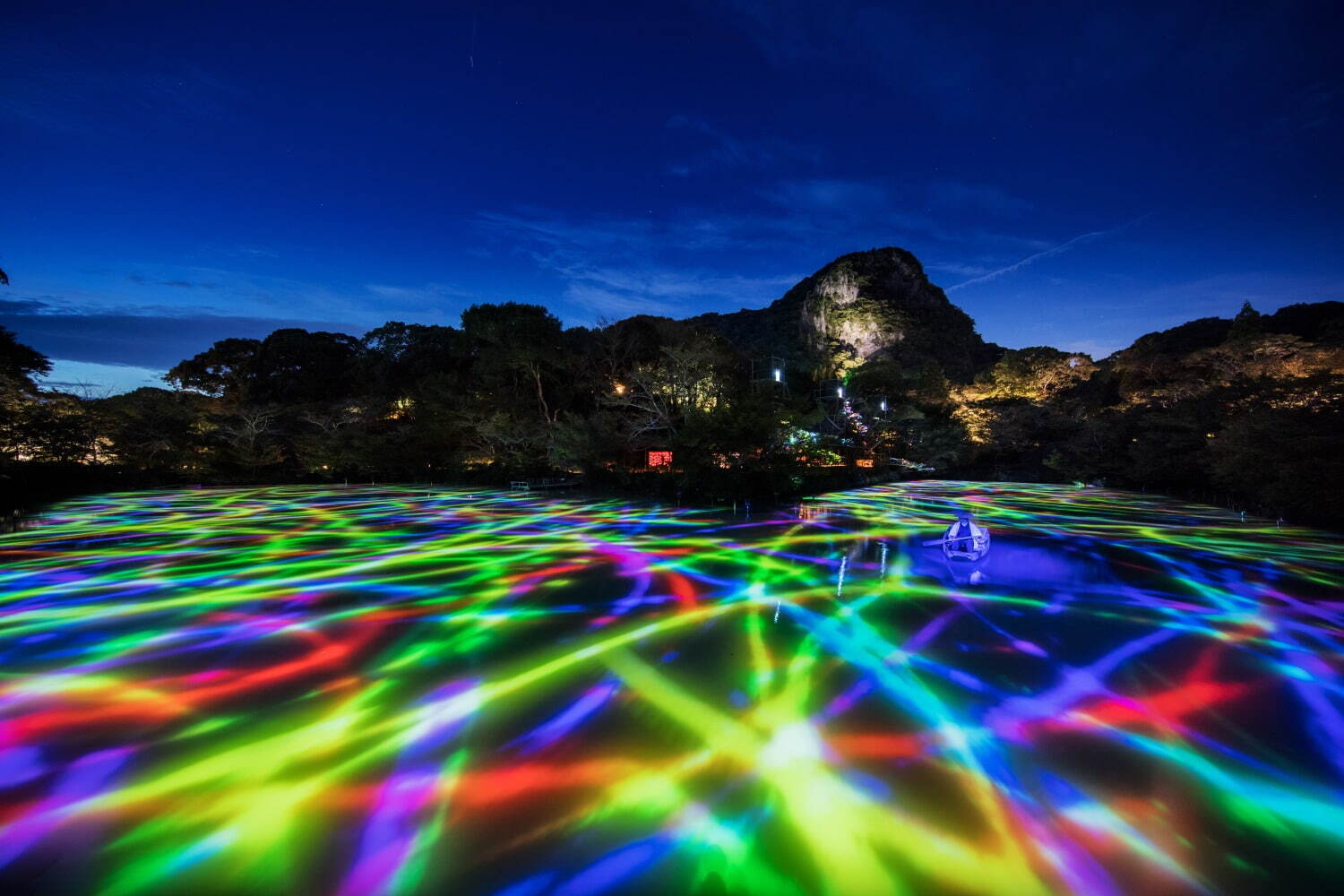 One of the main works in the exhibition is Drawing on the Water Surface by Carp Dancing with Small Boats, in which colorful images of fish are projected on the surface of the pond in Mifuneyama Rakuen. The images change interactively as the boats float on the pond. The fish not only gather in the floating boat, but also move away from the boat as it begins to move, as if it were alive. These changes become improvised drawings that colorfully illuminate the surface of the water.
In addition, a variety of artworks utilizing the nature of Mifuneyama Rakuen will be exhibited. This is an event where visitors can enjoy beautiful cultural heritage through the works of Team Lab, which transforms nature into art in its natural state.
The annual collaboration with Rakan-no-Yu at the Mifuneyama Rakuen Hotel will continue this year, and tickets will be available for a combined sauna and art experience, which has won the Saunasuran Grand Prix for three consecutive years.
Beautiful right!? The teamLab exhibitions and museum are definitely one of the hottest attractions today! So even if Fukuoka is less crowed than Tokyo, is better if you buy the tickets in advance. You can buy them here!
Official Website: https://www.teamlab.art/e/mifuneyamarakuen/#
–teamLab The Forest Where the Gods Live
Access: from JR Takeo Onsen Station take a taxi (5 min) or a bus (8 min) to Mifuneyama Rakuen stop.
Period: July 14 (Friday) – November 5 (Sunday), 2023
Hours:
Jul 14 – Sep 10: 19:00 – 22:30
Sep 11 – Oct 8: 18:00 – 22:30
Oct 9 – Nov 5: 17:00 – 22:30
* Last entry 22:00
Tickets:
Weekdays 1,200 yen (Adult)/ 800 yen (ages 13-18)/ 600 yen (ages 6-12)
Saturdays, Sundays, Holidays: 1,600 yen (Adult)/ 1,000 yen (ages 13-18)/ 800 yen (ages 6-12)
<<Click HERE to Buy E-Tickets for teamLab The Forest Where the Gods Live Now!!>>
Official Website: https://www.teamlab.art/e/mifuneyamarakuen/#
---
▽Check the list of best teamLab Spots around Japan!▽
For more exciting news, teamLab museums information and things to do in Kyushu area, check these articles too!
▽Related Articles▽
▼Editor's Picks▼
---