3 Popular Japanese Rock Bands
3 Best ROCK Groups in Japan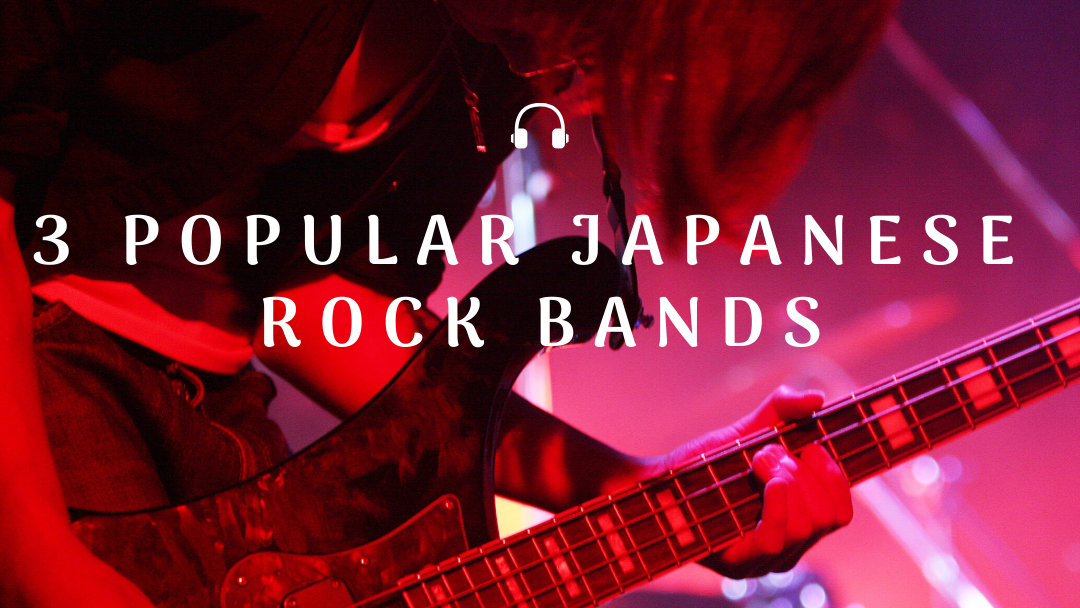 When we talk about Japanese music, the image that usually comes to people's heads are idol pop groups, especially female ones. But Japan also has good rock bands, some of which have become famous even internationally.
X-Japan
Talking about Japanese rock is talking about X-Japan, the most famous and legendary group in the country. X-Japan was formed in 1982 in a city near Tokyo by Yoshiki, the drummer and Toshi, the vocalist. Although at that time the name was only X and it was not until 1987 that the group was complete, with the incorporation of Hide as a lead guitar, Pata as a rhythm guitar and Taiji as a bassist. In 1988 they released their first album Vanishing Vision with Extasy Records, the label that Yoshiki had created thanks to the money his mother had given him after selling a family business. But the success came in 1989 with his second album Blue Blood. In 1992 Taiji left the band and Heath entered, and that was when the group changed its name to X Japan since Heath informed them that in America there was already another rock group called X.
The group continued to gain fame and success and become more and more famous, until in 1997 Toshi told Yoshiki that he was going to leave the group. Since Toshi was impossible to replace, the group announced that on December 31 of that year they would make their last concert as the group dissolved. The announcement was made at a press conference in without Toshi, who heard the news from the press.
After the dissolution of the group, the members continued their solo career. One of the most successful was hide with his group hide with Spread Beaver. Yoshiki and hide wanted to resurrect X Japan in 2000, looking for a new vocalist. However, on May 2 1998 hide appeared dead on his apartment, hanged with a towel on the bathroom door. It's unknown if it was an accident caused by alcohol, since that night hide had been drinking, or it was suicide. In any case, the news shocked many fans, and several tried to commit suicide, although luckily only two of them got it. Almost 30,000 people attended hide's funeral, which at that time marked the final end of X Japan since Yoshiki, who was very close to the guitarist, promised to himself not to play the drums again for anyone else.
Over the years, they began doing commemorative concerts on the anniversary of Hide's death and finally in 2007 the group returned. At the beginning they don't wanted to give the guitarist position to nobody, since it was the position that had occupied hide and in the concerts they used more than 10 different guitarists, rotating between them. In 2009 Sugizo, ex-member of Luna Sea, officially joined the group.
(This song was composed by Yoshiki to hide)
Official Website: http://www.xjapan.com/index.html
L'Arc~en~Ciel
L'Arc~en~Ciel, also called by his fans Laruku or L'Arc, is probably the second most famous Japanese rock group after X-Japan. The name means 'rainbow' in French. The group was formed in Osaka in 1991 by its leader and bassist Tetsuya, popularly known as Tetsu, and Hiro, the guitarist. One day Tetsuya went to a club and there he heard a guy named Hyde singing. Actually Hyde was the guitarist of his group Jersalem's Rod, but that day his vocal was ill and Hyde replaced him. Tetsu knew immediately that he wanted Hyde in his group as a vocalist. However, Hyde initially rejected Tetsu's offer, since he considered being a vocalist the most boring position in a band and he was a guitarist. But Tetsu was insisting until finally Hyde accepted and joined the group, taking with them Pero, the drummer of his previous group.
Just a year after his creation, Hiro decided to leave the group and Tetsu called his childhood friend Ken, who accepted Tetsu's offer and left his architecture university studies, which made him fight with his father (his father never forgave him and they had not spoken for years). Shortly after that same year Pero leaves the group too. At that time the band decided to move to Tokyo and Tetsu called Sakura, who didn't know but who had heard talk very well. Sakura decides to join the band and the L'Arc~en~Ciel that would rise to fame was formed. In 1993 they get the Sony Music record to be interested in them and that same year they released their second album Tierra, which contains the song with which they rose to fame, Blurry Eye. This song was selected for the DNA anime, which at that time was quite famous and made the group known.
For four years the band became increasingly famous, but in 19997 it suffered a severe blow when Sakura was involved in a drug issue. The police entered his house and was arrested. The news created a stir, and although Sakura left the group to try not to harm the band, the other members had to travel abroad to avoid media pressure. After about six months without news, they finally reappeared in October of that same year with a new drummer, Yukihiro. The group quickly gained popularity again along with its new member and in 2008 they gave their first concert in Europe. But after more than a decade together, in 2009 the group announced that they wouldn't do more concerts until 2011, since they wanted time for their personal projects as well. Since then the group has remained separated, joining only once every few years to get a single and perform some concerts in Japan.
Official Website: https://www.larc-en-ciel.com
One Ok Rock
One Ok Rock is a newer band than the previous ones, formed in 2005, but that quickly became very popular in Europe and America. In the beginning there were five members: Taka as vocalist, Toru and Alexander as guitarists, Ryota as bass and Tomoya as drummer. However in 2009 Alexander left the group. The vocalist Taka began his artistic career as a member of NEWS, a group of the famous company of male idols Jonny's Entertaiment. For common friends Toru, Ryota and Alexander, who had formed a band, went to one of the first NEWS concerts and after listening to Taka sing they were insisting that he join his group until Taka finally accepted. In 2007 Tomoya joined them after the previous drummer will leave the group to start a career as an actor.
Although they had already begun to gain popularity, their moment of success came when their song The Beginning was chosen for the final credits of the live action of the legendary and famous manga Rurouni Kenshin. Since then the group has become more and more famous, filling concert halls around the world and playing at festivals and with some of the most famous groups internationally.
Official Website: http://www.oneokrock.com/jp/
For more info about Japanese culture, you might also like these articles below!!
▽Related Articles▽
▼Editor's Picks▼
---