5 Best Japanese Drama for Beginners
Japan TV Drama Guide: Best Japanese TV Drama to Watch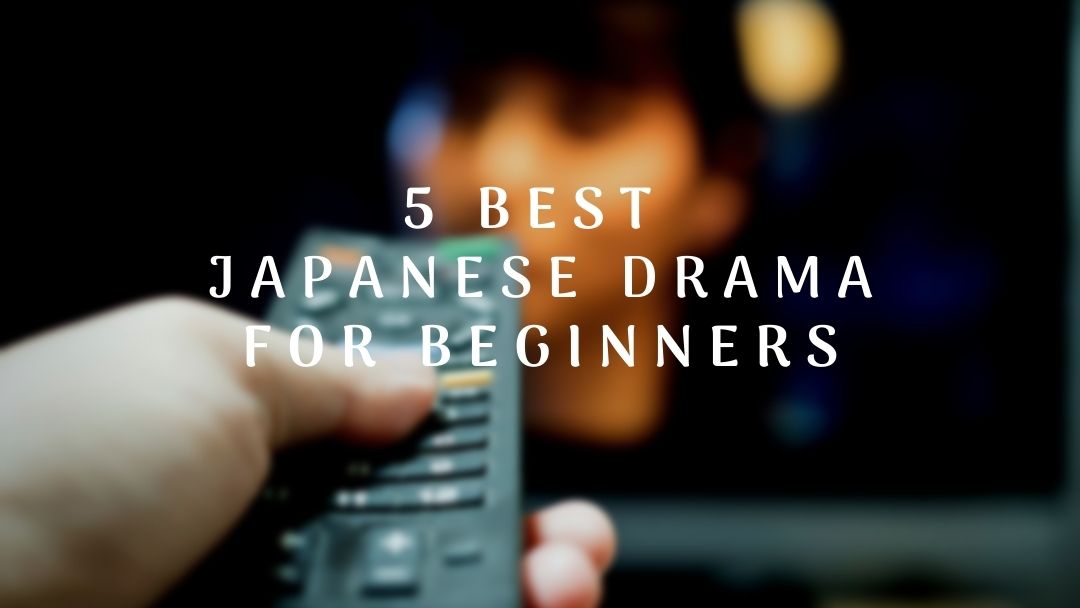 Today, thanks to new technologies and the emergence of platforms such as Netflix and the efforts of many translators and voice actors, the world is becoming increasingly connected with each other, and I think that's fantastic! Now you can watch series and movies from different countries without needing them to be great worldwide hits.
After becoming interested in Japanese music, I also began to discover the Japanese drama (called "dorama" in Japanese). I liked the Japanese dramas because they are usually short series, no more than 10-12 chapters, and are easy to watch.
Also, if you are studying Japanese, watching dramas in Japanese can help you. One of the most frequently asked questions is what I recommend to learn Japanese. In my case, before moving to Japan, something that helped me a lot was the Japanese series. Unlike anime, which tends to use a weird and really slang and Japanese that isn't used so much in real life, the Japanese drama often reflect everyday situations of daily life and use a standard regular Japanese. Not always tho, you must be careful. But at least is the first step to become familiar with the language.
Here I will introduce to you some of the 5 best Japanese drama for beginners from my perspective
Hana Yori Dango
For anyone who likes doramas, Hana Yori Dango is a classic that cannot be missed on any list! It has its origin in a manga with the same name, and it was the success of sales and audience at the time.
Makino Tsukushi is the only middle-class student without many financial resources who studies at Eitoku Gakuen School, a prestigious and exclusive school only for the richest and most privileged families in the country. The school is ruled by the F4 or Flower Four, sons of Japan's wealthiest and most powerful tycoons: Nishikado Soujiro, a playboy who is the heir of a famous tea ceremony school; Mimasaka Akira, son of a member of the Japanese yakuza; Hanazawa Rui, the introverted son of a large company and the leader of the group Domyouji Tsukasa, heir of the Domyoji World Finance Group. The F4 bully students who dislike only because of fun or boredom until they leave school.
Because of his social status and because she can't stand the superficiality of his classmates, Makino doesn't have many friends at school. One day his best and only friend in the school gets into trouble with the F4, and Makino goes out to defend her, antagonizing Domyouji. But the situation takes an unexpected turn when Domyouji falls in love with Tsukino after she punches him.
In 2018, a drama called Hana Nochi Hare: Hanadan Next Season came out, which is the continuation of Hana Yori Dango, and it happens ten years after the story of Makino and Domyouji. Both dramas are based on the mangas of Kamio Yoko, which with Hana Yori Dando got to be the best selling Shojo story of all time.
Code Blue
Starring the famous singer and actor Yamashita Tomohisa, Code Blue is the typical medical drama, but it has become one of the most popular dramas in Japan. Since its first release in 2007 until now there are three seasons, a special and even recently a movie. Something inusual in a Japanese drama.
In June 2007, Japan legalized the "Doctor Helicopter" system. A medical team is dispatched to the patients on a helicopter to provide medical care in the field as soon as possible and once stabilized transport it to the hospital quickly. The young and newly graduated doctors Aizawa Kosaku, Shiraishi Megumi (Aragaki Yui), Hiyama Mihoko (Toda Erika) and Fujikawa Kazuo are the first to be assigned to this latest medical system as "fellows". During their training as flight doctors facing critical situations and sometimes having to accept the death of their patients, they will not only learn how to improve their medical skills but also face their fears and insecurities, deal with personal ambitions or problems, and they grow personally but also as a team.
Kindaichi Shonen no Jikenbo N
Kindaichi Shōnen no Jikenbo or know as The Kindaichi Case Files in English is a Japanese mystery manga series. The protagonist is Hajime Kindaichi, a high school student grandson of the famous private detective Kosuke Kindaichi (a fictional character). For those who like anime and manga, it similar to the famous Detective Conan manga series, although Kindaichi is an older and less popular manga abroad.
The first live-action series was made in 1995 and was starred by Tsuyoshi Domoto of the Kinki Kids. Since then there have been different versions starring different actors (1996, 2001). But the one I recommend is the latest version made in 2014 called Kindaichi Shonen no Jikenbo N, where the protagonist is Ryosuke Yamada of the Hey! Say! JUMP Although the police and detective series are very common, Yamada is a very versatile and a really good actor and the drama, although short, is very funny and made me have a good time.
Yamato Nadeshiko Shichi Henge
Takano Kyohei (played by Kamenashi Kazuya of KAT-TUN) is a university student who has had problems since he was too young because he is too much attractive. The girls were piling up at the door of their house and had to flee. He also finds it hard to find work for the same reason (and for his hot temper) and never has money. He lives in a mansion of a rich woman along with the adorable Toyama Yukinojo, the serious Oda Takenaga and the playboy Morii Ranmaru. One day the owner, Ms. Nakahara offers to Kyohei free board-and-lodging if he can turn his niece, Sunako, into a lady. But the owner's niece, Nakahara Sunako (Oomasa Aya) is a girl who has been traumatized since the day she confessed her feelings the boy she liked and he called her ugly. From that day, Sunako became a spooky girl and began to cover his face with his hair, to carry out a black cape that completely covers her and loves everything related to the world of horror and vampires.
Although it is based on a Shojo manga, and has romantic moments, most of the drama is funny scenes that occur when the four boys try to turn Sunako into a young lady.
Bloody Monday
Starring Mira Haruma and with Nariyama Hiroki in the role of antagonist, two of the most famous actors in Japan at that time, Bloody Monday is a drama whose main plot is a biological attack by a group of terrorists and a hacker who tries to avoid the attack. The drama was quite successful in Japan and two seasons were made.
The story begins in Russia, when the virus is exchanged by a terrorist organization and a person from the organization travels to Japan to release the virus. The Japanese intelligence agency (called THIRD) then looks for Takagi Fujimaru, a high school student passionate about computer science who in his spare time becomes Falcon, a hacker prodigy who hacks into corrupt people's computers and bring their crimes to light. The police want Takagi to help them control the threat of this virus. The leader of the terrorist organization, known as "J", is famous and feared for his cruelty and intelligence. Can a high school student defeat J and his organization, or the deadly virus will be released in Japan killing thousands of people?
Kurosagi
As an extra, I would like to show you one of my favorite Japanese dramas and the one that made me start to be interested in the world of doramas. It's about Kurosagi.
Kurosaki (played by Yamashita Tomohisa) was a normal young man until one day when he arrived home he found that his father had killed his entire family he had lost everything after being scammed. Kurosaki manages to survive, but his father commits suicide and he's left alone. When he grows up as revenge, Kurosaki becomes a scammer known as Kurosagi. Kurosagi is a rare scammer since he's scamming other scammers and returning the money to the victims. Until one day Yoshikawa Tsurara (Horikita Maki), a law student with a great sense of justice, crosses her life. Yoshikawa wants Kurosaki to leave the world of scams and start a normal life, but Kurosaki's hatred and thirst for revenge is bigger. Will Yoshikawa make Kurosaki abandon the scam?
There are many more Japanese dramas that I would like to recommend, but for starters, I think these 6 are a good sample! But if you want to know more Japanese dramas don't hesitate to ask me;) and if you like Japanese pop culture and things like television series, artists, music, etc. you can read these articles too!
▽Related Articles▽
▼Editor's Picks▼
---