Local Tours in Lake Biwa: Life with Water
Connect with Nature with These Outdoor Activities in Lake Biwa

One of the things most people say after visiting Japan is that they were impressed with how clean everything was. They say they could feel how much appreciation the Japanese have towards their own culture, tradition, and nature.
This respect for nature and tradition comes from the Shinto belief that every element of nature is divine. Although not immediately apparent, this mentality is deeply ingrained in Japanese tradition, so much so that it becomes second nature to many.
This respect for nature and natural resources is seen particularly in rural areas, where people are more in contact with nature.
A good place to go for a first-hand experience of this is Shiga Prefecture.
Shiga is located about 500 km west of Tokyo, and right next to Kyoto. It is surrounded by beautiful mountains, and right in the middle you will find the largest lake in all of Japan, Lake Biwa (琵琶湖).
People in Shiga live in harmony with nature, while preserving their cultural heritage.
In this article, I will introduce to you the importance of Lake Biwa, as well as one of the most important villages located next to the lake, Sugaura Village (菅浦集落). I will also introduce two tours that focus on enjoying the grand scale of the lake and its surrounding nature. I hope you consider visiting this beautiful site.
---
About Lake Biwa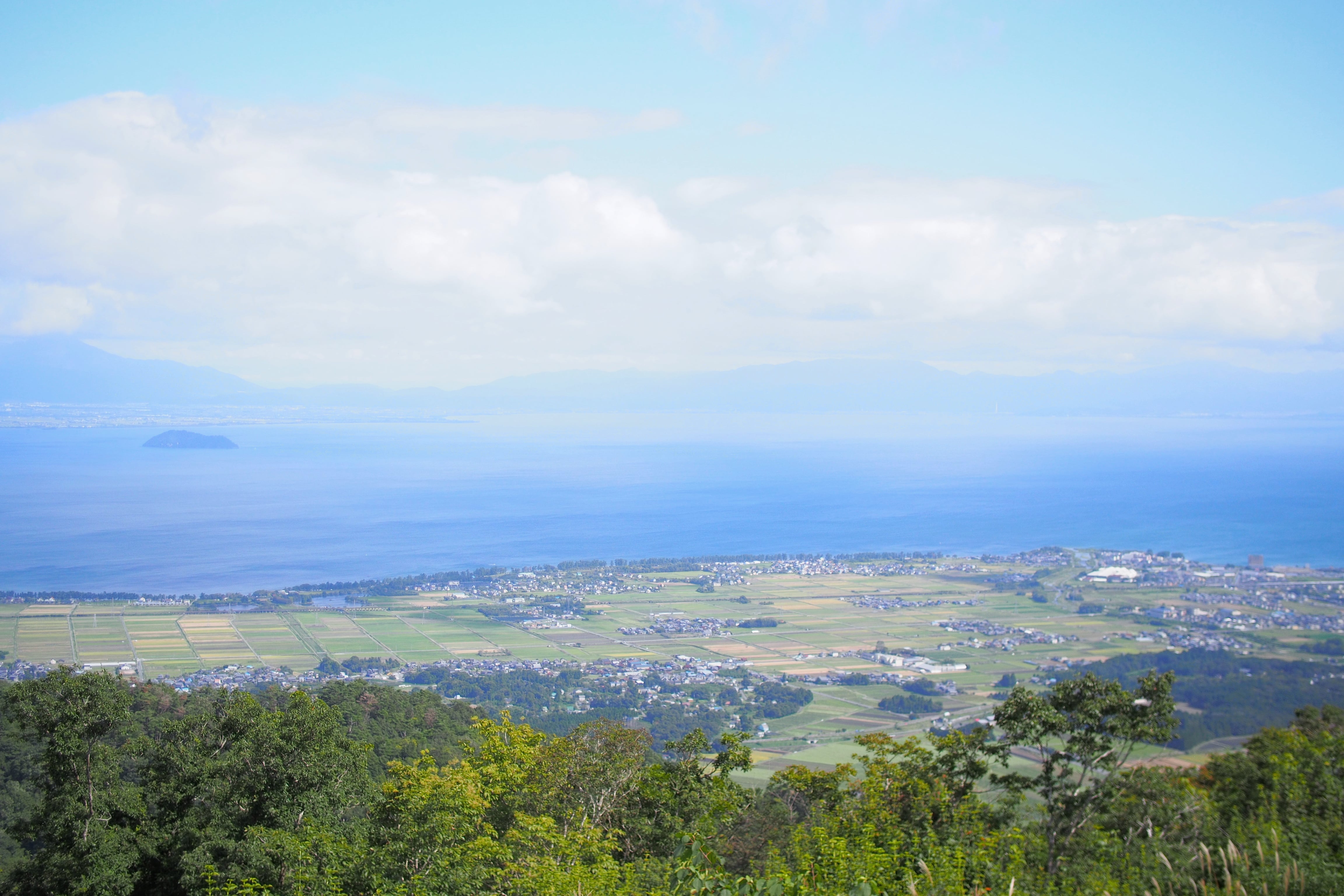 As I mentioned above, Lake Biwa is the largest freshwater lake in Japan, with a total area of about 670 km² and a maximum depth of more than 100 m. It occupies a sixth of Shiga Prefecture's surface area.
The lake has been important to human civilization for a very long time. Throughout the years, people have learned how to coexist with the lake in such a way that it has become an essential part of the lifestyle in Shiga prefecture. Because of this, Shiga prefecture is known to have a "culture of water(水の文化)". This culture of water was officially designated as a Japanese Heritage in 2015.
To the people living nearby, the lake is the main source of drinking water not only for Shiga but also for the Kyoto-Osaka-Kobe metropolitan area, which is over fourteen million people.
The lake is also a breeding site for freshwater fish such as trout. Fish from Lake biwa has been an essential part of the people living nearby. Because of this, you will find that there are many great traditional local dishes that use these freshwater fish.
Biwako pearls are also a famous product of the lake, said to have a history of over 1,400 years.
Another way the lake is utilized is for transportation. Ancient canoes have been found that are thought to date back to the Jomon period (縄文時代, before the 10th century B.C.).
Lake Biwa itself is also ancient. It is estimated to be one of the oldest lakes in the world, at over 4 million years old. And it is the habitat of over 1,000 species of fish, animals, and plants.
From a spiritual perspective, you will see shrines with torii gates standing in the lake. There are also festivals where mikoshi shrines are sent out onto the water. This just shows how much the people living nearby have respect for the lake, worshiping the gods that reside within it.
In July 1950 the Biwako Quasi-National Park (琵琶湖国定公園) was founded, and in June 1993 a large area beside the Lake was designated as a Ramsar Site, which assures the conservation and sustainable use of wetlands.
About Sugaura Village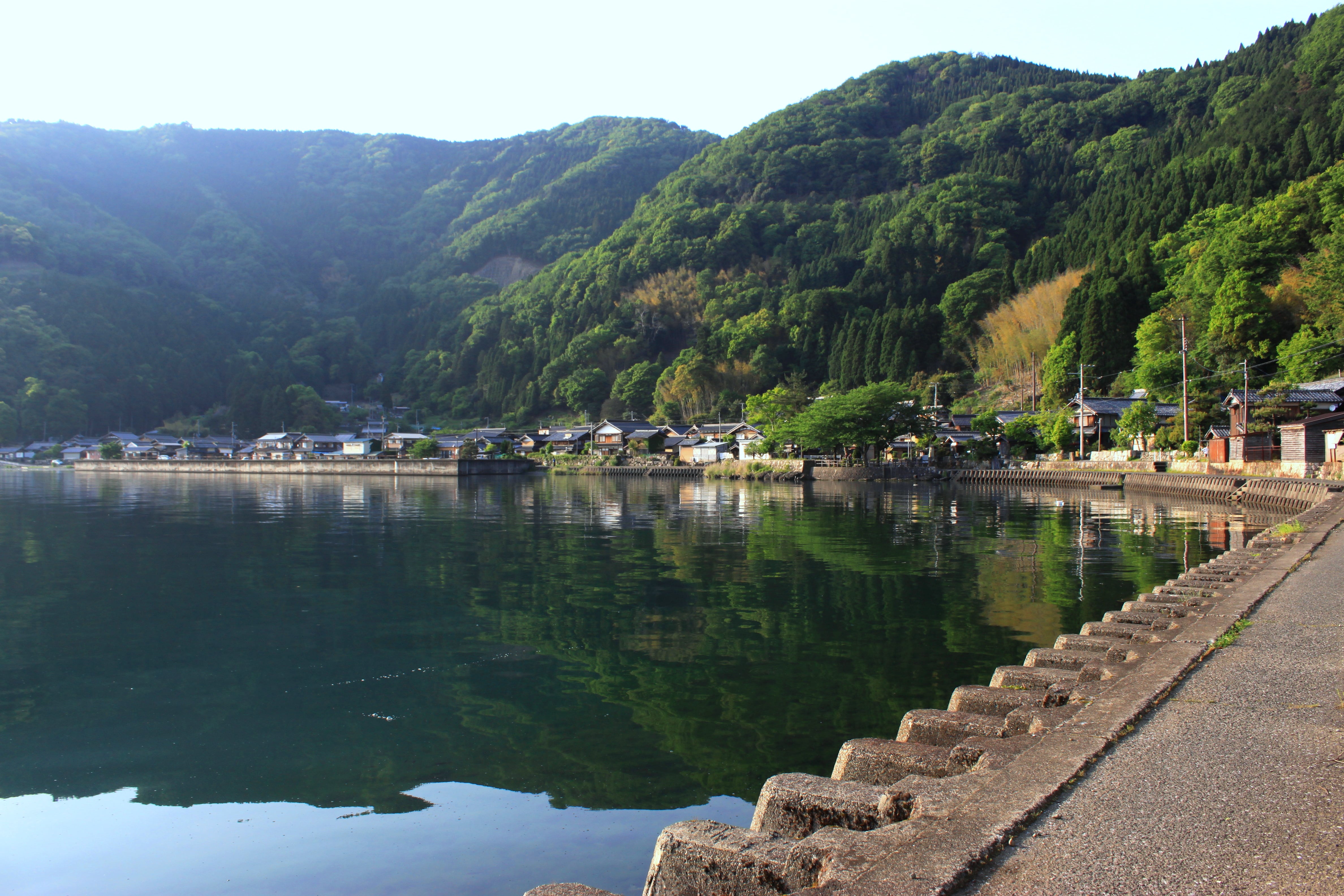 On the north side of Lake Biwa, there is a small but historic village called Sugaura.
The village is located on the west side of the Tsuzurao Peninsula (葛篭尾崎). Where the village is not facing the lake, it is surrounded by mountains, making it difficult to access. Nowadays there is a road that you can take, but before that, the main means of travel to the village was by boat.
Because of this, Sugaura has been known as an important port for lake transportation since ancient times.
One of the more interesting aspects of this village is that according to ancient texts, this village used to be governed by Soson(惣村) which is like an early form of a cooperative society where the village inhabitants would cooperate to keep peace and order in the village. It is said that this system was put into use since the Kamakura period(around the 13th century).
The Shisoku Mon (四足門) are ancient gates that were built to control the people going in and out of the east and west sides of the village. You can find these on the east and west sides of the settlement. These gates are the remains of this unique system of self-governing.
Another reason Sugaura Village is famous relates to Emperor Junnin (淳仁天皇).
Legend says that Sugaura was the place that Emperor Junnin lived after being deposed as emperor, in the rebellion that occurred in 764 A.C. In the village, you will find the Suga Shrine (須賀神社) that was built to enshrine Emperor Junnin. The custom in this shrine when worshipping is to do so barefoot.
The village was designated as a National Important Cultural Landscape in 2014, and also as a Japanese Heritage in 2015.
1. Charter a fishing boat cruise! Explore the nature of Lake Biwa with local fishermen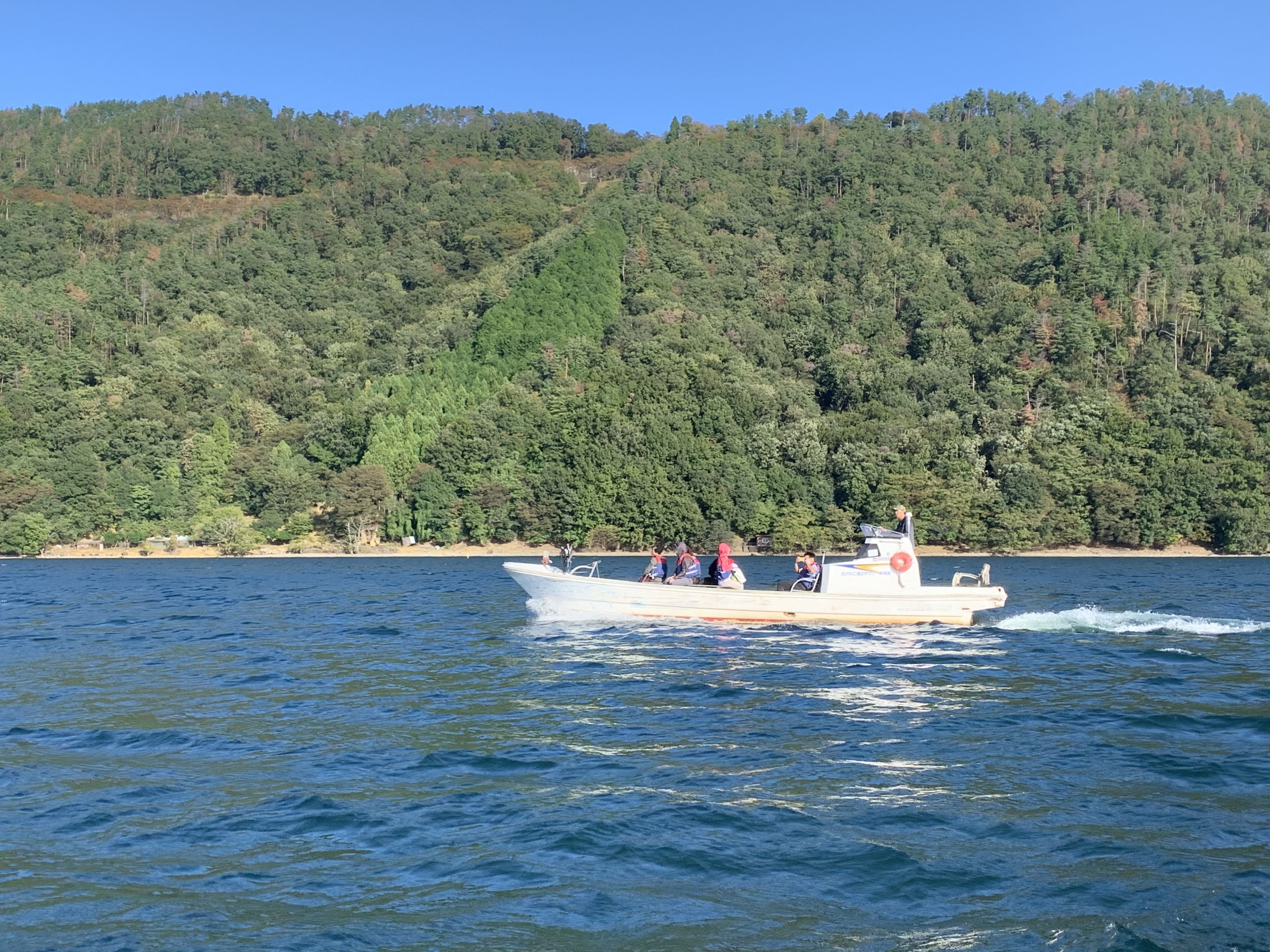 The first tour consists of cruising on Lake Biwa riding a "lake cab." This lake cab is a transportation system unique to this lake: a fishing boat with seats attached.
The tour starting at Asahi Port (朝日漁港) takes you to Sugaura Village.
It's not every day you have the opportunity to ride on a fisherman's boat. Enjoy the view of the lake, and see the fish swimming beneath the boat.
Experience firsthand the vastness of Lake Biwa and its surrounding nature, as you listen to the explanation of the lake and the nature by fishermen who know the lake like the palm of their hand.
Then you will arrive at Sugaura Village, where you will have some time to look around this mystical and historical area. Your guide will show you the best places to see. Depending on the season, these places may vary.
Afterward, you will get back on the boat and return to Asahi Port. You can make a request if there's any specific place you want to pass by on the boat — feel free to ask your guide!
This tour can be started anytime from 9:00 to 15:00. and takes around 90 minutes: 30 minutes cruising, 30 minutes at Sugaura Village, and 30 minutes cruising back.
2. Kayak tour on Lake Biwa: You can land and explore the hidden village of Sugaura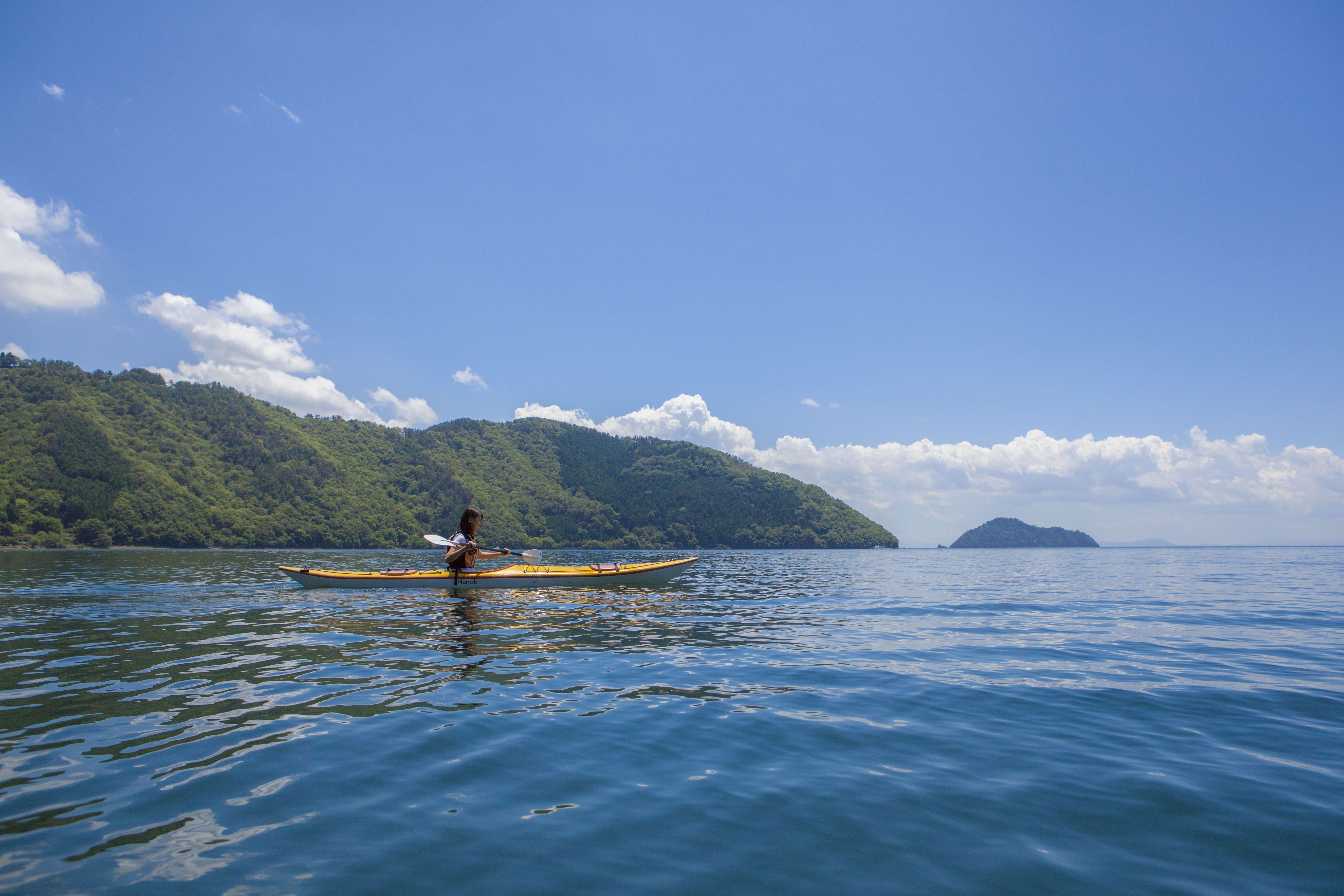 Have you ever tried kayaking? If you haven't, this is a huge opportunity for you to not only learn how, but to become one with the breathtaking beauty of Lake Biwa and its surrounding nature.
A good way to immerse yourself and enjoy nature is through outdoor sports, and that's what this tour is all about.
First an instructor will teach you the basics, so you can enjoy the experience at its best without any worries.
After you have learned to paddle and maneuver the kayak, it's time to get into the lake! Feel the silent breeze, watch the numerous fish swimming beneath you, and enjoy the tranquility that comes from immersing yourself in nature.
The local guide will tell you all about the lake, and the many species that live in it.
After cruising for a while, you will take a rest at the beach near Sugaura Village. Here, you'll take a lunch break to enjoy onigiri with local tsukudani (佃煮, small fish simmered in soy sauce and mirin).
After lunch, you'll have time to walk around and explore the fascinating village of Sugaura. Learn about how the people of this village coexisted with Lake Biwa and nature for so many generations.
At the end, you can either choose to kayak back to the starting point, or finish the tour right there at Sugaura Village.
This tour can be started at either 10:00 or 13:00. The tour will last approximately 280 minutes.
---
I hope you have enjoyed this article! There are many different ways to enjoy a trip to Japan, but one thing I really recommend is to visit at least one rural area, to learn more about their simple, traditional way of life. And I think visiting Lake Biwa is a great option for doing exactly that.
Enjoy the culture and surrounding nature of this beautiful site. Rediscover what it means for people to coexist with nature.
Want to know more about Lake Biwa, Shiga Prefecture, and the surrounding areas? Check out the following articles!
▽Related Articles▽
▼Editor's Picks▼
---