Kyoto Starbucks Lucky Charms
JIMOTO made Series HIGASHIYAMA New Lucky Charms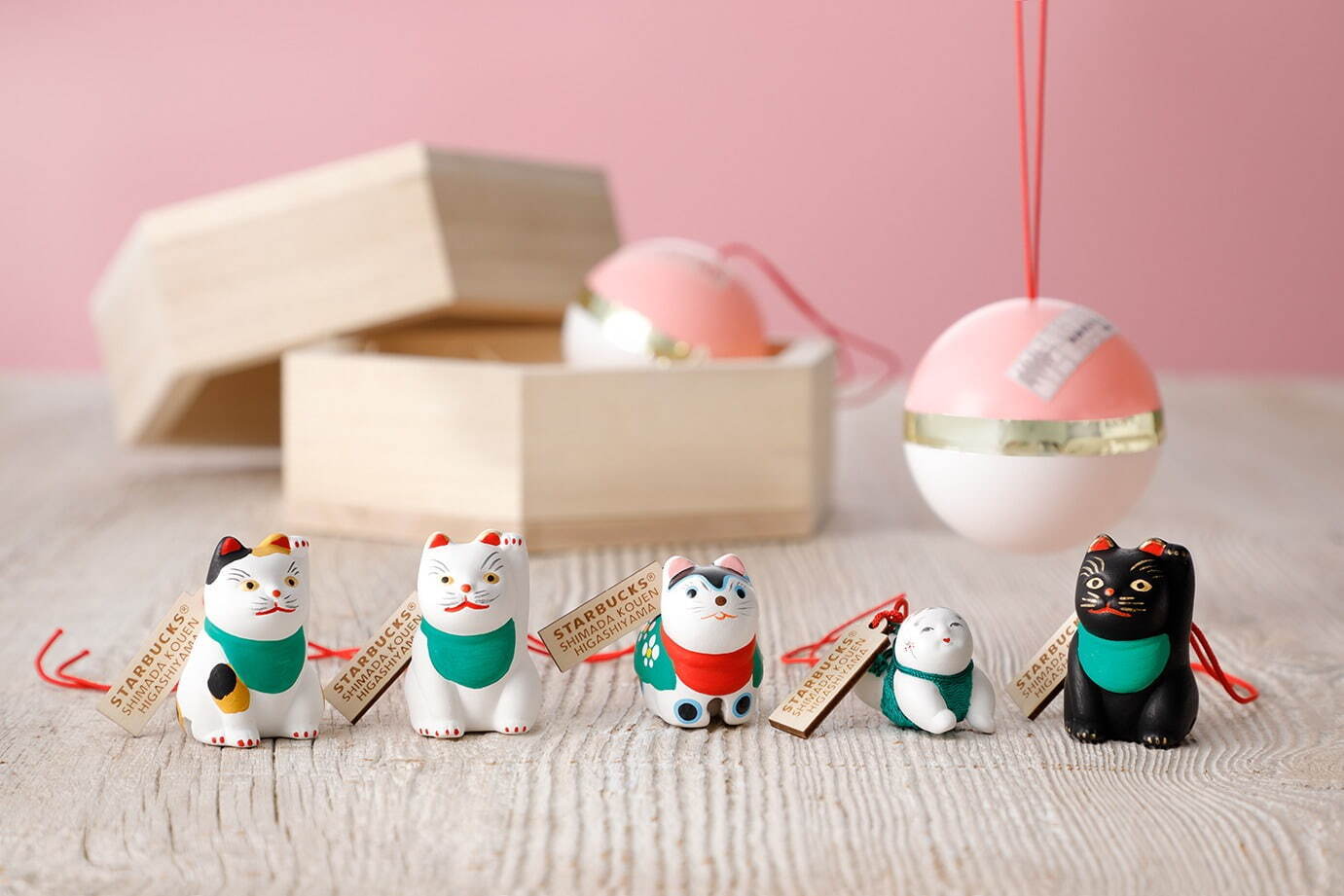 In 2021 Starbucks Japan launched for sale the 47 JIMOTO Frappuccino series, with 47 different frappuccinos for each prefecture in Japan collaborating with local partners from each prefecture. The idea was a success and they have launched more special lines and collaborations, including the "JIMOTO made Series".
From Starbucks Kyoto limited goods "JIMOTO made Series HIGASHIYAMA" a new product with the motif of the 2023 zodiac "Mizunoto" has appeared. It will be available only at 3 stores in Higashiyama area starting at December 13, 2022 (Tuesday).
The special Lucky Charms were created in collaboration with Shimada Koen Ningyo Kobo, a long-established Gosho Ningyo maker. The charms are inspired by the Fukudama, a traditional cultural item still popular in Gion, Kyoto. It's a playful goods series that you don't know which kind is inside until you open the red and white lucky ball capsule!
For those who are not familiar with or don't know these concepts let's learn a bit of Japanese culture 🙂
Gosho Ningyo are traditional dolls based on the figure of an infant. Its roots can be traced back to the Heian period (794-1185), when it was transformed from a life-size doll to exorcise plague to a "hitogata", a kind of paper doll that took over disasters on behalf of others and then to a Gosho doll to pray for the safety of the child.
In the other hand Fukudama is a round, red-and-white ball filled with good luck charms. The children and maiko (geisha apprentice) of Gion quarter received these balls as New Year's gifts at the end of the year, and this is a traditional culture that has been handed down only in the Higashiyama district in Kyoto. It's said that on New Year's Eve, after the bell had rung, they would break the New Year's gift and use its contents to predict their fortune for the new year.
The new addition to the lineup is a limited-quantity version of the "Lucky Charms: Year of the Rabbit" earthen bell featuring the Chinese zodiac sign for the year 2023, "癸卯". The rabbit has been a traditional symbol of good fortune, believed to catch the good luck by its big long ears upright. Wearing a green odenchi (padded kimono jacket) inspired by Starbucks logo color, the "Lucky Rabbit" beckons good luck to you!
A total of six types of charms have been added to the lineup, including the standard charms. The lineup also includes three beckoning cat series (Shiro, Kuro, and Mike), which are well-known as good luck charms for prosperous business; a dog, which is a charm for safe and fertile childbirth and a crawling child, which is a charm to ward off evil and evil spirits in infants. Each charm is handmade and carefully brought to life by craftsmen.
– Chinese Zodiac Lucky Charms"Kyo-Yu Year of the Dragon Zodiac Clay Bell"
Sales period: December 13, 2022 (Tuesday) – February 3, 2023 (Friday)
Price: 2,530 yen
Available at: Starbucks Coffee Kyoto Gion Hotel, Keihan Gion Shijo Station, Kyoto Niningsaka Yasaka Tea House
*One lucky charm can be purchased per person per store until sold out.
The product will be discontinued as soon as it is gone.
---
How cool?? For more unique Starbucks experience in Japan or best things to in Kyoto, check these articles too!!
▽Related Articles ▽
▼Editor's Picks▼
---