Starbucks Japan to Release 47 JIMOTO Frappuccino in 2021 Summer
See the Full Lineup of Starbucks Japan's 47 New Frappuccinos in Each Prefecture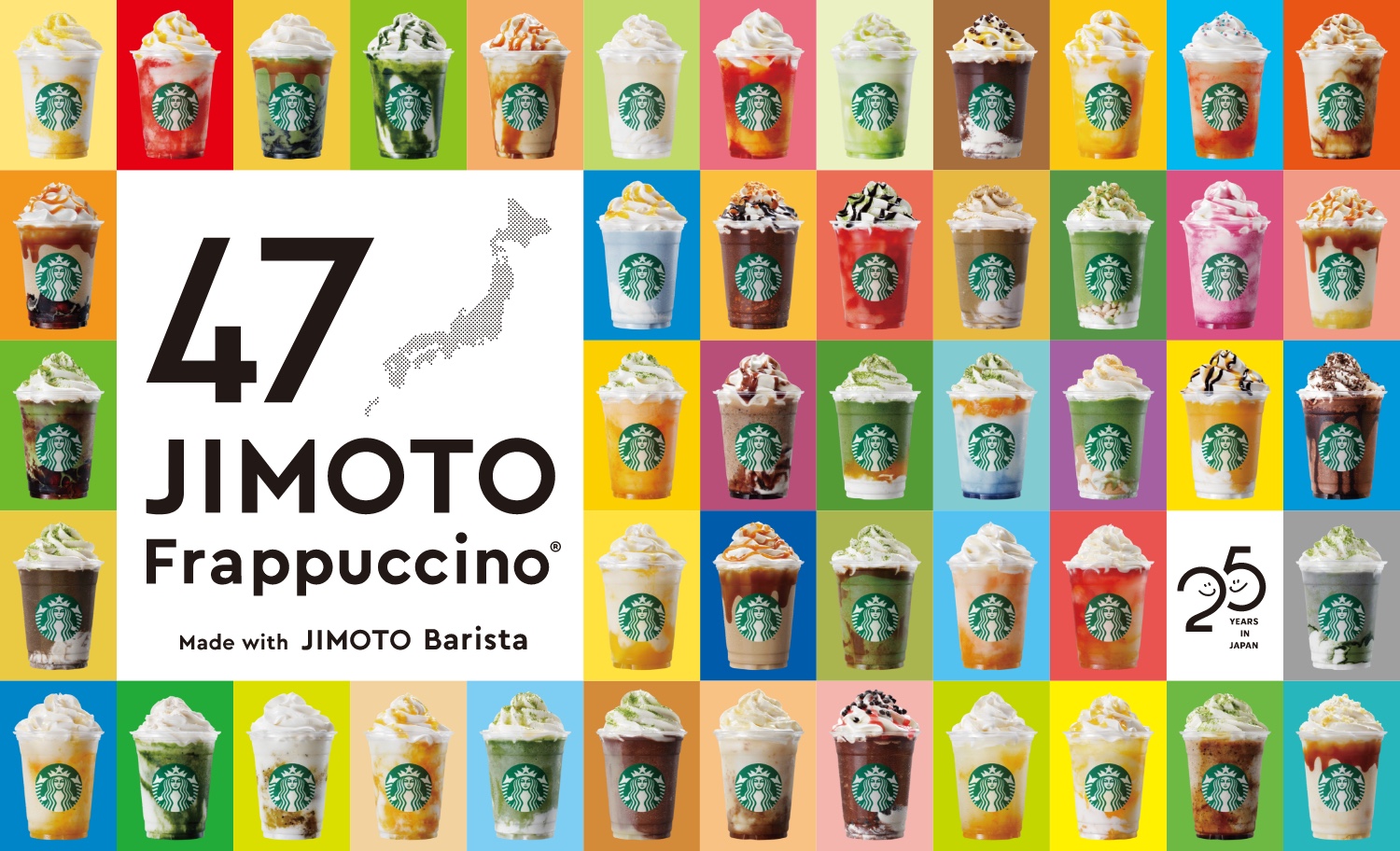 Starbucks Japan is celebrating its 25th anniversary in 2021 summer with 47 JIMOTO Frappuccino, 47 different frappuccinos for each prefecture in Japan. The limited edition frappuccinos are created with local partners and feature special flavour and ingredients from each prefecture.
Let's check out the lineup of very unique and special Starbucks JIMOTO Frappuccino and which one is available in your region!
▽Check the JIMOTO Frappuccino 2022 products!▽
Hokkaido & Tohoku Region
Left to Right:
#1 Hokkaido Tokibi Creamy Frappuccino
Made with Hokkaido's local specialties: corn and fresh milk, blended with white chocolate syrup and topped with crunchy corn flakes.
#2 Aomori Jawameku Apple Strawberry Frappuccino
Represents the excitement of long-awaited summer and the famous Nebuta Festival in Aomori Prefecture with fruity flavour of apple and strawberry blended with milk.
#3 Iwate Menkoi Matcha and Sesame Frappuccino
Inspired by the rich nature and Mt Iwate, the matcha based drink is blended with rich sesame sauce and finished with caramel sauce and brown sugar.
Left to Right:
#4 Miyagi Daccha Zunda Matcha Frappuccino
Features Miyagi's local specialty, Zunda Mochi flavour. The white chocolate cream drink is mixed and topped with Zunda and matcha sauce.
#5 Akita Amajoppe Salted Caramel Frappuccino
Sweet and salty frappuccino is made with double caramel sauce and milk, combined with Akita's salt which is full of mineral and umami.
#6 Yamagata Sukidazu La France Frappuccino
The beverage features the prefecture's famous La France pear mixed with whipped cream presenting the snowy scenery of Yamagata.
#7 Fukushima Irodori Fruits Dappai Frappuccino
Combines Starbucks' Mango Passion Tea Frappuccino and Peach Frappuccino, blended with various fruits flavours and peach chunks.
Kanto Region
Left to Right:
#8 Ibaraki Melon Igappe Creamy Frappuccino
Featuring the prefecture's famous Melon with a rich creamy milk base mixed with melon syrup and white chocolate sauce
#9 Tochigi Raisama Pachi Pachi Chocolate Frappuccino
Inspired by the local myth, Raisama (Thunder God) with chocolate drink topped with whipped cream, mango passion sauce to represent lightening and popping candy for unique texture.
#10 Gunma Danbe Yogurt Mango Frappuccino
The orange fappuccino represents the symbolic flower of Gunma, Renge Tsutsuji (Japanese Azalea) with tropical flavour of mango and passion fruit mixed with yogurt.
Left to Right:
#11 Saitama Tasaitama Strawberry and Citrus Frappuccino
The colourful combination of citrus based drink with strawberry sauce and real citrus chunks topped with whipped cream and pink and blue dragees.
#12 Chiba Nagomi Mitarashi Coffee Cream Frappuccino
Featuring sweet and salty Mitarashi sauce made with Chiba's specialty soy sauce. The milky drink with white chocolate syrup is blended with Mitarashi sauce and roasting coffee sauce.
#13 Tokyo Origin Coffee Jelly Caramel Frappuccino
The creamy coffee base using TOKYO ROAST, prepared at the largest Starbucks store in Japan, Starbucks Reserve® Roastery Tokyo is blended with coffee jelly, caramel sauce and topped with whipped cream.
#14 Kanagawa Summer Blue Cream Frappuccino
Inspired by the ocean and blue sky of Kanagawa, the drink is blended with butterfly pea flower tea syrup with the flavour of refreshing citrus and mild milk, topped with whipped cream and citrus chunks.
Chubu Region
Left to Right:
#15 Niigata Bakkaii Kakinotane Chocolate Frappuccino
The chocolate based drink can be enjoyed with crunchy textures of chocolate chops and crushed Kakinotane rice cracker with unique sweet and salty flavour.
#16 Toyama Marude Suikaccha Frappuccino
Representing both taste and look of the local specialty, watermelon with watermelon juice and passion tea topped with whipped cream, black chocolate sauce and green matcha powder.
#17 Ishikawa Iiji Bo Hojicha Frappuccino
Featuring the local famous Kaga Bo Hojicha tea blended with milk, and topped with whipped cream and aromatic Hojicha powder.
Left to Right:
#18 Fukui Hoyahoya Komepon Matcha Frappuccino
The matcha drink with white chocolate syrup contains the famous local confection Komepon (crunchy puffed rice) for unique texture and topped with whipped cream.
#19 Yamanashi Tete!! Grape White Chocolate Cream Frappuccino
The frappuccino features Yamanashi's specialty grapes. The sweet and juicy grape syrup is used throughout the creamy white chocolate base and its topping.
#20 Nagano Maroyaka Apple Butter Caramel Frappuccino
The gorgeous dessert like frappuccino features the apple butter layed with caramel flavour drink and sauce.
Left to Right:
#21 Gifu Yaone Matcha Coffee Jelly Frappuccino
The matcha and dark mocha powder drink contains coffee jelly at the bottom and topped with whipped cream and matcha powder to represent the image of Gifu's majestic nature.
#22 Sizuoka Mikan Citrus Darake Frappuccino
Featuring the local specialty, Mikan citrus as a base blended with white chocolate syrup and citrus chunks, and topped with whipped cream and matcha powder to represent Mt Fuji
#23 Aichi Deraumya Anko Coffee Frappuccino
Inspired by the traditional cafe dish in Aichi, Ogura Toast (toast served with sweet red bean paste), the frappuccino features anko sauce, coffee, chocolate chips and whipped cream.
Kansai Region
Left to Right:
#24 Mie Isecha and Citrus Yani! Frappuccino
The 3 layered frappuccino consists of whipped cream, citrus chunks and the drink blended with local specialty, Isecha tea and milk.
#25 Shiga Biwablue Citrus Cream Frappuccino
Giving it an appearance reminiscent of Lake Biwa, the white and blue marble patterned beverage is blended with white chocolate base and butterfly pea syrup topped with citrus chunks, whipped cream and matcha powder.
#26 Kyoto Hannari Matcha Kinako Frappuccino
Following the elegant culinary tradition of Kyoto, the beverage features Kinako (soy bean powder) and matcha green tea powder blended with white chocolate syrup.
Left to Right
#27 Osaka Meccha Kudamon Cream Frappuccino
Inspired by Osaka's specialty "Mixed Juice" blended with various fruits such as banana, apple, peach, orange, mango and passion fruit with whipped cream and chocolate and mango sauce toppings.
#28 Hyogo Otona no Bari Choco Haitto Creamy Frappuccino
Bringing out the flavour and texture of chocolate, it features the rich blends of cchocolates with rich milk base, dark mocha powder, chocolate chips topped with whipped cream and shaved chocolate.
#29 Nara Naradewa Hojicha White Chocolate Frappuccino
Featuring Hojicha tea as a main ingredient and offers a combination of aromatic Hojicha tea and mild milk topped with whipped cream with matcha powder which resembles a lush landscape of Nara.
#30 Wakayama Tsuremotenomora Mikan Citrus Frappuccino
Japan's largest Mikan citrus producer, Wakayama's frappuccino features refreshing taste of Mikan juice and the unique texture of citrus flesh blended with non-fat milk.
Chugoku & Shikoku Region
Left to Right:
#31 Tottori Gaina Caramel Creamy Frappuccino
Inspired by Tottori's famous Sand Dune, the beverage is blended with coffee, caramel, cream and ice, and topped with caramel sauce, whipped cream and a sprinkle of glittering golden sugar.
#32 Shimane Creamy Matcha Coffee Goen Frappuccino
Based on Shimane's tea culture, it combines matcha and coffee as a match between Japanese and Western, featuring milk-matcha based drink blended with coffee, and whipped cream, matcha powder and silver sugar for topping.
#33 Okayama Dere Fruits Sunshine Frappuccino
Representing the sunny land of Okayama with a fruity citrus base with white mocha syrup containing peach and citrus pulp and a whipped cream topping.
Left to Right:
#34 Hiroshima Setouchi Lemon and Citrus Jake Frappuccino
Inspired by the love and passion of Hiroshima locals, the beverage brings out the refreshing taste of locally grown lemon and hibiscus passion tea topped with whipped cream and honey.
#35 Yamaguchi Kasanechoru Gomatcha Frappuccino
Using the rich flavor and deep taste of sesame and matcha to express the nature and history of Yamaguchi Prefecture with the layer of whipped cream, matcha powder and sesame.
#36 Tokushima Juicy Sudachi Citrus Yattosa Frappuccino
Featuring Tokushim's specialty, Sudachi citrus blended with citrus pulp and ice, topped with creamy whipped cream and honey.
Left to Right:
#37 Kagawa Wasanbon Matcha Nishiimai Frappuccino
Delivering the contrast of sweetness and bitterness, the milk taste base is blended with Kagawa's local specialty, Wasanbon sugar and ice, and mixed with matcha and white chocolate syrup.
#38 Ehime Sugoiken! Kiwifruit Frappuccino
As the largest kiwifruit producer, Ehime's frappuccino features a vanilla flavour base with swirls of sweet and sour kiwi jam topped with whipped cream.
#39 Kochi Ginger Citrus Yaki Frappuccino
Featuring ginger as a representative ingredient of Kochi Prefecture, which boasts the largest harvest volume in Japan with a mild vanilla flavour base mixed with citrus pulp and ginger syrup.
Kyushu & Okinawa Region
Left to Right:
#40 Fukuoka Yamecha Yaken Frappuccino
Made with Fukuoka's famous tea, Yamecha and its rich and aromatic flavour is blended with non-fat milk, ice, white chocolate syrup topped with whipped cream and Yamecha tea powder.
#41 Saga Chikatto Karikari Sugar and Chocolate Frappuccino
A chocolate flavour base is combined with crunchy brown sugar, white chocolate syrup to represent Nagasaki Sugar Road and matcha powder topping to represent the vast Saga Plain.
#42 Nagasaki Castella Coffee Yan! Cream Frappuccino
Featuring Nagasaki's famous confection, castella cake with a milk and white chocolate blended base mixed with esperess-soaked castella cake topped with whipped cream, brown sugar and honey.
#43 Kumamoto Zakuzaku Biscuit Bai and Chocolate Frappuccino
The chocolate flavoured frappuccino inspired by Kumamoto's symbolic Mt Aso is blended with dark mocha powder and non-fat milk with crunchy cocoa biscuits finished with whipped cream, strawberry sauce and more cocoa biscuits.
Left to Right:
#44 Oita Wakuwaku Kabosu Cistrusccha Frappuccino
Featuring Kabosu citrus, Oita's local specialty with a refreshing flavour of kabosu juice, ice and citrus pulp blended and topped with whipped cream and honey.
#45 Miyazaki Tege Kirakira Hyuganatsu Frappuccino
Made with the famous citrus fruit from Miyazaki, Hyuganatsu with a sweet and sour combination with mango sauce, finished with whipped cream and citrus pulp.
#46 Kagoshima Chaippe Kuromitsu Cream Frappuccino
The beverage expresses Kagoshima's symbolic Sakurajima with a base blended with kuromitsu (brown sugar syrup), chocolate chips and milk with whipped cream, matcha powder and kuromitsu topping.
#47 Okinawa Kari Chinsuko Vanilla Caramel Frappuccino
Featuring the traditional Okinawan biscuit, Chinsuko blended into vanilla-milk flavour base with ice and caramel sauce, finished with whipped cream and crushed Chinsuko biscuits.
Products will be available from 30 June until 3 August 2021, and each frappuccino will be only sold at stores in each prefecture. They all come in a tall size and the price is 669 yen for take-away and 682 yen for in-store.
Official Website: https://www.starbucks.co.jp/cafe/jimoto_frappuccino/
For more information about the latest trends and exciting events, please check out these articles, too!
▽Related Articles▽
▼Editor's Picks▼
---