Must-Buy Japanese Beauty Products for Summer
Best Japanese Cosmetics Products in Summer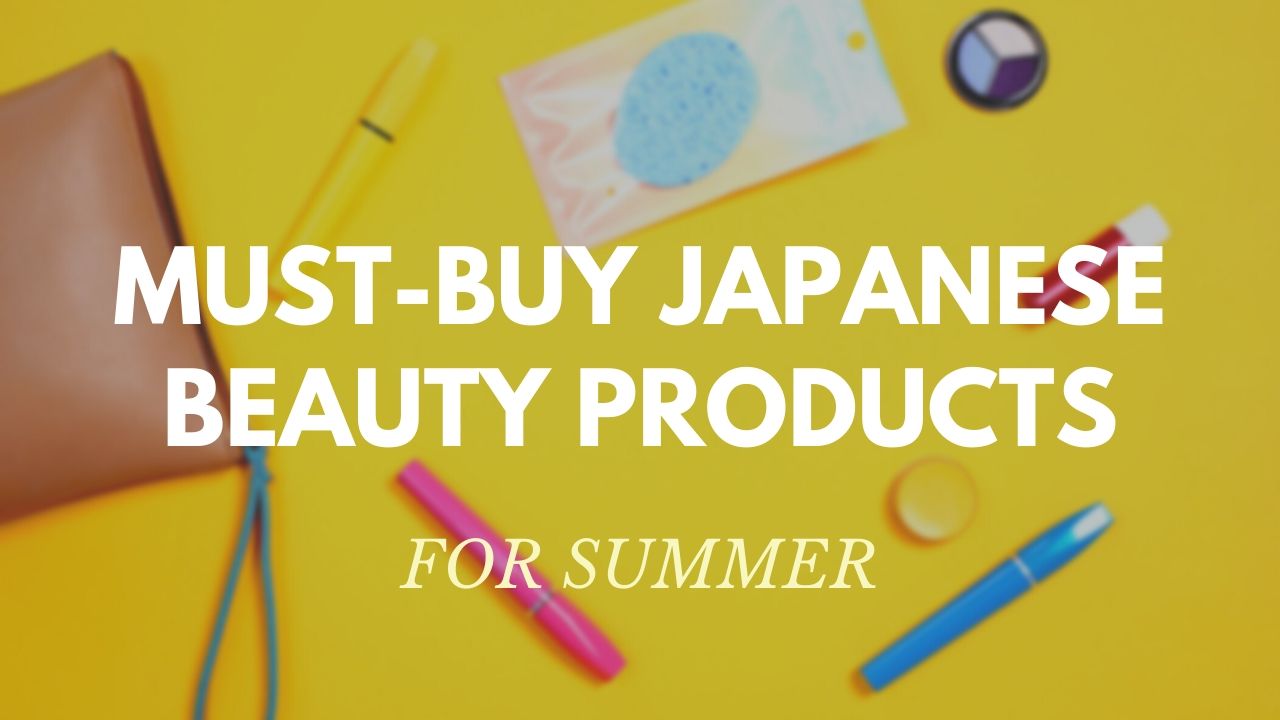 Summer is just around the corner and it's time to get ready for your summer skin. In Japan, there are four distinctive seasons with completely different climates from the cold and dry winter to the hot and humid summer, therefore, it's recommended to use different type of skin care and makeup products in each season.
Various seasonal cosmetics products are released in each season in Japan, and today, I would like to go through the summer beauty products which are specially designed to survive the extremely hot and humid Japanese summer with unique features and the latest technology. Let's stay cool and fresh with these Japanese summer beauty products!
---
-COFFRET D'OR Ice Primer
COFFRET D'OR Ice Primer (コフレドール アイスプライマー) is a makeup primer with the "minus coolness fit formula" which provides a cooling effect and an even coverage. As you spray it on a sponge, it transform into an icy texture and when you apply it on your skin, the ice melts and adheres to the skin. It helps to cover clogged pores and to keep the skin smooth all day. The primer is lightly colored so it can be used as a light foundation, or can be also applied after foundation for makeup to last longer. The small bottle is easy to carry, so it's a useful item for touch-up during the day, too.
Price: 1,300 yen (25g)
-shushupa! Make Keep Spray
shushupa! Make Keep Spray (shushupa! メイクキープスプレー) is an unique but extremely useful cosmetics product which helps to prevent makeup from smudging or caking especially in hot and humid weather during summer. As you apply the spray on top of your makeup, the ultra fine mist coats the makup and lock in the moisture and protect from sebum and smudging. The spray is water proof, resistant to water, sweat and sebum and keeps your skin smooth and the makeup to last longer. In addition to the regular spray, now the cooling type and the UV care type are available.
Price: 1,300 yen (55g)
-ANESSA Perfect UV Bubble Spray a
ANESSA Perfect UV Bubble Spray a (アネッサ パーフェクトUV バブルスプレー a) is a spray type sunscreen product with a cooling effect. When you apply the spray on the skin, it transforms into foam, and the bubbles burst and give a lasting icy and refreshing feeling. The product offers the highest protection rates (SPF 50+, PA++++) and it's formulated with double defense technology (Aqua Booster EX Technology and Super Water Proof), but can be removed surprisingly easily by regular soap. It also contains 50% beauty ingredients and protects the skin from dryness and UV damages.
Price: 2,200 yen (60g)
-Skinvill Hot & Cool Cleansing Gel
Skinvill Hot & Cool Cleansing Gel (スキンビル"温感&ひんやりクール"クレンジングジェル) is a summer-edition of Skinvill Hot Cleaning Gel, a popular hot gel cleanser in Japan which is formulated with the "Hot Active Function". This hot and cool cleansing gel approaches the common skin problems during summer such as open clogged pores and sticky oily skin as it contains herbal capsules with cooling and pore tightening ingredients. The gel first becomes warm as you apply on your skin and removes makeup and dirt gently, and after washing off, it gives a cold sensing and leaves the skin smooth and pores tightened. The line and herbal mint fragrance also gives refreshing and delightful summer feeling.
Price: 2,068 yen (200g)
-d program Whitening Clear Jelly Essence
d program by Shiseido is one of the most popular Japanese skin care brands among sensitive skin type. d program Whitening Clear Jelly Essence (dプログラム"ひんやり"オールインワン美白ジェル) is a summer-limited skin care product focusing on summer skin troubles such as hot flashes caused by the summer heat and UV rays damages. The product contains two types of medicinal active ingredients which are effective for hot flashes, rough skin, dark spots and freckles. The multi-function all-in-one jelly works as a toner, emulsion and beauty serum. It's formulated with selected ingredients suitable even for delicate skin type, and leads to moisturized and translucent skin.
Price: 3,190 yen (60g)
FRISK is mint candies, which are widely sold at convenience stores and supermarkets in Japan. It's originally manufactured in Belgium, but extremely popular in Japan as the great refreshment giving the exhilarating and stimulating feeling. The FRISK Lip Cream (フリスクリップクリーム) is a lip balm reproduced the cool and refreshing FRISK mint scent. The balm contains moisturizing ingredients to protect lips from dryness. With a single application, you can get the same refreshing sensation as if you take the mint. The package design is also cool and unique with the motif of the original FRISK package. The product available with a limited number only and sold at drugstores and variety stores across Japan.
Price: 500 yen (5g)
Tabi no Yado is a popular Japanese bath salt brand by Kracie. The brand offers various medicated bath salts in themes of famous hot springs from all over Japan including Noboribetsu, Kusatsu, Hakone, Arima, Dogo, Yufuin and Beppu. These bath salts replicate the fragrance and the colour of each hot spring, and also contains Onsen elements and medicinal herbs helping the body to calm and relax. The brand releases a summer-limited cooling type bath salt box "Tabi no Yado Ryoka Ryohu (旅の宿 涼夏涼風)" including 3 kinds of cooling and refreshing bath salts containing moisturizing ingredients, Onsen minerals, herbs and menthol. If you feel too hot to soak in a bath during summer, try this one!
Price: around 1,000 yen
BOTANIST is the botanical lifestyle brand offering haircare and bodycare products made with selected plant-derived ingredients. Besides the regular products, the brand releases the summer edition series "BOTANIST Botanical Refresh series (ボタニカルリフレッシュシリーズ)" available for a limited time. The line-up of the series includes shampoo, hair treatment, body soap, body mist, face mask, etc. The products contain a highly moisturizing Agave essence which helps to repair the damaged skin and hair by UV rays, and menthol giving a cool and refreshing feeling. Products are available with two delightful and summerish fragrances: Tuberose and Apple Mint/Tuberose and Lychee.
Price:
Shampoo & Treatment 1,540 yen each (490g)
Dry Shampoo 1,320 yen (80ml)
Body Mist 1,100 yen (80ml)
Body Soap 1,100 yen (490g)
Hair Balm 1,650 yen (32g)
Face Mask 715 yen (7 sheets)
---
Thanks for reading! If you wish to keep your skin smooth and flawless during the hot summer, try these Japanese beauty products and stay cool!
For more information about Japanese beauty products, please check out these articles, too!
▽Related Articles▽
▼Editor's Picks▼
---