6 Best Japanese YouTube Channels
Top 6 YouTubers in Japan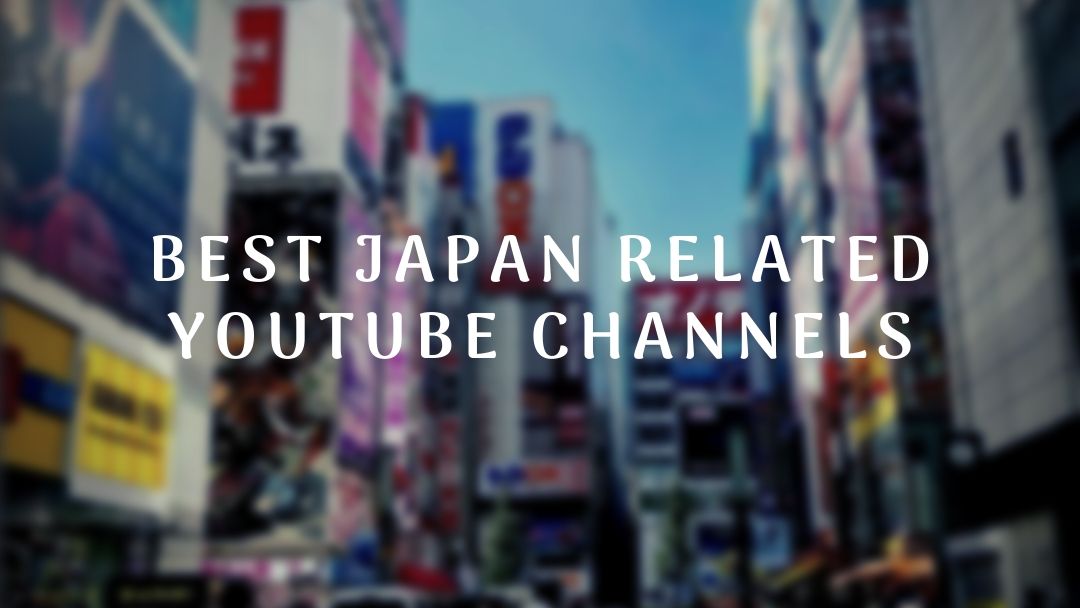 Nowadays thanks to new technologies the world is much more connected. You can have all types of information from almost any country even if you live on the other side of the planet. If you're thinking to live in another country or take a trip, you can find a lot of information available online on travel blogs, Instagram, etc.
But it's not necessarily only for people who want to live or travel. Thanks to the Internet it's also easier to bring different cultures closer. For example, if you like Japan and want to know more about the country's culture and history, there are many people offering diverse quality content about Japan. Lately, one of the most successful platforms for sharing content, especially among young people, is YouTube. There are people who prefer to see and hear the information in a video, instead of reading it in a blog, for example. Also, the video format certainly allows the content to become more entertaining and enjoyable, and helps show what you're talking about. For example, writing a recipe and explaining how to do it is not the same as showing it in a video. Or in the case of Japan, Youtube videos it's a way to transport people with you for a few minutes to Japan.
There are many YouTube channels about Japan, showing different kinds of content about the land of the rising sun. Here I'm going to share with you my top of the best YouTubers in Japan and the content they create. From travel tips to Japanese language and cultural information, check the list and discover new interesting things about Japan!
The channel was created in 2012 by Chris Broad, a British guy who moved to Japan to work as English teacher. At first the channel was a hobby for Chris, but little by little it was gaining popularity and the Abroad in Japan team was growing, and now it has four members. Although the visible face of the videos is Chris, often accompanied by Natsuki.
One of the things that people like the most is Chris's sarcasm in many moments, but above all the strong point of Abroad in Japan is that his videos are very elaborate and they do a great job of research.There are many companies and brands that have been interested in collaborating with Chris and his team, and recently he even spent a week with one of the most famous and biggest rock stars in Japan, Hyde, and made a documentary about the singer. This is something never seen before in Japan, and an indicative of the prestige and level of Abroad in Japan.
Official Website: https://www.abroadinjapan.com/about
Dogen became popular on Twitter especially among the ex-pat community in Japan, thanks to his comical short videos about typical situations that foreigners living in Japan often experience. Dogen has a curious way of always looking serious in his videos with a rather monotonous tone of voice, but at the same time making you laugh with them. I personally think it's incredible to achieve that and it's his personal mark, and what makes him special from other content creators. The videos are in Japanese, but have English subtitles.
Greg is a Canadian married to a Japanese woman with two children. The channel was partly created with the idea of showing Japan from the perspective of two children living in Japan, and being able to share their experience with other children around the world. But Greg also wanted to show the everyday, special events and unique aspects of life in Japan. Her hope is to be able to create a bridge between cultures, and that people stop seeing some things as "rare" since they're different from their own culture and start to see them as normal, but simply that, different. Or even fascinating.
Greg's videos are very interesting, not only because he shows a less-known Japan or curious things in daily life, but also because I think he tries to unite and show different cultures and has videos such as how is life in the Philippines, or being a Muslim in Japan. Seeing some things from the pint of view of his children's is also very interesting.
Misa is a Japanese girl who works as a Japanese teacher for foreigners. But Misa wanted to go a step further, and in addition to teaching her own students, she uploads videos completely free to YouTube teaching Japanese.
Misa's videos are very educational and you learn a lot. She explains Japanese in a clear, simple and fun way, with perfect English. One of the things that I personally like the most about Misa is that it also explains how to speak Japanese like a native. Usually conventional books and Japanese academies teach Japanese which, while not incorrect, sounds totally weird and sometimes even rude when used in real life.
By the way, Misa also has a channel on Twitch where she plays video games and sometimes uploads photos doing cosplay on her Instagram, in case you're also interested.
Only in Japan it's one of the most popular YouTube channels about Japan for years. Is created and produces by John Daub, who has been living in Japan for over 21 years and working as a regular reporter for many NHK World programs, one of the most important television networks in Japan, since 2008.
John is a professional and very experienced, and his videos are truly amazing. Especially at the tourist level. If you want to visit unique and hidden places on your trip to Japan, or have unique experiences, I recommend you to watch his videos. But if on the other hand, you prefer to visit the most typical cities in Japan, don't worry because it also has many useful videos to organise your trip to Japan. Or even if at the moment you cannot travel to Japan, its channel is very good to transport you to Japan for a few minutes.
Paolo is an American Filipino who has been living in Japan for a long time. I got to know Paolo's YouTube channel for his videos related to food, such as the best places to eat in Tokyo, specific restaurants, street food tours and many other food recommendations. Paolo is someone who really enjoys eating and puts on funny expressions when he tries food. His videos are very useful to know places to eat, or things to try.
But especially recently Paolo also has other types of videos more focused on showing the real life of the Japanese people in Japan, for example about the life of a Japanese university student, a video game programmer, delivery worker, a housewife, a casino worker, a cosplayer, etc.
What do you think of my list? Is there any other Japanese YouTube channel that you would add to this list? I will be happy to hear your suggestions!
Surely many of you were going to come on a trip to Japan but it has been canceled by covid-19. These YouTube channels about Japan are a way to pass the time during the quarantine and to discover more about Japan. And get new ideas for when you come once the covid-19 has passed!
If you want to know more content about Japan that you can enjoy from home, like anime, music, books or Japanese dishes recipes, check this articles too!
▽Related Articles▽
▼Editor's Picks▼
---