Japan Travel Advisory for the Coronavirus
Travel advisories and warnings about Japan including the novel coronavirus (Covid-19)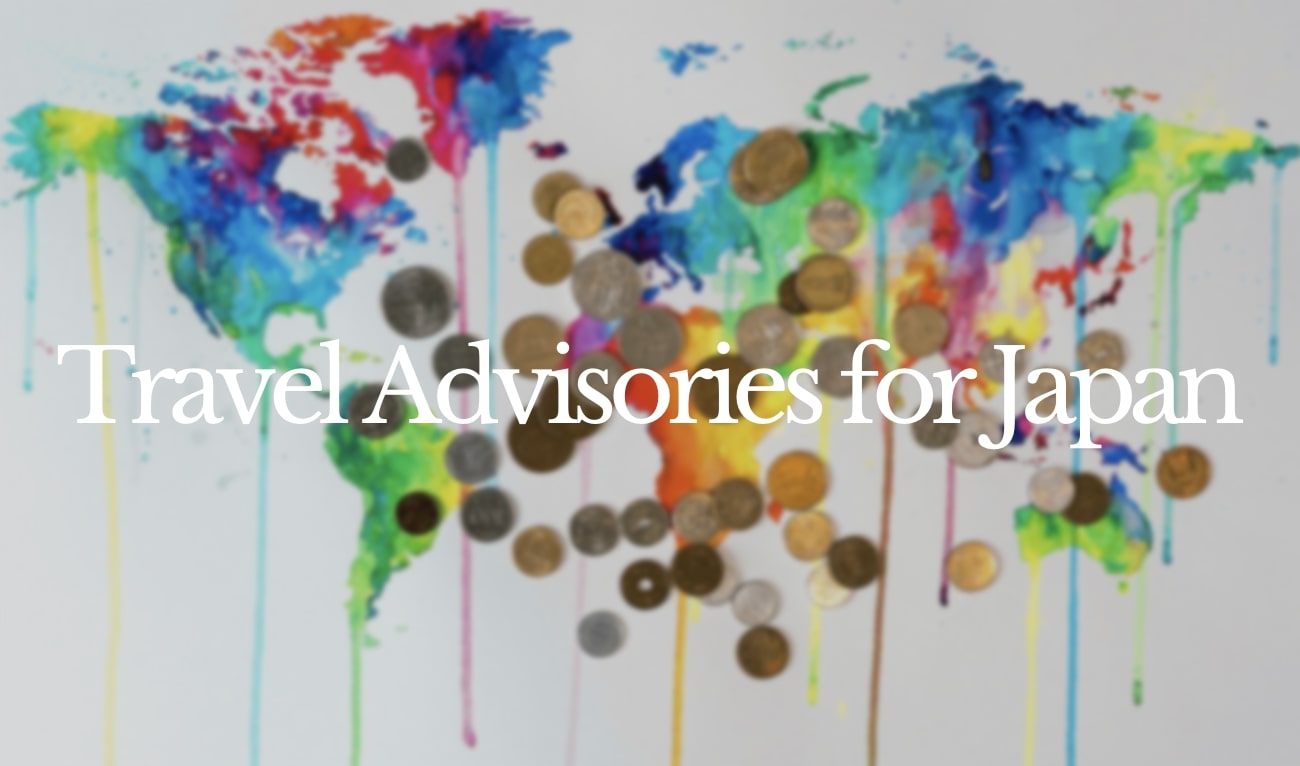 Japan is known as one of the safest counties in the world and is also a perfect destination to travel. However, you can't go against the laws of nature. Japan has been attracted much international attention recently for the disasters such as earthquakes and typhoons. It is not easy for people outside Japan to know how the country is except significant incidents that media covers worldwide. For those who have a plan to travel to Japan or are wondering if they should choose Japan as their next holiday destination, checking whether Japan is safe to travel now or not.
One of the best ways to know what Japan is like now is checking national governments' travel advisories for Japan. Foreign ministry and other organizations related to diplomacy and travel in your country usually offers travel advisories for Japan with travel advisory levels to represent degree of safety. The lively information given by national embassies located in Japan is also useful for you. You can check websites of Japanese embassies and consulates located in your country as well.
It is on your own responsibility to see if the country is safe and decide to travel after all, but it is quite important to collect objective information for the correct decision.
Since the end of 2019, the outbreak of the novel coronavirus COVID-19 has been confirmed in China. The new type of coronavirus is spreading all over the world, and there are infected people in Japan. Some counties' governments have released the travel advisories about COVID-19 in Japan.
▶︎Check the latest information about the coronavirus (Covid-19) in Japan.
Japan Travel Advisory by Country
Here is the list of foreign ministries by country offering travel advisories for Japan. Check the latest information about the current status of Japan with travel advisories by visiting the websites of national governments. News and information are also provided by some organizations of the Japanese government in English.
-Japan
Ministry of Foreign Affairs of Japan (MOFA)
Minister of Health, Labour and Welfare (MHLW)
▶︎https://www.mhlw.go.jp/stf/seisakunitsuite/bunya/newpage_00032.html
Japan National Tourism Organization (JNTO)
-United States of America
United States Department of State
Travel.State.Gov (Bureau of Consular Affairs)
-Canada
Canada.ca (the Government of Canada)
▶︎https://travel.gc.ca/travelling/health-safety/travel-health-notices/216
-United Kingdom
▶︎https://www.gov.uk/guidance/travel-advice-novel-coronavirus
-Australia
Department of Foreign Affairs and Trade
-New Zealand
Ministry of Foreign Affairs and Trade
▶︎https://www.safetravel.govt.nz/news/novel-coronavirus-china-2019-ncov
-Singapore
-Philippines
▶︎https://www.dfa.gov.ph/covid-19-advisories
National Embassies and Consulates in Japan
There are over 150 counties that have their embassy in place in Japan, which deliver the firsthand perspective on the country to you in your language.
Japanese Embassies and Consulates in the World
Japan has over 227 foreign diplomatic missions including 152 Japanese embassies and 65 consulates all over the world as of January, 2020.
Information spreading all over the world varies referring to the same subject since each country, medium or individual has their own opinion, of course. You may wonder which information source you should believe. It is beneficial for you to collect information on multiple sources like governments' websites, online media, newspapers and so on.
These are our articles relating the novel coronavirus, a.k.a. Covid-19, in Japan:
For more info about traveling in Japan, check these articles below, too!
▽Related Articles▽
---