Hana Biyori Winter Illumination 2022
Tokyo Winter Illumination: Hana Biyori HANA AKARI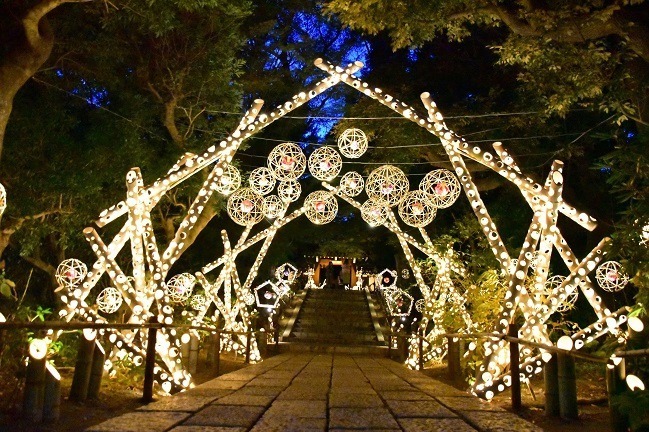 HANA BIYORI (はなびより) it's a new type of flower park that opened in 2020 Spring adjacent to Yomiuri Land (よみうりランド), one of the most popular amusement parks in Japan located in the outskirts of Tokyo. Under the concept of "Entertainment Botanical Garden" the flower park offer various flower-related contents including nature and the latest digital technology.
In winter 2022 HANA-BIYORI is holding the illumination event "HANA-AKARI" from October 29, 2022 (Sat) to April 9, 2023 (Sun). HANA AKARI is a Japanese-style illumination event that envelops the park in soft light. Approximately 1,000 "bamboo lights" made by drilling holes in bamboo will be lit up along with trees, flowers and the cultural property "Hijirimon", creating a beautiful and fantastic space of light and flowers.
In the main area "Hanakarikomichi", about 500 bamboo lights collaborate with the cultural property "Sacred Gate", which is said to have been relocated from the Kyoto Imperial Palace. At the end of the alley with beautiful cobblestones, bamboo balls, and bamboo lanterns, a flower mandala made of bamboo is decorated. The color of the light changes with time, allowing visitors to enjoy a variety of expressions.
In addition part of the Sacred Forest area will be opened to the public and the Dabotou, a cultural asset believed to have been built in the 17th century, will be illuminated along with approximately 100 brightly colored Japanese umbrellas. Visitors can also enjoy over 300 pots of HANA-BIYORI's famous "flower chandeliers" in the greenhouse HANA-BIYORI Pavilion.
The adjacent amusement park Yomiuri Land is holding an illumination event, "Yomiuri Land Jewel Illumination" from October 20 (Thu.). The "jewel-colored" illumination is different from the "HANA AKARI" illumination, so if you are in the area we recommend you enjoy both!
Hana Biyori also has one of the most beautiful Starbucks in Japan, so you can take the opportunity to visit it as well 🙂
<<Hana Biyori Winter Illumination>>
Access: 10 mins on foot or free shuttle bus from Keio Yomiuri Land Station
Date: 29 October 2022 to 9 April 2023
Hours: 16:00~20:00
Fee(night admission from 16:00): Adults and seniors (65 and older): 900 yen/ 3 years old to elementary school students: 500 yen
* Discount rates are available for visitors to the Yomiuri Land amusement park.
Official Website: https://www.yomiuriland.com/hanabiyori/en/
There are many Christmas events in Tokyo! If you want to know the best events or things to do this Christmas in Japan don't miss these articles too 🙂
▽ Related Articles ▽
▼ Editor's Picks ▼
---