Yomiuriland Jewellumination 2022-2023
Tokyo Winter Illumination: Yomiuriland Jewel Illumination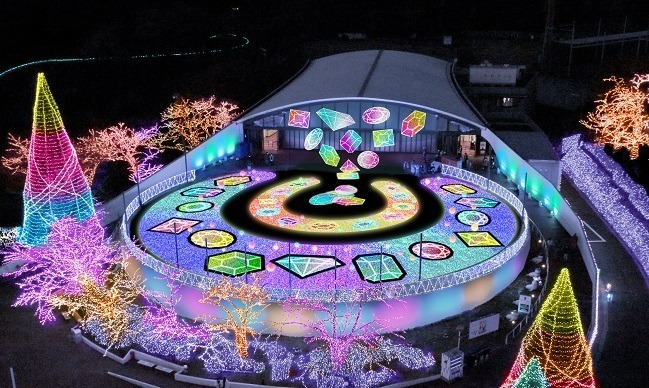 Yomiuriland Jewellumination is the annual winter illumination held at Yomuriland, Tokyo's largest amusement park. Jewellumination is the the world's first sparkling illumination using LEDs inspired by jewel colors produced by the world-renowned lighting designer Mikiko Ishii. It's one of the most popular winter illumination events in Tokyo and the largest-scale illumination in the Kanto area. In 2022 winter the 13th season of the event is back, running from 20 October 2022 (Thursday) until 9 April, 2023 (Sunday)!
Yomiuriland Jewellumination 2022 "LIGHT IS HAPPINESS!" features popular nighttime-only shows and attractions, including a 140-meter-long tunnel illuminated with lights in different colors as sapphire blue, pink, yellow, green, etc., some of the largest-scale fountain shows in the country, a roller coaster shooting through the night sky like a falling star and a Ferris wheel with a panoramic view of the night cityscape! Enjoy the amusement park decorated in sparkling Jewelry-colored lights!
Based on the theme of "Jewel Olympus" Yomiuriland is decorated with a record-breaking of 6.5 million bulbs distributed in 12 fantastical areas as the "Melody Road", illuminated with colorful lights inspired by piano keys or the "Jewelry Horseshoe", decorated in the motif of a horseshoe, a symbol of happiness.
In addition the every year popular fountain show, with a giant 12-meter-high ring of water screen images, 185 fountains, lasers and flames, will be held in the Wave Pool Area.
Discount rates are available for visitors to the Yomiuriland amusement park. For more details check their official website.
Yomuriland Jewellumination Official Website
---
<<Yomiuriland Jewel Winter Ilumination>>
Access: 25 mins walk from Yomiuriland-mae Station (or you can take a bus)
Date: 20 October 2022 to 9 April 2023
Hours: 10:00~20:30 (09:00~20:30 weekends and public holidays)
Prices:
One-Day Pass(Admission + all-you-can-ride): 5,800 JPY (adults)/ 4,600 JPY (middle and high school students)/ 4,000 JPY (children)/ 2,400 JPY (preschoolers)
Admission fees (Park admission fees only): 1,800 JPY (adults)/ 1,500 JPY (middle and high school students)/ 1,000 JPY (children)/ 1,000 JPY (preschoolers)
After Pass (Admission after 3:00pm + all-you-can-ride): 2,900 JPY (adults)/ 2,000 JPY (middle and high school students)/ 2,000 JPY (children)/ 1,300 JPY (preschoolers)
---
They are several winter events and Christmas illumination in Tokyo, so if you want to know the latest news and best things to do during winter check out this articles too!
▽ Related Articles ▽
▼ Editor's Picks ▼
---