HANA BIYORI: Entertainment Botanical Garden in Yomiuri Land Tokyo
HANA BIYORI: Nature, Digital Technology and Japan's First Botanical Garden Starbucks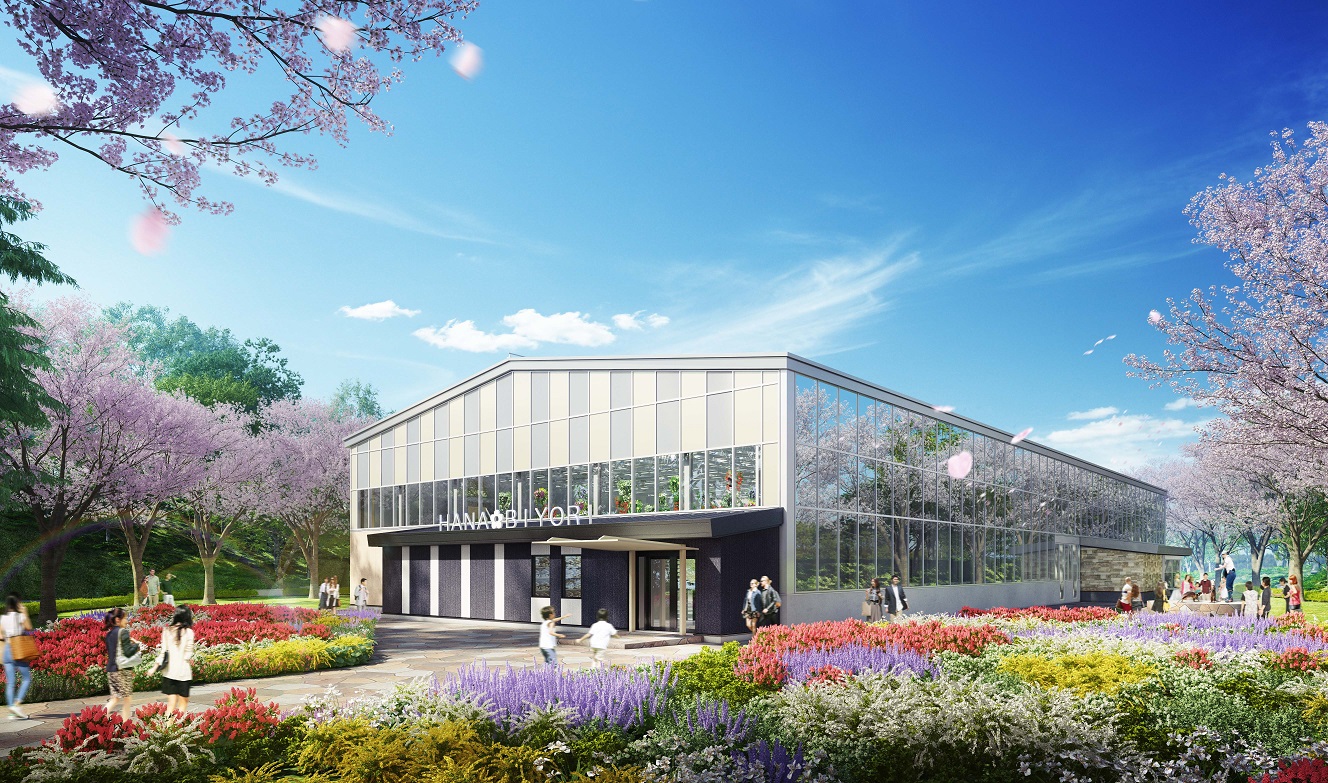 *Please note that this article contains affiliate links.
Yomiuri Land (よみうりランド) is one of the most popular amusement parks in Japan, which is located in Inagi City, the outskirts of Tokyo.
Yomiuri Land offers a variety of entertainments through the year including thrill rides, kids-friendly attractions, swimming pool in summer and spectacular illumination in winter.
In 2020 spring, a new attraction zone was added to the park's line-up, HANA BIYORI (はなびより), states as "the Entertainment Botanical Garden". It opened in 19 March 2020 right next to the attraction area of the amusement park.
HANA BIYORI is a new type of flower park, offering various flower-related contents in collaboration between nature and the the latest digital technology including a 1,500 square meter greenhouse, projection mapping show and the first botanical garden Starbucks store.
<<Click HERE to Book HANA BIYORI Admission Ticket>>
-Flower Chandeliers
Inside the massive greenhouse, there are flower chandeliers hanging, which are the biggest in Kanto area with over 300 flower pots. There is also a flower-bedded wall with 2m height and 20m length. Visitors can enjoy various colourful flowers in full bloom through the year and be surrounded by them in 360 degrees.
-Outdoor Area
The outdoor area consists of the Four Season Garden and the Sequoia Garden displaying over 17,000 seasonal flowers. In total, there are over 1,200 trees of 130 species in the park site including 100 cherry blossoms flourishing during spring.
-Projection Mapping Show
The most notable content of HANA BIYORI is the projection mapping show with a combination of nature and the latest digital technology.
In a darkened greenhouse, the high definition projection mapping movie is shown on three walls in a total of 60m long. The image created by the fusion of flowers and digital art maximise the beauty of nature, and draws viewers into the virtual world.
-Botanical Garden Starbucks
Moreover, the park features Japan's first botanical garden Starbucks with the design concept of "New lifestyle with coffee", offering an extraordinary cafe experience with delicious Starbucks coffee and being surrounded by plants and flowers in a space with sunshower.
-More Contents
HANA BIYORI offers many other unique entertainment contents including a zone where visitors can see cute and adorable otters (Kawauso in Japanese) up close, a magnificent traditional Japanese garden, an aquarium, workshop and more. There is also a shop with limited merchandise.
HANA BIYORI is a perfect place for all generations to enjoy beautiful flowers throughout the year and have a new and modern experience with a fusion of nature and the cutting-edge technology!
-HANA BIYORI
Access: 10 mins on foot or free shuttle bus from Keio Yomiuri Land Station
Hours: 9:30~17:00
Closed: 21 April, 27,28 May, 16,17,18 June, 14 June, 4 August, 14,15,24,25 September
Admission Fee: 1,200 yen (adult), 600 yen (children)
Official Website: https://www.yomiuriland.com/hanabiyori/en/
<<Click HERE to Book HANA BIYORI Admission Ticket>>
Thanks for reading! For more upcoming events and trendy spots in Tokyo, we recommend you to check out these articles, too!
▼Editor's Picks▼
---