8 Best K-Beauty Cosmetics Stores in Shin Okubo
Best Korean Beauty Stores in Shin Okubo Korean Town, Tokyo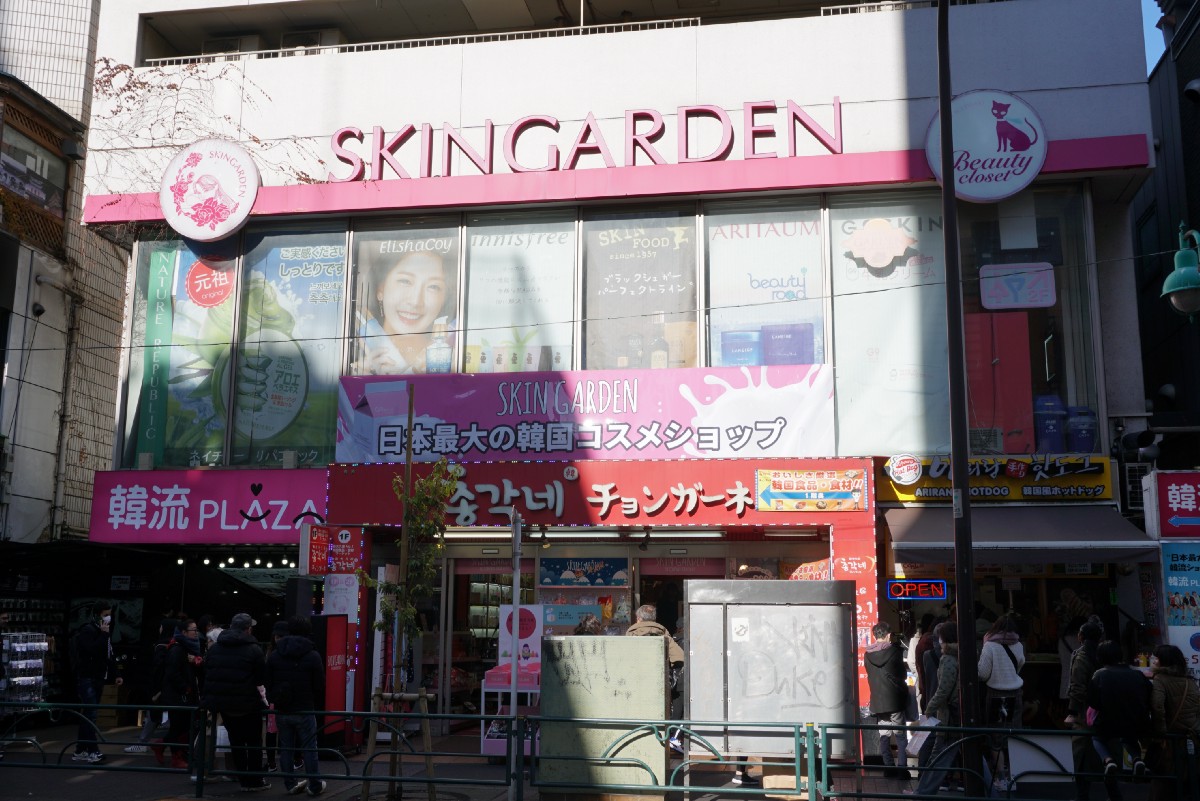 Hello everyone!
Today, I'd like to introduce 8 Korean cosmetics shops in Shin Okubo area, Tokyo. Speaking of South Korea, it is the country that has a massive beauty industry. When you watch Korean idols, actresses and models, you may wonder why they have so beautiful and flawless skin. I guess one of the reasons is the quality of Korean beauty products. To reach one step closer to the dreamy "Korean Beauty (K-Beauty)", I think it's worth trying out Korean cosmetics products. I recently visited Shin Okubo, the biggest Korean Town in Tokyo, and did some research about Korean beauty products. So I'd like to share some of Korean cosmetics shops in the neighbourhood to buy trendy K-beauty products.
1. It's SKIN(イッツスキン)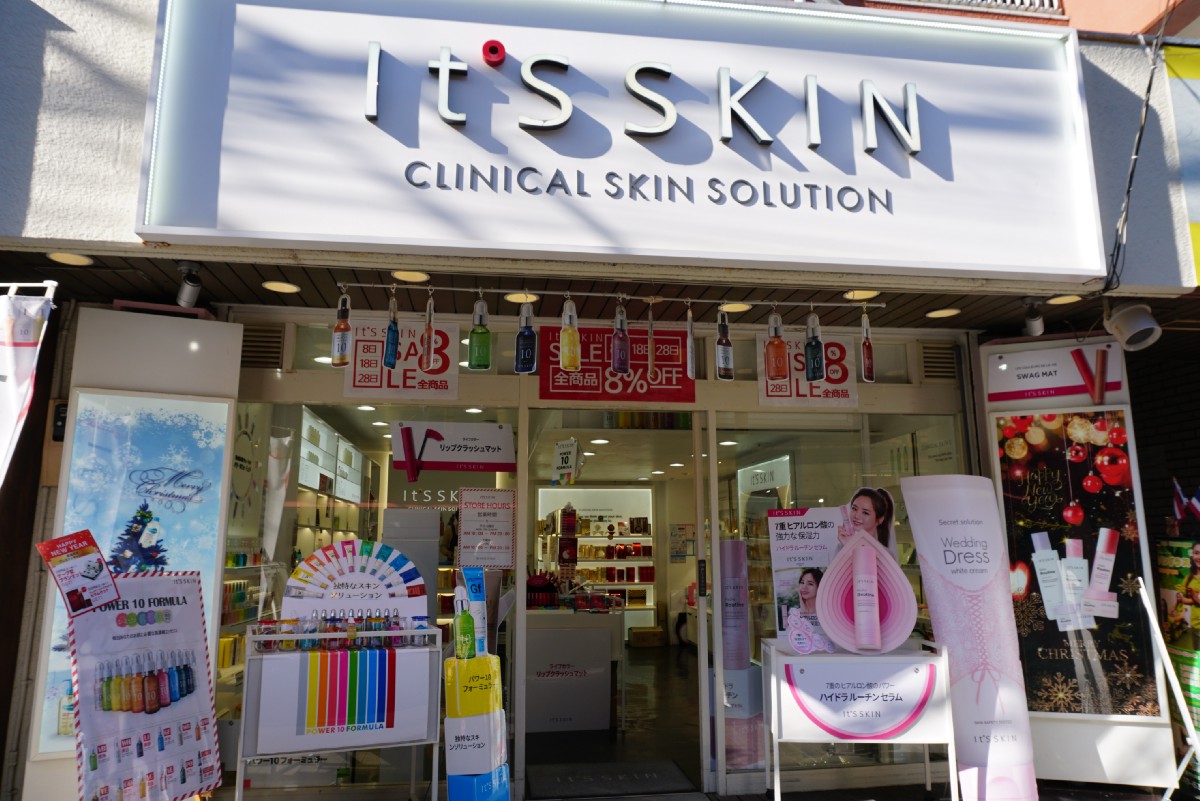 The It's SKIN store is located about 8 mins on foot from Shin Okubo Station. It's the brand's main store in Japan as well as the first opened branch. It's SKIN is a popular Korean cosmetics brand that offers skin care products produced by dermatologists.
I'd like to recommend the Power 10 Formula Series which products can be selected to match skin type and problems. It's cute and affordable, and the colourful bottles are displayed at the shop eye-catchingly. I have tried a sleeping pack from this series.
2. Myeongdong Cosme(ミョンドンコスメ)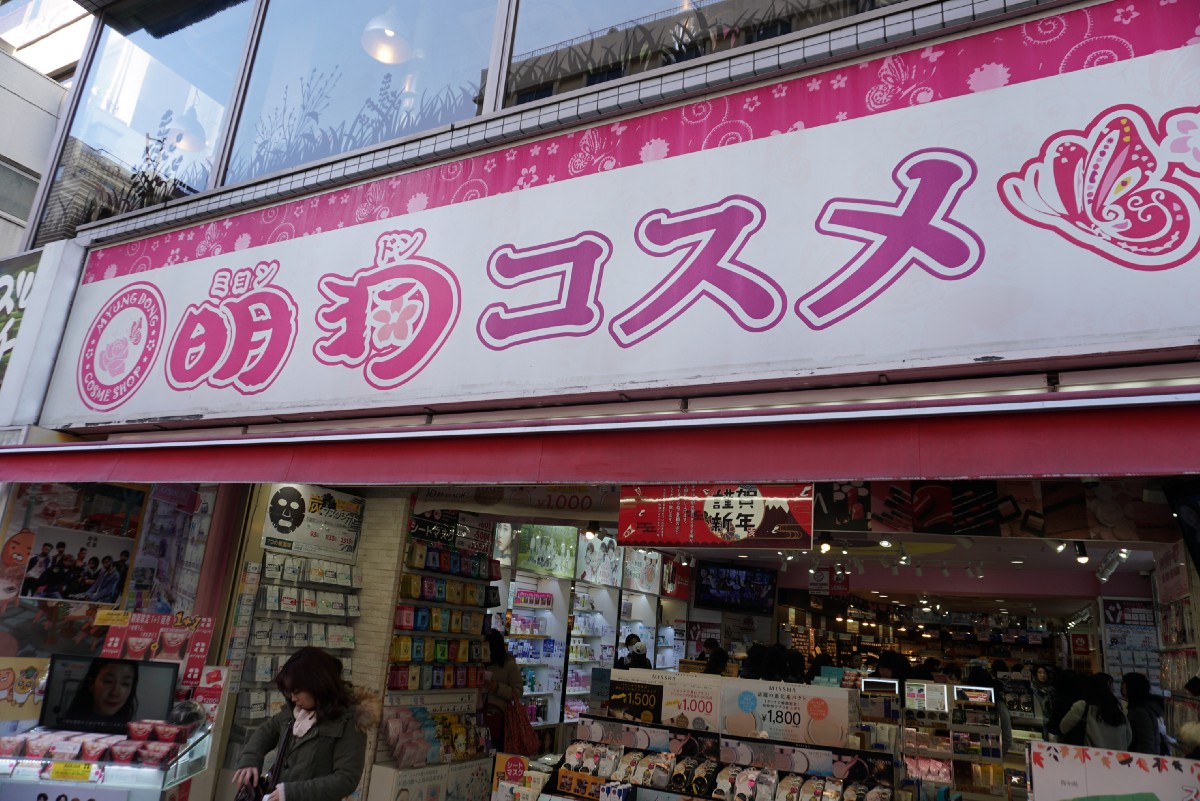 Myeongdong Cosme is located 4 mins walk from Shin Okubo Station. The store offers products from a variety of Korean beauty brands, and you are likely to find products you look for. Also the inside display was pretty tidy and easy to see around.
The foundation by MISSHA is one of the most popular cosmetics products in Japan in the past years, and various kinds of foundations can be found at Myondon Cosme. It's great that most of cosmetics products have testers so you can try the products before purchasing.
3. Chongane (チョンガーネ)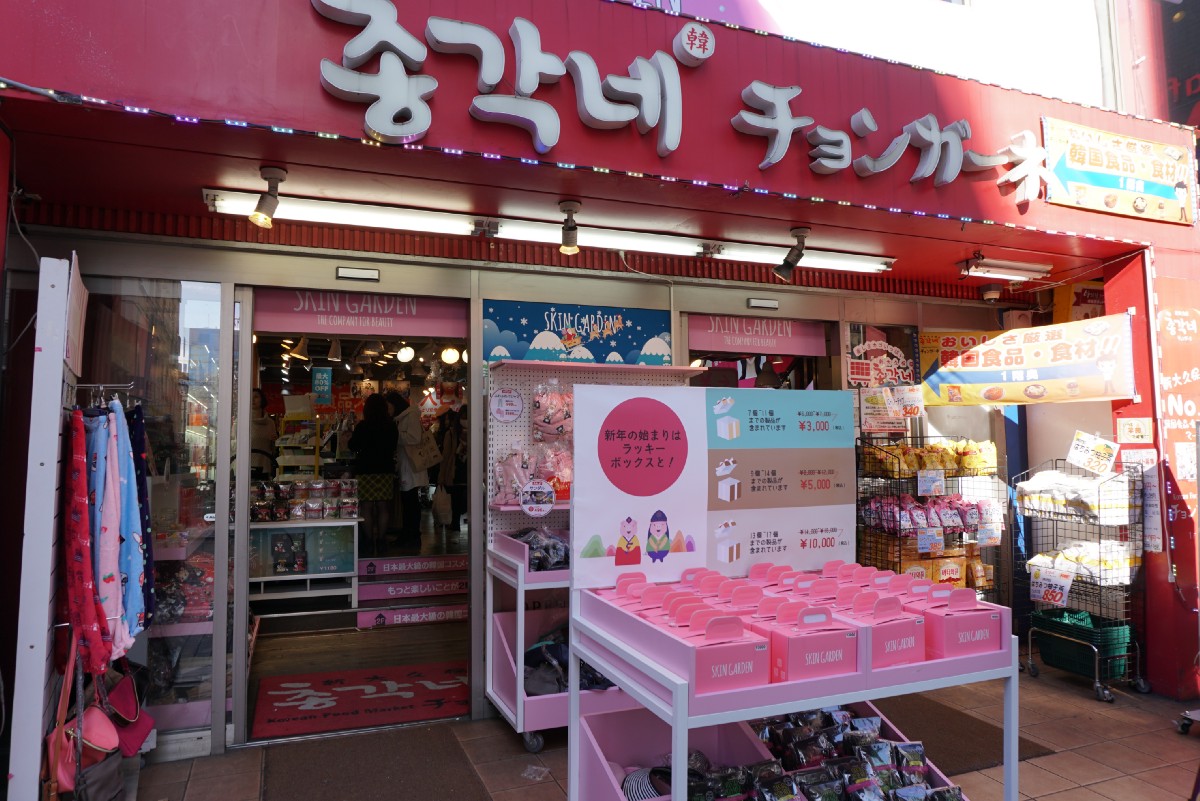 Chongane is located 3 mins away from Shin Okubo Station. The large signboard of the shop is quite outstanding on the street which is written in Korean letters. The shop was pretty busy during the day when I visited. The store deal with not only cosmetics products, but also grocery products like a supermarket. The store is spacious with a wide variety of items. It's one of must-visit shops in Shin Okubo areas for everyone!
4. SKIN GARDEN (スキンガーデン)
SKIN GARDEN is located on the 2 floor of Chongane. A wide variety of Korean cosmetics products can be found in this shop including the trending brand like 16brand or the classic brand, Etude House. Along with beauty products, Korean accessories and variety goods are also sold here. If you like Korean fashion, I'd recommend you to shop here! The well-organised shop display is easy to see as each brands has own sections.
5. THE SAEM (ザ セム)
THE SAEM is located 5 mins walk from Shin Okubo Station. THE SAEM is one of the biggest Korean beauty brands today, and it's the first official store in Japan offering a great selection of products. THE SAEM's concealer is popular all around the world. Also the products are really affordable.
6. THE FACESHOP (ザ フェイスショップ)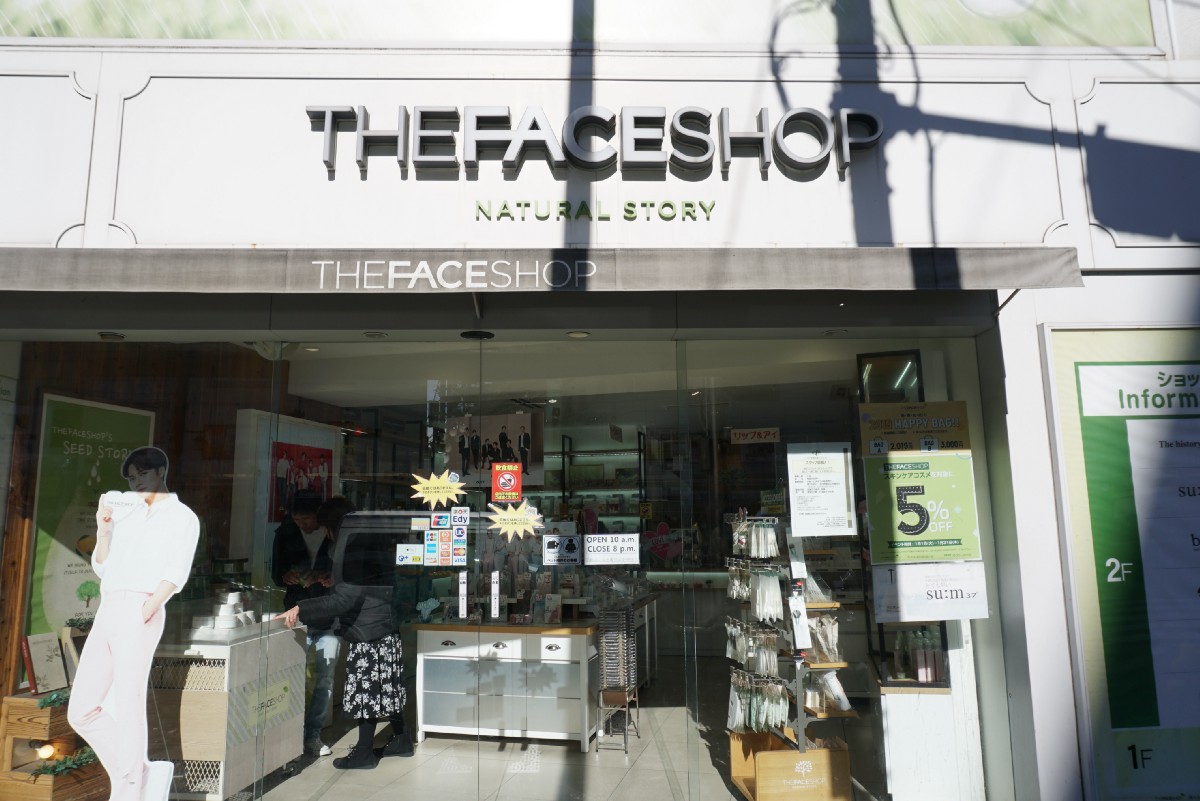 THE FACESHOP is located 10 mins walk from Shin Okubo Station. The cosmetics products from this brand are made with selected natural ingredients and available with affordable prices. Inside the store has a white-based interior is bright and clean. The store also offers mens cosmetics products as I also saw a few male customers in the shop.
7. THE BEAUTY SHOP (ザ・ビューティー・ショップ)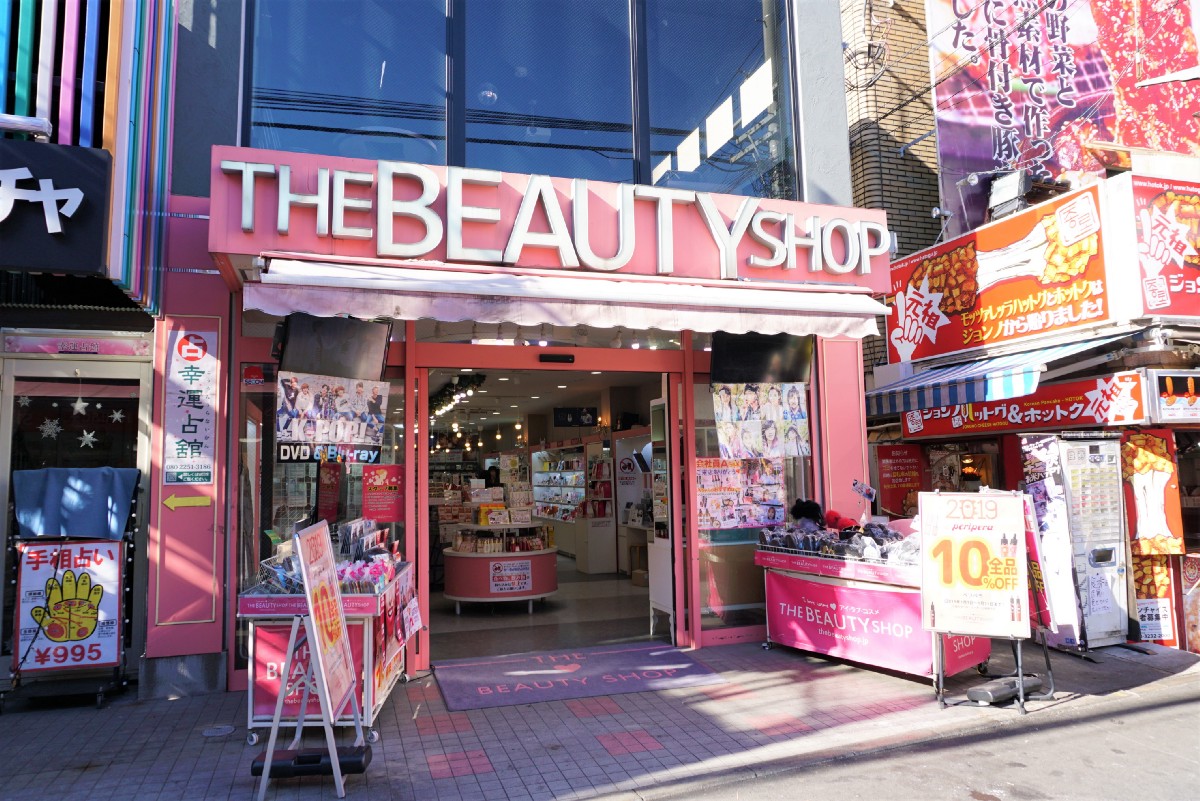 THE BEAUTY SHOP is 7 mins walk from Shin Okubo Station. The pink and white, cute store offers trendy Korean beauty products as quick as the beauty home ground in Korea without time lag.
From hair colour choke to collaborated products with K-pop idols, there were so many products that I wanted to try out! In addition, the shop offer sale occasionally, so you may be able to get trendy Korean beauty items with discounted prices.
8. SKIN HOLIC (スキンホリック)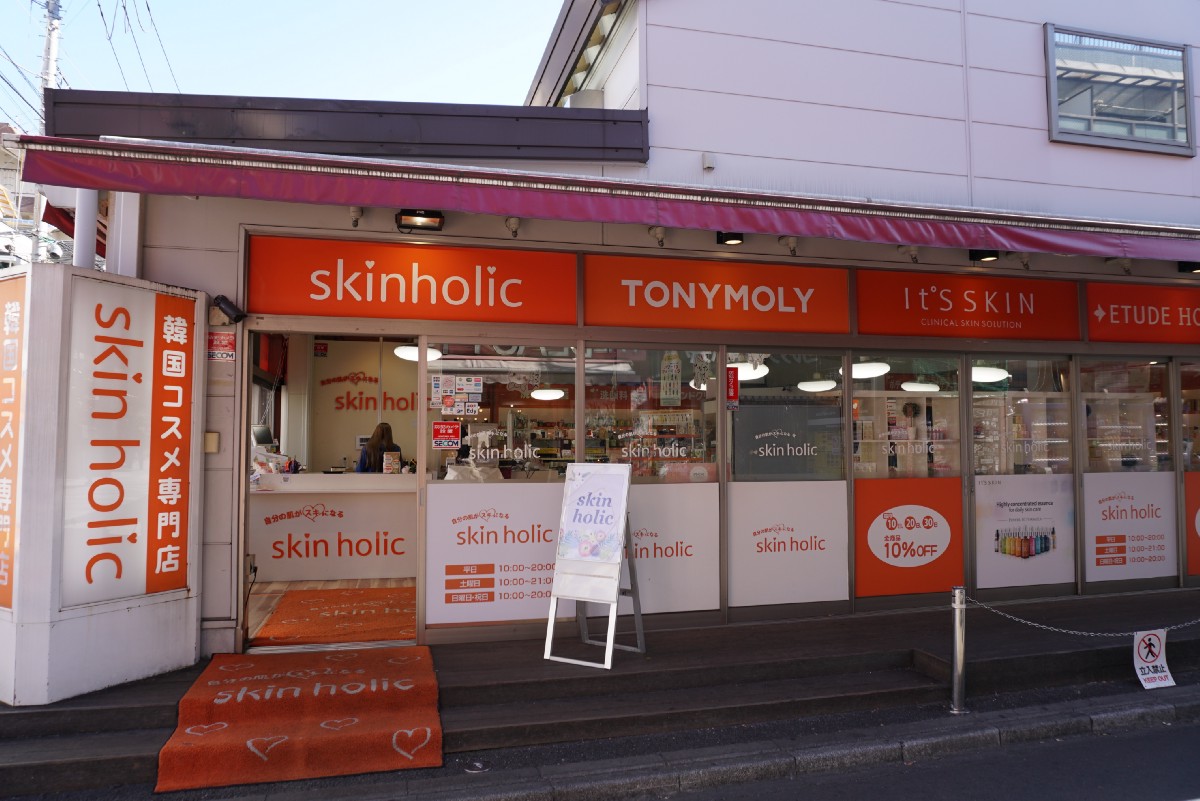 SKIN HOLIC is located 7 mins walk from Shin Okubo Station, and right opposite THE BEAUTY SHOP. Since the signboard of the store is orange, it's often called the Orange Shop among regular shoppers.
Inside the shop is well organised by category and brand, and has many introductions and instructions about products, which I really liked. There are also a ranking section and seasonal recommended section that make easier for me to pick trendy and popular items.
Did you enjoy the list?? If you are into Korean beauty products, you should definitely visit these shops in Shin Okubo to hunt for the latest beauty products. Shin Okubo is also a great area for eating out! Enjoy shopping Korean beauty products while trying out delicious Korean food in the heart of Tokyo!
For more information about trendy spots in Tokyo, here are some more articles for you to check out 🙂
▽Related Article▽
▼Editor's Picks▼
---