Seeing cherry blossoms (Sakura) is the top priority thing to do for travelers to Japan in spring since Japan is the best country to view cherry blossoms in the world. Japan's most popular tourist city Tokyo has numbers of nice spots to view cherry blossoms in full bloom.
The estimated best time to view full-blown cherry blossoms in Tokyo in 2019 is from late March to early April. If you plan to travel Japan in this spring, see the best cherry blossoms in the best way. Just viewing them while walking is not enough.
One of recommended ways to view cherry blossoms is Japanese traditional cruises "Yakatabune (屋形船)". You can enjoy viewing cherry blossoms on the cruising boat while having Japanese food and drinks.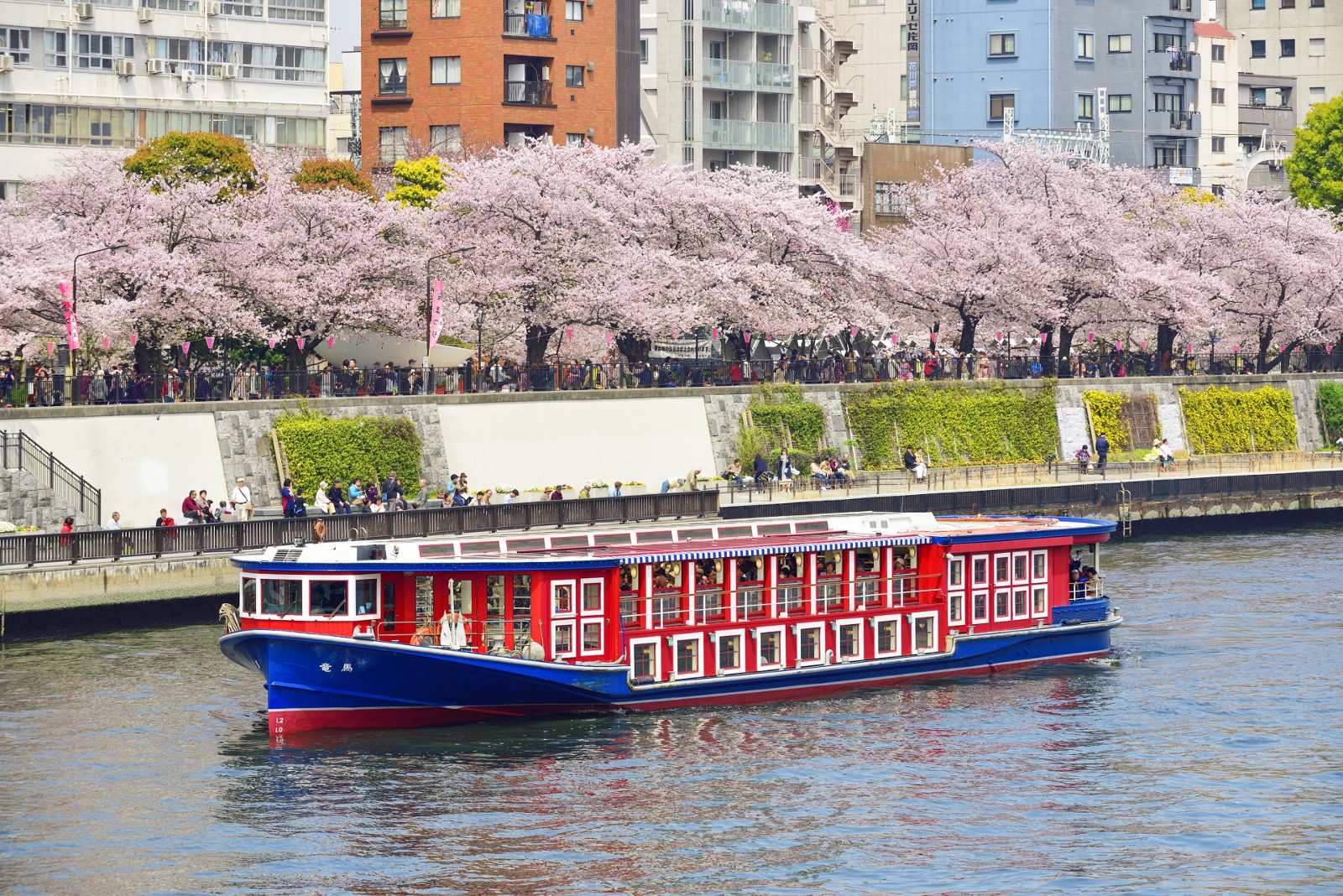 About 1,000 cherry blossom trees line along one of the best cherry blossoms viewing spots in Tokyo the Sumida river, covering the river bank with the pink carpet of petals. The breathtaking cherry blossoms are also lit up in the evening.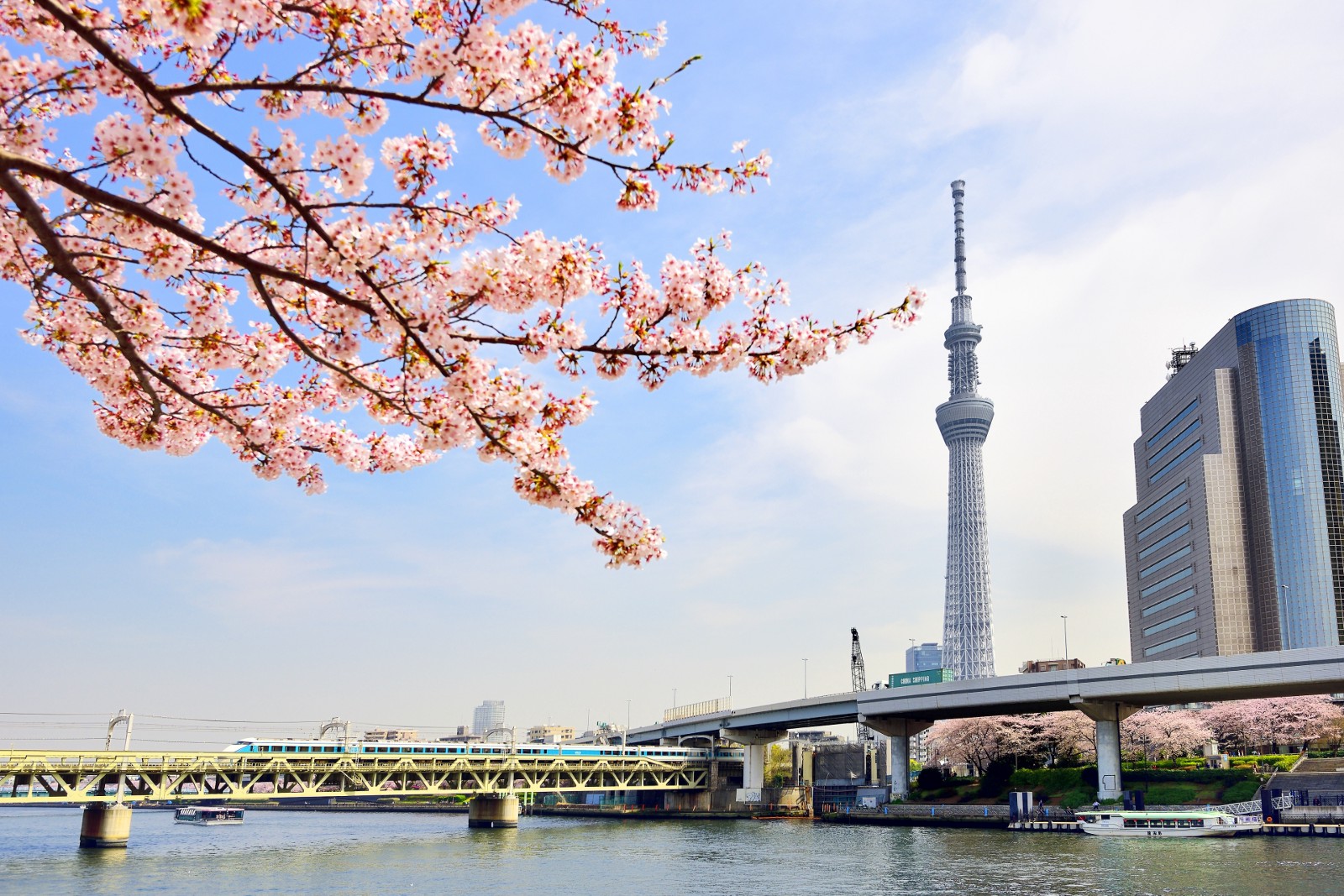 The cherry blossoms cruises sail down the Sumida river and pass several Tokyo's landmarks such as Tokyo Sky Tree in Asakusa and Rainbow Bridge in Odaiba.
How about enjoying "Hanami (viewing cherry blossoms, eating and drinking)" on the boat? It's strongly recommended to book the spring cruises as soon as you decide to take a trip to Japan in spring since the best season is very limited and they may be sold out shortly.
Don't miss the special chances to experience the best cherry blossoms on the cruises in Tokyo in 2019's spring!!
1. Tokyo Sakura Cherry Blossom Cruises
This is one of the best cherry blossoms cruising tours in Tokyo. You can view cherry blossoms flourishing along the river with the iconic Tokyo Sky Tree. They serve bento boxes on lunch or dinner with unlimited drinks. You can choose their boat cruises from lunch , afternoon or dinner time.
2. Tokyo Sakura Cherry Blossom Night Cruise
You can get the chance to enjoy a night cruise with breathtaking views of illuminated cherry blossoms in dinner time. Seeing cherry blossoms at night "Yozakura" is also an popular way to view cherry blossoms.
3. Sakura Cherry Blossoms Cruise on Meguro River
One of the best places to enjoy cherry blossoms in Tokyo is also Meguro River. Numerous sakura flourish along the river, and the 70-min cruise with the breathtaking views is the one and only experience in spring in Tokyo. Meguro itself, loved by hipsters in Tokyo, is getting more popular among international travelers these days.
4. Tokyo Sakura Cherry Blossom Cruises by Amitatsu
Amitatsu (あみ逹) has served their cruising boats for over 100 years. You can enjoy gorgeous Japanese dishes including Sashimi (raw fish) and Tempura with all-you-can-drink deals. They also offer various sailing courses passing Tokyo's landmarks such as Tokyo Sky Tree, Tsukiji Fish Market, Odaiba Rainbow Bridge and Tokyo Disney Resort.
5. Tokyo Sakura Cherry Blossom Cruises by Harumiya
Harumiya (晴海屋)has the biggest boat of Tokyo's Yakatabune boats which just started to sail in 2016. You can view beautiful scenery of cherry blossoms blooming on the top of the boat deck. They offer Japanese cuisines including their authentic Tempura with all-you-can-drink style.
6. Tokyo Sakura Cherry Blossom Cruises by Mikawaya
Cruising boats of Mikawaya (三河屋) sail down the Sumida river to Odaiba Rainbow Bridge on Tokyo Bay. They serve various types of Japanese food with a wide price range from light bento boxes to gorgeous set including Sashimi, Tempura, steaks, etc. You can charter the boats for your group and arrange Sushi chefs and Geisha performers.
The best viewing time for cherry blossoms is the busiest season in Japanese tourism, so reserve activities like those cruises and restaurants as soon as possible. For more info about cherry blossoms and spring in Japan, check these articles below!!
▽Related Articles▽
▼Editor's Picks▼