Unwind with Unique Experiences in Tokyo's Tama Area
Try Tama Ori Weaving, and Walk With an Owl in Tama

In the west of the Tokyo Metropolis, the tranquil Tama area is a far cry from the bustling downtown areas that the name Tokyo normally brings to mind. Why not head out for a relaxing day and try something new?
Continuing our feature of the area, we introduce two unusual activities that you can only experience here. Tama ori, a traditional weaving method specific to this region, and an unusual owl cafe where you can take the birds for a walk!
*Please note that this article contains affiliate links.
---
1. Have Fun With Tama Ori — Tokyo's Traditional Hand Weaving
A Historic Art Faithfully Preserved
Have you ever heard of the traditional Japanese weaving style "Tama ori"? Ever tried weaving something by hand in a professional workshop?
If you visit the Sawai Textile Workshop in a quiet neighborhood of Hachioji City, Tama area, you can do exactly that, and learn about the history of this traditional craft from one of the few surviving masters.
Tama ori is a hand-weaving style unique to Hachioji and Akiruno in west Tokyo's Tama area. Since the end of the Heian period about 1,000 years ago, the Tama region has been producing traditional silk goods. Starting in the closing years of the Tokugawa shogunate, the silk industry flourished here, and in Japan silk became almost synonymous with Tama — but in recent years hand-weaving has declined. Demand for kimonos has also fallen, and with few successors to the previous generation's masters, Tama ori is now quite rare.
Nevertheless, the art lives on, and if you head out to Tama you can still meet a master and try it yourself. In this experience you will weave beautiful, practical items like coasters or placemats, which you can easily take home. Besides the unique experience, you'll have a wonderful souvenir or a gift for someone special.
Visiting Sawai Textile Workshop
Sawai Textile Workshop in Takatsukimachi, Hachioji, is one of the representative manufacturers of Tama ori today. The workshop has over 120 years of history, while also welcoming innovation — and they gladly welcome visitors interested in experiencing their craft.
After a leisurely bus ride you'll arrive near the workshop, and a short walk along a tranquil path brings you to the charming, isolated house of Mr. and Mrs. Sawai. This lovely, elderly couple are the artisans of Tama ori who will be your hosts.
In their elegant living room they teach you in detail about the history of Tama ori, its current status, its designs and how to weave them. They'll show you examples of the completed genuine Tama ori products, as well as uniquely modern materials they make. You'll also get to tour their fully operational workshop. As well as hand weaving, they do some mechanical weaving and you can learn about all the equipment in use.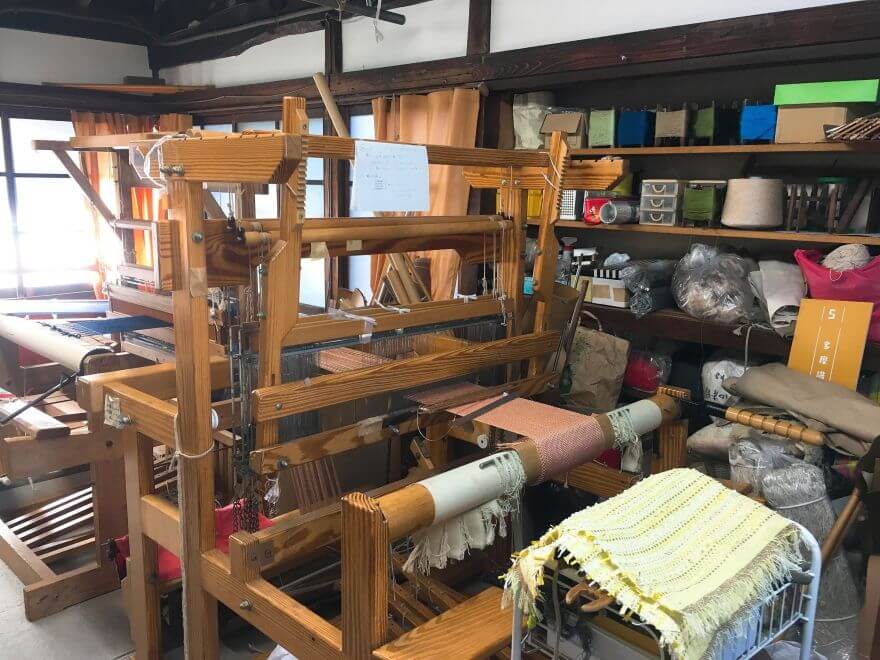 In contrast to the focus on kimono you might expect, Sawai Textile Workshop has far more patterns and processes for items like scarves, stoles, and Western-style clothing. Indeed, a few years ago they were involved in cutting-edge work along with Levi's and Google, on such experimental projects as wearable devices — clothing that can link up with smartphones as part of the 'Internet of Things.' In other words, this is a workshop where tradition and innovation go hand-in-hand.
Try Tama Ori for Yourself
After your history lesson and workshop tour, you'll get hands on with the craft itself.
First of all, after selecting the warp and weft, you'll set your thread of choice at the hand loom. While listening to the artisan's lesson on how to weave, you silently focus on the work. After your teacher provides the finishing touches, you'll have created an original coaster just under an hour since the work started. Alternatively if you choose a longer plan, you'll have a unique Tama ori placemat to take home. All in all, a fascinating and rewarding lesson on Japan's traditional culture and craftsmanship.
There are many routes to reach the workshop. From Shinjuku Station, one way is to ride the JR Ome or Chuo Line for 50 minutes to Haijima Station. There you'll change from train to bus, and take a 15-minute ride to Takatsukishukaijomae Bus Stop.
In recent years, the workshop has more and more guests from around the world, and are quite used to hosting people of all cultures. You can visit any day of the week, and they accommodate up to six people at a time.
To book in English, go to the website and reserve your spot!
▶︎Click here to book the activity: Tama Ori Weaving Experience and Workshop Tour in Hachioji
2. An Owl Cafe With a Twist — Walk the Hawk Road With Bird in Hand
Owl cafes are ever more popular in Tokyo, and can be small oases of calm in the city. For a real break though, Fukuro Sabo in Kokubunji City's suburbs is truly next-level.
Besides the usual menu of drinking coffee while you watch them, or perhaps petting a little one, this owl cafe offers a rare opportunity — taking one out on the road!
Of course, you can also just relax with a feathered friend out in the calm of Tama.
Ride for half an hour on the Chuo Line from Shinjuku, and you'll be in Kokubunji where the big owls hang out. Still in Tokyo, but at the same time, very much elsewhere.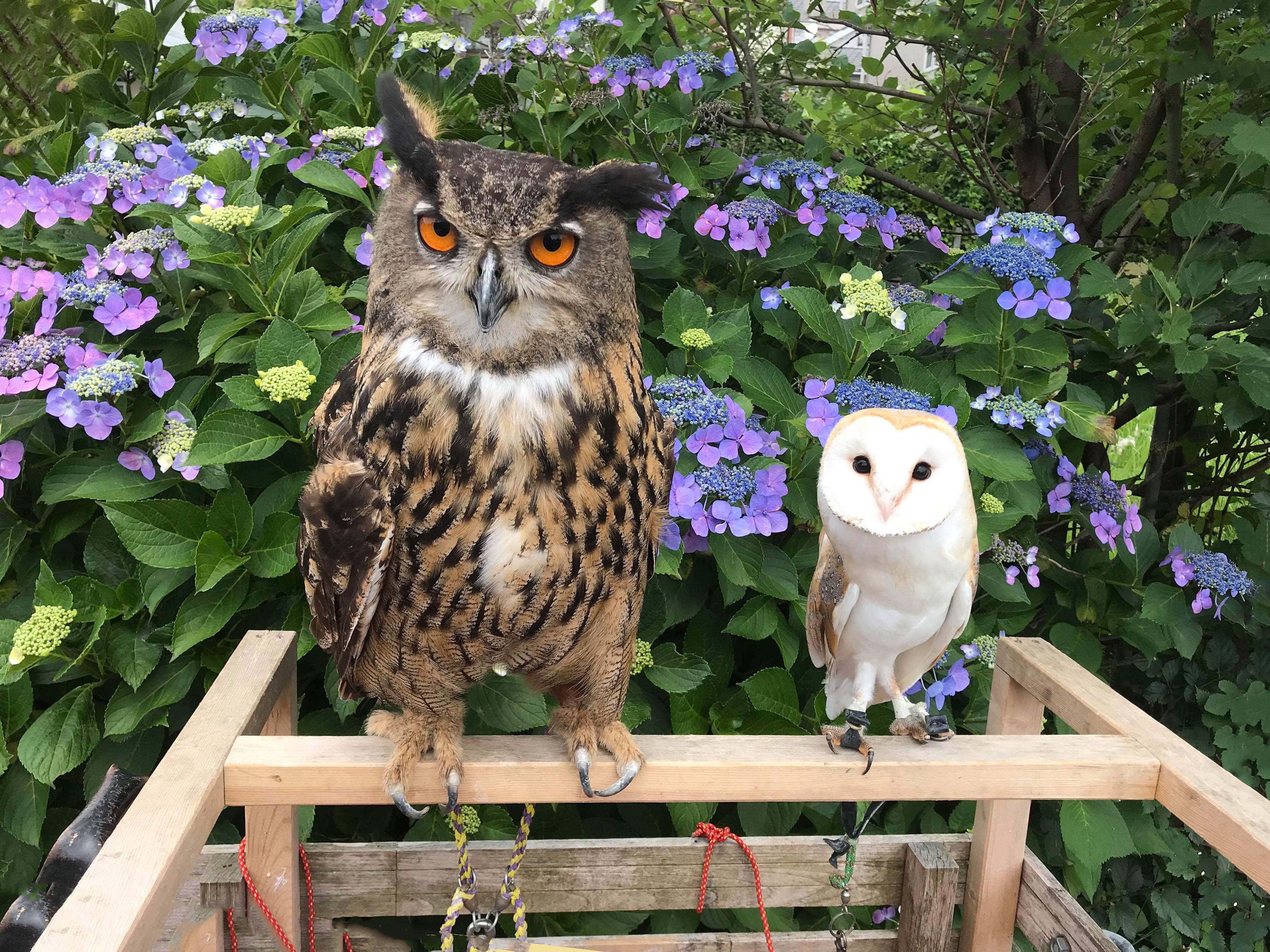 A ten-minute walk through this quiet residential district brings you to Fukuro Sabo. The cafe blends in so well with its surroundings that you might wonder if there will be owls inside, or if it's just another suburban cafe.
Step inside though, and you're immediately greeted by the bright orange beak of a friendly toucan.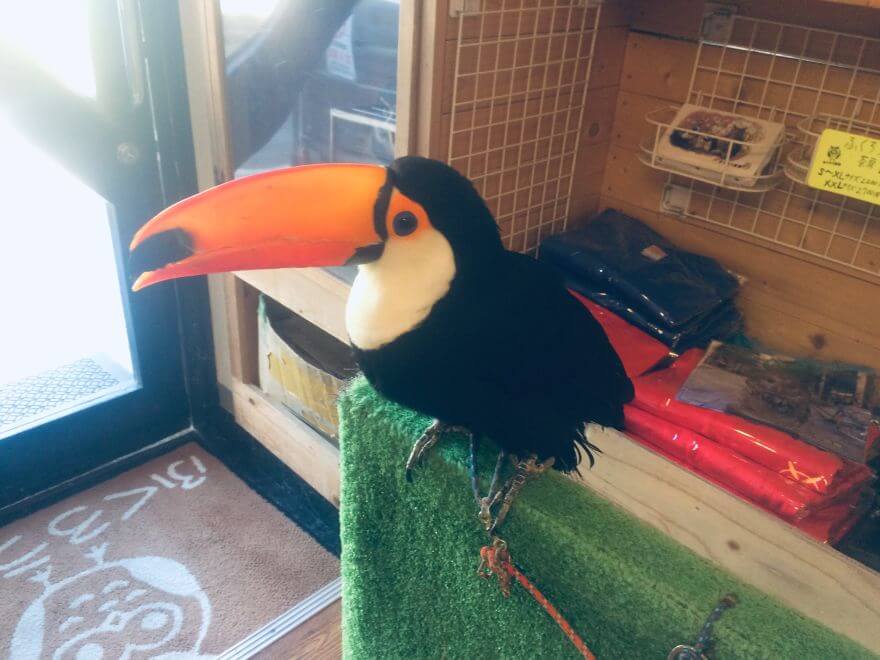 Once inside, some 20 varieties of owl will be waiting for you. There are plenty of cute little ones here — and you might have to hold back an urge to cuddle them on sight — but what sets this cafe apart are the bigger ones, large enough to take out of the cafe for a walk.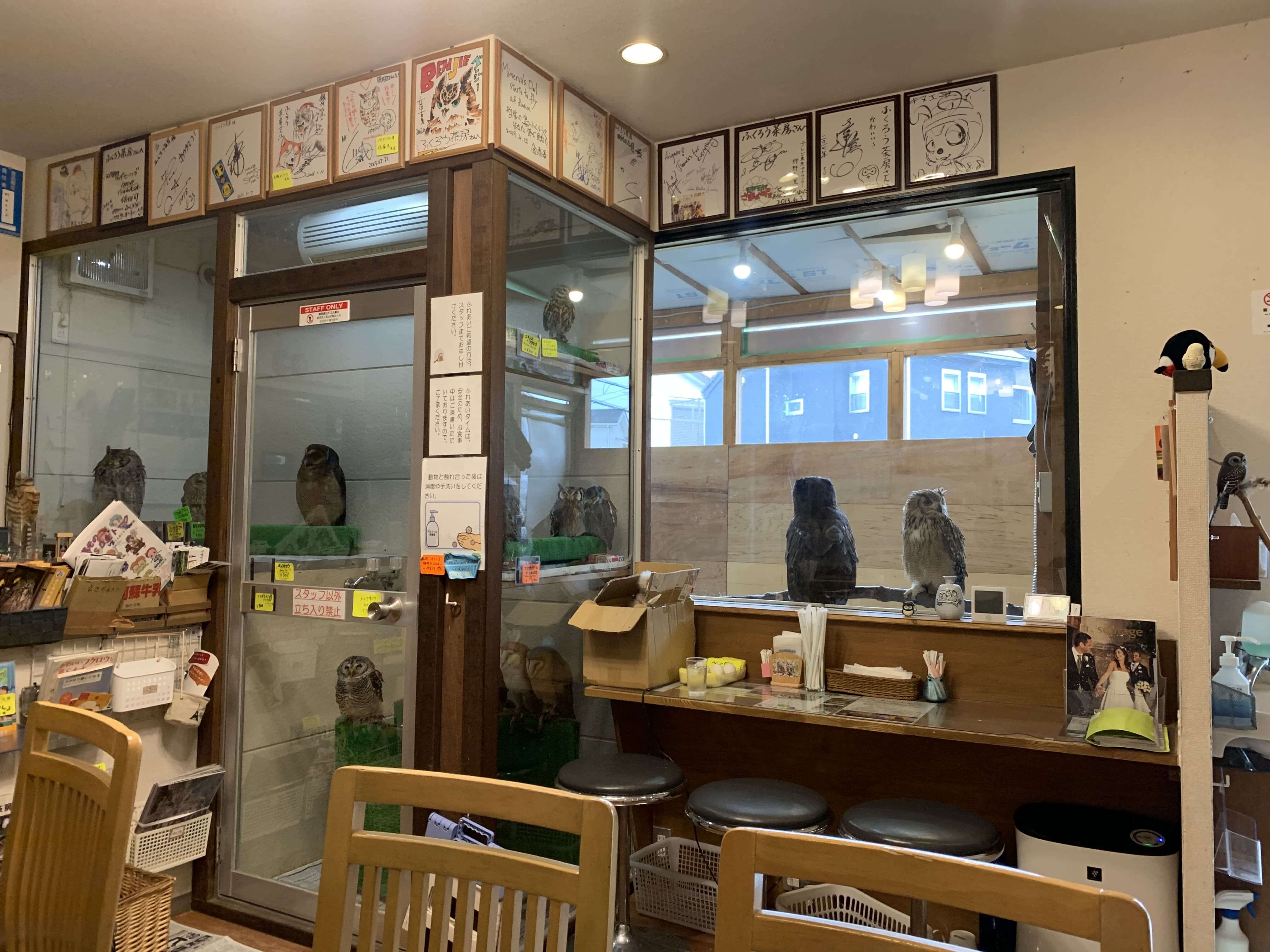 The medium-sized owls most guests take out include barn owls, tawny owls, and the African spotted eagle owl.
For an extra fee you can take a larger owl such as a rock eagle owl, great horned owl, or Eurasian eagle owl. The largest of these weighs about 3 kg!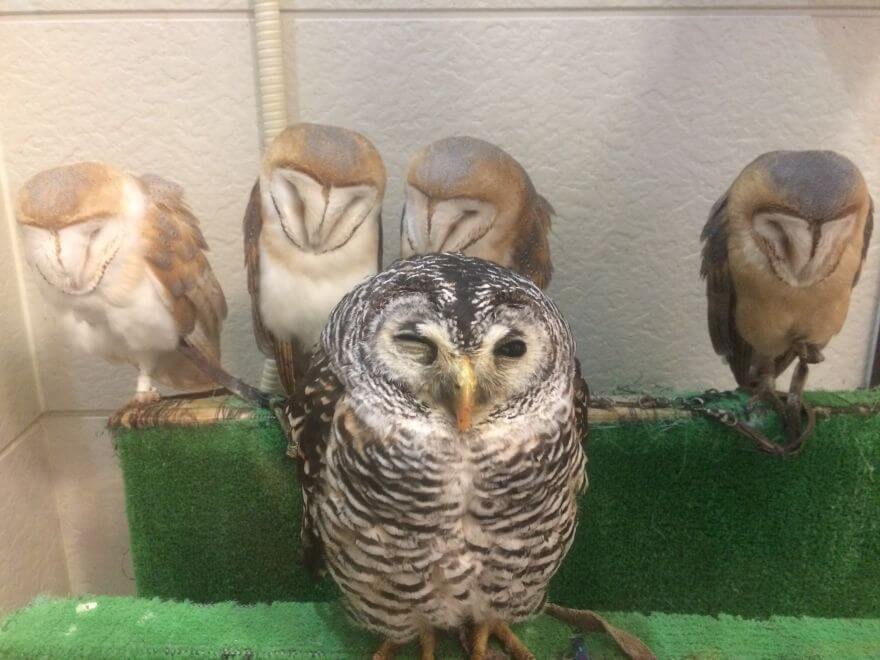 They might seem sleepy while relaxing in the cafe, but they soon wake up when they get outside!
You'll put on a falconry glove, and then you're ready to choose an owl. The staff can tell you about each one you're interested in, and you can take your time selecting a walking companion.
Once you've made your choice, you'll take hold of a light chain attached its leg, and let it take a perch on your gauntleted hand. Now you're ready to rock!
On leaving the cafe, you'll make your way to 'Otaka-no-Michi' which translates as Hawk Road. This well-maintained walkway in Kokubunji is carefully maintained and offers a quiet relaxing route for your owl walk.
You'll pass several interesting sights as well, like Kokubunji Yakushido Temple, and Masugata-no-ike Pond. This pool is said to have healing powers, and has a local legend from which it takes its name. The kanji for "masugata" translate as "true form," and local folklore tells of a woman struck ill, who was healed and restored to her former beauty by bathing in the waters.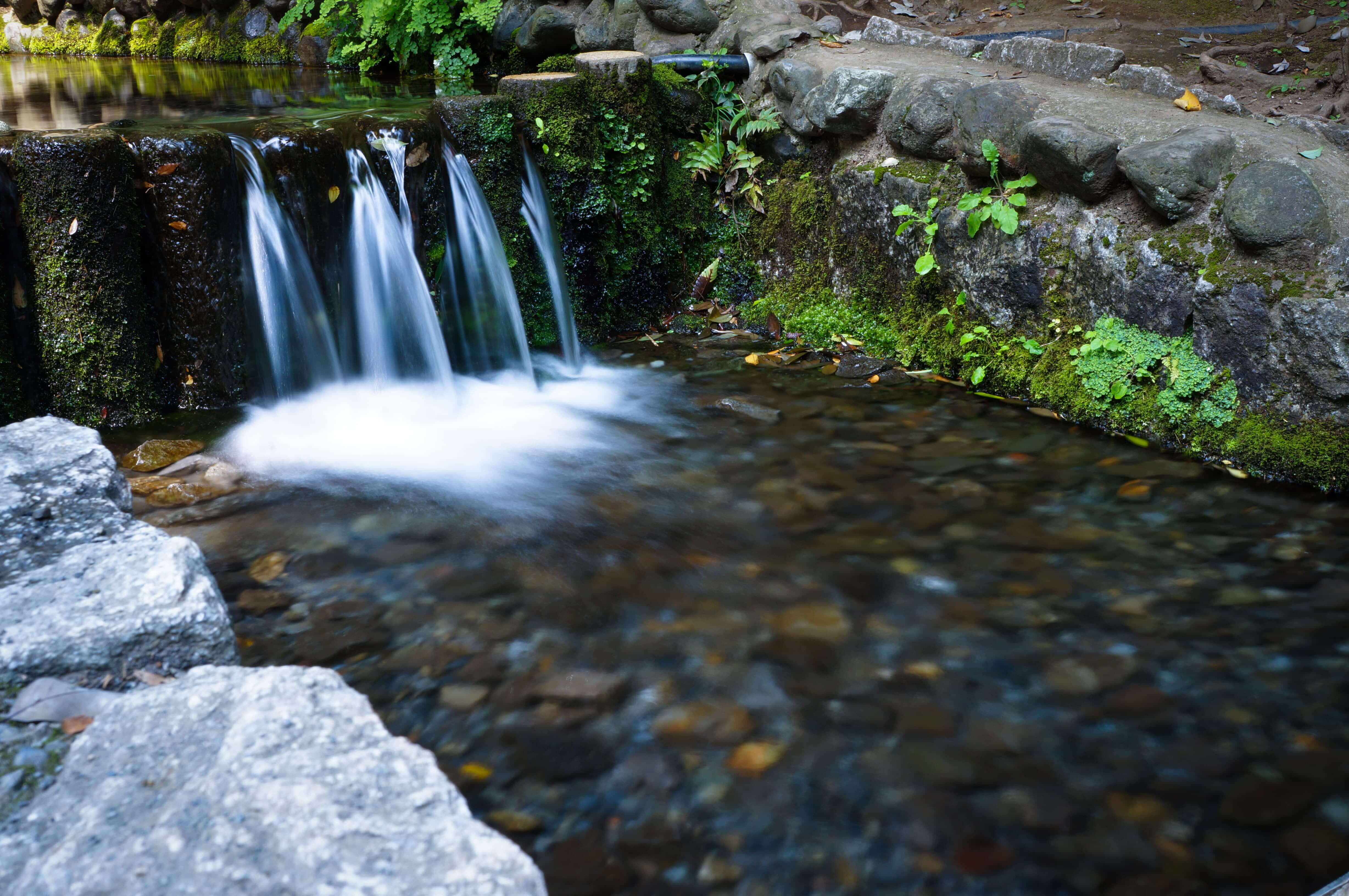 The route is quite beautiful — Masugata-no-ike for example has been named one of the 100 best springs in Japan. Don't miss the small shrine and torii gates here for some great photos!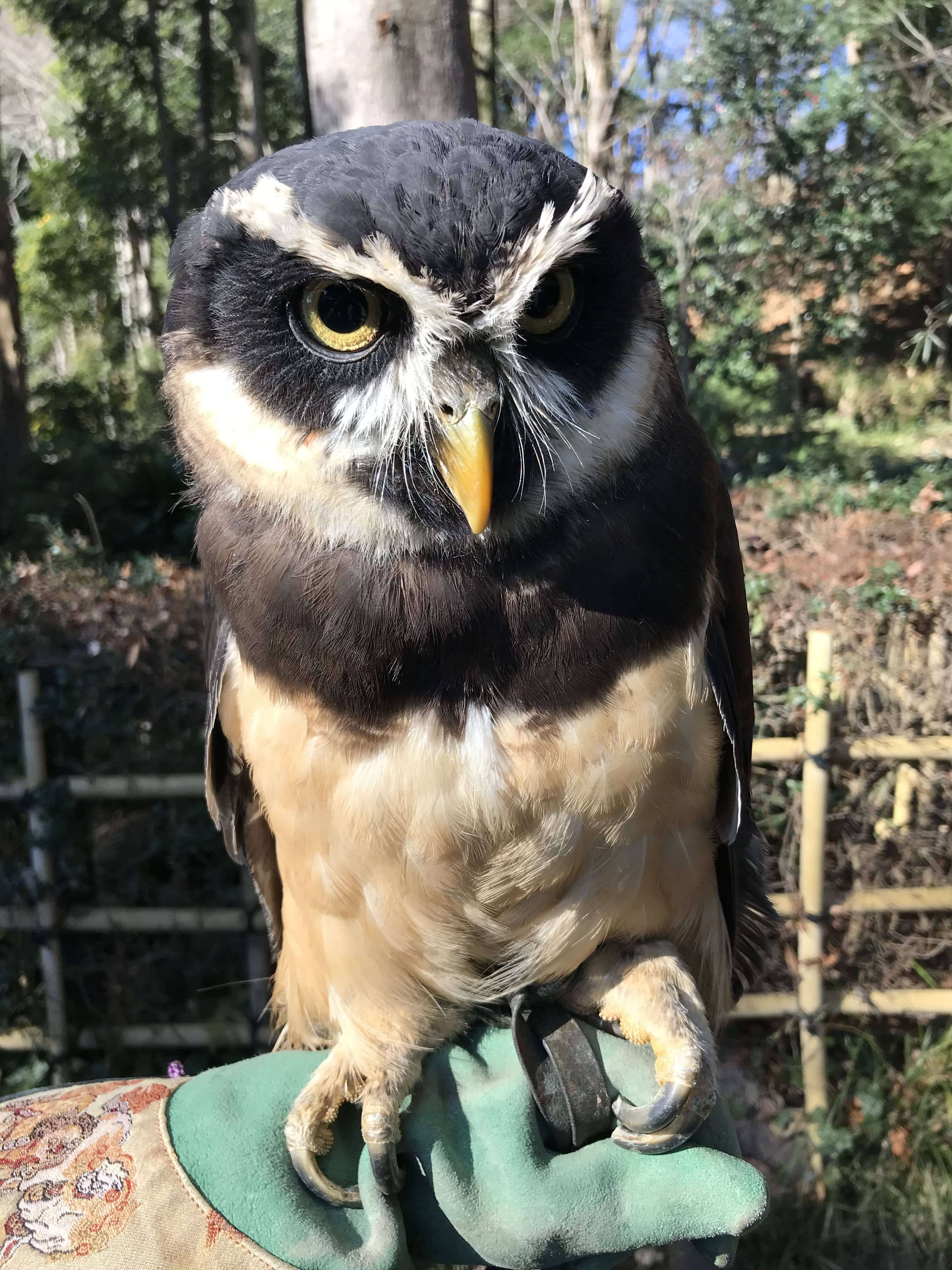 After the walk you'll return to the cafe. Depending on the option you booked, you'll stop for a drink, meal, or dessert.
The menu changes often, with staples such as sandwiches or pork cutlet curry on offer. Strawberry-stuffed pancakes are a popular — and delicious — dessert option.
If you do stay to eat, you'll also get some more owl time in the cafe. They are quite docile indoors, and you'll have the chance stroke them or even put one on your shoulder.
The knowledgeable staff are on hand and ready to teach you anything you care to know about each species, their habitat, diet, and so on.
Unlike most owl cafes the timing at Fukuro Sabo is not particularly strict. It might seem like time slows down in the presence of these calm, comforting creatures, and you here, can enjoy this feeling without reservation. Just be sure to make a reservation before you go!
▶︎Click here to book the experience: Owl Cafe Visit and Falconry Walk in Kokubunji City, Tokyo
For still more things to do in Tokyo's Tama area, check out the full collection from the link below.
If you would like to get more info about travel in Tokyo, check these articles below, too!
▽Related Articles▽
▼Editor's Picks▼
---