Tomamu Ice Village: Dreamy Winter Wonderland in Hokkaido
Ice Village Hoshino Resorts TOMAMU in Hokkaido in 2019–2020 Winter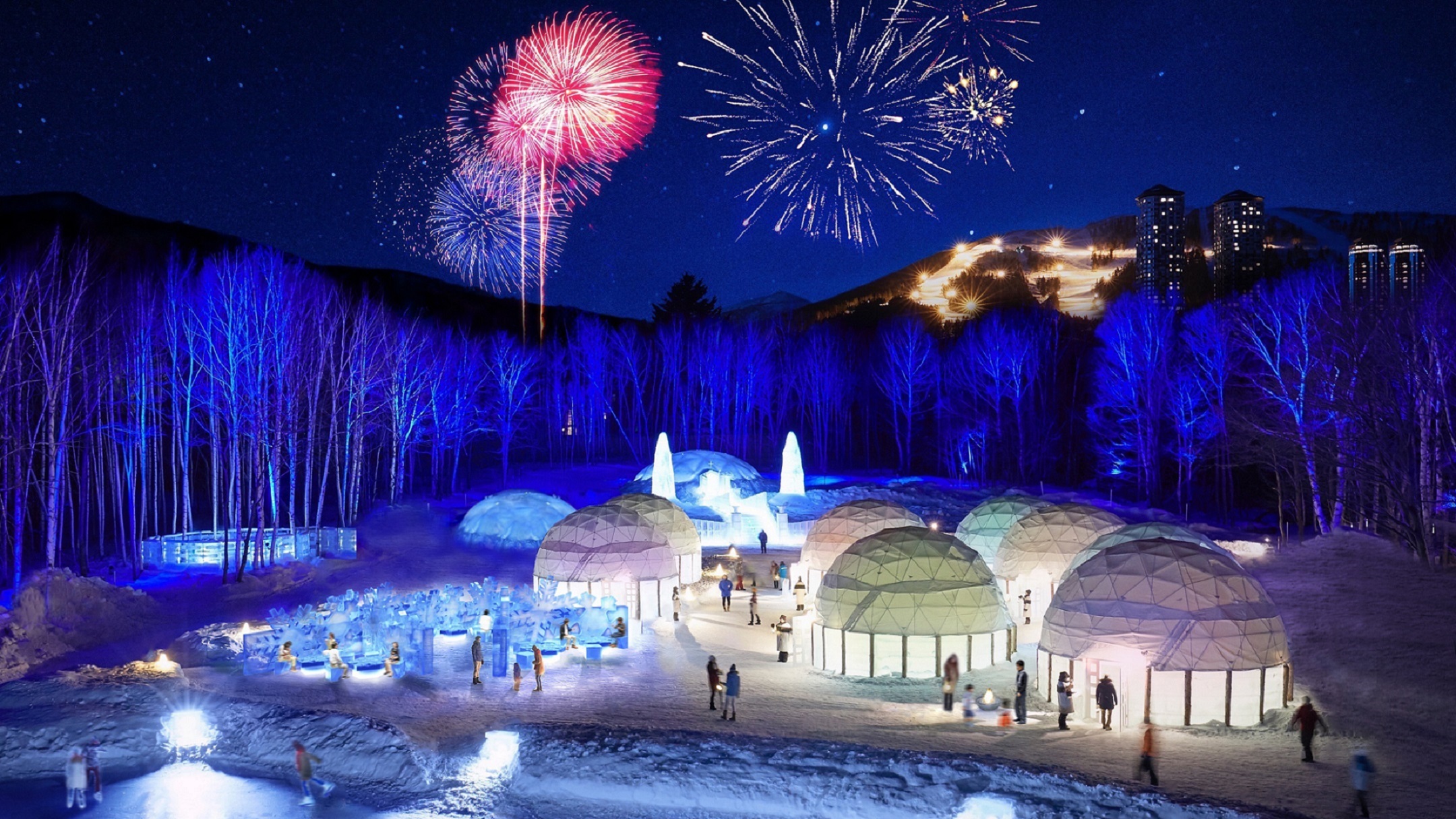 Have the most dreamy and magical winter wonderland experience at the Ice Village which appears in Hokkaido Hoshino Resort Tomamu only during winter ! Enjoy unique and cold ice activities and stay at an ice hotel at the ice village in Hokkaido this winter!
---
Hoshino Resort Tomamu is one of the most popular resorts in Hokkaido, which is located on the southern slope of Mt Tomamu in the center of the prefecture. The large resort can be enjoyed through the year with fascinating tourist attractions such as snow activities during winter and the sea of clouds (Unkai) during spring/summer.
One of the top attractions at the resort is The Ice Village which appears only for limited time during winter from December to March at Hoshino Resort Tomamu. Various attractions with ice and snow will be available during the season and visitors can have unique ice experiences at this icy wonderland.
The Ice Village features a small ice town with 11 domes made of snow and ice, and there are a variety of ice-related attractions and events offered to visitors. Unique and rare ice activities can be experienced only in such cold places like in Tomamu in certain period of the year. Here are the highlights at The Ice Village this winter:
Ice Crystal Park– A space with ice tables and chairs with a snow crystal motif where visitors can spend a dreamy time while looking at the townscape made of ice and snow
Ice Sweet Shop– A confectionery shop made of ice serving various sweet delights including milk gelato made on an ice plate
Ice Bakery and Cafe– A bakery cafe offering a variety of bread displayed on an ice shelf served with hot drinks
Ice Bar- Over 50 kinds of alcohol beverage are served with ice glasses including original cocktails
Ice Church– A romantic and beautiful church made of ice where couples can actually make wedding ceremonies during the season (Open from 18 January to 14 February 2020)
Ice Musical Instruments– Visitors can interact with ice made music instruments, and an ice concert is held annually (17 February 2020)
Ice Store– A souvenir store offering snow and ice motif products
Ice Atelier- Visitors can experience various hands-on activities with ice
Ice Slide- A long slide connecting an observation deck and the Ice Village town which both kids and adults can enjoy
Ice Rink- Ice skate rink surrounded by a forest. Rental shoes are available
Ice Hotel — The Ice Hotel with an open-air hot spring bath is available for overnight stay for 1 group (up to 2 ppl) daily (from 18 January to 29 February 2020) More info: https://www.snowtomamu.jp/special/icevillage/
Moreover, at 19:30 every day, the fireworks will be displayed that color the clear winter night sky at the Ice Village.
The winter at Tomamu can be really freezing and the temperature drops down as low as minus 30 degrees. This is why this dreamy and magical ice village can exist and entertain guests with unique ice and snow activities! The Ice Village can be visited not only by hotel guests but also visitors from outside with an entrance fee of 500 yen. Don't miss to visit the most wonderful icy winter wonderland only at Hoshino Resort Tomamu in Hokkaido!
---
-Ice Village
Location: Hoshino Resorts Tomamu
Date: 10 December 2019 to 14 March 2020
Hours: 17:00~22:00 (Last admission 21:30)
*The operating period and partial contents are subject to change according to weather conditions.
Admission Fee : 500 yen (Free for guests staying at Tomamu The Tower or RISONARE Tomamu)
Website: https://www.snowtomamu.jp/special/icevillage/
---
Thanks for reading! How fascinating and dreamy the Ice Village in Hokkaido is! For more information about travelling in Hokkaido, here are some of the latest travel info for you 🙂
▽Related Articles▽
▼Editor's Picks▼
---