10 Best Things to Do in Nakanoshima
Nakanoshima Travel Guide: What to Do in Nakanoshima, Osaka Now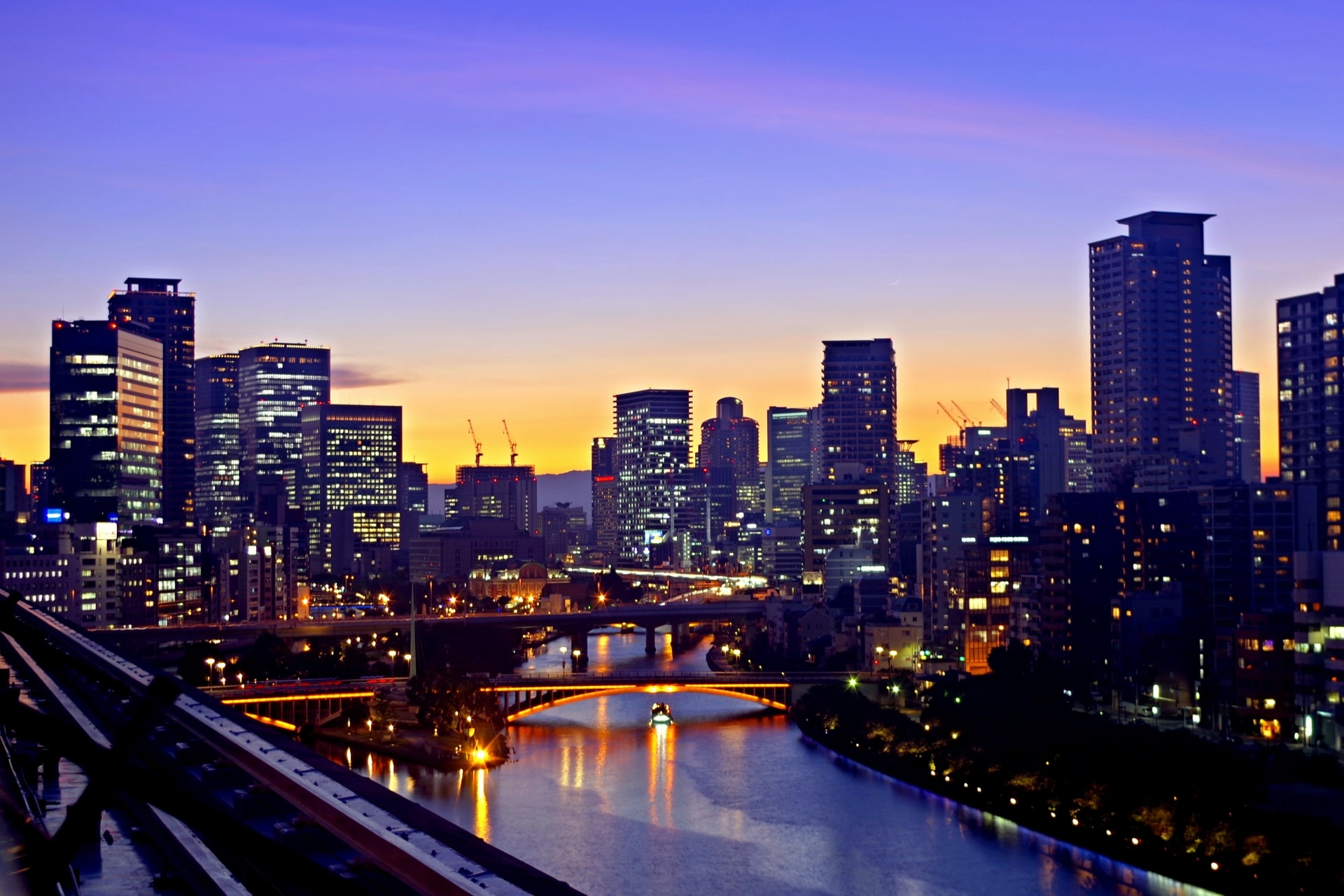 Speaking of traveling around Osaka, you may come up with some popular tourist spots like Universal Studio Japan and Dotonbori. However, there are many good places to visit except for them.
Nakanoshima is located between the Dojima River and the Tosabori River. Nakanoshima had an important role in commerce in the Edo period, called "The Best Kitchen in Japan". In the Meiji period, many cultural facilities were built such as Nakanoshima Public Library, which is registered as a National Important Cultural Property, and Osaka City Public Hall. Since then Nakanoshima has developed as a cultural and artistic town as well as the biggest business town in Osaka.
In this article, I would love to introduce the 10 best things to do in Nakanoshima. Ranging from cultural buildings and art museums to nature, there are a lot of places to visit!! I hope I can help you find something interesting in Nakanoshima.
Let's have a look.
*Please note that this article contains affiliate links.
1. Nakanoshima Park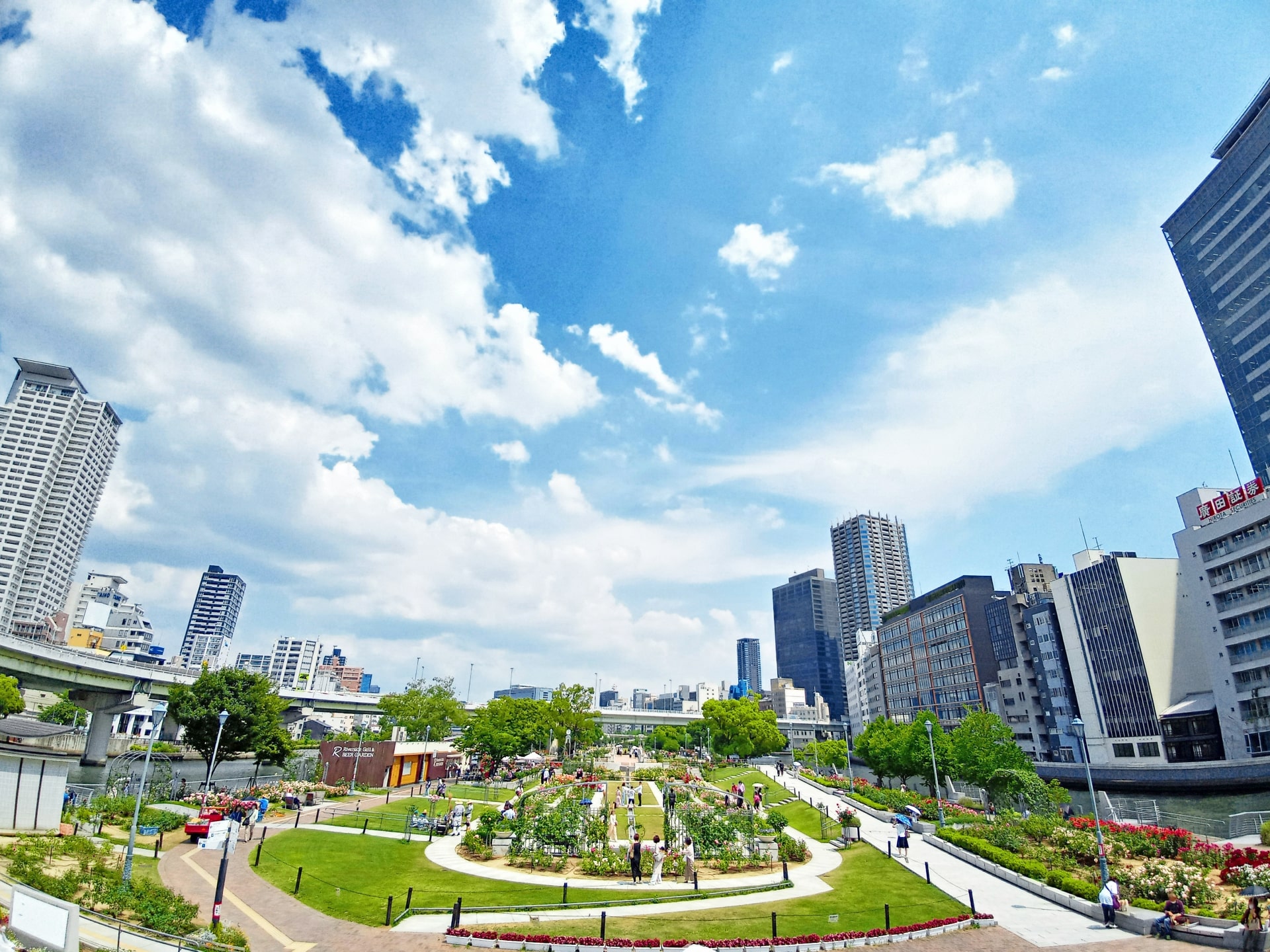 Nakanoshima Park was established in 1981 as the first public park in Osaka city. Nakanoshima Park is also loved by local people as a refreshing place in a business urban area. There are many retro buildings such as Osaka City Public Hall and Nakanoshima Public Library that were built in the Meiji period around the park. Water, greenery, and these retro buildings make an amazing view of the park. The view is designated as one of the 100 best green scenes in Osaka.
The Museum of Oriental Ceramics, Osaka opened in the park in 1982, based on the oriental ceramics collection, called Ataka Collection. The museum serves you an artistic experience through its precious collection. It collects about 4,000 ceramics from China and Korea from the 10th to 14th centuries. The collection includes 2 national treasures and 13 important properties.
2. Nakanoshima Rose Garden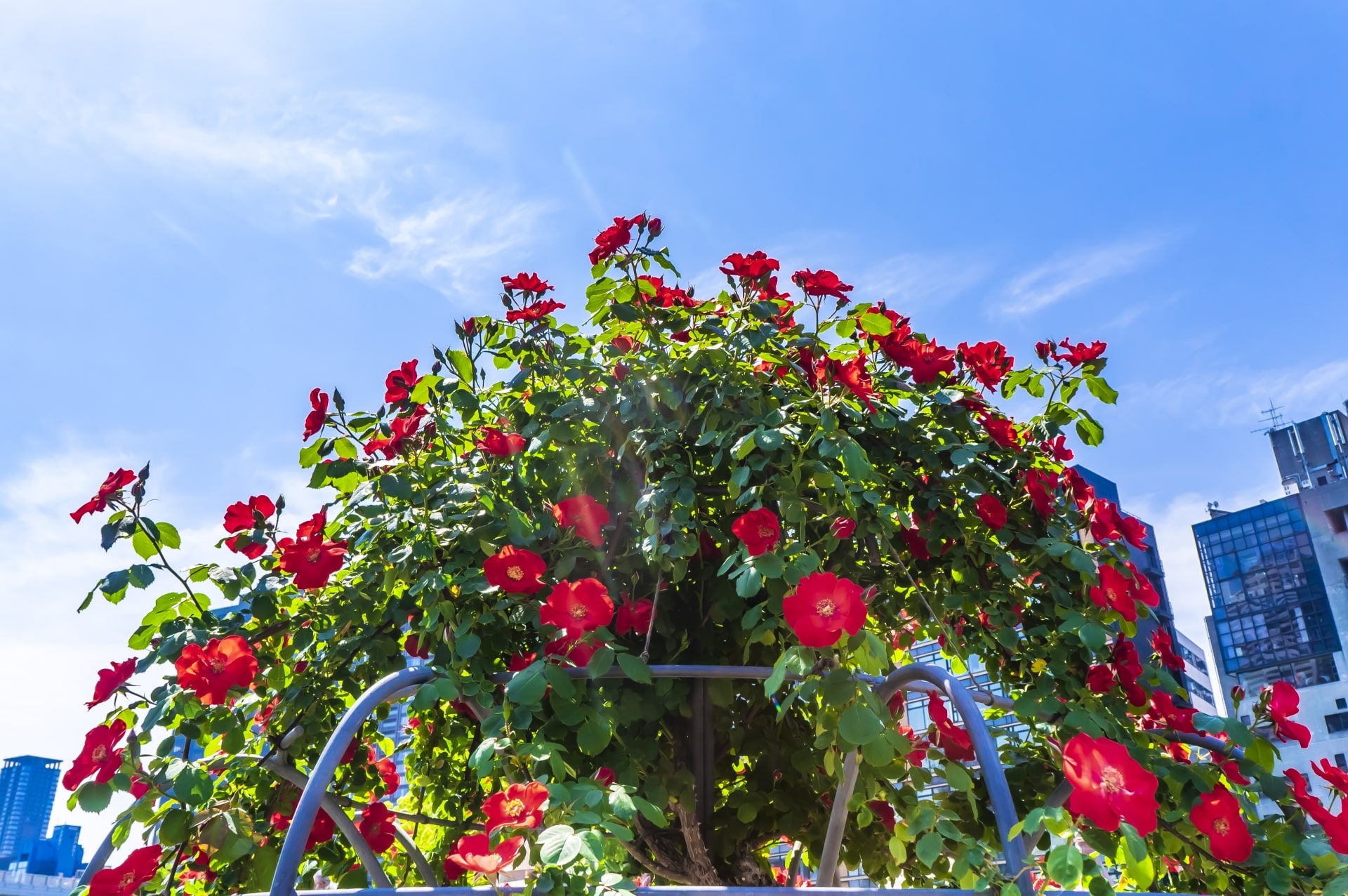 Nakanoshima Rose Garden is one of the most popular spots in Nakanoshima Park. There are about 3,700 beautiful roses consisting of 310 different species. The best seasons are from the middle of May to the beginning of June, and from the end of October to the middle of November.
The attractive point of roses is different in both seasons. In spring, roses have big flowers and are lightly colored. On the other hand, the color is more strongly tinted and the smell is stronger in autumn than in spring.
There is an area where you can see a development of rose kinds from 150 years ago to now. Let's see how different roses are among each generation.
3. Osaka City Central Public Hall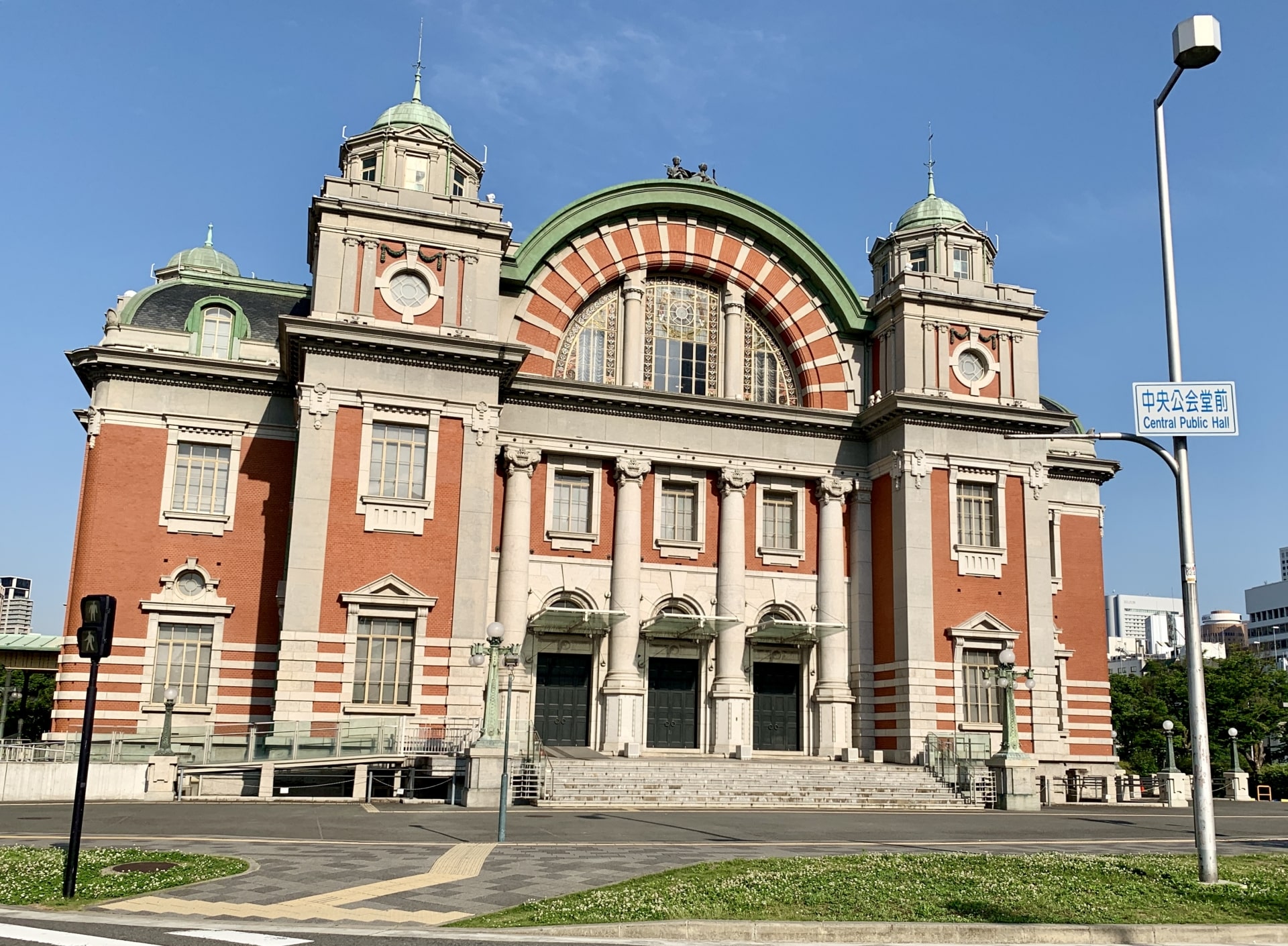 Osaka City Central Public Hall was built in 1918 and designated as a National Important Cultural Property in 2002. Since its establishment, the hall has had an important role in artistic development in Osaka. Many cultural events have been held such as concerts and opera performances of international artists for over 100 years.
The Neo-Renaissance style with red blocks attracts many people at first sight. The most specific points are the arched roof, the painting on the wall and ceiling in the special room, Japanese Creation Myth by Hisashi Matsuoka.
A guided tour is available in an exhibition room and a special room every week. The basic course costs ¥500 and the special course costs ¥2,500. You need to book beforehand through the website or by a call.
4. Nakanoshima Museum of Art, Osaka
Nakanoshima Museum of Art, Osaka opened in 2022. It collects and exhibits more than 6,000 modern artworks from the late 19th century to the 21st century. The main exhibition is composed of artworks of Yuzo Saeki, modern artworks related to Osaka, and representative works from all over the world.
Yuzo Saeki is one of the modern Japanese artists who learned modern art in France. He painted landscapes and people in Paris with a unique and strong touch. Nakanoshima Museum has more than 60 of his artworks.
In Nakanoshima, there used to be a base of a modern art movement, the Gutai Art Association. The leader of the movement, Jiro Yoshihara pursued his originality and novelty and painted abstract arts. His innovative painting method impressed people and has been highly evaluated to the current day. In addition to his representative artworks, there are many impressive artworks by modern artists from all over the world such as Amedeo Modigliani.
View Information
Hide
Information
| | |
| --- | --- |
| Access | 5 mins walk from the exit no.2 of Watanabebashi Station Nakanoshima Line 10 mins walk from the exit no.4 of Higobashi Station Yotsuhashi Line |
| Address | 4-3-1 Nakanoshima Kita ward Osaka city Osaka 5300005 |
| Business Hours | Tue - Sun: 10:00-17:00 |
| Closed | Mondays |
| Price | Depends on exhibitions |
| Official Website | https://nakka-art.jp/ |
5. The National Museum of Art, Osaka
The National Museum of Art, Osaka was built in 1977 and moved to its current location in 2002 as a completely underground museum. Its attractive outlook with the theme of bamboo was designed with an image of modern art development.
The National Museum of Art, Osaka collects about 8,000 modern artworks both domestically and overseas, mainly after 1945, such as Pablo Picasso, Paul Cezanne, and Tsuguharu Fujita. The exhibition is changed regularly but all of them are related to modern art.
The museum provides a workshop. In a workshop, you can learn, create, and think about modern art from a professional modern artist.
View Information
Hide
Information
| | |
| --- | --- |
| Access | 5 mins walk from the exit no.2 of Watanabebashi Station of Nakanoshima Line 10 mins walk from the exit no.3 of Higobashi Station of Yotsubashi Line |
| Address | 4-2-55 Nakanoshima Kita ward Osaka City Osaka 5300005 |
| Business Hours | Tue-Thu, Sun: 10:00-17:00 / Friday and Saturday: 10:00-20:00 |
| Closed | Mondays, 28th Dec to 3rd Jan |
| Price | Adult: ¥1,200 / Uni: ¥700 / under High school: Free |
| Official Website | https://www.nmao.go.jp/ |
6. Views along Dojima River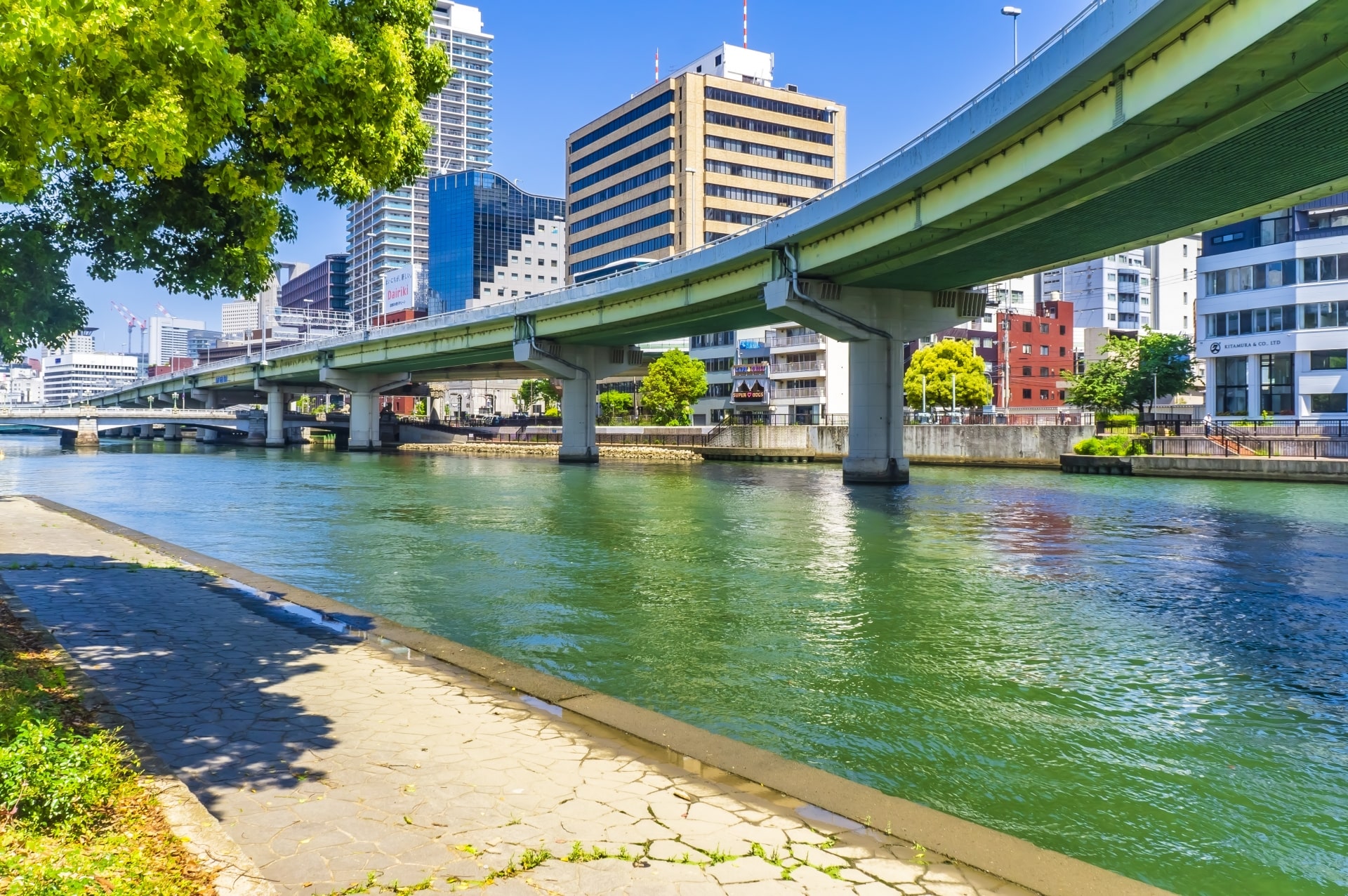 Dojima River is designated as the first classification of rivers in Japan, which is a part of the former Yodo River. Dojima River flows through the northern part of Nakanoshima.
There is a walking path along the Dojima River. It's very popular for walking and jogging among not only tourists but local people. When you are walking around there, you'll find Nakanoshima Garden as I wrote above. Having a picnic with a riverside view should be great.
Don't miss the night view. Nakanoshima Garden Bridge over the Dojima River is lit up from sunset to 22:00 every day. Moreover, because there are many business buildings, lots of light reflects on the water. This light and water collaboration makes a fantastic night view.
7. Nakanoshima Festival City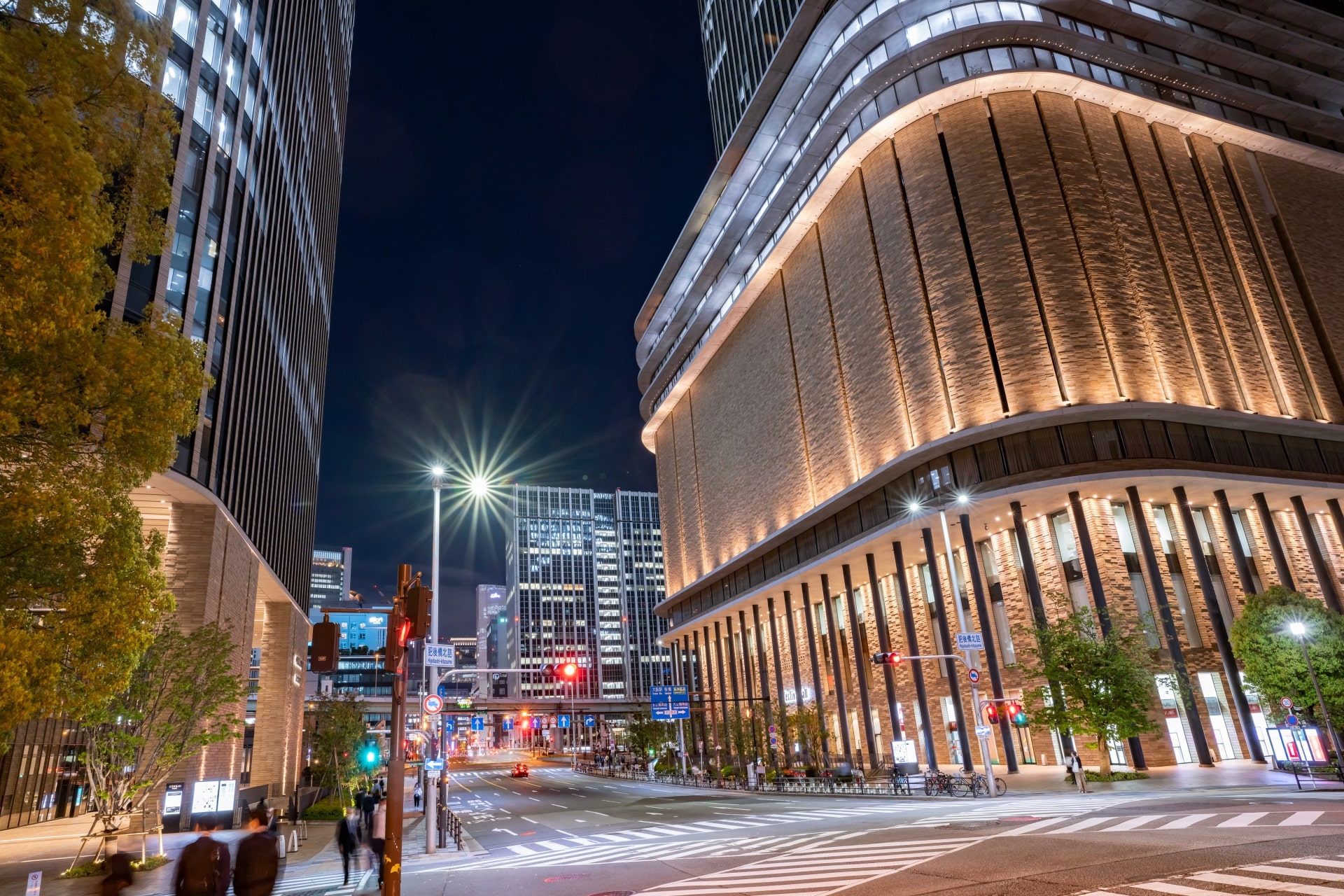 Nakanoshima Festival City is a new town composed of twin towers, Nakanoshima Festival Tower and Nakanoshima Festival Tower West. The concept is the creative base connecting business, culture and arts.
Festival Tower West: Nakanoshima Kaikan Hall on the 4th floor is a multi-purpose hall for cultural events, taking over the former Asahi Kaikan. Nakanoshima Kosetsu Museum of Art on the 4th floor collects ancient artworks from Japan and East Asia. It exhibits swords, tea goods, Buddha arts, and so on.
Festival Tower: The main festival hall on the 2nd floor to the 7th floor is capable of 2,700 people. It has a marvelous sound facility as if sounds poured down from the heavens. There should be unforgettable experiences like orchestra concerts and opera performances with great sounds and the interior design of the hall.
8. Staying at prestigious hotels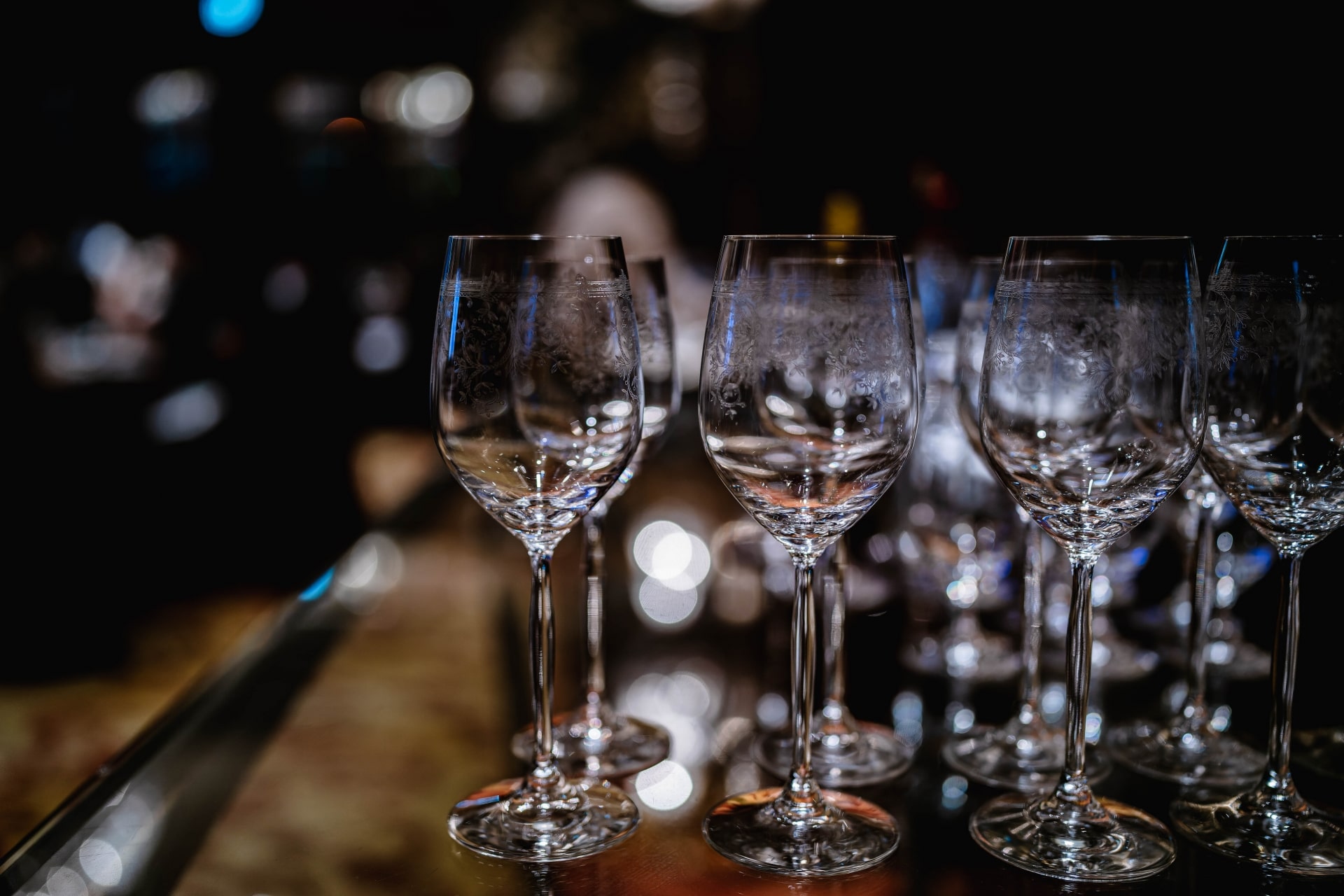 There are some prestigious hotels in Nakanoshima.
Conrad Osaka is one of the most luxurious hotel brands in the Hilton group, USA, located on the 33rd to 40th floor of the Festival Tower West I wrote above. The design is a mixture of modern design and Japanese traditional style. Based on the concept of "Your Address in the Sky", an amazing panorama view of Osaka can be seen from all of its rooms. There are 4 restaurants and bars where chefs serve their masterpieces as well as spa and fitness that provide you with a relaxing time.
Rihga Royal Hotel Osaka is one of the most prestigious hotels in Japan. Rihga Royal Hotel Osaka is called "State Guest Houses of Osaka" because a lot of state guests and loyalties have stayed in this hotel. On the 1st floor, there is a small boutique where you can reach the hotel's stuff such as meals, chocolates, and wines. The hotel holds some cultural lectures regularly like ceramics and calligraphy.
9. Osaka Tenmangu Shrine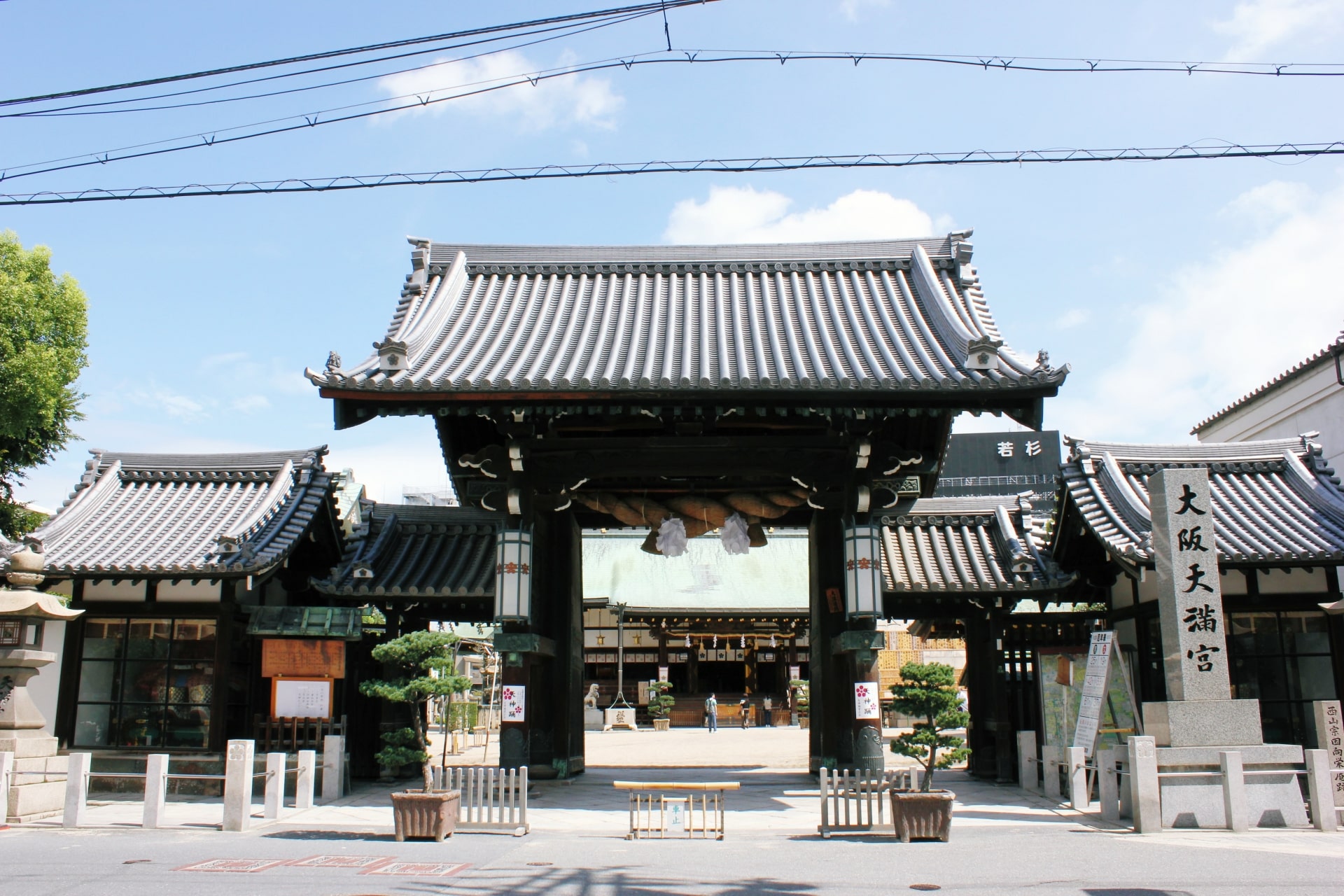 Osaka Tenmangu Shrine was established in 650. It enshrines Michizane Sugawara, who is famous as a god of study. Many students come to pray for their success in their exams from January to February every year.
The main palace was entirely burned in 1837 but was rebuilt in 1843. At the ceiling of the main gate, you can find a compass with 12 signs of the Chinese zodiac. There is a Chinese phoenix instead of a chicken. Baikaden was built in 1025 and registered as a national cultural heritage.
Tenjin Festival is one of the 3 biggest festivals in Japan. It is held for more than a month from the middle of June to the end of July every year. More than 1,000,000 people come to see a dynamic Mikoshi (portable shrines) and fireworks. Ebisu Festival, where people pray for a rush of business in January, and Plum Festival in February are also popular.
10. Extending your visit to Umeda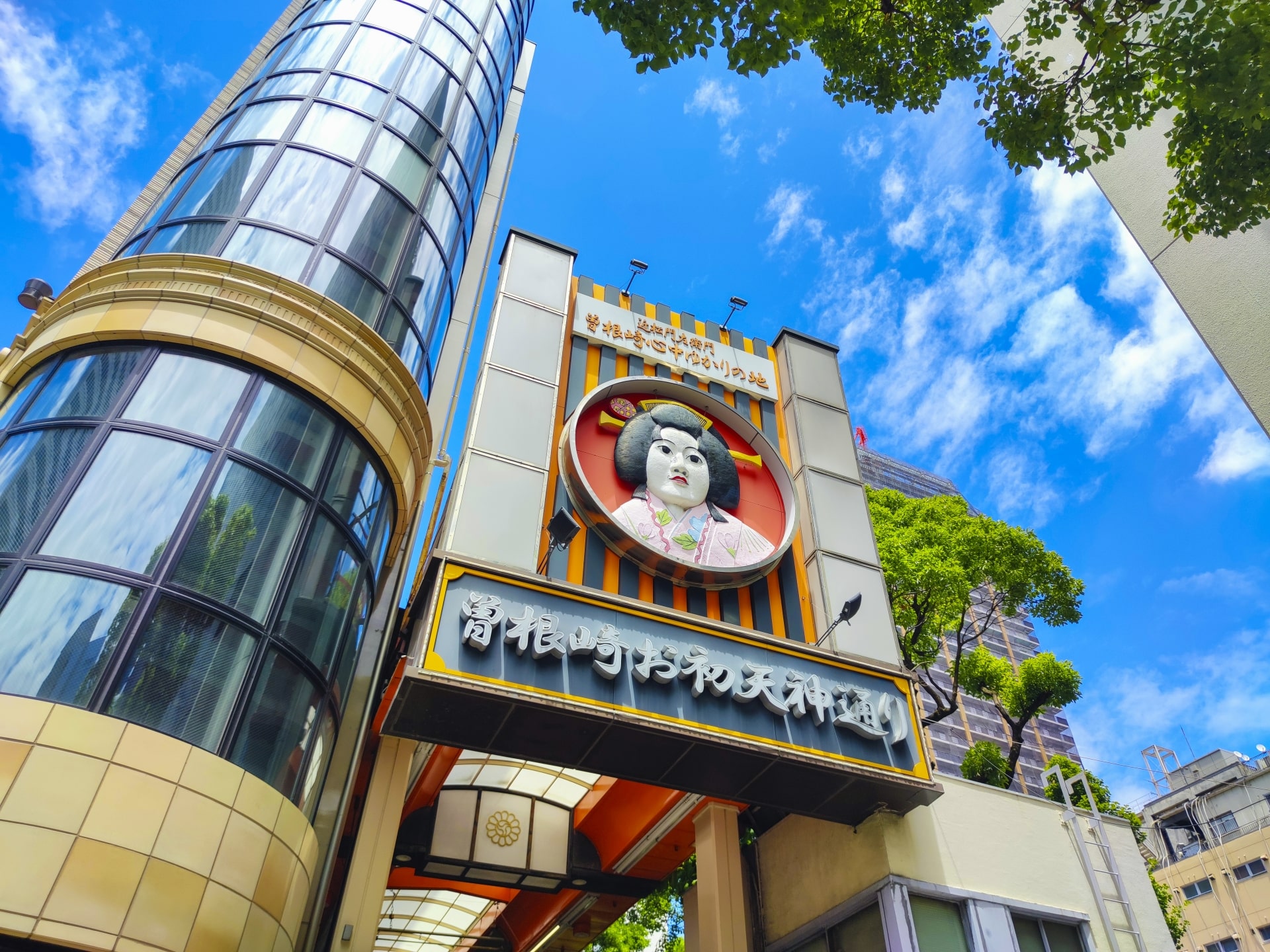 Have you enjoyed the Nakanoshima area? Let's move to Umeda!! Umeda is one of the most flourishing towns in Osaka. It takes about 15 mins from Nakanoshima to Umeda by train.
Umeda Sky Building is visited by tourists from all over the world for its impressive metallic outlook. It's registered as one of the 20 best world architectures. The most popular attraction is its sky observation deck. There is a round walking path where you can see a 360° overview of Osaka city from a height of 137m. Especially at night, the view is amazing.
Sonezaki Ohatsu Tenjin Street is a street market that has more than 100 restaurants. From Takoyaki and Kushikatsu to Okonomiyaki, you can enjoy fantastic food originated in Osaka at a reasonable price. At the entrance of the street, there is the Tsuyunoten shrine. There are many events in its precincts such as s summer festival in July and a retro market on the first Friday of every month.
---
Thank you for reading till the end!!
As we see above, there are many cultural attractions in Nakanoshima while it's famous as a business town. The most attractive point is that there is the coexistence of modern style and traditional style. Like the Nakanoshima Museum of Art, Osaka, there are a lot of modern and innovative buildings and facilities in Nakanoshima. On the other hand, Osaka Central Public Hall and other historical buildings still keep a position as a popular tourist spot.
I hope you can enjoy both aspects of Nakanoshima and find your favorite place!!
---
▽Subscribe our free newsletter!▽
For more information about traveling and living in Japan, check these articles below, too!
▽Related Articles▽
▼Editor's Picks▼
---