5 Super Size Street Food Restaurants in Japan
Find out about the giant Dekamori meals around Japan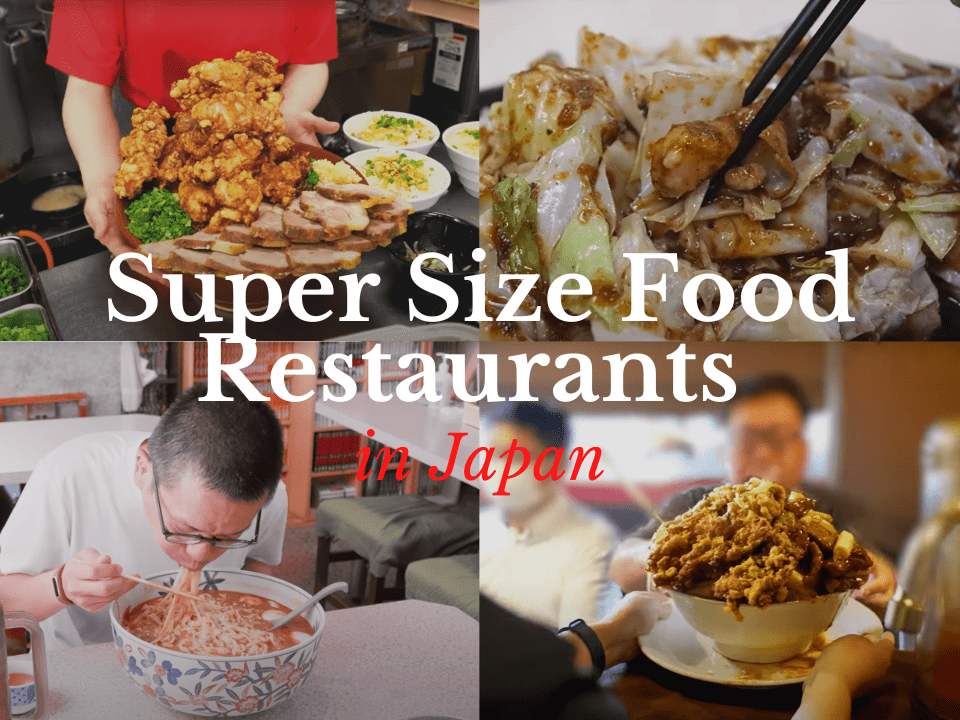 when you come to visit Japan for the first time, one thing that many travelers (especially from Europe and the U.S.) tend to think is that the meal portions are relatively small. This is especially noticeable at fast food chain restaurants where the portion sizes are very different from that of Europe and the U.S.
However, this is not always the case. If you look at the right places such as street food restaurants, you will see that there are actually many restaurants that do serve large portioned meals where you can eat until you're actually full. Or even more, there are also places where you can find extra large, giant food portions.
In this article, I will introduce to you our list of 5 of the best super size street food restaurants in Japan. Note that in this article, we talk about "street food" more as the "common people's" type of food, rather than food that you can eat on the go.
---
What is Dekamori?
When you go to a Japanese restaurant, you may see the term Omori (大盛り) on the menu. This means "Large size" and usually refers to the amount of rice you can order (this also applies to ramen, soba, udon, etc.). Then, you might also see the term Tokumori (特盛) which is an even larger portion than Omori. This applies to the carbs on your ordered dish and, in some cases, refers to the whole dish. A good example is when you go to a Gyudon (牛丼) restaurant.
However, there are few restaurants that will offer Dekamori (デカ盛り) which is an even larger size than the Tokumori. Although there is no specific definition of how much of a portion is Dekamori, it is basically equivalent to "extra large" or "giant size" food portions.
There are some restaurants that offer this Dekamori as a challenge, and if you are able to finish it within a certain amount of time, the meal is free of charge. But we're not going to talk about these kinds of restaurants in this article. The restaurants in these articles serve these super-size meals because there is actually a demand for them.
Machi Meshi
Machi Meshi (街飯 Japanese Street Food) is a YouTube Channel that specializes in showing the "behind the scenes" of many popular street food restaurants in Japan. Not only do they introduce restaurants that offer the Dekamori meals, but also restaurants that are so popular, you need to wait in a long line to get a meal. The term Machi Meshi literally means "Street Food", but as I mentioned in the intro, it refers more to the "common people's" food such as ramen, udon, gyudon, Chuka (Chinese-Japanese), etc.
Although the audio is completely in Japanese, you don't need to worry about it since these videos are shot in a way that you can feel the atmosphere of the restaurant from the kitchen's point of view. So, you can enjoy the videos even if you don't understand Japanese. You will actually see many comments in English in the comment section.
It is like a street food vlog but from the restaurant's perspective. See how each restaurant prepares before opening its doors to the customers as well as how systematic they are when preparing the dishes for so many people .
1. Yoshinoya (Aichi)
The first super-size restaurant on this list is Yoshinoya (吉野屋). This is a restaurant located in Nagoya that specializes in serving udon. The udon that they serve has a nice chewy texture and is light to the stomach.
The medium size contains 2 kg of udon while the large size contains 3.2 kg. The bowl size is so impressive, it has become famous among YouTubers. You will see that during the shooting of this video, they encounter another person filming.
*Note: Don't confuse it with the gyudon chain restaurant. These are not related.
2. Tonjiru Tachibana (Niigata)
Next on this list, we have Tonjiru Tachibana (とん汁の店たちばな). This long-running restaurant is located in Myoko City, Niigata prefecture. They specialize in serving Tonjiru (とん汁) which is a type of miso soup that contains pork and other vegetables.
Usually, tonjiru is a side dish that comes with a separate meal. But here, they have reverted that idea so that the soup is the main dish. You can order the Tonjiru teishoku (とん汁定食) which is the set menu containing the super-size tonjiru, white rice, and a side dish. You can also order the Tonjiru Ramen which is an original menu consisting in serving the ramen in the tonjiru.
3. Godaime Menya Ezo (Saitama)
Godaime Menya Ezo (五代目 麺や 蝦夷) is a ramen restaurant located in Higashimatsuyama city, Saitama prefecture. Although their main specialty is ramen, what makes them popular is actually their side dishes.
The ramen that they serve is also large, but what will impress you is when you decide to order something else. You can see in the video the giant portions of their fried rice and Mabo-dofu. However, the most popular dish is the Karaage (fried chicken). The mountain of chicken that will be served to you will surely impact you.
4. Pompoco (Fukuoka)
Next on the list, we have Pompoco (ホルモン定食 ぽんぽこ). This is a Horumon restaurant located in Onojo city, Fukuoka prefecture. For those who don't know, Horumon (ホルモン) is a Japanese cuisine made from beef or pork offal.
In the case of this restaurant, it's not that they offer a giant size portion of their menu, but rather the regular portions are just huge from the beginning. Not only the main dish but also the rice and the soup portions are large, making it a popular place for those who like having a large lunch.
5. Tawarameshi (Tokyo)
And lastly, on this list, we have Tawarameshi (俵飯). This Chuka (Chinese-Japanese) restaurant located in Koganei city, Tokyo is, for many, the mecca of Dekamori food.
Simply put, everything you order at this restaurant is mega-size. You can order the regular size if you want, but the thing is that even if you order the Dekamori size, there is no additional charge for it, making it a no-brainer for those who are hungry and want to have a large meal.
The portions are just so large, that you will see oftentimes the sauce dripping from the side for being so fully packed.
---
▽Subscribe to our free news magazine!▽

For more information about food and traveling in Japan, check these articles below, too!
▽Related Articles▽
▼Editor's Picks▼
---