Shukubo: 10 Best Temple Stays in Japan
The Ultimate Spiritual Experience: Japan's Finest Temple Lodgings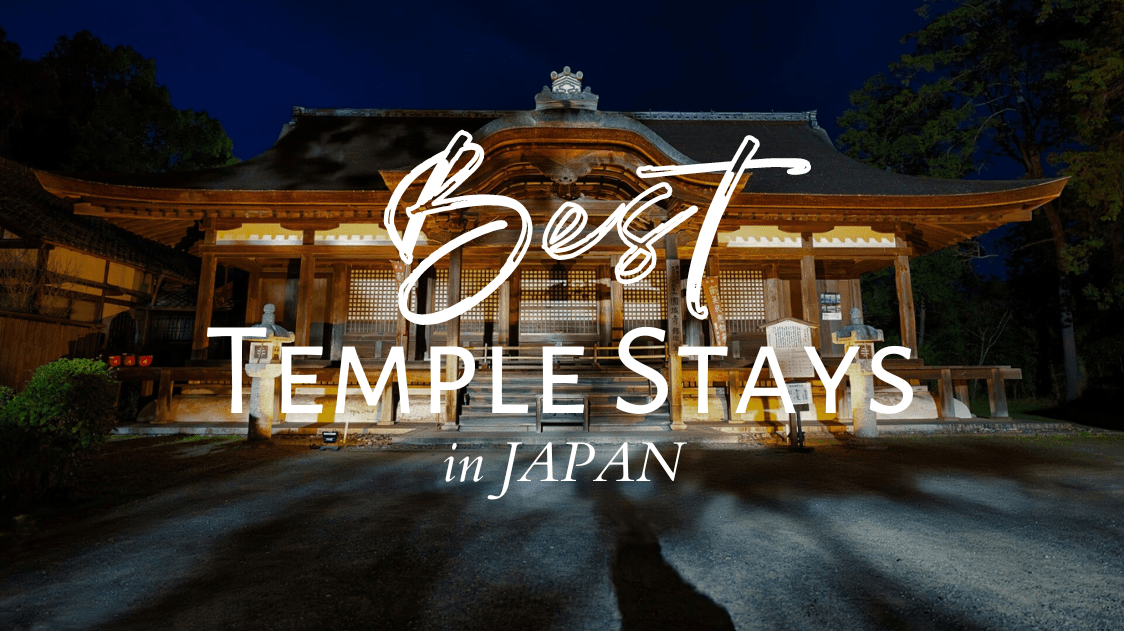 In Japan, Shukubo refers to "temple stays" or "temple lodgings" originally reserved for monks and pilgrims. Since the Edo period, these serene mountain retreats have welcomed all, immersing guests in Buddhist traditions.
Visitors can experience "Shojin Ryori", a monk's vegetarian meal, engage in Zen meditation, handwrite Sutras, and explore areas typically closed off to the public. The unique offerings, influenced by different Buddhist sects, and a surge in global interest, have driven temples to diversify and enhance their offerings.
In this article, I will introduce to you our list of the 10 best temple stays in all of Japan. You will be surprised at how different these experiences can be. From simplistic temple stays to high-end, luxurious lodgings, hopefully, you will find one that will suit your interests.
---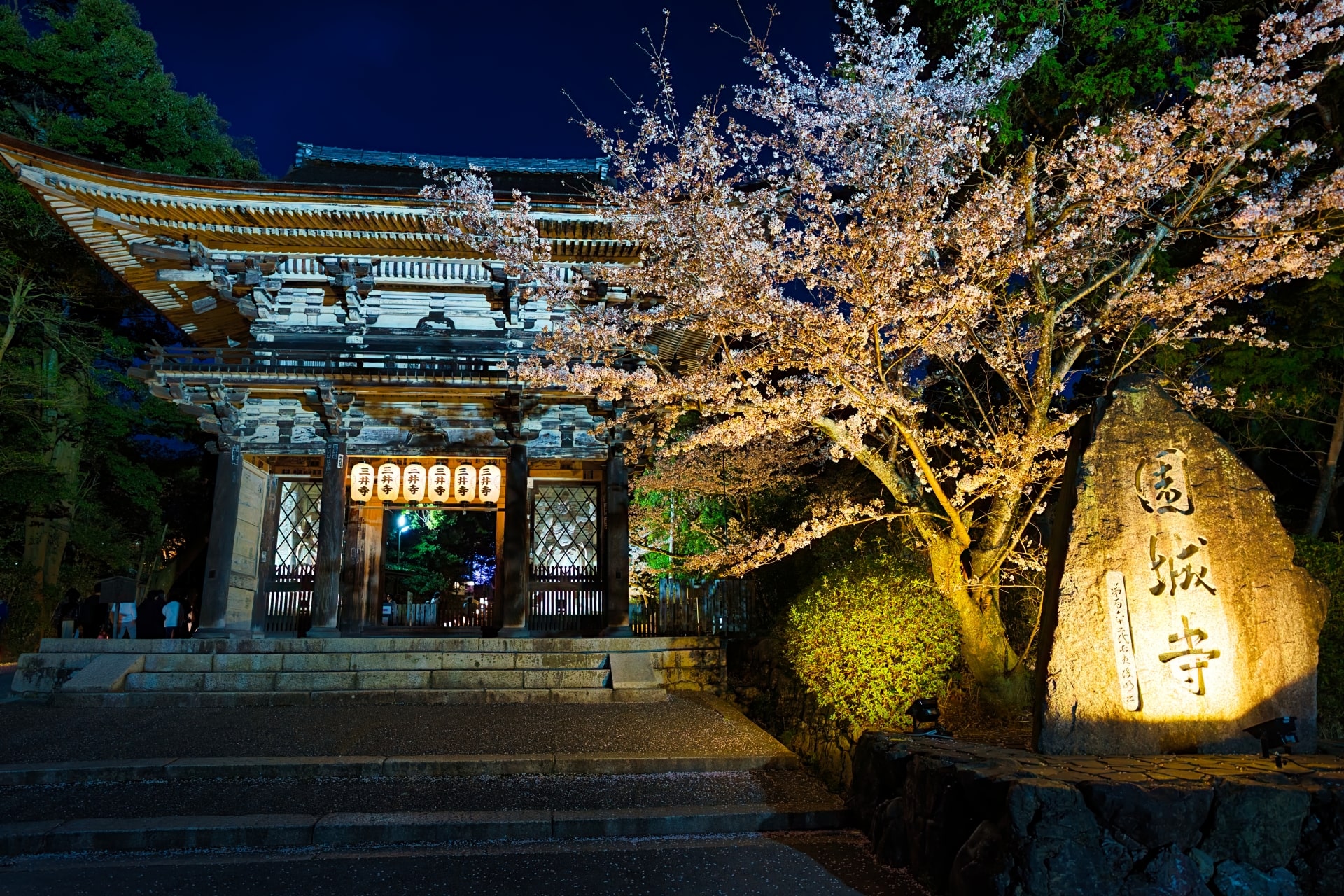 The first temple on our list is nestled on Mt. Nagara in Otsu City, Shiga Prefecture. Miidera Temple (三井寺), the pinnacle of Tendaijimon Buddhism, boasts a rich history of 1,300 years. Often termed the "Temple of the Phoenix," it's been rebuilt after multiple wartime devastations, reflecting community resilience. Overlooking Japan's largest lake, Biwako, and surrounded by 1,500 Sakura trees, the temple offers mesmerizing vistas, especially in spring. Its relative obscurity among foreign tourists ensures a serene, uncrowded experience.
The temple lodging at Miidera, "Myogon-in," offers a luxurious retreat. Exclusive to a single group (2-4 people) per night, guests enjoy a 176 m² sanctuary, complete with two tatami bedrooms, a living area, a study, a dining space, a Buddhist altar, a kitchen, two toilets, and a spacious bathroom with a private traditional bathtub. A serene koi pond garden complements this.
Guests benefit from a history walkthrough, airport pickup from Kansai, a dedicated cell for 24-hour assistance, and top-tier amenities typical of a 5-star hotel. An optional gourmet "Shojin Ryori" dinner is available, with immersive activities like Buddhist rituals, sutra copying, Zazen lessons, and the exclusive Yamabushi experience, granting access to typically restricted temple areas.
2. Fuchinobo Zenkoji Temple (Nagano)
The second temple on our list is located in Nagano and was founded in 642 AD by Yoshimitsu Honda. Zenkoji temple (善光寺) houses the "Image of Sangoku Denrai," an Indian artifact introduced to Japan in 552 through the Korean Peninsula. Revered for its believed power to guide all to the Buddhist Pure Land, it was concealed from the public in 654 and remains unseen. The temple's name, "Zenkoji", alludes to its founder, Yoshimitsu.
There are 39 shukubo establishments in the vicinity of Zenkoji, and the one we are introducing here is Fuchinobo (善光寺宿坊 淵之坊).
Long cherished as the "Engi-do" which narrates the origins of Zenkoji temple, this establishment offers popular Shojin cuisine that generously incorporates seasonal ingredients from the local Shinshu region. Paired with Shinshu wine, guests can enjoy their meals in private rooms without disturbances from their surroundings. Before dining, activities like Shakyo or Shabutsu provide a moment of reflection and calm. The next morning, participants are invited to the morning rituals at the main Zenkoji hall. It's also recommended to explore the various temples within the compound and enjoy collecting Goshuin stamps.
3. Musashi Mitake Shrine – Shukubo Nobori (Tokyo)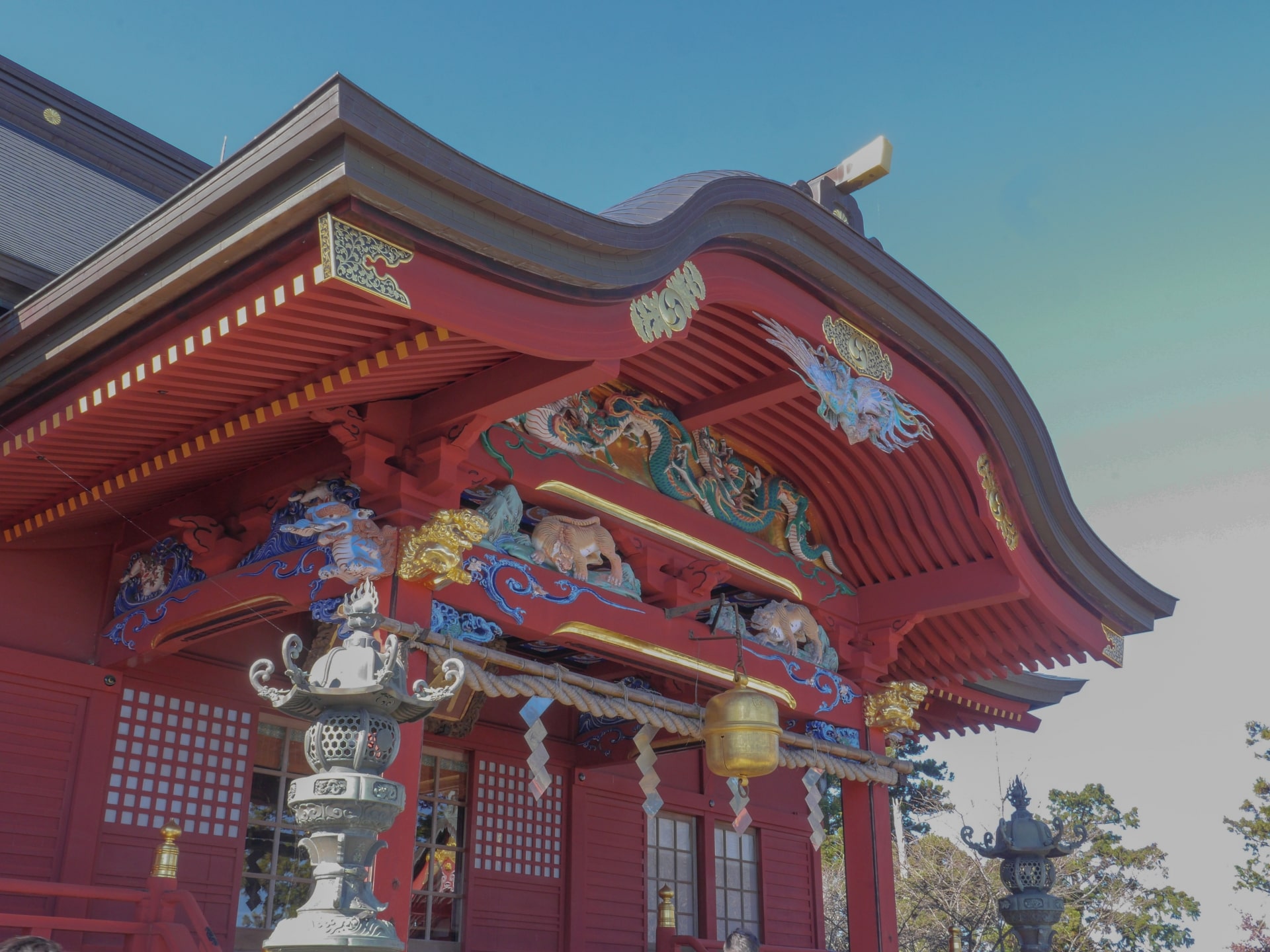 Musashi Mitake Shrine (武蔵御嶽神社) is believed to have been founded during the reign of Emperor Sujin and has long been revered as a sacred mountain. While it enshrines numerous deities, the god Ōguchimajin, affectionately known as "Oinu-sama," represents the Japanese wolf. At the peak of Mount Mitake, standing at 929m, the shrine complex includes the main hall, worship hall, and several smaller shrines.
Nobori (宿坊 能保利), a temple lodging along the shrine's main approach, has welcomed guests for about 150 years, preserving a harmonious bond with nature. Overlooking Mount Mitake, the inn offers rooms that immerse guests in forest sounds and views. Renovated in 2010, some accommodations boast playful touches like fox motifs and Mount Mitake tales. The inn is known for its handmade sashimi konnyaku and pakora-yaki, a unique fish dish grilled in bark and miso. Freshly harvested vegetables from their garden are culinary highlights. The main dining area doubles as a sacred lecture space, and guests can relax in indoor baths surrounded by verdant scenery.
4. Shorekiji Temple (Kyoto)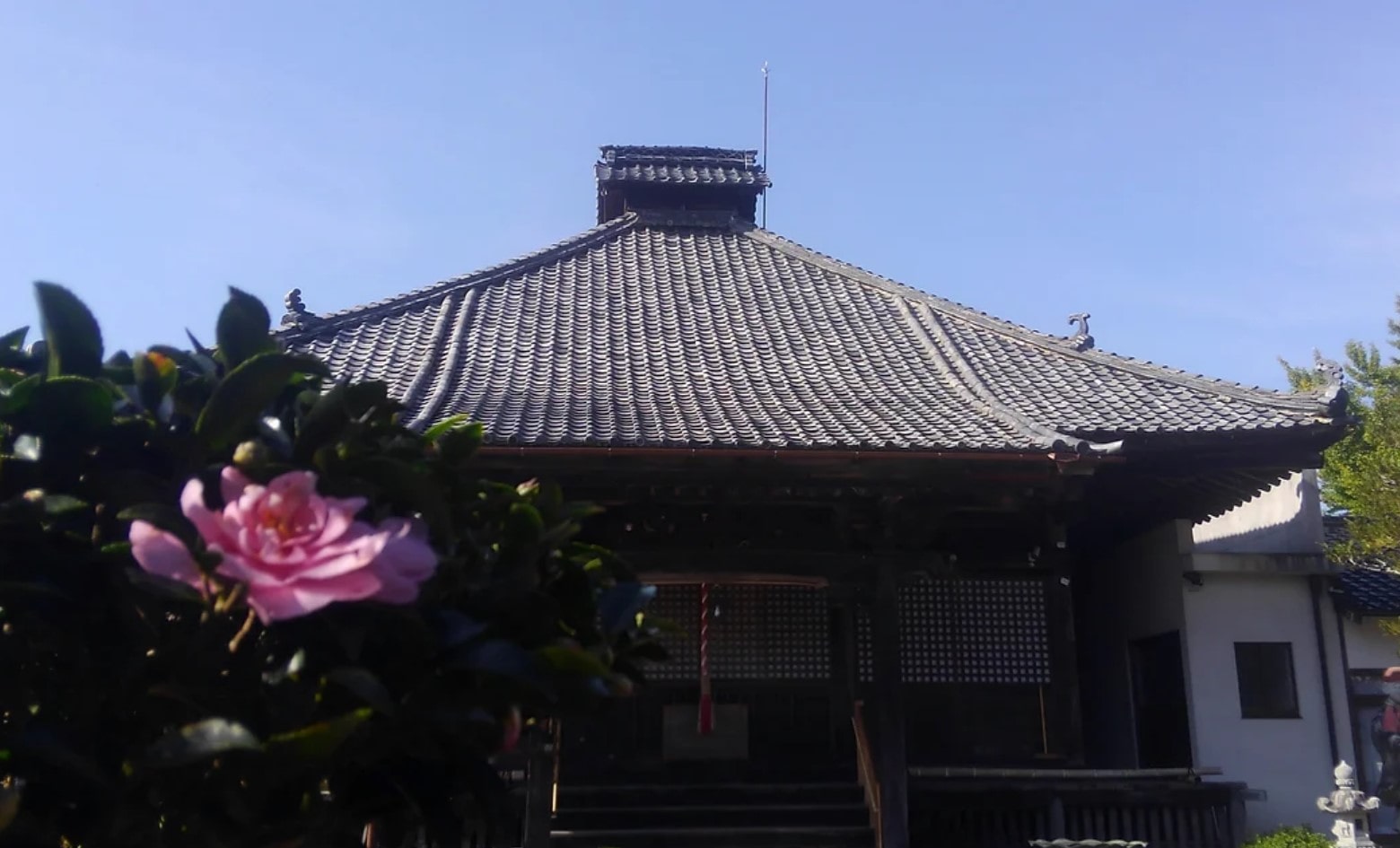 Situated in Nachisan, Kyoto Prefecture, Shorekiji Temple (正暦寺) is an ancient gem of the Koyasan Shingon Buddhism school with a history spanning over 1,000 years. Nestled amidst picturesque mountains adjacent to Ayabe town, this tranquil haven remains relatively undiscovered by foreign tourists, offering a serene escape, a rarity in bustling Kyoto. One of its standout features is the Edo-period "Karesansui" or Zen garden, meticulously preserved over the centuries, standing as a testament to the temple's enduring allure.
Overlooking the majestic river and mountains, the temple lodging, despite being a century old, has been modernized to ensure guests enjoy contemporary conveniences. The lodge reserves its expansive 100m² space—boasting multiple tatami rooms and a scenic balcony—for just one group (1-4 people) nightly, ensuring a secluded mountain retreat. Guests can engage in Buddhist practices like Zazen and sutra copying, or embrace nature through activities like canoeing on the Yuragawa River, cycling, or balcony BBQing. Unique to this haven, meals are meticulously crafted by monks, trained by culinary experts, promising an authentic, delightful dining experience.
5. Shimizu Daishiji Temple (Shimane)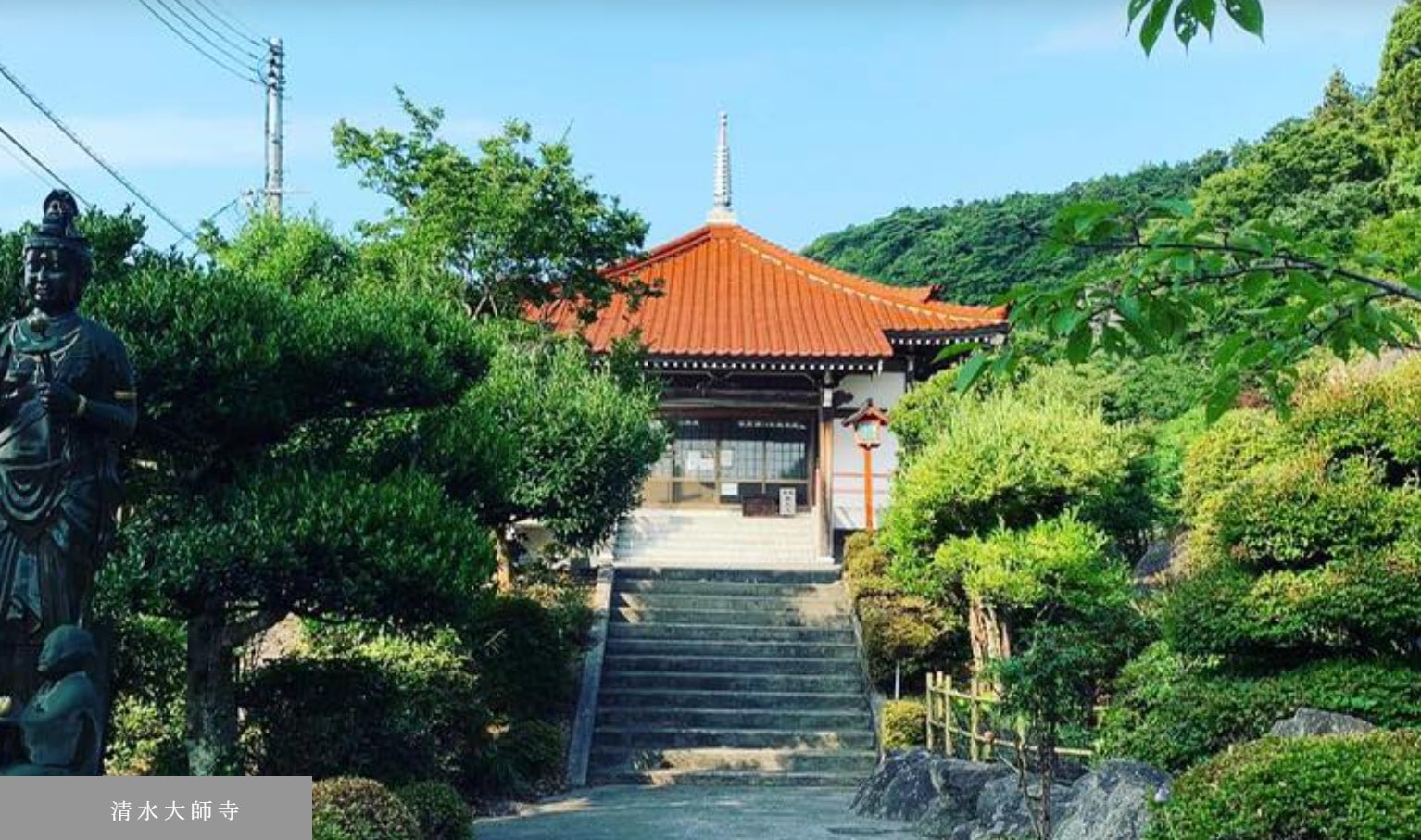 Located in Yunotsucho, Oda City of Shimane Prefecture, Shimizu Daishi Temple (清水大師寺) overlooks the historical port of Yunotsu, once vital for transporting silver from the renowned Iwami Silver Mine. Set against the expansive backdrop of the Sea of Japan, this UNESCO World Heritage site is nestled on Iwami Dokoyama hill, offering breathtaking panoramic views. By night, the sea glimmers with fishing lights, making it a cherished spot for photographers. The temple's location not only offers a natural spectacle but also stands as a testament to the region's rich history.
Shimizu Daishi Temple offers a serene retreat experience when it comes to Temple stay. Guests can relish staying in the "Mandala Room," once the temple's main hall, with its intricately designed ceiling while enjoying panoramic views of the Sea of Japan, especially the shimmering nighttime fishing lights. The temple provides a nutritious breakfast choice between the "Sea of Japan Delight" and a "Vegetarian Course." Unique activities, such as the "Gachirin Sutra" and "Mandala Coloring," complement the stay. Furthermore, the temple houses a cafe that serves matcha and organizes enriching workshops.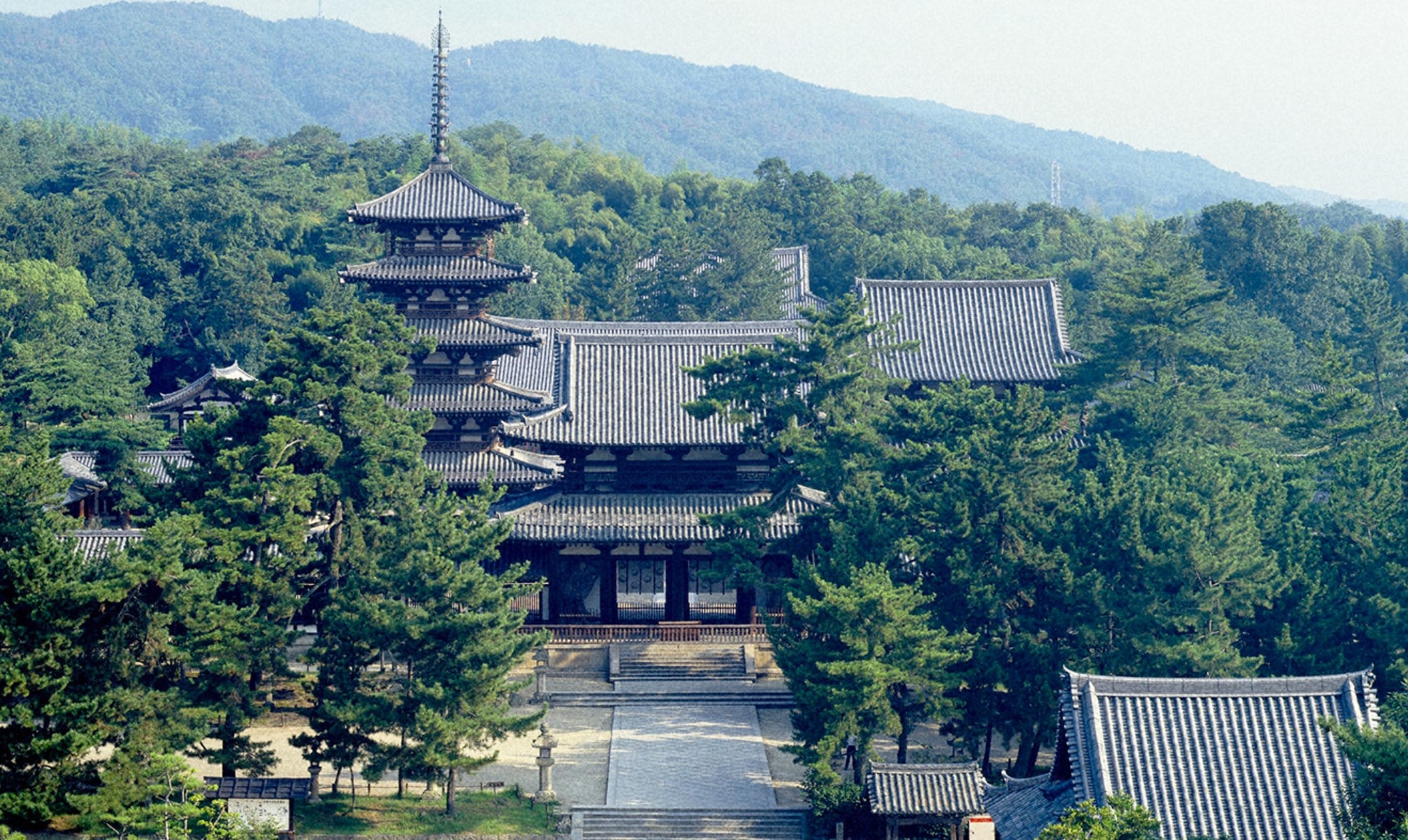 Next on our list, we have Horyuji Temple (法隆寺) which stands as the world's oldest wooden structure, providing a glimpse into Japan's Asuka Period (A.D. mid 6th-beginning of 8th c.). It was recognized as a UNESCO World Heritage site in 1993 alongside Hokki-ji, collectively named the Buddhist Monuments in the Horyuji Area. The temple is a homage to Yakushi Nyorai, the Buddha of healing, built to honor Emperor Yomei's unfulfilled wish.
When it comes to the Temple lodging experience, the courteous staff provides details about the lodging, including the onsen (thermal bath), dining arrangements, and a variety of activities. These range from traditional tea ceremonies and calligraphy lessons to unique experiences like crafting a nioi-bukuro (a health-protecting scented bag with traditional Chinese medicinal ingredients) and making Nara-sumi, a local ink.
Guests can also relax at the Gallery Bar and listen to talks about Nara's history. The dining experience is exquisite, with a preset menu offering Japanese delicacies such as sashimi and tempura. Following dinner, guests can opt for another onsen visit, attend a workshop, or simply relax in their elegantly designed rooms, equipped with modern amenities like Netflix. The stay concludes with a delectable Japanese-style buffet breakfast.
7. Oma Fugen-in (Aomori)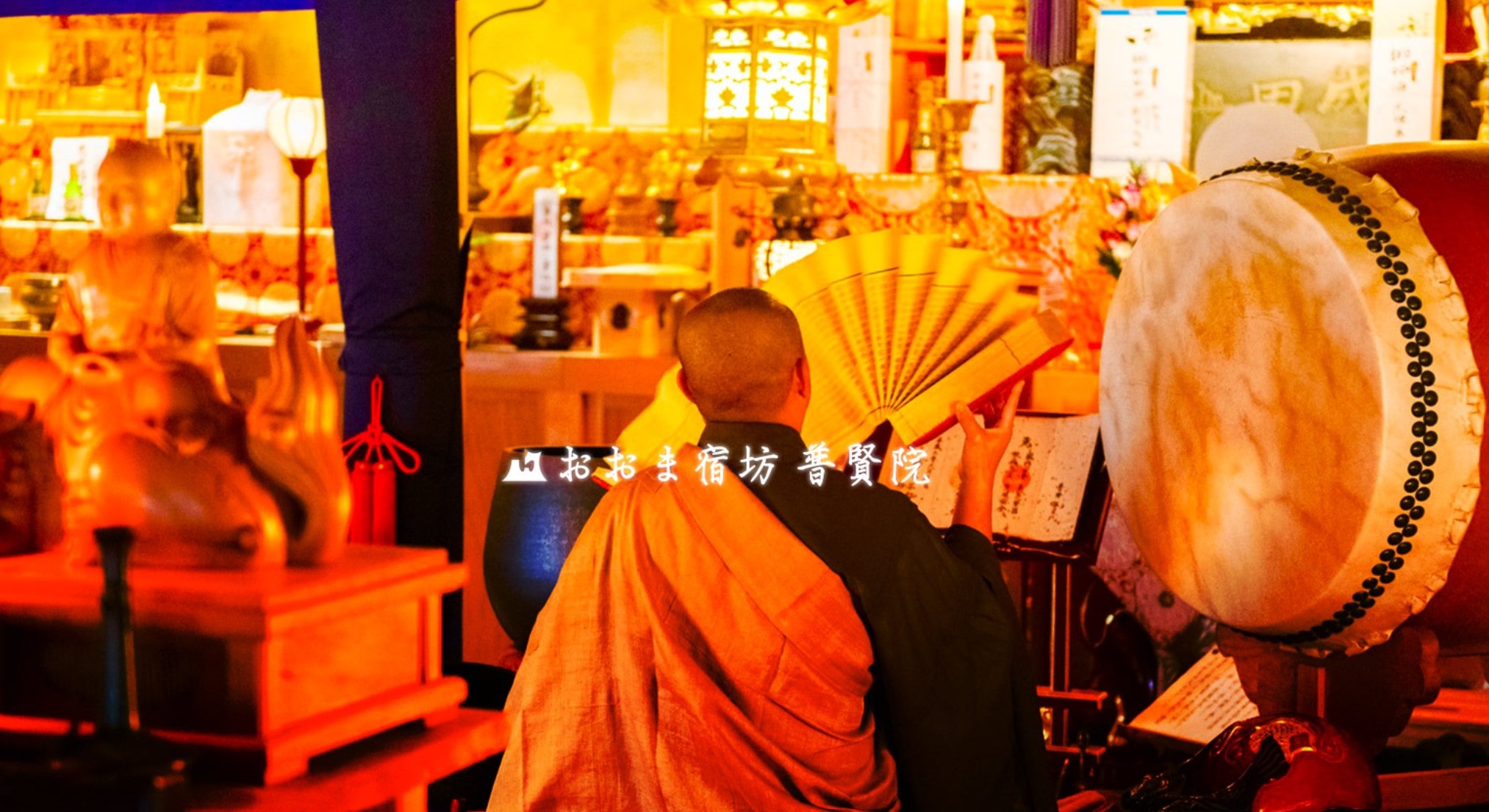 Located in Aomori Prefecture, the Oma Fugen-in (おおま宿坊 普賢院) offers an immersive experience in the serene landscapes of the Shimokita Peninsula, encompassing landmarks like Osorezan, Futsugaura, and Oma Point.
This northernmost temple lodging in Honshu is a tranquil escape, with its expansive gardens bursting with seasonal flora. Prioritizing an exclusive and intimate experience, they host only one group of guests daily. Rooms combine modern comforts with traditional aesthetics, supplemented by a sunroom for relaxed leisure.
Culinary delights include a dinner focus on Oma tuna sashimi, complemented by a range of seasonal seafood, while mornings are greeted with traditional vegetarian fare. Unique offerings such as zen practices, sutra-copying, and crafting personal stamp books enrich the stay.
8. Seizanji Temple (Nagasaki)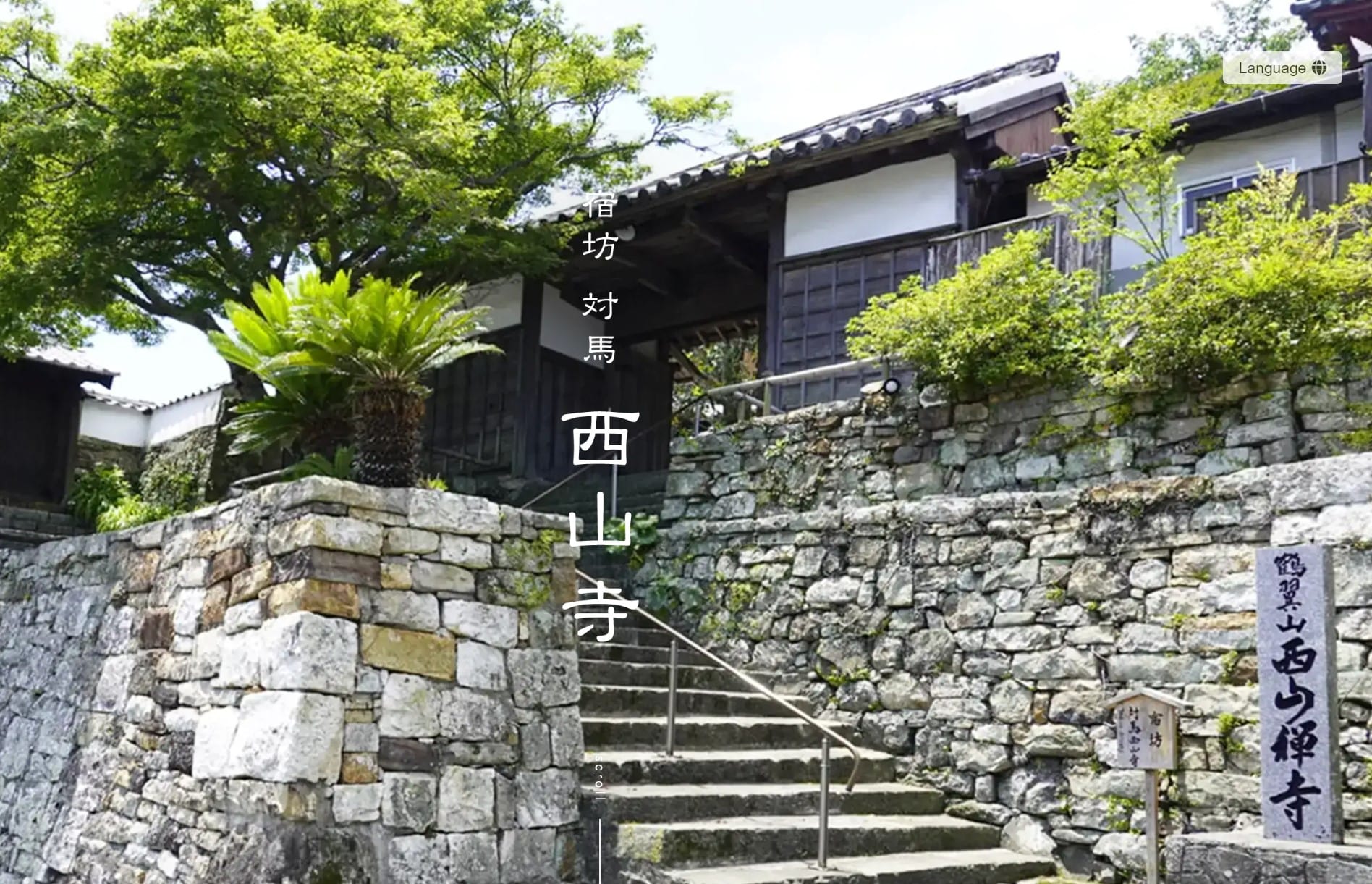 Perched atop a vantage point in Izuhara, Shukubo Tsushima Seizanji (宿坊対馬西山寺) offers captivating views within the Seizanji Temple grounds, marked by its stone walls and the refreshing sea breezes from Izuhara Port.
Established in 1512, Seizanji played a pivotal diplomatic role with Korea, a legacy it maintains today. This retreat boasts not only picturesque sights, like the shimmer of fishing lights on the waters at night and the morning's radiant sunrise but also a serene environment ideal for rejuvenation.
The temple's accommodations, spread across four floors, operate on a self-service principle, equipped with modern amenities like Wi-Fi, making it apt for "workations" as well. Guests can immerse themselves in the early morning tranquility of the zazen hall, with sessions starting at 6:00 AM. Afterward, a specially curated breakfast is served from 7:00 AM, ensuring every guest's day starts memorably.
9. Takayama Zenkoji Temple (Gifu)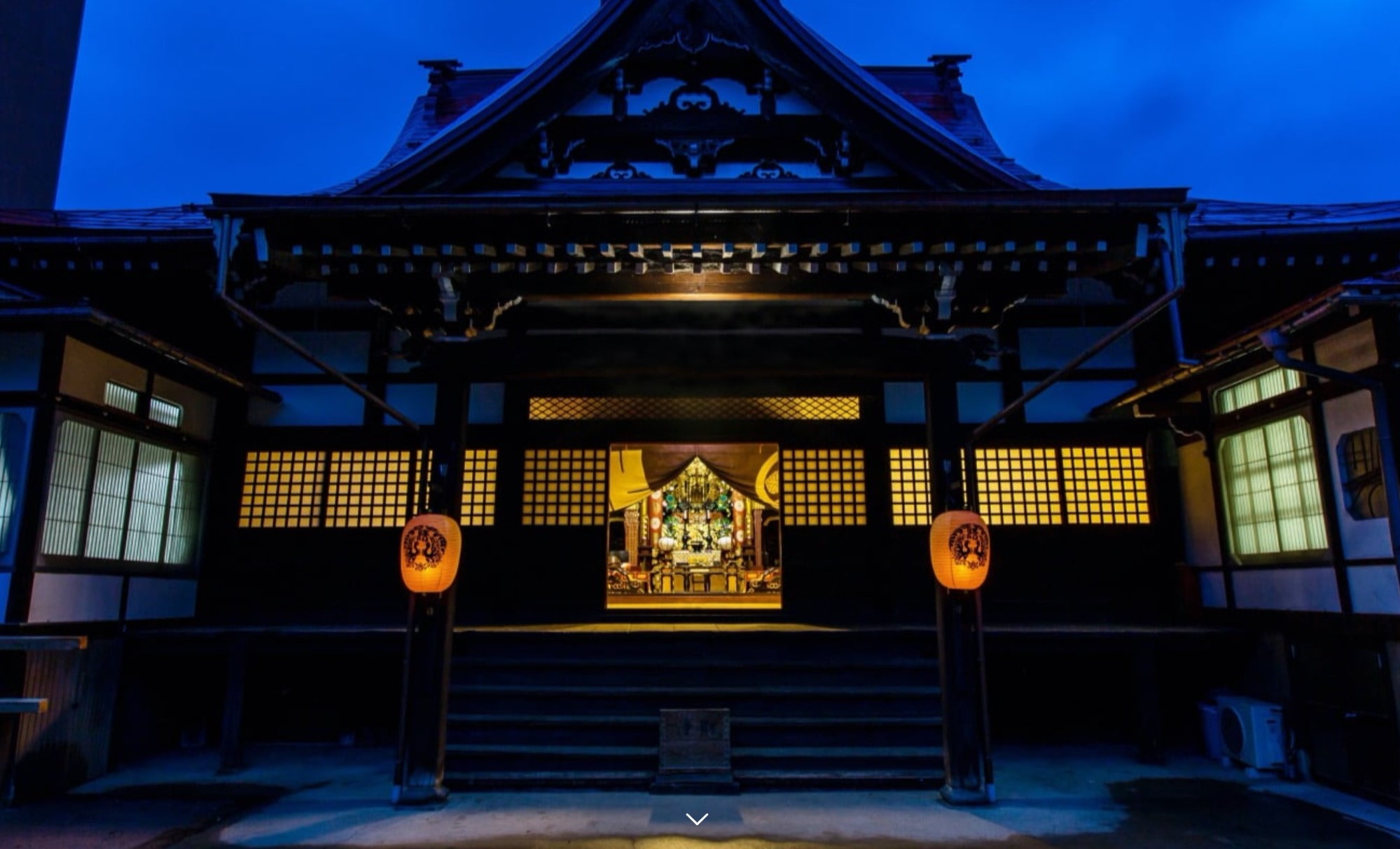 Established in Takayama city's Higashiyama in 1658, the Rinkoin temple was later devastated by fire. Reconstructed in 1896, it was renamed Takayama Zenkoji Temple (高山善光寺) and soon became a renowned pilgrimage site, offering spiritual merit akin to the distant Zenkoji in Nagano.
The Temple lodging at Takayama Zenkoji Temple, diverse in design, caters to various guest needs, from family trips to small-group stays, enabling a unique temple-stay experience. Visitors can immerse themselves in traditional Buddhist activities like Zazen meditation, calligraphy, yoga, and incense crafting.
Beyond its spiritual offerings, Zenkoji has seamlessly integrated into the contemporary era. Drawing inspiration from its Edo period role as a community education hub, it now also serves as an alternative workspace, demonstrating its adaptability and continued relevance in modern society.
10. Anrakuji Temple (Tokushima)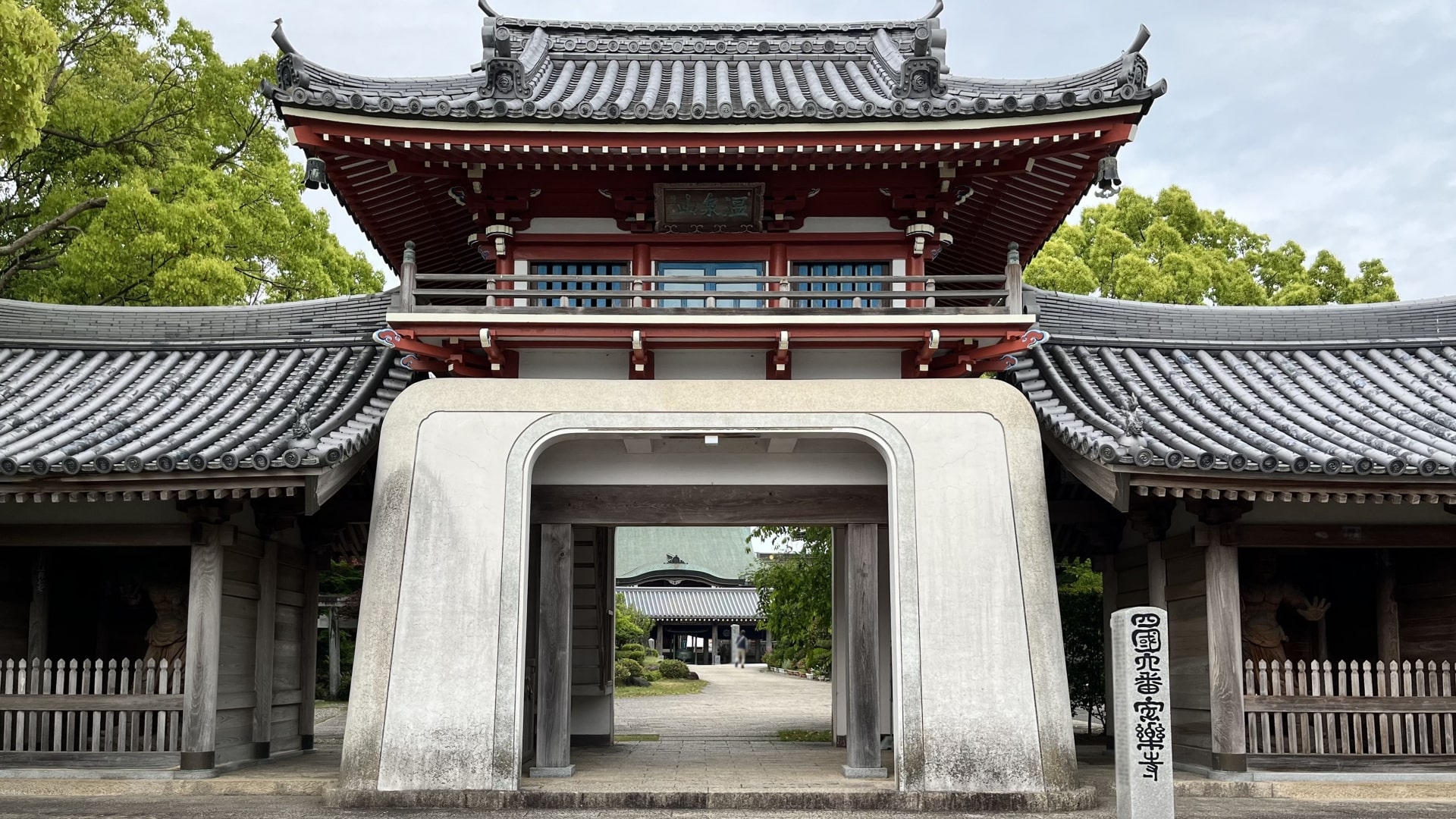 And lastly, on our list, we have The Onsenyama Anrakuji temple (温泉山 安楽寺), christened by the revered Kobo Daishi due to the presence of a healing spring. This temple boasts several attractions like the main deity "Yakushi Nyorai," the "Kongōhō-byōden Kōbō Daishi Goichidaiki," and the "Yakuyoke no Sakamatsu" known for warding off misfortunes. It is also renowned as the first lodging in the Shikoku Eighty-Eight Temple pilgrimage and has been a favored destination for pilgrims for over 400 years.
The temple complex features a spacious bathhouse, utilizing the hot spring discovered by Kobo Daishi, offering therapeutic relief for ailments like neuralgia and muscle pain. Guests opting for meal-inclusive packages are treated to a traditional Japanese set meal reminiscent of inn delicacies, with the crunchy, addictive local dish of Tokushima, "Sobagomejiru," being a must-try.
Additional highlights include a range of immersive experiences like calligraphy, Zazen meditation, simple pilgrimage practices, and "Kusu Kuyo" memorial services.
---
Be sure to check out other temple lodging spots in Japan from the following articles!
▶Temple Lodging: 5 Best Temples to Stay near Kyoto
▶5 Best Temple Stays near Tokyo
▶Best Luxury Temple Lodging in Japan
▽Subscribe to our free news magazine!▽

For more information about Japanese Buddhist temples and Shinto shrines, be sure to check our other articles down below.
▽Related Articles▽
▼Editor's Picks▼
---