Temple Lodging at Horyuji Temple, Nara
My Temple Stay Experience at Horyuji Temple in Nara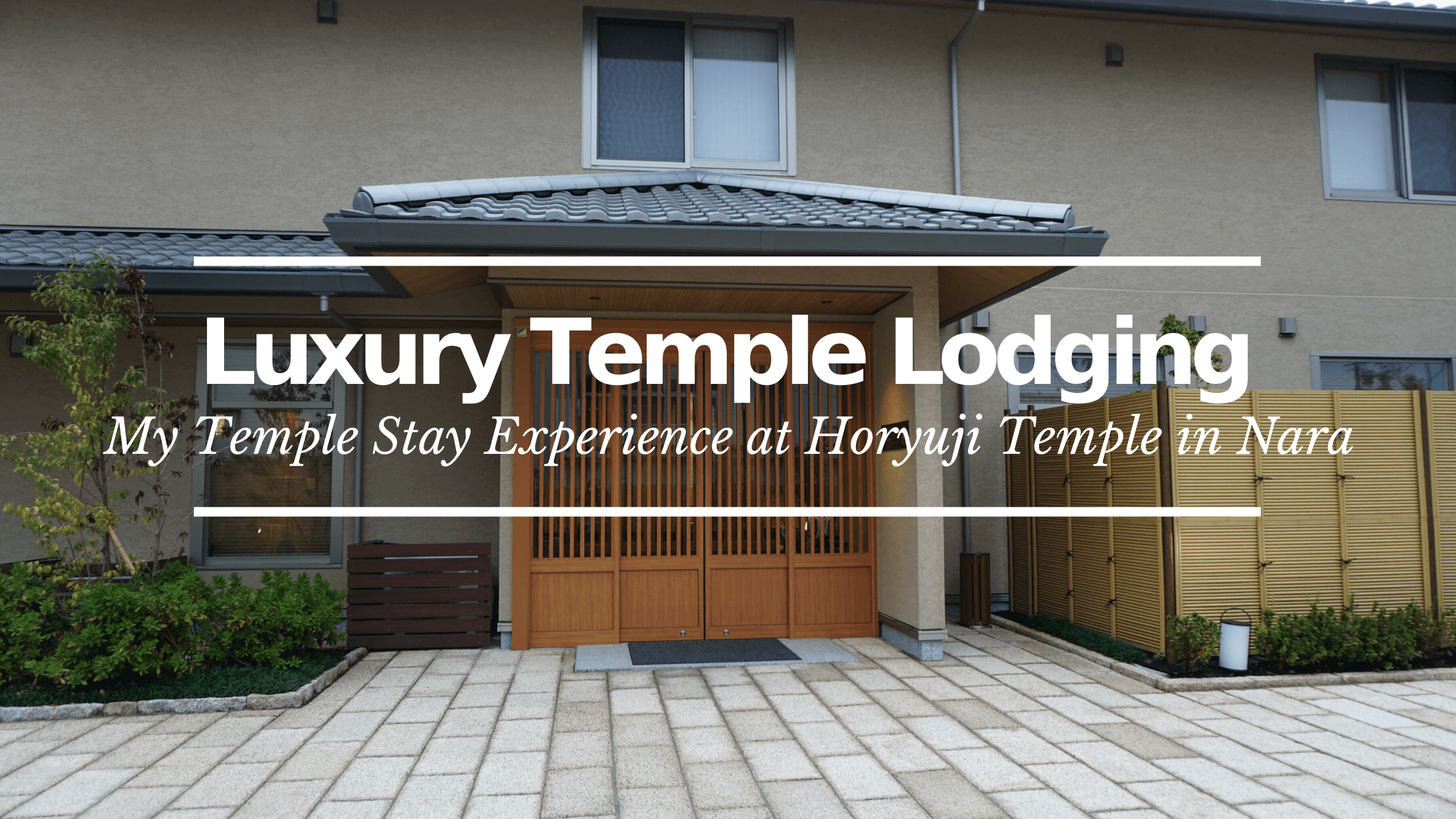 From modern hotels serviced by robots to the classic ryokan, not forgetting the economical and controversial capsule hotels. Japan has a huge variety when it comes to staying overnight. But in the last months a new option is appearing: a perfect mix between the modernity and the tradition of the country! Have you ever spent one night in a Japanese Buddhist temple? No? Until the next month, me neither but I can swear you it's an AMAZING experience. If you want to know how my experience was & how staying in a temple feels like, read this article until the end.
Staying overnight simply at a temple (called Shukubo in Japanese) isn't something new for foreign tourists, that think and which in recent years is getting relatively famous as an original way to stay with Japanese traditional culture. However, luxurious temple lodgings with gorgeous rooms and Japanese meals are a new trend.
Although formerly only a monk was allowed to stay in a temple, from Heain Period (794-1185) some temples started offering a part of his places in the site for travelers to sleep for free or a very cheap rate. Nowadays they provide the chance to stay at a Japanese-style room, eat traditional Japanese cuisine and learn about Buddhism or temples.
As I said before, today I'd like to share my personal experience to stay at a temple accommodation in Japan for the first time. I visited Horyuji Temple, a Buddhist temple in Nara Prefecture, famous among the Japanese people because it is one of the oldest temples in Japan. It's also the oldest wooden structure in the world and it was once one of the Seven Great Temples.
The temple lodging that I slept at is located in the site of the temple, and it takes only around 45 minutes to get there from Osaka by train or a bit more than one hour from Kyoto (only 10 minutes if you're in Nara city). The temple lodging is a bit far away from the train station (20 minutes walking), and there aren't many buses, but it depends on the time you arrive a transfer comes to pick you up at the station and takes you to the temple lodging.
*Please note that this article contains affiliate links.
Horyuji Temple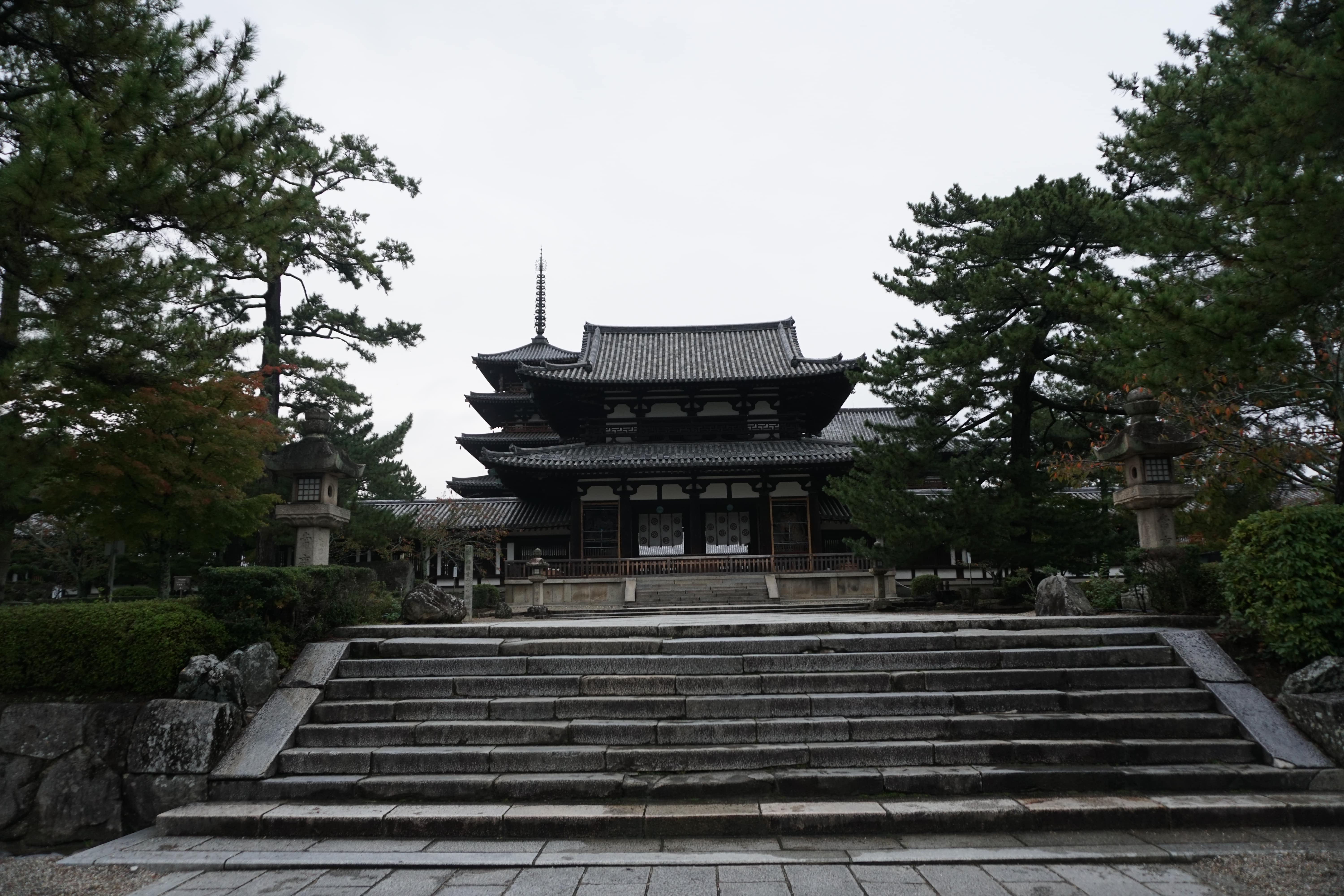 Horyuji Temple (法隆寺), founded in 607 by Prince Shotoku, it was once one of the Seven Great Temples and it's the oldest wooden structure in the world. You can see how Japan was more than 1,300 years ago, during the Asuka Period (A.D. mid 6th- beginning of 8th c.). In 1993 it was designated a UNESCO World Heritage site with Hokki-ji (another old temple in the area) under the name Buddhist Monuments in the Horyuji Area.
Horyuji Temple is dedicated to Yakushi Nyorai, the Buddha of healing. According to temple records, Emperor Yomei, father of Prince Shotoku, promised to built a temple and an image of a Buddha as a way to pray for his recovery, since he was sick. But Emperor Yomei died shortly after, unable to keep his promise. That's why Empress Suiko and Prince Shotoku fulfilled Emperor Yomei's deathbed wish and built a temple and a statue of Yakushi Nyorai in 607.
If you're interested in learn more about the Horyuji Temple, Waqoo Horyuji offer a free tour guide from 10.00 a.m to 12 p.m. if you make a reservation in advance.
Temple Lodging Experience in Horyuji
Temple
When I arrived at the Horyuji train station, we took a taxi to the temple lodging. You can get there walking too but it takes about 20 minutes, and we didn't want to carry the luggage.
Upon entering the temple lodging, the first thing you notice is a pleasant smell of incense that certainly reminds you of Japanese temples. The second is the incredible and elegant design of the lobby. I thought "I have to come here later with a book".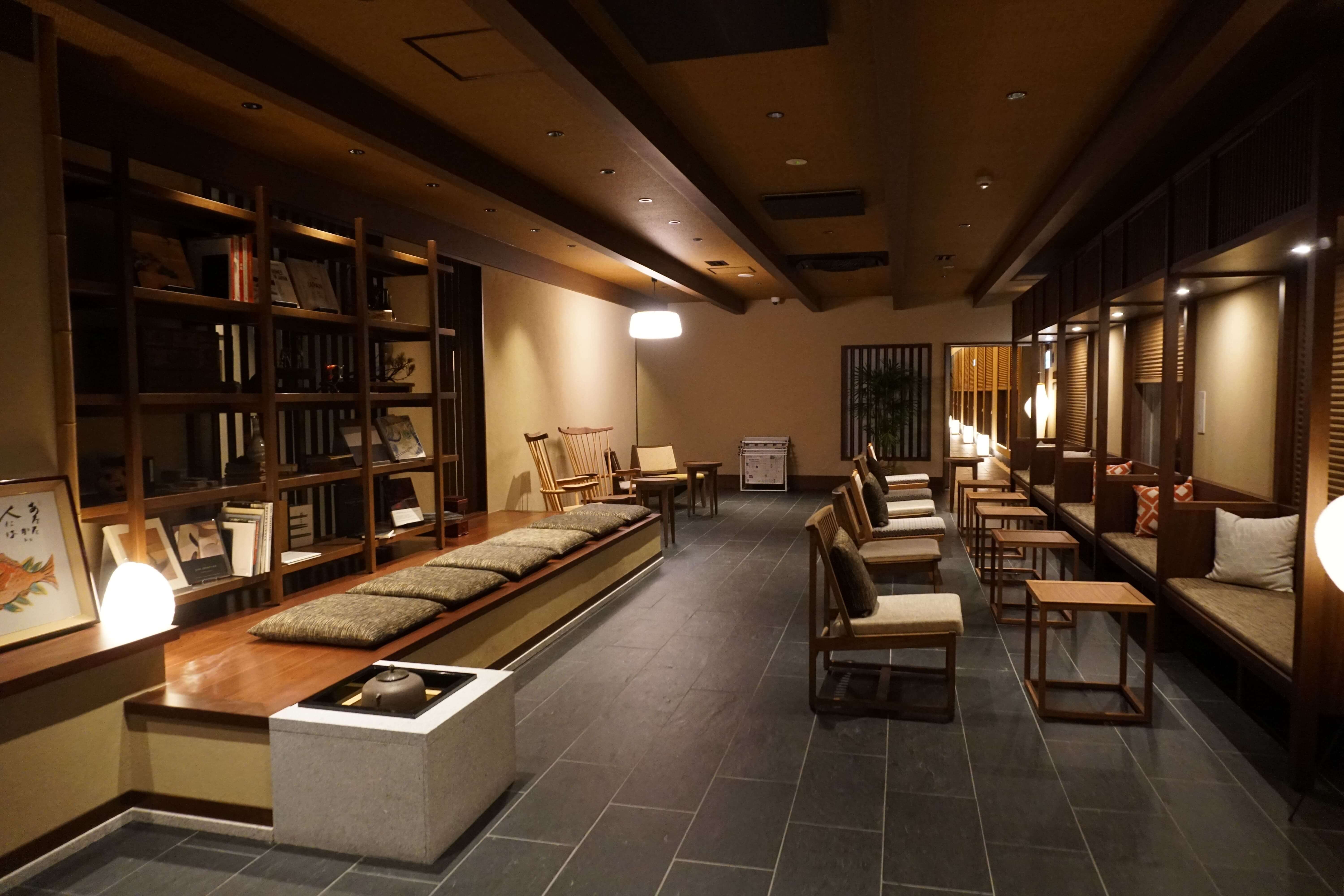 The staff, who was extremely nice and friendly with us all the time, explains the rules of the temple lodging and the distribution (where are the onsen or the restaurant, etc). They also ask you what time you want them to prepare dinner to make the reservation at the restaurant and introduce you the activities available during your stay.
Finally, we went to our room. If the lobby surprised us, the room left us even speechless as soon as we entered! It was a perfect combination between elegance and a traditional Japanese-style room. I love ryokan for their traditional Japanese style, but usually they look old. Waqoo Horyuji's room had the traditional wooden floor, but furnished with a minimalist and luxurious design at the same time.
Once with things in the room, we decided to go out to investigate. In addition to the temple that we have already explained, the area has several shops with traditional objects that are very interesting to see.
In the area, as usual in the inner cities of Japan, most establishments close at 5 p.m. But that wasn't problem, since we went to enjoy the temple lodging's facilities! From a traditional tea ceremony to learn to make matcha art with Yamato matcha (a matcha grew in the historic and tea-appropriate environment of Nara) going through the classics calligraphy and flower arrangement lessons, there's a lot of activities you can join. But one of the activities that I find most interesting since I haven't seen anywhere else, is about making your one and only nioi-bukuro (scented bag) for protect your health with scents of a combination of around 10 different traditional Chinese medics ingredients. Or the one about making a Nara-sumi, a kind of traditional ink you can only try in Nara. Another option if you're tired and not into doing any activity, is go to grab a drink while hearing some of the fascinating talks about Nara's history and culture that they offer at the Gallery Bar, a fancy bar located in an annex building.
As we had booked the dinner in a late time, we took the opportunity to go to the onsen before dinner. For those who don't know, onsen are thermal baths and are very typical in Japan. You have to take a shower before entering to the onsen, which you have to go completely naked. After several days of sightseeing walking all day, a relaxing hot bath felt like heaven. Once clean and relaxed, we put on the yukatas (summer kimonos) provided by the temple lodging and went to dinner. And what a feast they had prepared us!
When we arrived the restaurant staff asked our name to confirm the reservation and guided us to our table. The restaurant is also Japanese style, so you have to take off your shoes to access the tatami floor and the table is a low table, so you have to sit directly on the tatami. When we sat for dinner, the table was already filled with appetizers and entrees.There was a variety of Japanese delicacies including sashimi, tempura and more!
It's a fixed menu, and the dishes are brought by the waiters during dinner, so you don't have to order. Only drinks are paid separately, and you have a big assortment to choose. I especially recommend sake (rice wine) and umeshu (plum wine). They were really good! Specially the sake. We ordered our first drinks after setting and we enjoy the dinner.
The restaurant staff was also very friendly at all times and we were chatting a bit while we had dinner. And after dinner, you can choose between taking another bath at the onsen or attending one of the talks or workshops held at the bar. Or stay in the lobby reading a book quietly. We decided to end the day testing the bathtub in the room and relaxing watching a movie on Netflix on the television in the room (Yes! The TV has access to Netflix, YouTube and other platforms). The beds are so comfortable that almost asleep immediately! And I slept without interruption until the alarm rang.
In the morning, starting at 7 a.m., a Japanese-style breakfast with free buffet is available. It was all delicious and a good way to start the day, but my favorite was the Japanese omelette. Once we had breakfast we said goodbye to the temple lodging staff and got into the taxi that was waiting for us. I would like to stay in the temple lodging or longer, but I hope to return in the future! It was a great experience.
Overall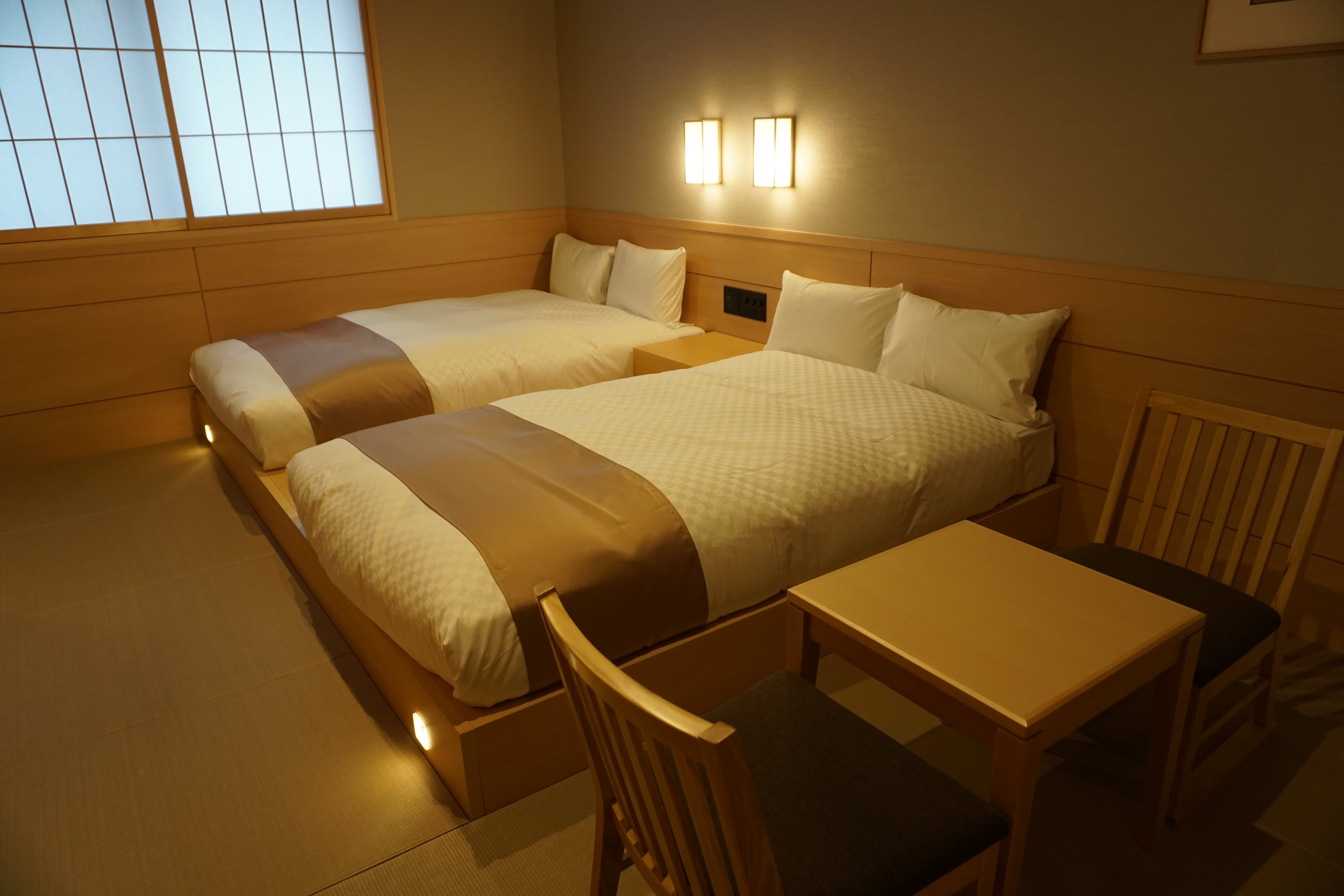 I highly recommend to stay at this luxurious temple lodging at Horyuji Temple because it's a unique experience that maybe you can have only once in a lifetime. For four years I have traveled a lot around Japan, and I have stayed in all kinds of accommodation from cheap cabin hotels to luxury hotels in downtown Tokyo. But this experience was something totally new that cannot be compared with anything. In the luxury hotels of the big cities you can enjoy stunning views and endless activities. But in Waqoo Horyuji what you would find is absolute calm and disconnection. Something quite difficult to achieve in a country like Japan. Especially if you take a relaxing bath in the temple lodging onsen, you will see that when you get to the room you feel totally new.
I was very much pleased with his hospitality! Thank you very much for that luxurious and unbelievable time, Waqoo Horyuji.
▶︎Book this luxury temple lodging at Horyuji Temple in Nara online here!
---
In the following article, we have compiled information on various types of accommodations in Japan, including hotels and traditional Ryokan. With our Japan Accommodation Guide, find the perfect lodging experience for you!
▽Subscribe to our free news magazine!▽
For more information about traveling and staying in the Kyoto area, be sure to check the following articles!
▽Related Articles▽
▼Editor's Picks▼
---