10 Most Popular J-POP Artists 2023-2024
Voices of Japan: J-POP Chart-toppers of 2023-2024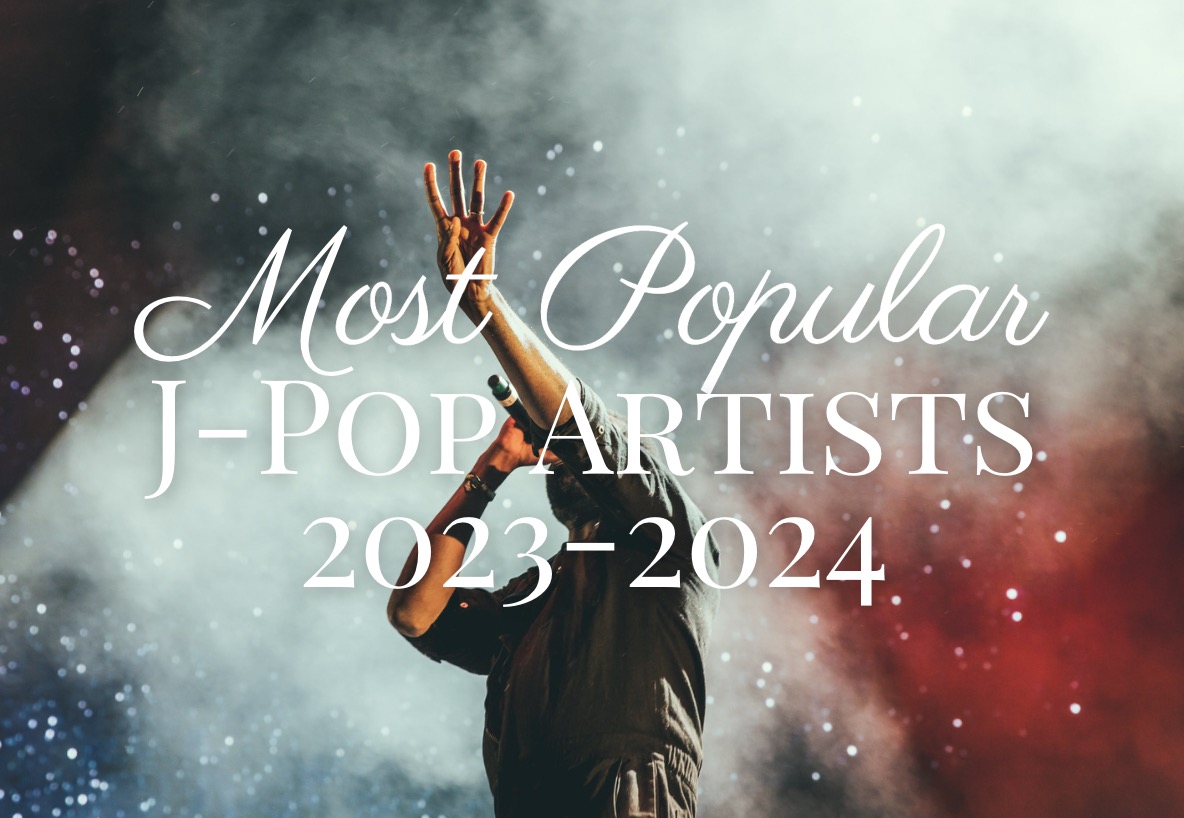 Are you keen on J-POP music? J-POP music is so unique that it combines a lot of different musical aspects like electrical sounds, band sounds, techno sounds as well as foreign tastes. Moreover, some of them are used as anime theme songs so they are very popular for foreigners and locals.
Music subscription services such as Spotify and Apple Music make it easy for users to access any kind of song throughout the world and also for artists to get their songs known by more and more people. YOASOBI, one of the most trending artists in Japan, achieved an unbelievable record with their debut song "Yoru ni Kakeru" played more than 1 billion times. ONE OK ROCK has a lot of fans all over the world so they can hold an annual world tour and sell out the tickets almost everywhere.
Now, I'm going to introduce the 10 most popular J-POP artists in Japan below. Let's check it out!!
YOASOBI
YOASOBI is one of the most trending artists in Japan since they debuted in 2019. YOASOBI was born as a 2-person unit creating songs based on a novel. The vocalist, Lilas Ikuta is a talented singer-songwriter who is also doing solo performances. Ayase, who used to be a VOCALOID producer, is composing and editing songs. Their debut song "Yoru ni Kakeru" was released on the 16th of November 2019. The new taste of the music, her clear high-tone voice, and the emotional music video matching the lyric won people's hearts and minds as soon as it was released. It was played over 10 million times only in 5 months and 100 million times in one year. The popularity did never show a decline and the song hit the amazing record of 1 billion times played in 2023 for the first time in Japan.
In 2023, they released a song called "Idol" which is the theme song of the anime "Oshi no Ko". "Oshi no Ko" is the most trending anime and "Idol" was played over 400 million times in only 19 weeks. Now many young people upload a dance video with Idol on TikTok and Instagram.
Yonezu Kenshi
Yonezu Kenshi (米津玄師) is a singer-songwriter and Vocaloid producer. He used to create mega-hit songs as a Vocaloid producer "Hachi" on the video site Nico Nico Douga(Vocaloid is a singing voice synthesizer software represented by Hatsune Miku). In 2012 he started his own performance as a singer-songwriter Yonezu Kenshi and made his major debut in 2013. He has created a lot of hit songs including collaboration songs with other famous artists such as DAOKO and Masaki Suda, and also tie-in songs of movies and TV dramas.
His most popular song is "Lemon". It was released in 2018 as the theme song of the TV drama "Unnatural". The song won the first prize in the 2018 and 2019 annual chart ranking of Billboard Japan Hot 100. The music video of "Lemon" was played over 800 million times in 2023 on YouTube.
He just released the latest song "Spinning Globe (地球儀)" as the theme song of the newest Studio Ghibli movie, "The Boy and the Heron?".
Mrs. GREEN APPLE
Mrs. Green Apple is a 3 pieces band composed of a vocalist, guitarist, and keyboard. It used to be a group of 6 people but in 2020 the band suspended their activity and returned as the current style in 2022. All of the members are male but they wanted to create a neutral image and put "Mrs." on their band name.
Their strong point is the straight word as the melody sounds pop and fresh. Their iconic song "Ao to Natsu (青と夏)" is now well-known as a summer song with its refreshing melody and the lyrics saying the fun we can have in summer. On the other hand, "Syunsyu(春愁)" was written a real and complicated emotion of any relationship in life in straight words.
Now they perform on the stage of many rock festivals in addition to their own live tour. In 2023, they released "Que Sera Sera", which is the theme song of the TV drama "Sunday night…". They also created the 5th album "ANTENNA".
Aimyon
Aimyon (あいみょん) is one of the most popular female singer-songwriters for young people in Japan. She debuted in 2016 with "Ikite Itanda yona (生きていたんだよな)". As represented by her debut song, her words in her songs are very straight, and pure to express people's emotions in modern society. So she sings about the difficulty of living adaptively or the love in daily life, or encourages to live as you are. That's why a lot of young people sympathize with and love her song. Her unique fashion is also a key to her popularity.
A song that made her well-known was "Kimi wa Rock wo Kikanai (君はロックを聴かない)", released in 2017. Its catchy tune and cute lyrics hit the young generation. Another popular song is "Marigold", released in 2018. The song won the first position for the following 20 weeks in a streaming chart ranking in 2018. In 2023, she released "Ai no Hana (愛の花)" as a theme song of NHK morning drama series.
Official Hige Dandism
Official Hige Dandism (Official髭男dism) is a rock band composed of a vocalist, guitarist, bassist, and drummer. The vocalist's strong high-tone voice attracts a lot of people of various generations. They debuted with "No doubt" in 2018.
In 2019, they created their masterpiece song "Pretender", which was used as a theme song of the movie, "Confidenceman JP Romance Edition". It recorded 100 million times played on Billboard Japan Streaming Songs only in 23 weeks since it charted. The pure lyrics, clear voice, and pop melody are able to for people to remember and hum the song. After that, they created various songs that are tied up with movies, TV drama series, and animes, such as "Cry Baby" for the anime "Tokyo Revengers" in 2021 and "Subtitle" for the TV drama "Silent" in 2022.
In 2023, they released "Chessboard" as the set piece of music for the NHK All-Japan School Choir Competition of the junior high school department.
ONE OK ROCK
ONE OK ROCK is a worldwide popular rock band. They debuted in 2007 with "Naihi Shinsho (内秘心書)". Their old songs are more punk and rock style than recent songs. Their aggressive melody and emotionally straight lyrics hit teenagers at that time. In 2010, they released "Kanzen Kankaku Dreamer (完全感覚Dreamer)", which ranked in the top 10 of the weekly Oricon chart ranking in Japan for the first time. They performed at a lot of rock festivals as well as their own lives.
After 2013, they expanded their live performance globally from Asian countries to the US and Europe. Due to the new music sound mix of rock, J-POP, and foreign pop and the vocalist, Taka's amazing voice, their recent songs are getting increasingly popular not only in Japan but also all over the world. Now ONE OK ROCK holds annual tours both domestically and worldwide. They almost sell out the tickets everywhere. Once you experience their live performance, you will be overwhelmed by their dynamics, passion, and sense of unity
In 2023, the newest song "Make It Out Alive" came out. It's a tie-in song with a smartphone game, "Monster Hunter Now". The dynamic sound matches the game's situation.
Back number
Back number is a Japanese rock power trio formed in 2004. It consists of a vocalist, guitarist, and drummer. Their major debut was in 2011 with "Hanabira (花びら)". The key to their popularity is the pure love song. The direct words on a gentle melody catch people's emphasis.
Their first hit song was "Takane no Hanako san (高嶺の花子さん)" in 2013. Its catchy phrase and pop melody grab teenagers' attention and the song was always on a karaoke hit ranking throughout the year. Their biggest hit was "Christmas Song" in 2015, which peaked at No.1 for three weeks on the Japan Hot 100 chart, and was later certified million by the Recording Industry Association of Japan. In 2018, they held a 5-Dome Tour titled "stay with you" and sold out all the tickets within 2 hours.
In 2023, they released "Kaiju no Size (怪獣のサイズ)".
King Gnu
King Gnu is one of the most trending Japanese rock bands in 2023 even though it's formed only in 2013. Their music style is not only stuck with rock taste but also includes R&B, jazz, and J-POP. This variety of music makes King Gnu popular and unique.
As soon as they debuted in 2019, they released "Hakujitsu (白日)" on a streaming site and uploaded its music video on YouTube. Then people were so surprised because the vocalist's high-tone voice was amazing and its music taste was very innovative. Hakujitsu hit over 300 million times played in one year and over 600 million times played in 2023, which is the sixth song in Japanese music history to achieve this feat. They also perform at a lot of rock festivals in addition to their own tours. In 2024, they will hold a 5-Dome tour throughout Japan.
In 2023, the newest song "SPECIALZ" came out as the theme song of the anime "Jujutsu Kaisen Season 2".
Vaundy
Vaundy is a multi-talented artist. Though he is a university student, his musical activities range from a singer-songwriter, musical creator and editer, to a video producer and an art producer. His music taste is genreless and trending by mixing various kinds of music such as hip-hop, R&B, and synthpop.
Once he announced a digital single "Tokyo Flash" in 2019, the song hit a million times in only 2 months. After that, he's been creating mega-hit songs that hit over 100 million times. In 2022, he created some songs to provide them with other popular artists such as Masaki Suda and Rira Ikuta. "Omokage (おもかげ)" he created for a collaboration of Millet, Aimer, and Lilas Ikuta was used in a TV CM and he also joined the collaboration and performed at NHK Kohaku Uta Gassen.
In 2023, he released "Sonna bitter na hanashi (そんなbitterな話)".
RADWIMPS
RADWIMPS is a 4 pieces band formed in 2001 when they were in high school. They had kept performing locally until they finally debuted in 2006 with "Nijugoko me no Senshokutai (25個目の染色体)". Their old songs have two types. The one style is gentle words on comfortable melody such as "Kimi to Hitsuji to Ao (君と羊と青)", "Moshimo (もしも)", and "Yushinron (有心論)". The other is tricky and unique music such as "DADA" and "Osyakasama (お釈迦様)".
In 2016, RADWIMPS created all of the music used in the movie "Your Name", which was a social phenomenon at that time. The opening song "Zenzenzense (前前前世)" and the ending theme "Sparkle" recorded a mega-hit. Moreover, due to broadcasting the movie in North America, they released "Your Name english edition", which brought their name overseas as well. After that, they are in charge of creating songs for the following movies produced by Makoto Shinkai.
Their current music style is more soft and dynamic melody and straight lyrics than old ones. In 2023, they released "Daidanen (大団円)" as the 30th anniversary song for establishing J-leag.
Did you find your favorite artist?
My favorite artist is actually ONE OK ROCK. Their songs encourage me to do what I have to do. Their live performance is especially amazing. I always get energy from their performance and the vocalist, Taka's MC. If you get a chance one day to go to their live concert, I would definitely recommend you to go and experience that unity and passion.
▽Subscribe our free newsletter!▽
For more information about traveling and living in Japan, check these articles below, too!
▽Related Articles▽
▼Editor's Picks▼
---