Marunouchi Street Park 2023 Winter Illumination
2023-2024 Tokyo Winter Illumination: Marunouchi Street Park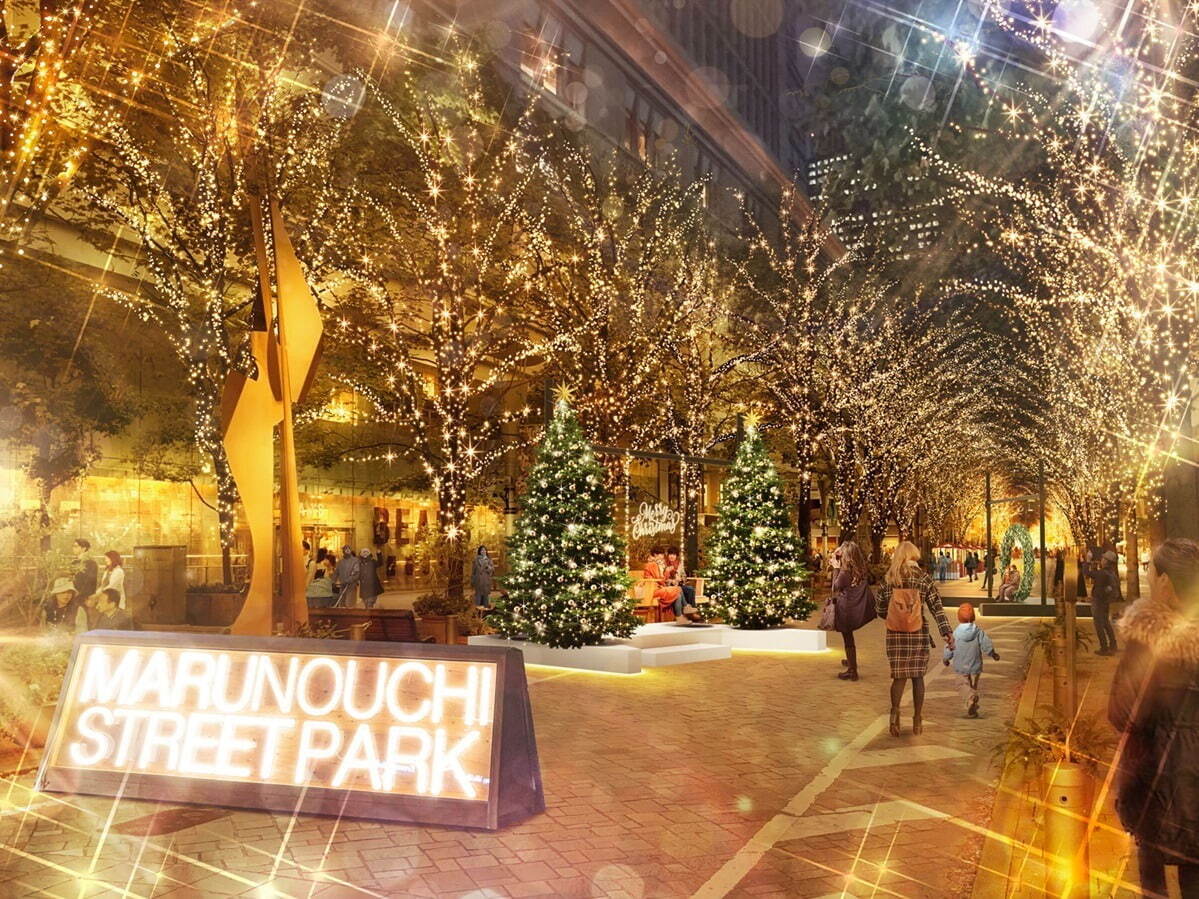 The Marunouchi area, next to the famous and beautiful Tokyo Station and close to the luxury Ginza district, is one of the most elegant areas of Tokyo.
The illuminated Marunouchi Nakadori Avenue has a Christmas market in collaboration with hotels and stores in the surrounding area. Marunouchi Street Park 2023 Winter, a Christmas event on Marunouchi Nakadori Avenue & Gyoko-dori Avenue in Tokyo will be held from Tuesday, November 28 to Monday, December 25, 2023!
Now in its 9th year Marunouchi Street Park is an event where visitors can enjoy a stroll through the streets of Otemachi, Marunouchi, and Yurakucho. Markets and kitchen cars will appear along Marunouchi Naka-dori Avenue and Gyoko-dori Avenue, creating a lively winter scene.
This will be the largest-ever event of its kind, allowing visitors to enjoy a unique Christmas stroll through the streets. If you are in the area, don't miss it either the Marunouchi Illumination 2023, Disney Dreams & Wishes, and other christmas events in the area.
One of the main attractions will be the Glass House Market, a series of pop up stores and restaurants selling goods, drinks and dishes only available during this event. For example the bakery cafe Bread, Espresso & Machiawase will open a Christmas-only hot chocolate specialty store. Koiwai Farms Tokyo, a restaurant offering food and drinks made with fresh ingredients, will open a store selling hot dishes such as cheese steamed buns and pumpkin potage soup.
The Glass House Market will be located in front of the Marunouchi Building, the Yusen Building and the Mitsubishi Corporation Building. On the other hand, nearby, Imperial Hotel kitchen cars will sell food and drinks in front of the Marunouchi Nichome Building and Marunouchi Nakadori Building. The highlight of the menu will be popular cinnamon roll baked by the hotel bakery.
In addition, the popular Merry-Go-Round Bench from the 2022 event will make a return appearance in front of the Marunouchi Park Building and Meiji Yasuda Life Insurance Building. The Peninsula Tokyo will open a Christmas market in the surrounding area, where they will be selling Christmas goods and food.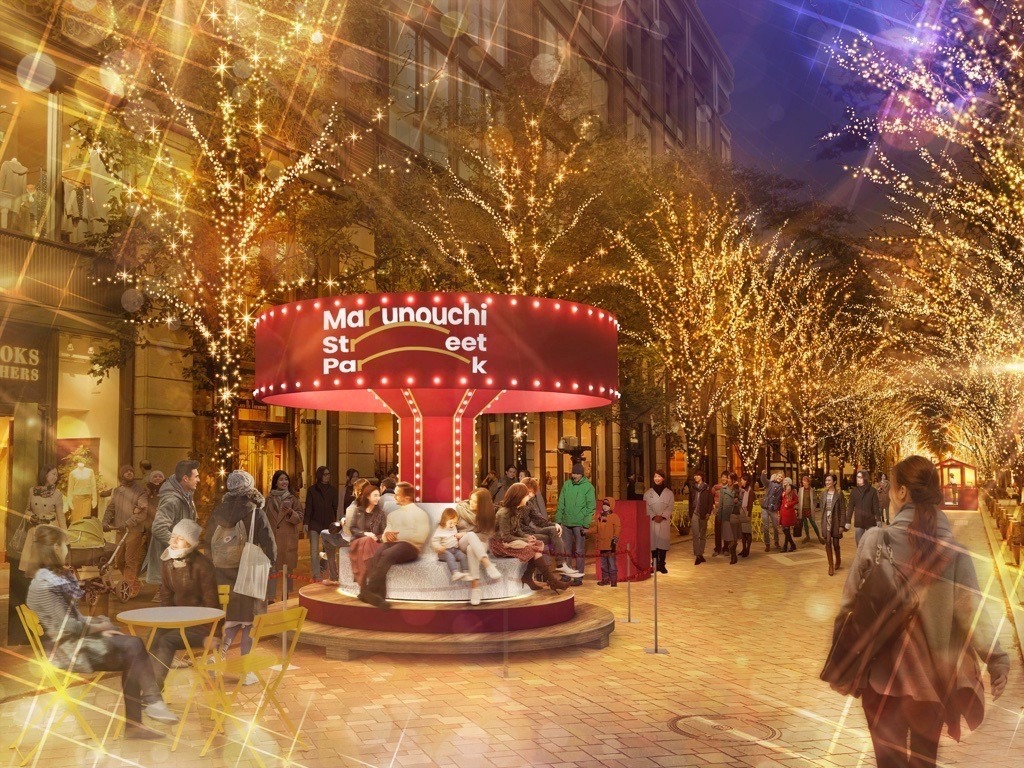 Moreover a limited-time skating rink, Marunouchi Street Rink will open on Gyoko-dori Avenue! Visitors can enjoy skating while viewing the scenery and illumination in front of Tokyo Station.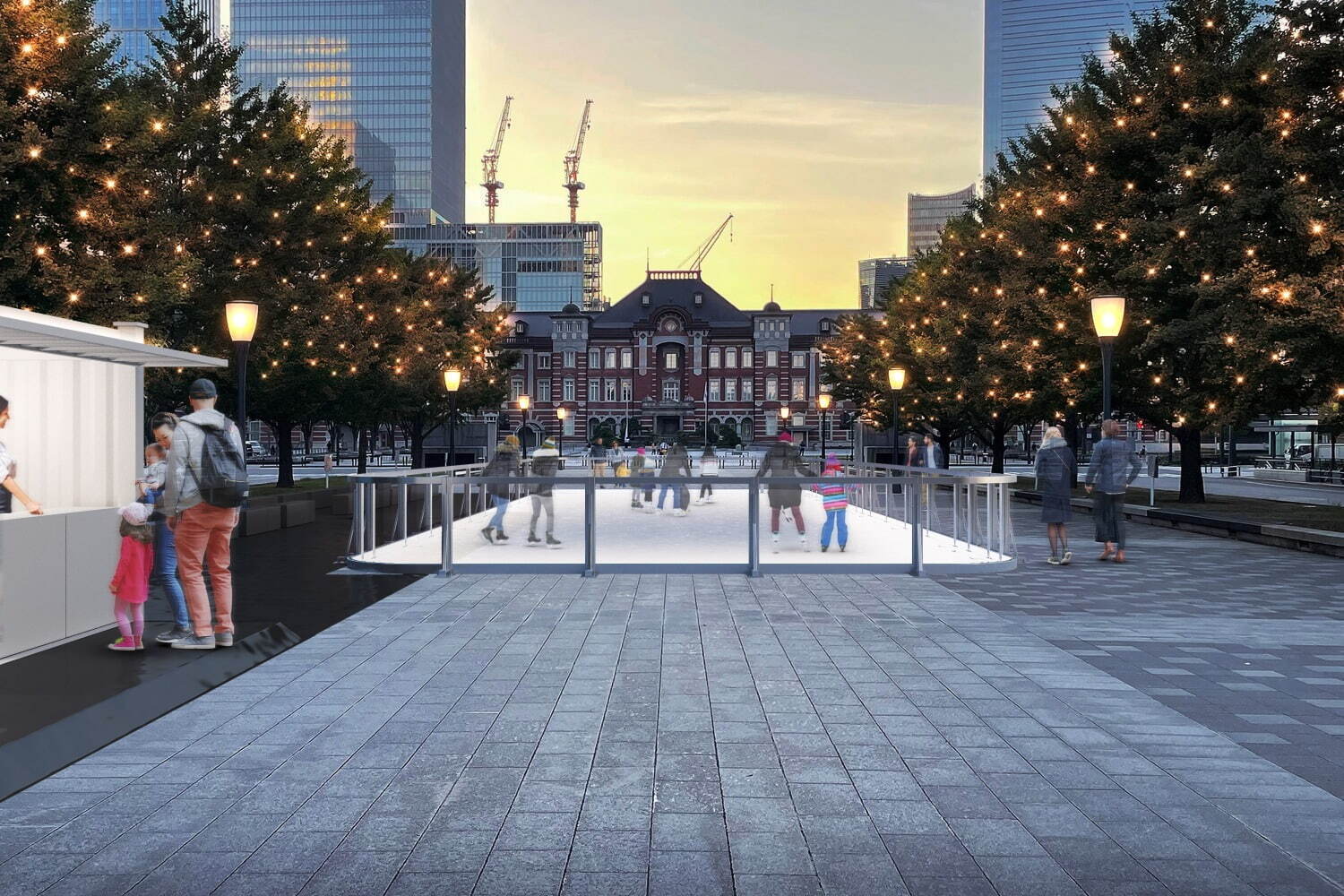 -Marunouchi Street Park 2023 Winter
Location: Marunouchi Naka-dori Avenue ~ Gyoko-dori Avenue
Date: 28 November to 25 December 2023
-Marunouchi Street Rink
Hours: 11:00 ~ 22:00 (last admission at 21:30) *Close in case of rain
Place: Gyoko-dori Avenue
Fees:
Weekday: 1,800 yen for adults; 1,500 yen for students; 1,000 yen for elementary school students from 4 years old
Weekend: 2,300 yen for adults; 1,700 yen for students; 1,200 yen for elementary school students from 4 years old
*Payment is cashless only and includes the cost of rental shoes.
*Weekend rates are available from Saturday, December 16 to Monday, December 25.
*Re-entry is possible on weekdays only on the same day.
*Student ID is required to use the student rate.
*Preschool children must be accompanied by a parent or guardian.
*Auxiliary equipment (550 yen/20 minutes) and lockers (100 yen/time) are extra.
Reservations are not required, but there will be a waiting list when the maximum number of participants reaches 40.
Official Website: https://marunouchi-streetpark.com/
---
If you like winter illumination, here you have more top spots in Tokyo! ▶︎ Tokyo Winter Illumination Guide
▽Popular Winter Illumination in Marunouchi area▽
▶︎Marunouchi Illumination 2023-2024
▶︎Marunouchi Bright Christmas 2023 Disney DREAMS & WISHES
▶︎Hibiya Winter Illumination 2023
---
If you are going to visit Marunouchi during winter, there are more winter events nearby! For more useful articles about best winter events, don't miss these articles!
▽Related Articles▽
▼Editor's Picks▼
---