Best Pocket WiFi Delivered to Hotels in Japan
Which is the best pocket WiFi rental to pick up at hotels in Japan?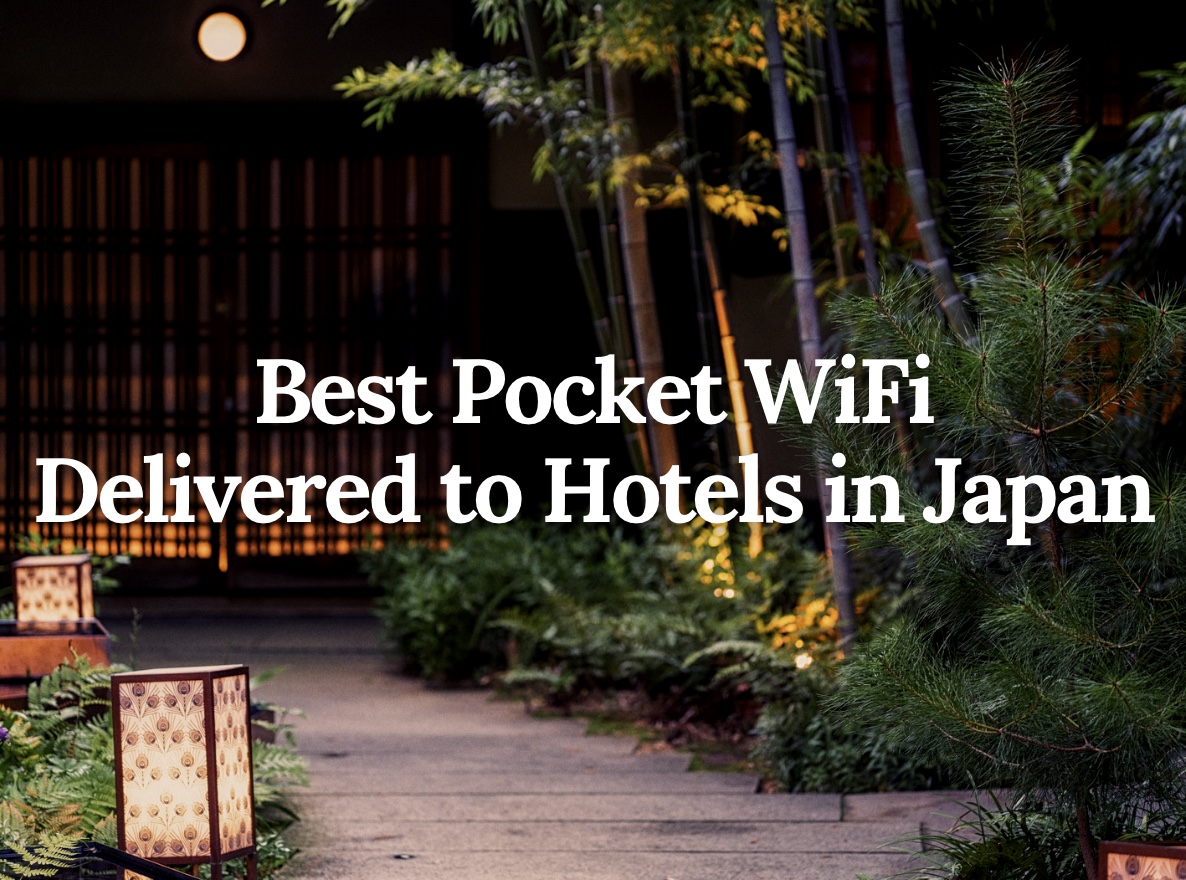 For all travelers who have a plan to visit Japan for sightseeing, business and study, arranging a rental pocket WiFi is one of the most important things to do in advance. Here is an introduction to the best pocket WiFi service in Japan now that deliver their items to hotels. If you stay at a hotel on your arrival date and want to pick up a WiFi unit as soon as you check in, this guide will help you.
Almost all hotels especially in Japanese urban areas allow you to use their WiFi in a building. However, it is how you connect the Internet outside that counts, rather than indoor. Your phone company charges a high fee for data roaming overseas, Free WiFi in Japan imposes a variety of limitations, and SIM cards restrict the usage of data in a certain period. On the other hand, a pocket WiFi has much more advantages compared to those other options.
Won't you feel relived if you receive a perfect WiFi package once you reach your hotel on the first day in Japan? Here are 5 good pocket WiFi rentals in Japan that send useful WiFi routers to hotels around the country. In addition to just picking up the prepared unit, it is easy to return it on the return date since these WiFi companies give you a a pre-paid return envelope included in it.
Check out and book the perfect pocket WiFi for you to receive at a hotel in Japan now!
*Please note that this article contains affiliate links.
---
1. Japan Wireless Premium WiFi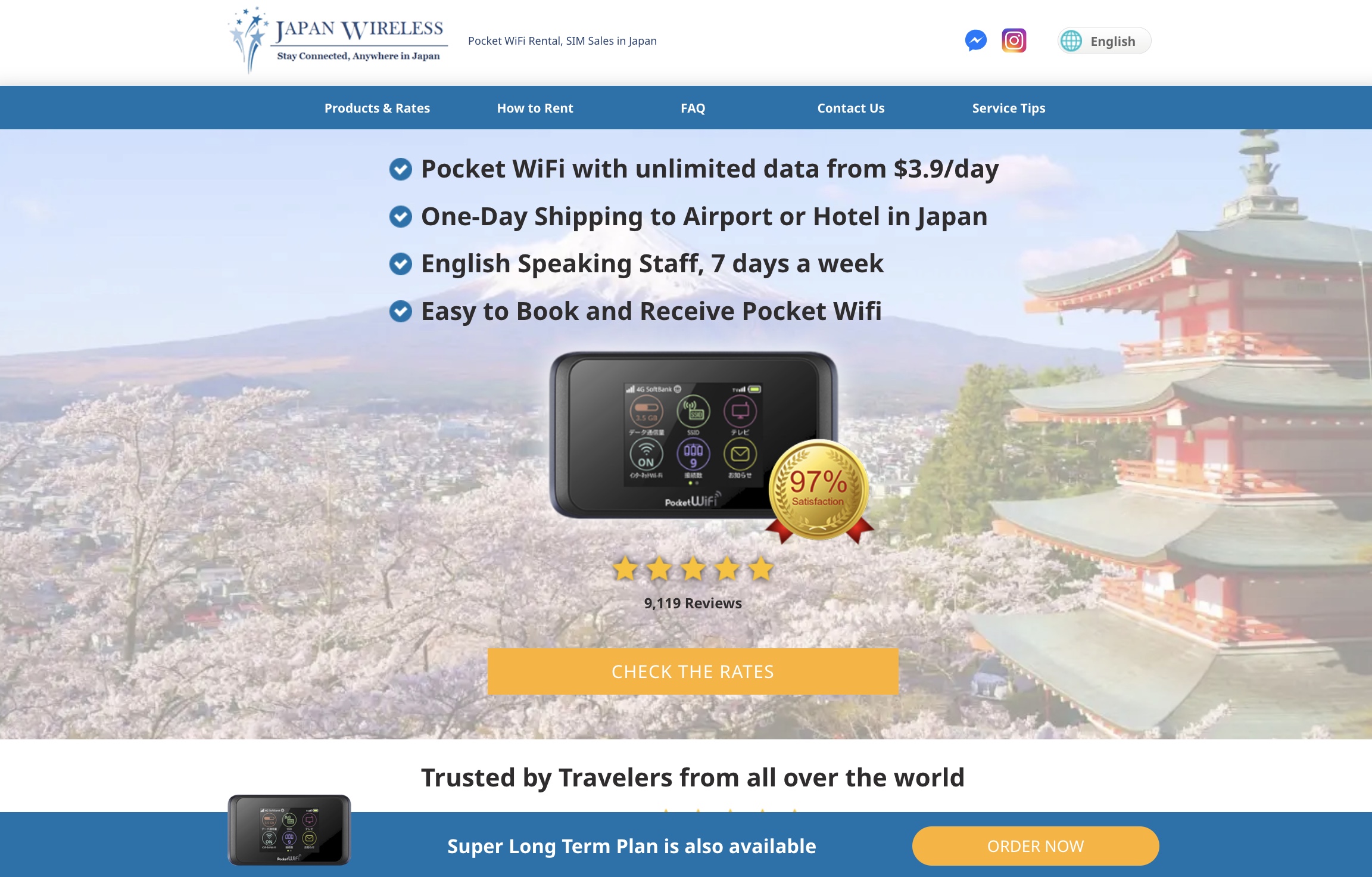 Japan Wireless is one of the leading companies in Japan for WiFi rentals and SIM card sales. The WiFi rental company that has served more than 800,000 customer from around the world since 2012, is one of a few WiFi rental services that offer an unlimited data usage plan at a reasonable price.
It ships your ordered WiFi unit to your hotel all over the country just within 1-2 days. After your travel ends, you can return the items by using an included pre-paid return envelope and asking staff in the hotel or drop it into a post box anywhere in Japan. There are two plans Premium WiFi and Business WiFi in Japan Wireless, and Premium WiFi is much more recommended to every visitor since its WiFi enables you to use unlimited high speed data.
Here is the exclusive coupon code to get 20% OFF now: JPW001
▶︎Click here for more details about Japan Wireless!
2. Sakura Mobile Travel WiFi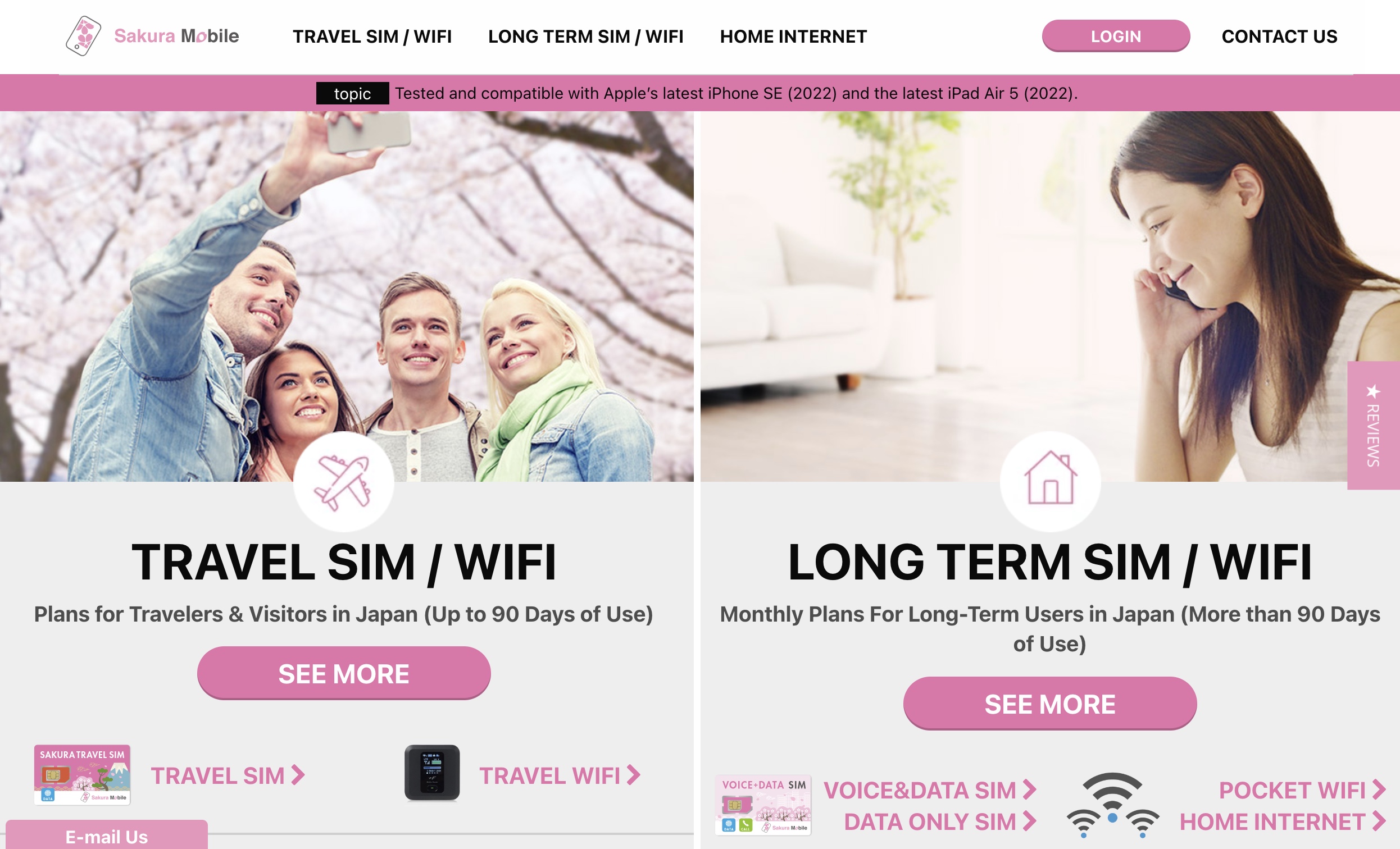 Sakura Mobile is a WiFi rental service friendly to English speaking visitors in Japan with the concept of "A Wireless service for people from overseas." There are SIM card and pocket WiFi options for travel and long-term in Sakura Mobile.
With a Sakura Mobile Travel WiFi, you can use unlimited data with 4G LTE network. The company also offers SIM cards for 8,15,30,45,60 and 90 days. Of course, it delivers a pocket WiFi unit to the hotel you designate for you to receive it when you check in.
▶︎Click here for more details about Sakura Mobile Travel WiFi!
3. Ninja WiFi Unlimited Plan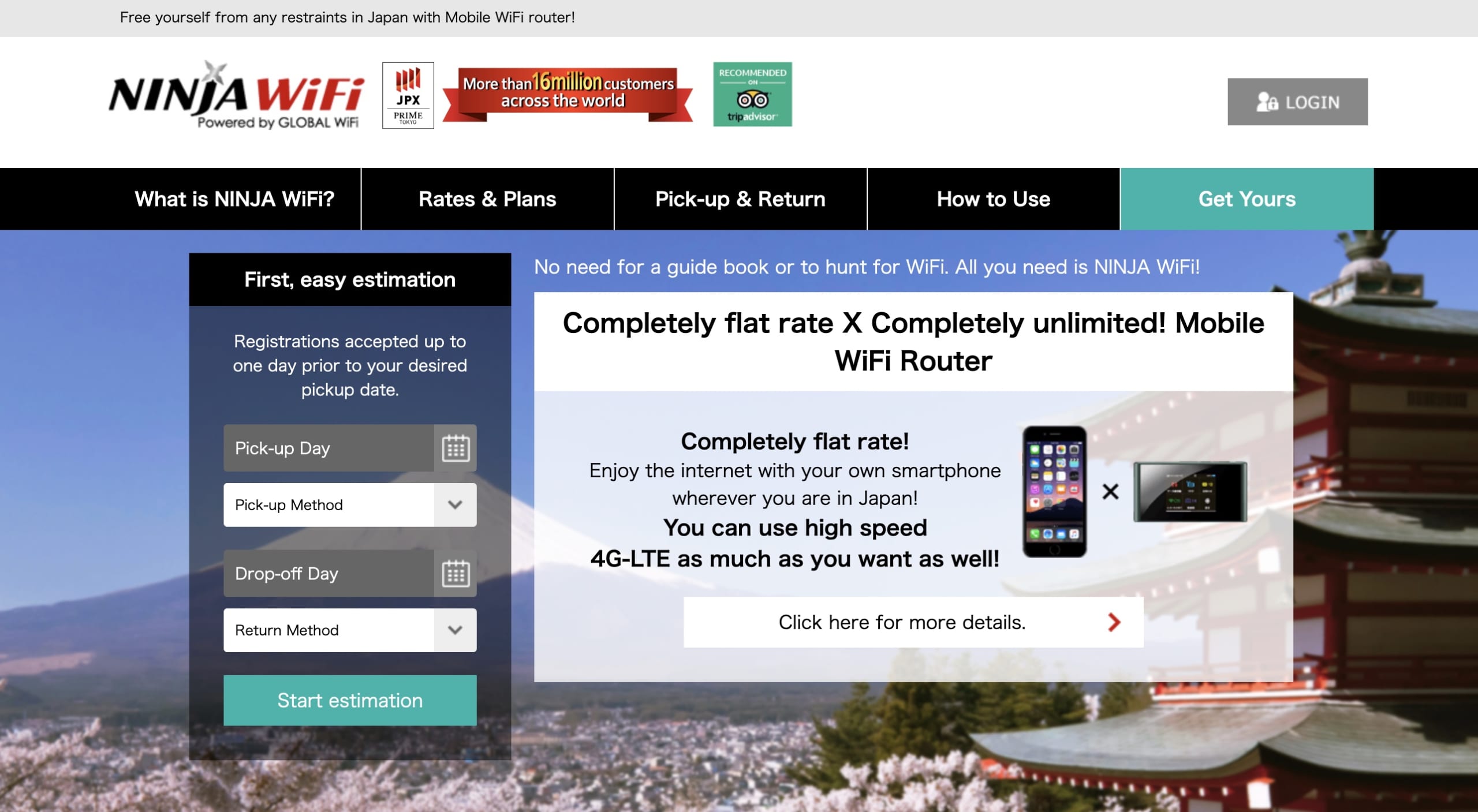 If you want to get a mobile WiFI with unlimited data usage at hotels, a popular WiFi rental Ninja WiFi is what you take into consideration. Its motto is "Free yourself from any restraints in Japan with Mobile WiFi router!"
Ninja WiFi serves two models of pocket WiFi: Unlimited Plan (Softbank) and 1GB per day plan(Softbank). Its unlimited WiFi router is on an unlimited data basis with 4G LTE speed while it is not the cheapest option in Japan. There are other optional items such as pre-paid SIMs and voice language translators in Ninja WiFi.
▶︎Click here for more details about Ninja WiFi Unlimited Plan!
4. CD Japan CloudAir Cloud Wi-Fi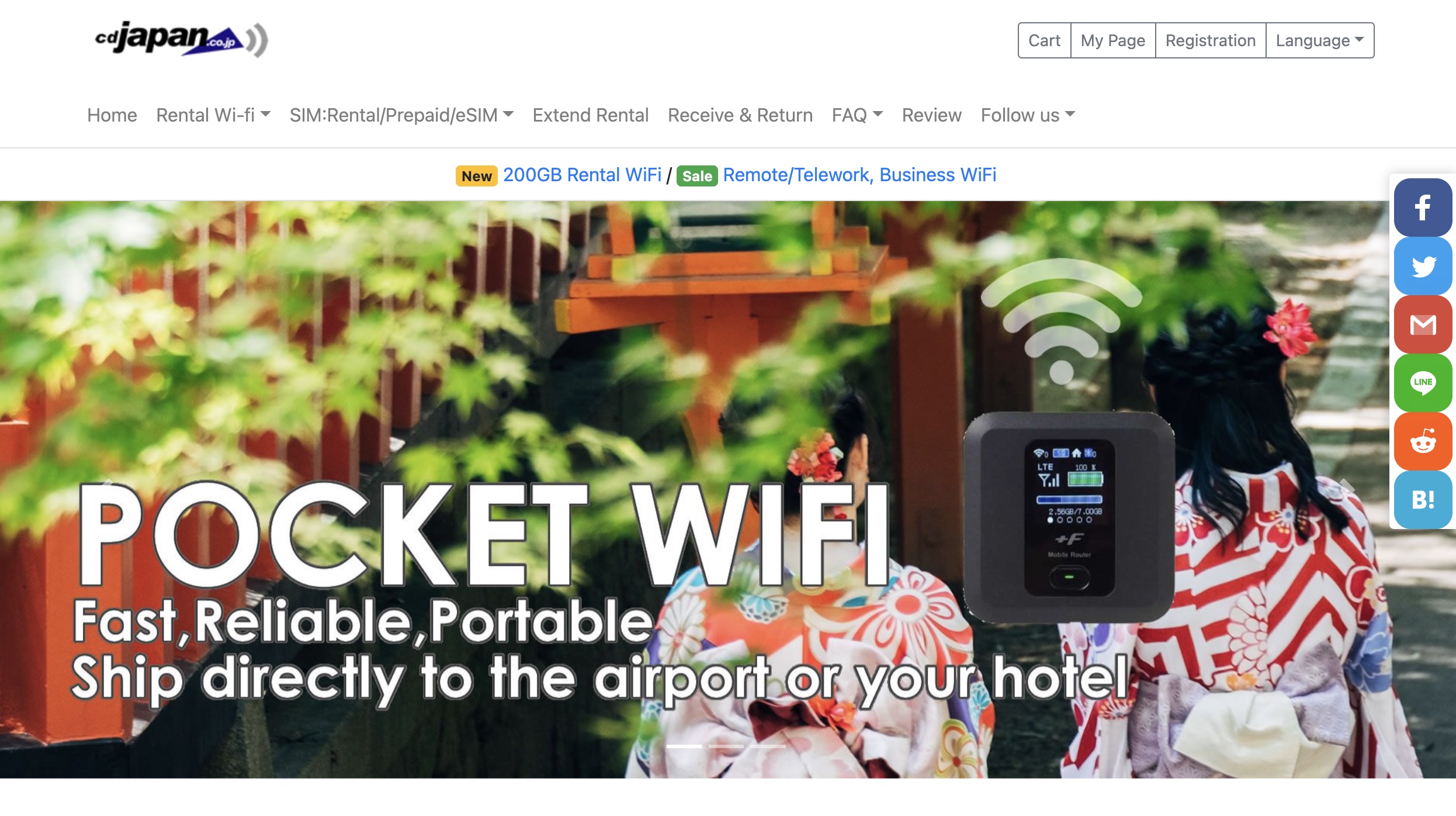 CD Japan CloudAir has provided SIM cards and portable WiFi rentals with visitors from over 50 countries since 2014. There three types of WiFi rental plans Cloud Wi-Fi (200GB/Month), Cloud Wi-Fi (150GB/Month) and Softbank Wi-Fi (100GB/Month).
With a Cloud Wi-Fi (150GB/Month), you can use 150GB with the 150Mbps (Download)/50Mbps (Upload) rate with up to 5 devices. CD Japan CloudAir offers hotels and airports as pick-up locations as well as other services.
▶︎Click here for more details about CD Japan CloudAir Cloud Wi-Fi!
5. Mobal WiFi
A large telecommunications company Mobal started its service in Japan from the end of the 1990, offering pocket WiFi routers and SIM cards for home and travel. You can use a stable network with a Mobal WiFi without complicated set-up once you receive it.
The pocket WiFi plan is available from 3 months, and there is 100GB data allowance with no daily limits. Its customer service in English will help you when problems occur.
▶︎Click here for more details about Mobal WiFi!
---
In the following article, we have compiled information on various types of accommodations in Japan, including hotels and traditional Ryokan. With our Japan Accommodation Guide, find the perfect lodging experience for you!
▽Subscribe our free newsletter!▽
For more info about traveling in Japan, check these articles below, too!
▽Related Articles▽
▼Editor's Picks▼
---