10 Best Hotels with a View of Mt.Fuji
Mount Fuji Unveiled: Where Luxury Meets Nature's Majesty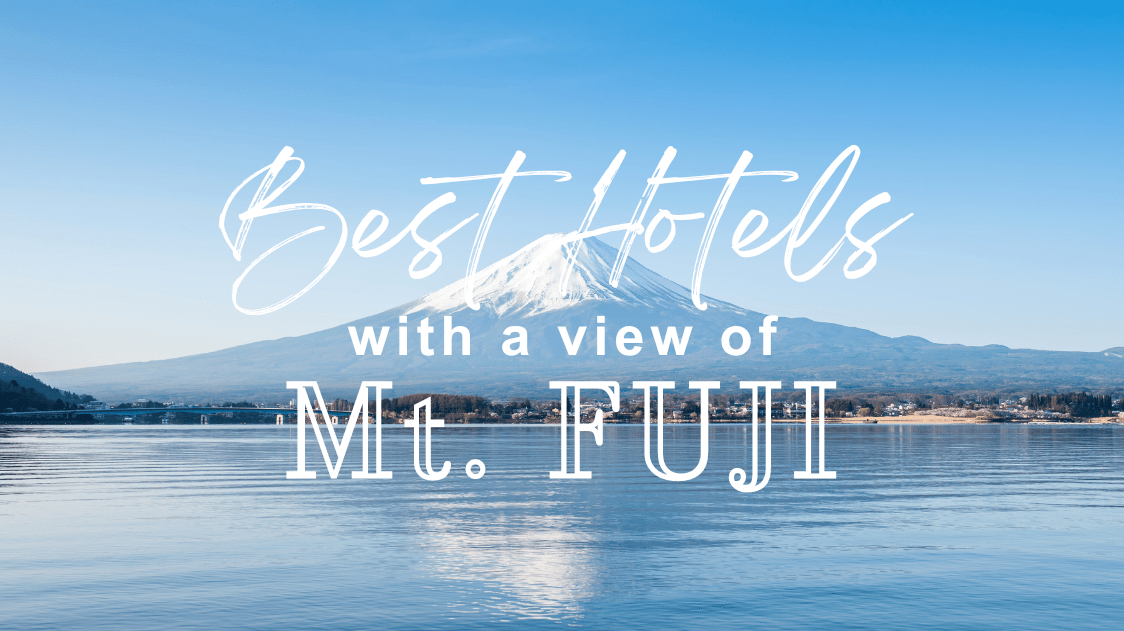 Mt. Fuji, Japan's tallest and most revered mountain, stands as a symbol of beauty, resilience, and cultural significance.
Its near-perfect symmetrical cone, often capped with snow, has inspired poets, artists, and dreamers for centuries. As an emblem of Japan, Mt. Fuji's ethereal beauty attracts millions, making it a bucket-list destination.
For international visitors, the allure of this iconic peak extends beyond its visual splendor. Staying at a hotel with a direct view of Mount Fuji offers not just a visual treat but a deep, immersive experience of Japanese heritage. It transforms a simple vacation into a holistic journey where one can wake up to the majestic sight of Fuji, savoring its ever-changing hues and moods. By choosing such accommodations, travelers don't just visit Japan; they feel its essence, making their trip unforgettable.
In this article, I will introduce our list of the 10 best hotels with a view of Mt. Fuji. Not all of the places on this list are necessarily hotels, however, are places where you can spend a relaxing time while contemplating the vast nature that this area provides.
*Please note that this article contains affiliate links.
---
1. Yurari (Yamanashi)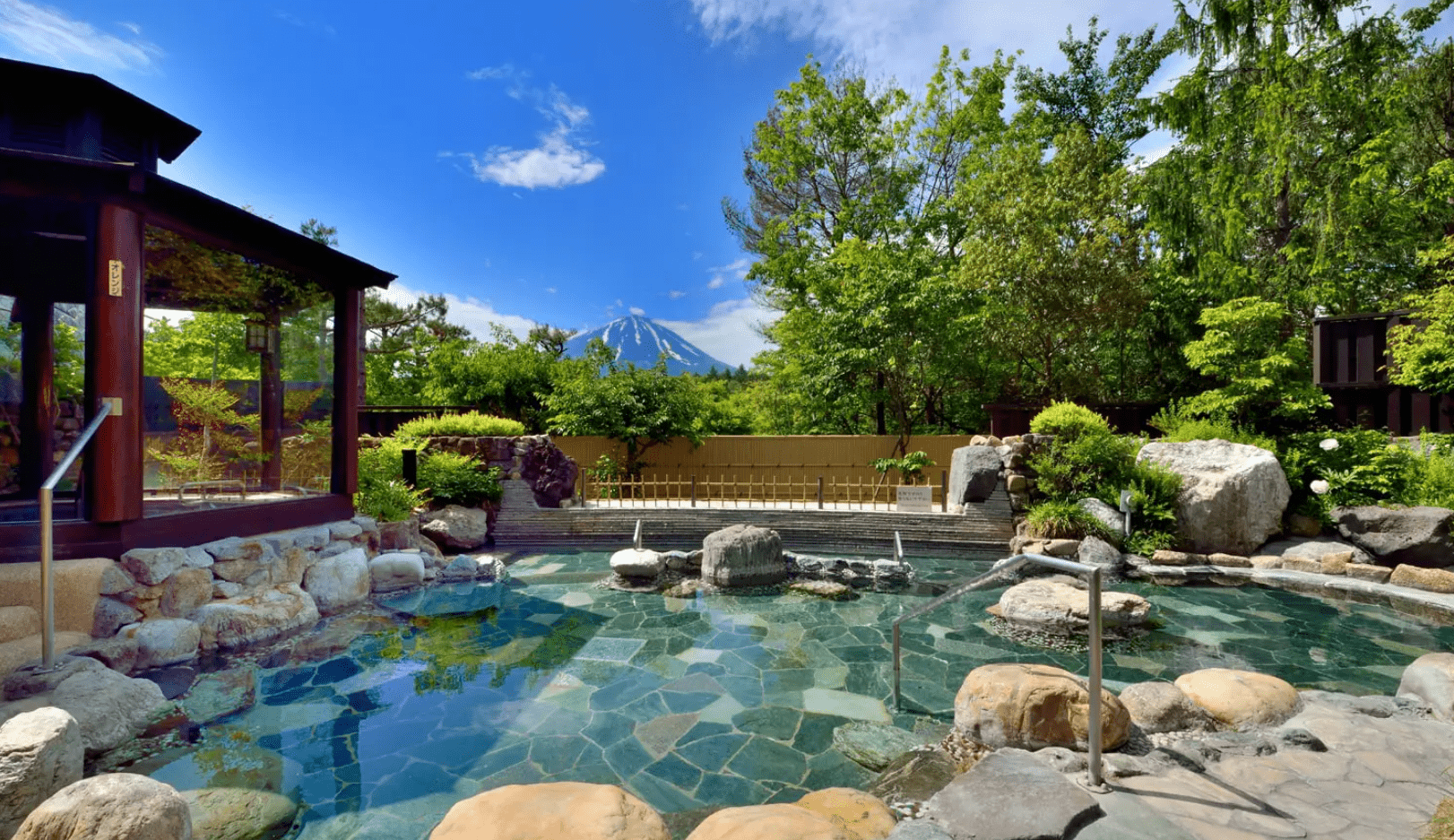 The first place on our list is not actually a hotel, but a day-use hot spring facility. Yurari (ゆらり), located in Yamanashi, offers breathtaking panoramic views of Mount Fuji.
It boasts 16 diverse baths, including open-air, panoramic, carbonated, and cave baths. The facility promotes holistic relaxation with body care services, traditional Japanese scrub treatments, and relaxation rooms. Additionally, two dining areas highlight Yamanashi's local ingredients. A unique feature of Yurari is the "Okariba" private dining room, where local traditional dishes like "Houtou" pot and Koshu beef Sukiyaki are served, interestingly delivered by a mini steam locomotive. With ample amenities, guests can conveniently visit without bringing any essentials.
2. Nippondaira Hotel (Shizuoka)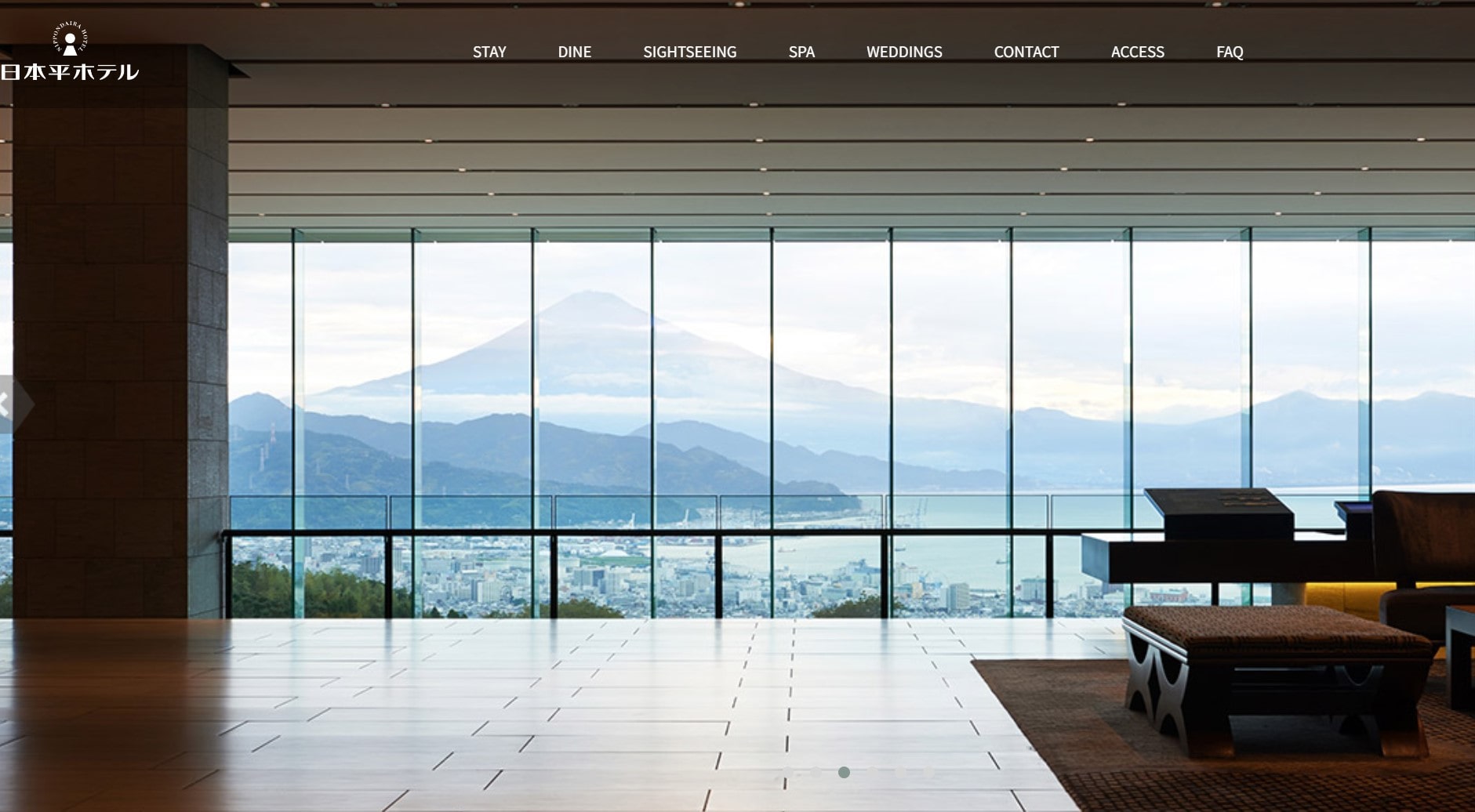 The Nippondaira Hotel (日本平ホテル) in Shizuoka offers breathtaking views of Mount Fuji, Miho no Matsubara, and Suruga Bay. Overlooking these serene landscapes provides a relaxing escape from daily stress. By night, guests are treated to mesmerizing views recognized as Japan's Night View Heritage.
Located approximately 2 hours and 30 minutes by car from Tokyo, the hotel is also easily accessible via a free shuttle bus from Shizuoka Station, which takes about 40 minutes. Rooms range from Western-style to Japanese-Western hybrids, categorized by their views: Mount Fuji or Nippondaira. The "Nippondaira Twin" features a 6-meter-wide panoramic window, allowing guests to soak in Fuji's majesty. Their "Corner Suite" boasts a view bath, perfect for intimate moments, offering unhindered views: majestic Mount Fuji and the blue ocean by day, and the illuminating city and harbor at night.
<<Book Online: Nippondaira Hotel>>
3. Hotel Green Plaza Hakone (Kanagawa)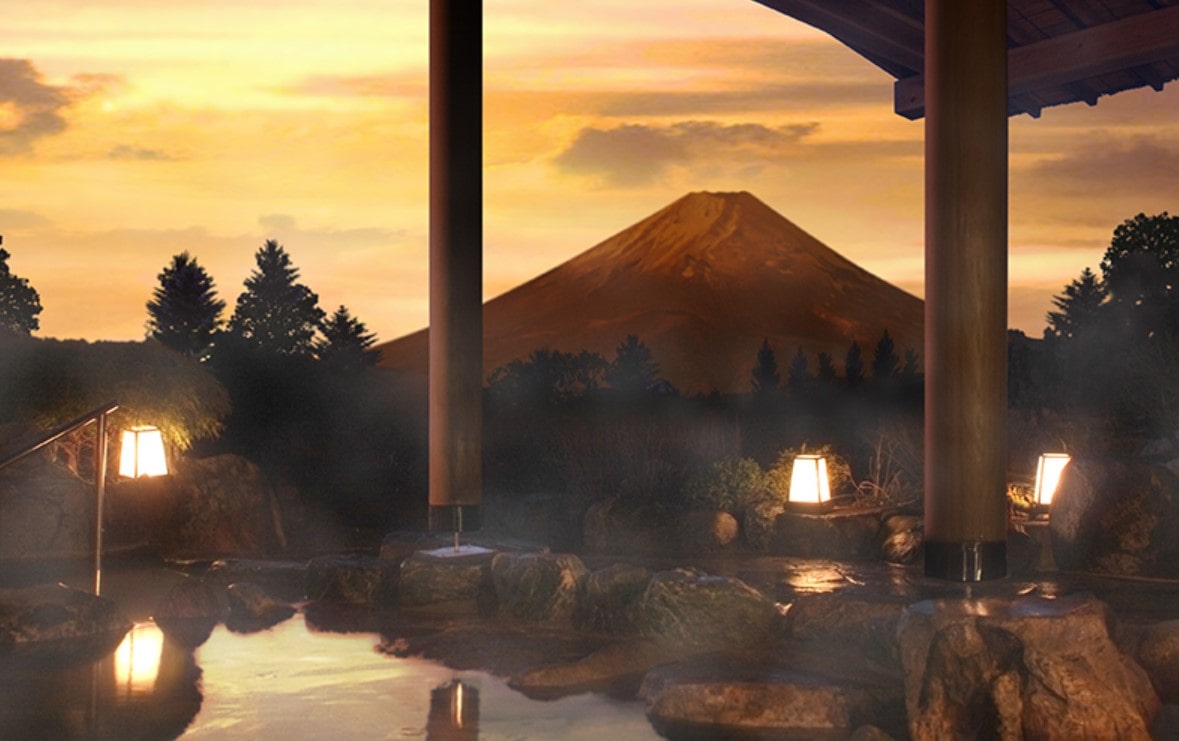 Next, on our list is the Hotel Green Plaza Hakone (ホテルグリーンプラザ箱根) which is a resort hotel nestled in the mountains of Hakone at an elevation of 860 meters.
Conveniently located just a 5-minute walk from the Ubako station of the Hakone Ropeway, the hotel boasts rooms named "Fujimi Western-Japanese Rooms" which, true to their name, offer breathtaking views of Mount Fuji. The highlight, however, is the open-air bath that provides a stunning view of Mount Fuji, especially during dusk. As the setting sun casts a warm glow on the iconic mountain, guests can indulge in a luxurious hot spring experience, losing track of time as they soak in the beauty and tranquility.
<<Book Online: Hotel Green Plaza Hakone>>
4. Mifuji-en (Yamanashi)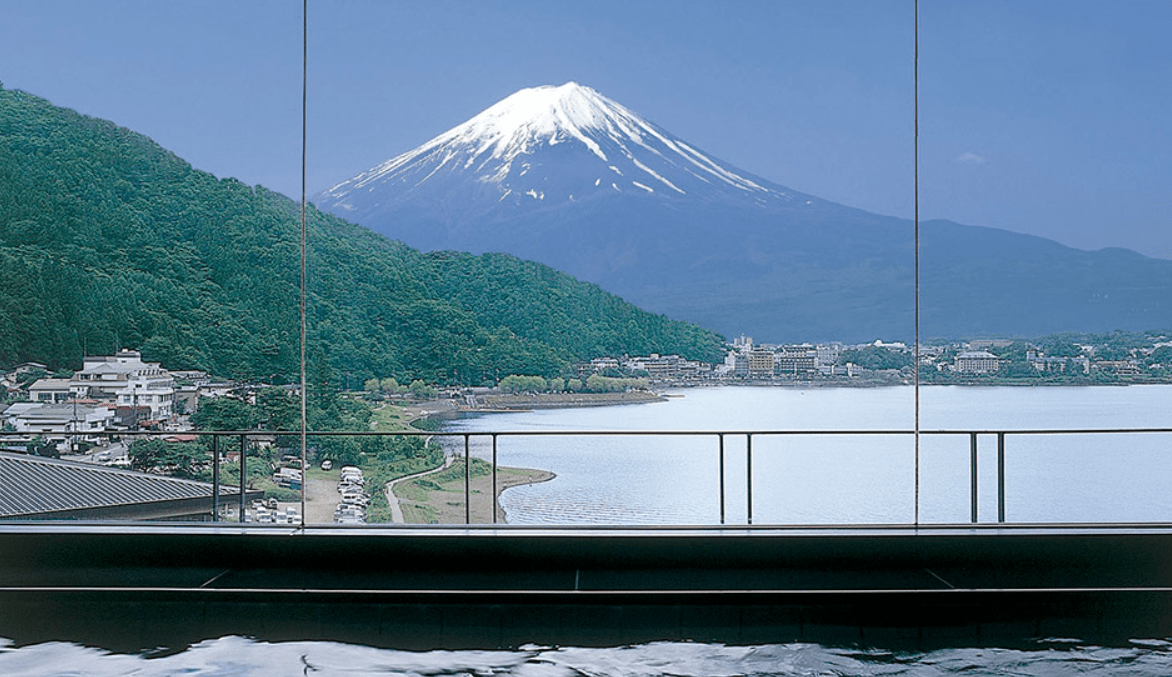 Situated by the serene lakeside and surrounded by nature, Mifuji-en (美富士園) offers guests unparalleled views of both Mount Fuji and Lake Kawaguchi from every room. This location makes it an ideal spot for travelers seeking a rejuvenating escape amidst Japan's iconic landscapes.
Additionally, Mifuji-en prides itself on its natural hot spring baths. Sourced from 1,500 meters underground, the onsen facility includes both a large communal bath and an open-air bath. While soaking, guests can indulge in sweeping views of Mount Fuji and Lake Kawaguchi. The gentle properties of the spring water promise a soothing experience for both mind and body. As a renowned spot in the region, Mifuji-en has been recognized for its commitment to hospitality and offering a tranquil atmosphere for relaxation.
5. Fugaku Gunjo (Shizuoka)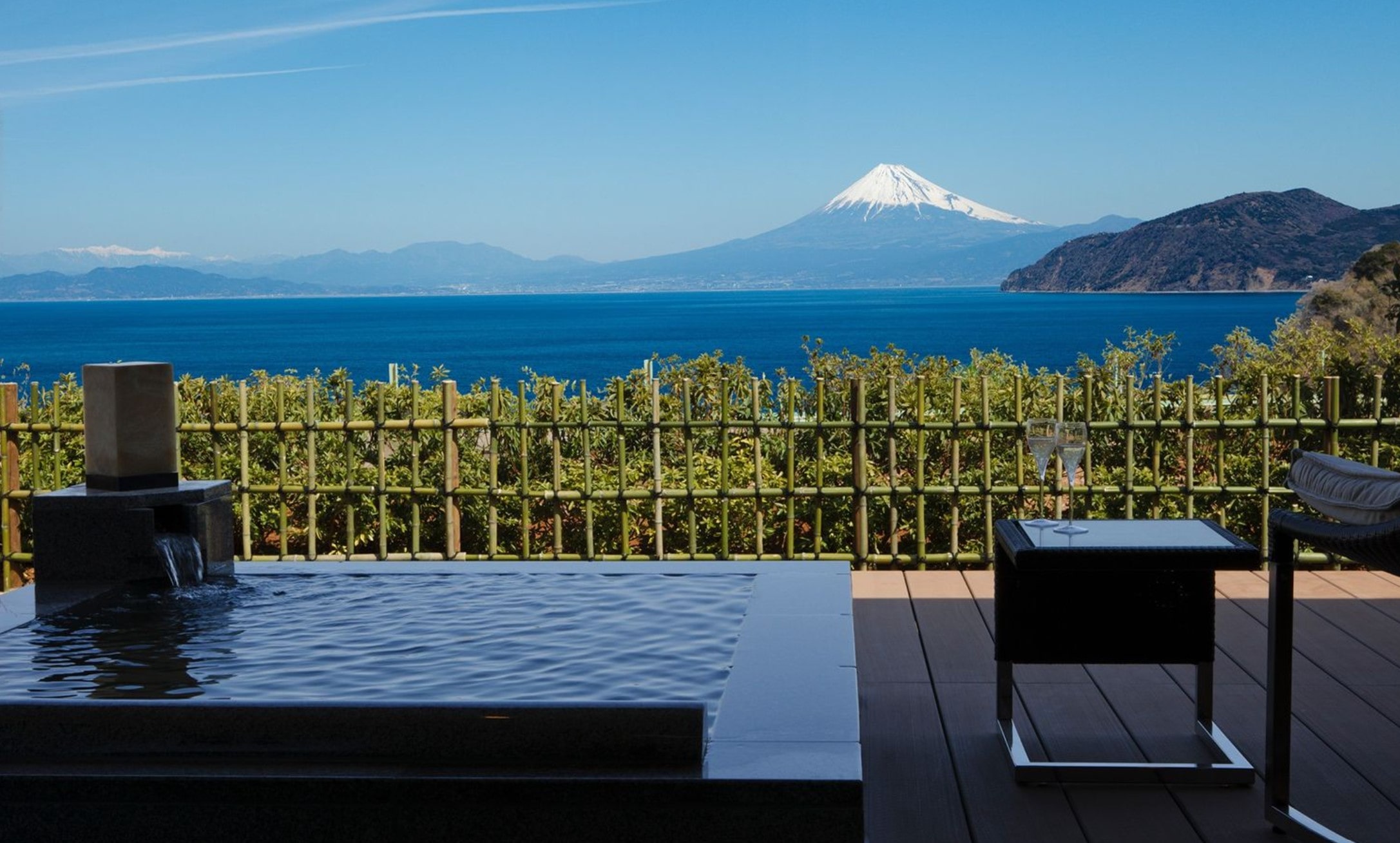 Fugaku Gunjo (世界遺産 富士山を望む宿 富岳群青), situated in West Izu's Toi Onsen, is a luxury inn with only eight suites, each boasting picturesque views of Mount Fuji by the sea.
Ideal for special occasions, its refined ambiance is complemented by in-room spa and acupuncture services suitable for both men and women. Located 50 minutes from Shuzenji Station, the inn offers an all-inclusive plan with complimentary treatments and free dinner drinks. The cuisine is a delightful fusion of Japanese and French, spotlighting Suruga Bay's seafood and Izu's seasonal vegetables, served in private dining rooms for an uninterrupted, leisurely experience.
6. Shojiko Camping Cottage (Yamanashi)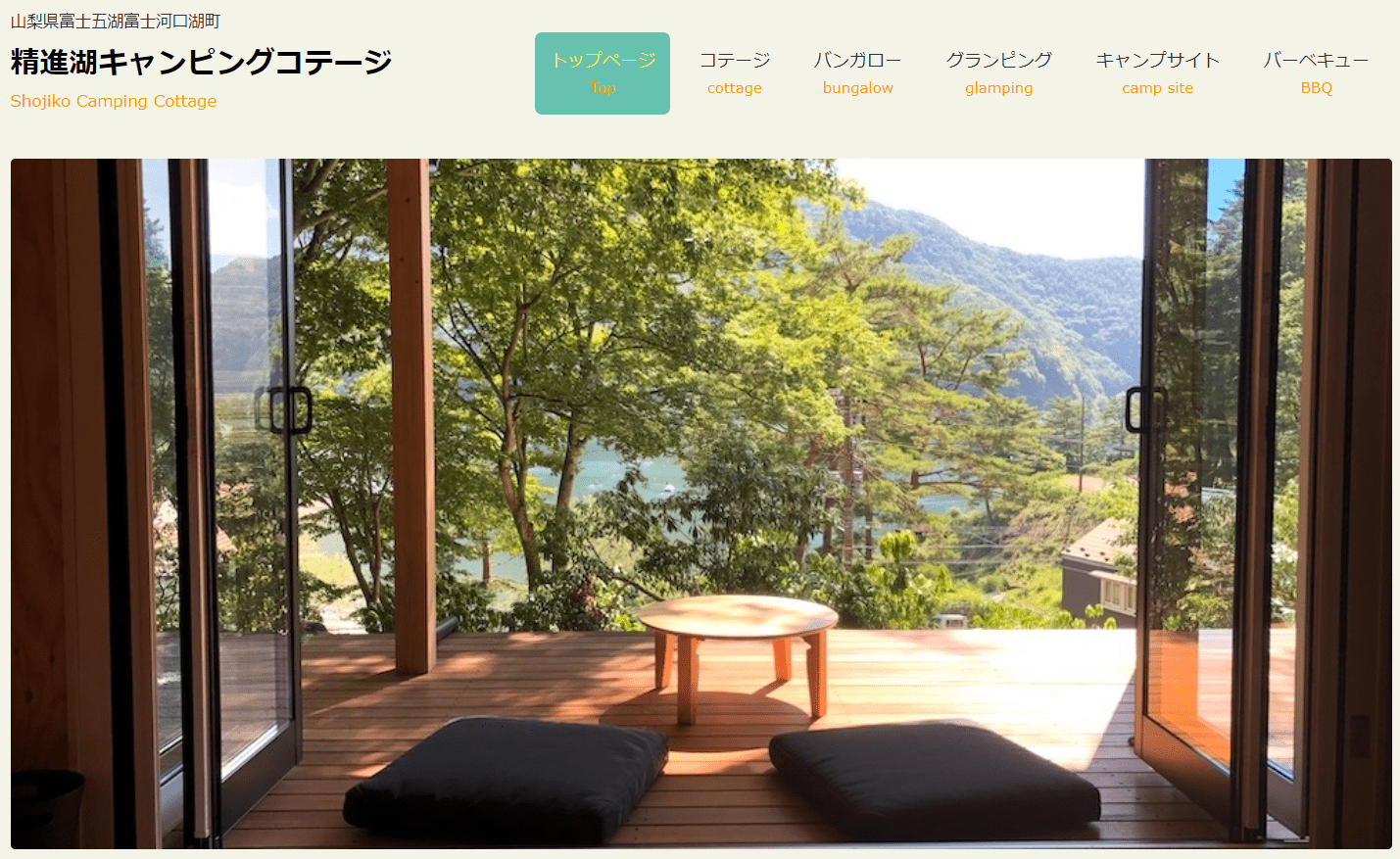 Located in Yamanashi prefecture, Shojiko Camping Cottage (精進湖キャンピングコテージ) provides a secluded glamping experience northwest of Mount Fuji, adjacent to Lake Shojiko.
Unlike other local sites, it offers both glamping and traditional camping options. Guests can opt for tent rooms or cottage rooms, each boasting captivating views of Lake Shojiko and Mount Fuji. For dining, the site equips guests with BBQ tools. Visitors have the flexibility to bring their own ingredients or purchase them on-site, making it a versatile destination for those seeking an authentic yet comfortable outdoor experience.
7. Fujino Kirameki (Shizuoka)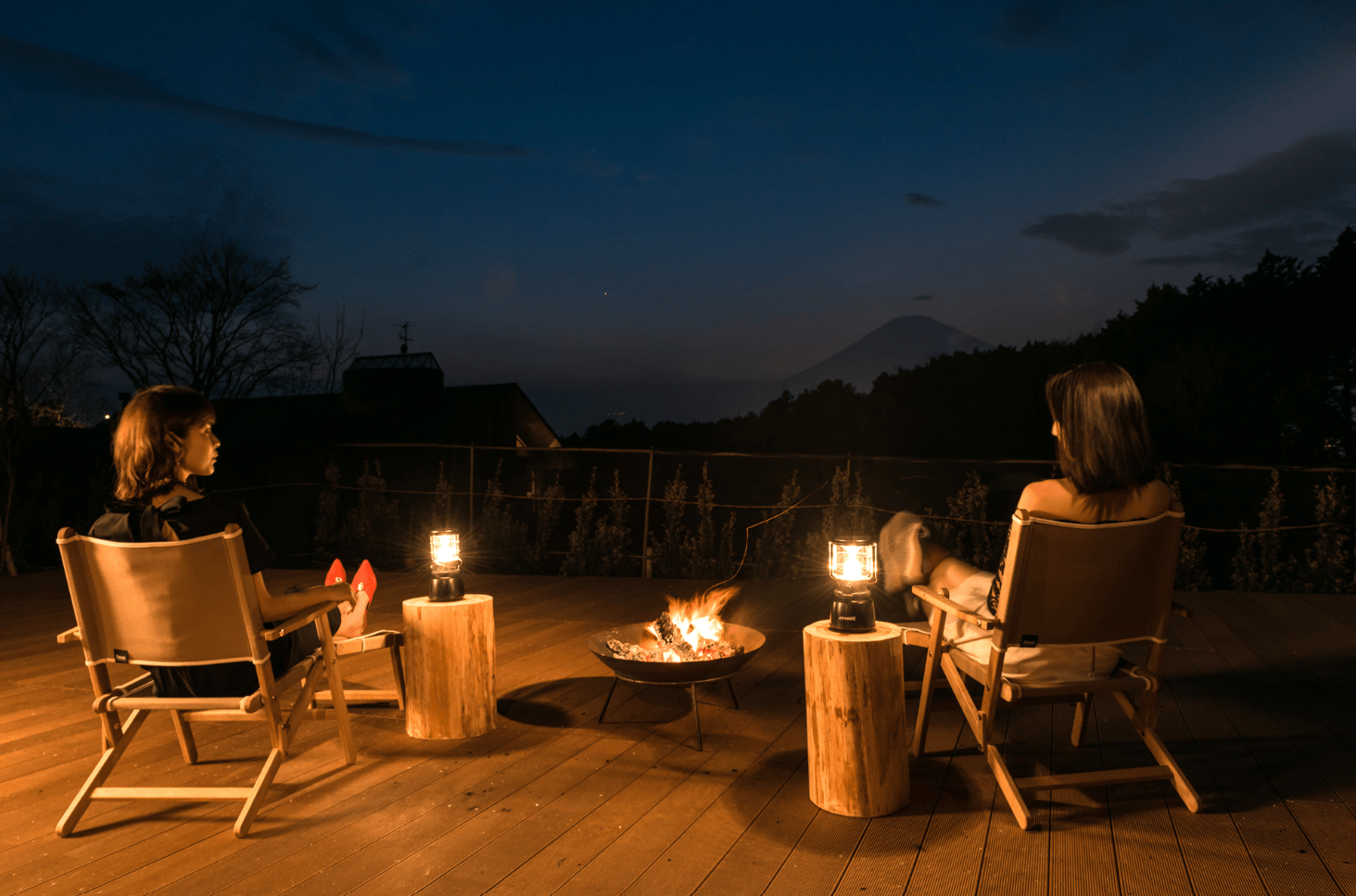 Fujino Kirameki (藤乃煌 富士御殿場), located in Gotemba city, Shizuoka, offers a unique glamping experience with a distinct view of Mount Fuji from its southeast side.
All room types at this sought-after site face Mount Fuji, ensuring guests always have a picturesque backdrop. While the site boasts a variety of activities and services, nearby attractions further enrich the guest experience. For evening meals, guests have the flexibility of a DIY BBQ, with provided ingredients and equipment, or opt for a prepared BBQ experience, ensuring a blend of authenticity and convenience during their stay.
<<Book Online: Fujino Kirameki>>
8. The Prince Hakone Ashinoko (Kanagawa)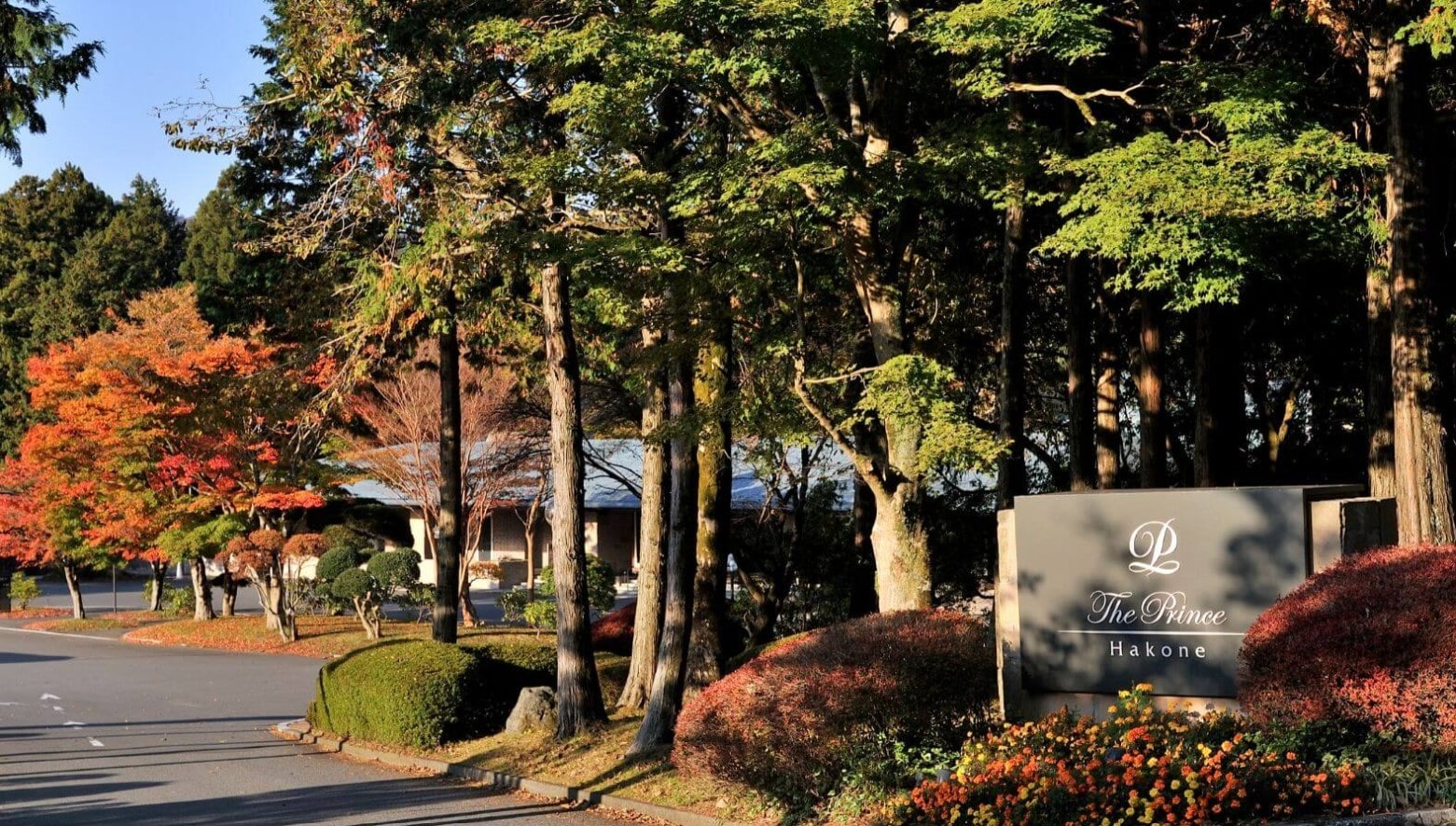 Our next hotel on this list is The Prince Hakone Ashinoko (ザ・プリンス 箱根芦ノ湖). This luxurious resort hotel is perched by Lake Ashi shores in Kanagawa.
Its "Mount Fuji View Twin Rooms" boast expansive windows and balconies, offering guests a stunning panorama of Lake Ashi with Mount Fuji in the backdrop. The sight of the iconic mountain alongside the serene lake, especially during sunrise and dusk, provides a soothing retreat from the travels. Additionally, nearby is the Komagatake Ropeway, another popular viewpoint for gazing at Mount Fuji. The Prince Hakone is known not just for its breathtaking views but also for its top-tier amenities and service, making it a favored choice for travelers seeking a harmonious blend of nature and luxury.
<<Book Online: The Prince Hakone Lake Ashinoko>>
9. Onyado Fuji Ginkei (Yamanashi)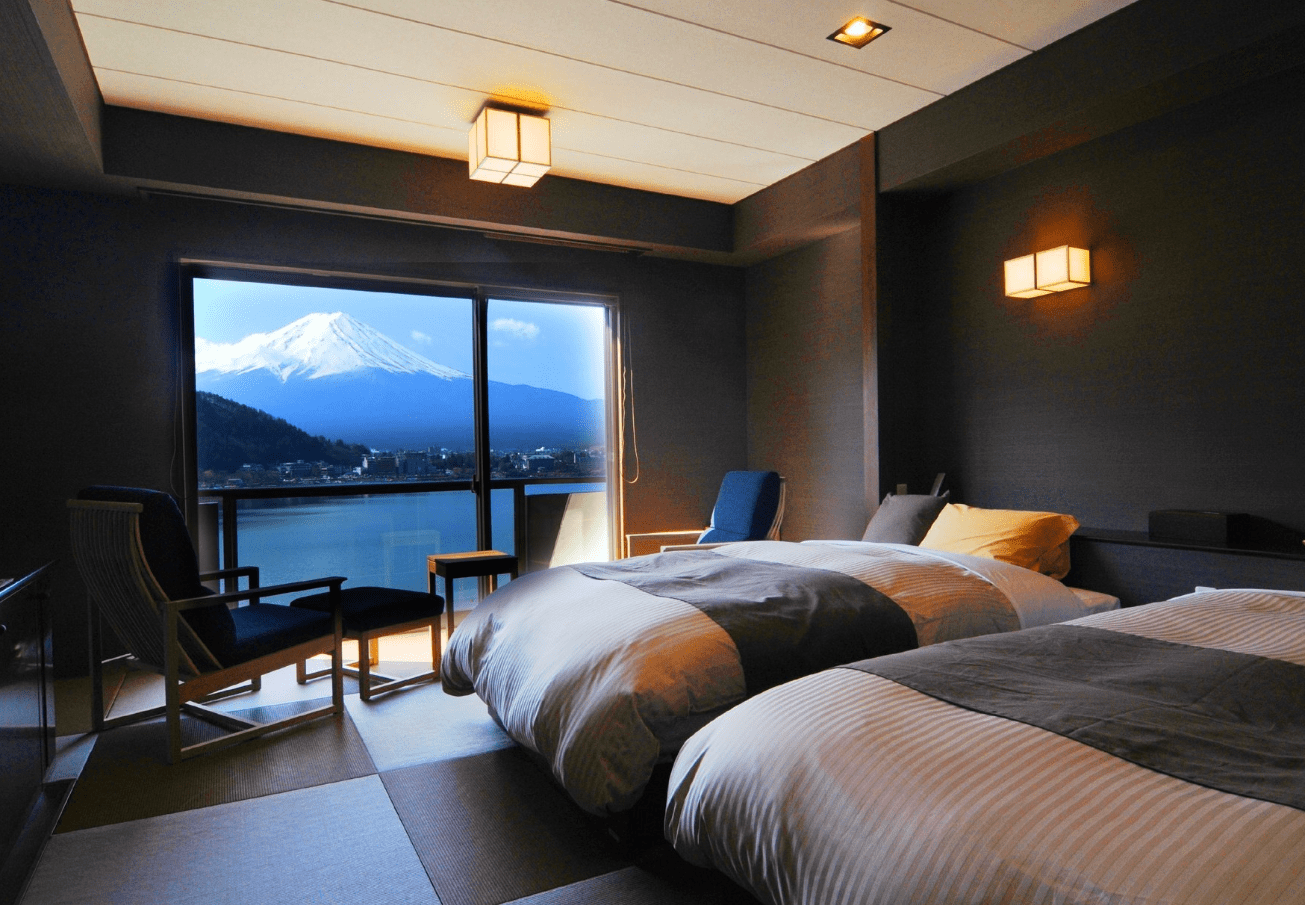 Onyado Fuji Ginkei (おんやど 富士吟景), a contemporary Japanese-style inn, sits by Lake Kawaguchi's northern shore, offering captivating views of Mount Fuji's reflection on clear days.
A mere 5-minute taxi ride from Kawaguchiko Station, guests can also enjoy a 30-minute scenic walk. The inn's highlight is the "Fujimi no Yu" open-air bath, which seamlessly integrates views of the lake and Mount Fuji, enhanced by shimmering city lights at night. For those seeking elegance, the "Bettei Rin" rooms provide a harmonious blend of modern and traditional aesthetics, complemented by the comfortable and relaxed wear of samue (作務衣).
<<Book Online: Koraku Onyado Fujiginkei>>
10. Kyukamura FUJI (Shizuoka)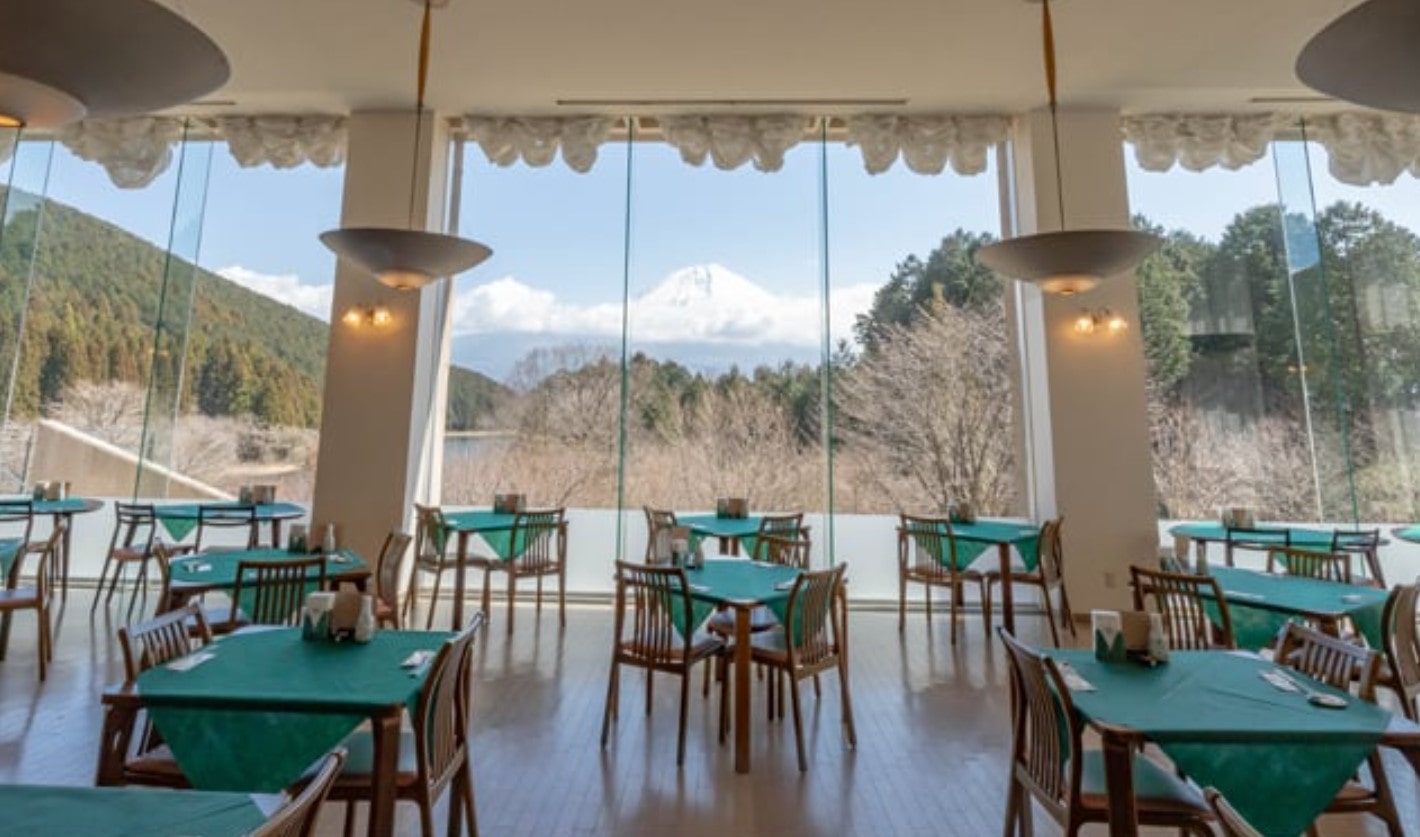 And lastly, on our list, we have the Kyukamura FUJI (休暇村富士) in Shizuoka. This hotel is a lakeside retreat boasting unparalleled Mount Fuji views. Guests can savor this iconic mountain's vista from their rooms, café, restaurant, or the onsen, which features a skin-friendly natural spring sourced from deep underground.
Dining at the hotel celebrates Shizuoka's culinary riches, with options ranging from traditional kaiseki to buffets filled with local specialties. Additionally, the hotel offers popular 1LDK cottages set amidst verdant surroundings, with several being pet-friendly. Positioned at Mount Fuji's base, the area offers abundant activities, from trekking to paragliding, immersing guests in nature's splendor.
<<Book Online: Kyukamura Fuji>>
---
▽Here are more Hotels and other accommodations near Mt. Fuji!▽
▶Onsen at Lake Kawaguchiko with a View of Mt.Fuji!
▽Subscribe to our free news magazine!▽

Check the articles below for more information about Mt. Fuji and its surroundings!
▽Related Articles▽
▼Editor's Picks▼
---