Best Hotels in Shinjuku
From fancy luxury to unique capsule hotels and more!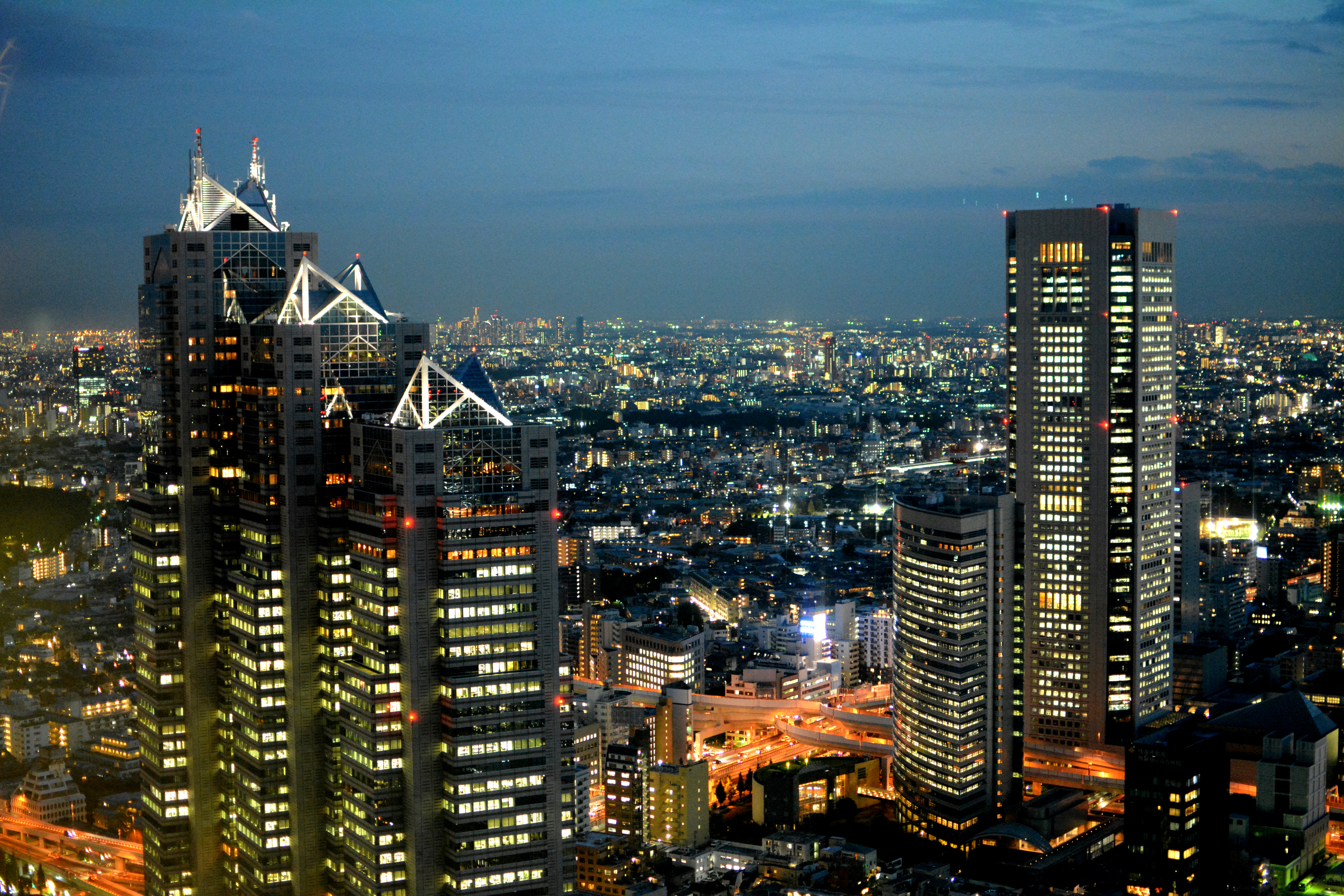 Tokyo is a super huge city, and I always say that it doesn't have a "center" but that there are many districts that are important for different reasons. It's like Tokyo has many 'centers'. However, if I had to say were is the "heart of the city", it would undoubtedly be Shinjuku, one of the most important business and leisure districts in Japan. Shinjuku station is the busiest in the world, and from there you can take almost all existing train lines in Tokyo and go everywhere. In addition, it's very well connected to Narita International Airport.
For all these reasons, Shinjuku is a very convenient place to stay in trip to Japan. It's not surprising then that it's one of the neighborhoods with more hotels in Tokyo, due to high demand. In Shinjuku you can find all the types of hotels you can imagine, from luxury hotels where you don't need to leave the hotel complex because you have everything inside to cheaper options such as hostels and guesthouses or the famous capsule hotels, passing by a whole range of intermediate hotels.
With so much offer, it can be difficult to decide for one. But do not worry! In this list I will show you the best hotels in Shinjuku for all tastes and budgets. Let's check them!
*Please note that this article contains affiliate links.
Luxury
Park Hyatt Tokyo
Park Hyatt Tokyo (パークハイアット東京) is located in the center of Shinjuku district, only 10 minutes walk from Shinjuku Station, and is popular for having appeared in the famous movie Lost in Translation.
The hotel is located in the Shinjuku Park Tower building, the work of the famous Japanese architect Tange Kenzo. It is one of the most famous buildings in Shinjuku, visible from any viewpoint and that attracts attention for its three emblematic glazed pyramids that crown the three towers that make up the building. The Park Hyatt hotel occupies the upper floors of the building, from 39 to 52, so it has one of the best views of the city.
◆◇◆ Click HERE to book Park Hyatt Tokyo with the best rate!! ◆◇◆
Hotel Chinzanso Tokyo
Hotel Chinzanso Tokyo (ホテル椿山荘東京) used to be a mansion with garden built by a government official called Yamagata Aritomo in 1878. Already at that time, its owner Mr. Aritomo liked to receive visits in his mansion, and 140 years later, transformed into a hotel, the rooms and gardens of the mansion continue to welcome visitors.
Hotel Chinzanso Tokyo is located in Bunkyo Ward, around 4km from Shinjuku. However, it's near enough to the heart of Tokyo and for its beauty and uniqueness it deserves to be mentioned in this list. It's the perfect place for those who want to visit Tokyo but want to escape the noise to rest after a day of sightseeing. As you can see in the pictures, the rooms and the garden are just amazing and the hotel itself could be a tourist spot.
◆◇◆ Click HERE to book Hotel Chinzanso Tokyo with the best rate!! ◆◇◆
Midrange
Keio Plaza Tokyo
Keio Plaza Hotel Tokyo (京王プラザホテル東京) is a luxury-affordable hotel in the heart of Shinjuku, launched by Keio who runs their own railway company and several departments stores in Japan.
With 45 floors, the hotel offers a wide range of rooms, from more affordable ones to super luxury ones. But all its rooms, even the most economical, are designed in detail and with a luxurious atmosphere. Inside the hotel we find everything we need, including 21 restaurants, shops, swimming pool, etc. They also have family rooms, and they are striving to be one of the hotels with more facilities for people with mobility problems.
◆◇◆ Click HERE to book Keio Plaza Hotel with the best rate!! ◆◇◆
Citadines Central Shinjuku Tokyo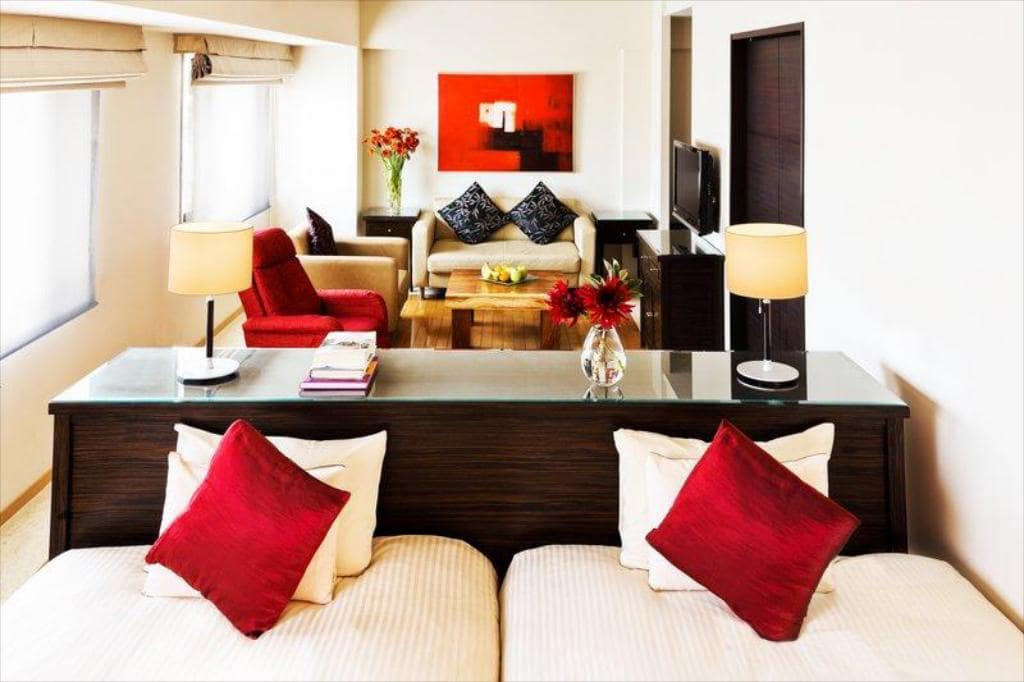 Citadines Central Shinjuku Tokyo (シタディーンセントラル新宿東京) is located an 8-minutes walk from JR Shinjuku Station and Shinjuku Sanchome and Higashi Shinjuku metro stations are also located nearby.
The hotel is very close to the Shinjuku red light district, one of the biggest night life area in Tokyo. But don't worry! It's a safe neighborhood, and you can go out to enjoy the atmosphere and then walk back to the hotel. The hotel has a modern style, with contemporary rooms.
◆◇◆ Click HERE to book Citadines Central Shinjuku with the best rate!! ◆◇◆
Nishitetsu Inn Shinjuku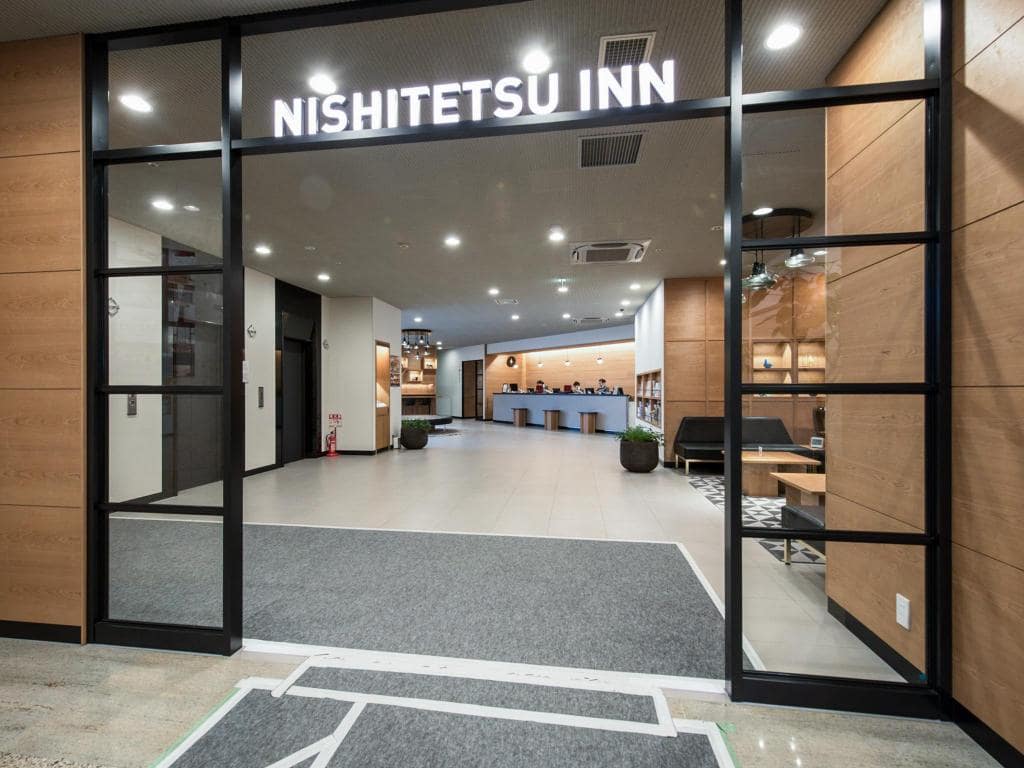 Nishitetsu Inn Shinjuku(西鉄イン新宿) it's a business hotel with a really good price-quality ratio located in Nishi-Shinjuku, a centric but calm area inside the bustle of Shinjuku.
Business hotels are a very popular type of hotel in Japan created to spend a few days, on short business trips. Since there are many, they usually have competitive prices. The Nishitetsu Inn Shinjuku is cheaper than the previous ones we have seen but still has all the necessary facilities for your stay in Japan. The rooms are smaller than the preview two hotels, but comfortable and new.
◆◇◆ Click HERE to book Nishitetsu Inn Shinjuku with the best rate!! ◆◇◆
Budget
Sotetsu Fresa Inn Higashi Shinjuku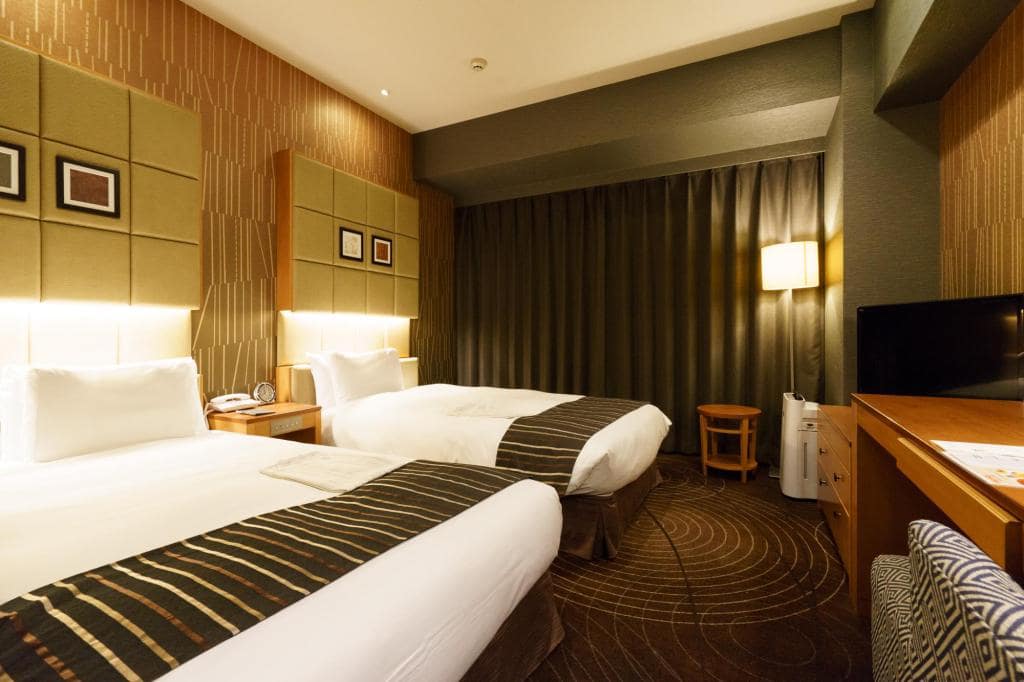 Sotetsu Fresa Inn Higashi Shinjuku (相鉄フレッサイン東新宿) is located near Shin-Okubo, the district known as "Korean Town" in Tokyo, with a large number of Korean cosmetics stores and fancy & cute coffee shops.
This hotel is the perfect option for those who are looking for something cheap but centric and with private rooms, with an elegant design and fully equipped. In addition to the rooms, the hotel facilities offer all the services you need during your stay in Tokyo, including an ATM, currency exchange, laundry service and breakfast among others.
◆◇◆ Click HERE to book Sotetsu Fresa Inn Higashi Shinjuku with the best rate!! ◆◇◆
Shinjuku Kuyakusho-mae Capsule Hotel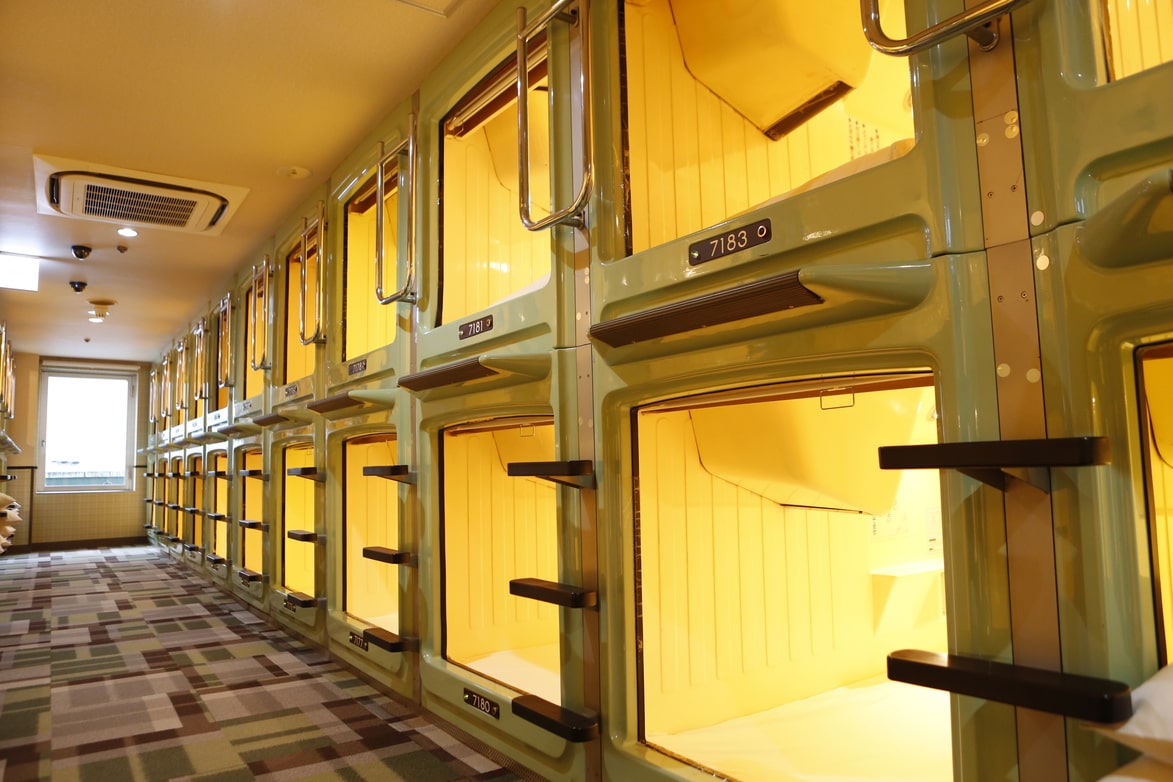 Shinjuku Kuyakusho-mae Capsule Hotel (新宿区役所前カプセルホテル) it's, as the name implies, a capsule hotel. Capsule hotels (or pod hotels) are a type of hotel that offers small bed-sized rooms called "capsules". Each of these capsules is made to fit one person.
Capsule hotels are a very popular modality in Japan, especially for those who have to spend a night outside for work but don't want to spend a lot of money. In a country where many people did overtime at work until very late, the capsule hotels were invented as an economical way to spend the night away from home but be able to rest. But more and more people also use it for short trips, and the hotels are becoming more and more conformable. Recently, it has also become popular with foreign travelers not only for the price, but also because they want to just experience how it is like to spend a night in one of these famous capsules.
◆◇◆ Click HERE to book Shinjuku Kuyakusho-mae Capsule Hotel with the best rate!! ◆◇◆
Hostel and Guesthouse
Book And Bed Tokyo Shinjuku
The Book and Bed Tokyo chain quickly became popular on the internet even abroad for its novel and original idea of putting together a hotel and library.
There are many people who like to read before going to sleep to relax. In Book and Bed you can rent a room from one night to only one hour and during the time you are in the room you can take any of the thousands of books that are available. If you look at the photos, the place looks more like a library or a bookstore than a hotel. But a bookstore in which they have put beds. How many times have you been hooked on a book and regretted having to finish reading because you had to go? Here you can go to bed with your chosen book! Or read in the common areas if you prefer.
Actually, it's hard to believe that nobody had made something similar before in Japan since those known as "Manga Cafe" have existed for many years. The manga cafe are small rooms with just a sofa and a computer in which to spend the night if you have lost the last train and you don't have much money. They're called "Manga Cafe" because in addition to the mini rooms they offer free sleeves and drinks during your stay. Book and Bed have taken this concept but have added a much more elegant and sophisticated design, books and not only sofas but beds (in the Manga Cafe there are no beds).
If you like the idea and want to try but don't want to spent a whole night there you can try just one or two hours! I'm sure it will be a totally unique experience! I think it's obvious that I'm in love with this hotel concept, right? 😂
◆◇◆ Click HERE to book Book and Bed Tokyo with the best rate!! ◆◇◆
Imano Tokyo Hostel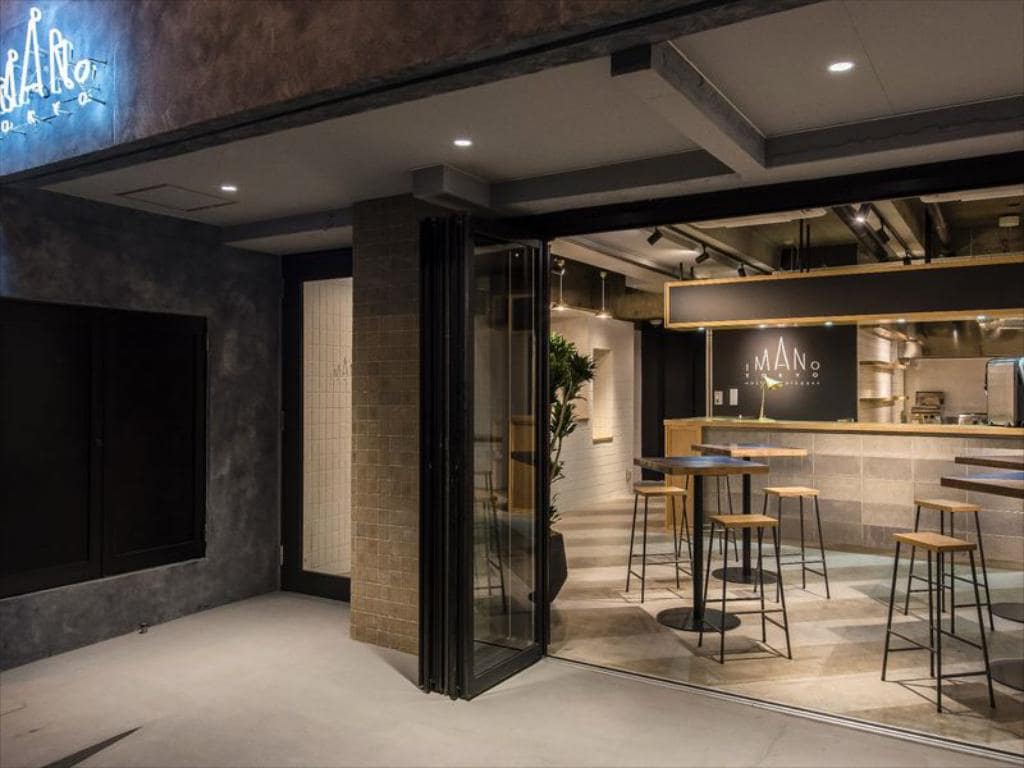 Imano Tokyo Hostel (イマノ 東京ホステル) is located less than 10 minutes from Shinjuku Station and is the ideal option for backpackers or people looking for more than just accommodation as it offers various activities such as theme parties or happy hour. The hostel also has private rooms, so it also serves families or groups of friends. Although you are thinking more for young travelers who want to make friends during their stay in the city.
◆◇◆ Click HERE to book Imano Tokyo Hostel with the best rate!! ◆◇◆
Ryokan
Onsen Ryokan Yuen Shinjuku
Onsen Ryokan Yuen Shinjuku (温泉旅館由縁新宿) i's one of the few ryokan available in the Shinjuku area.
A ryokan is a traditional Japanese inn that usually feature tatami-matted rooms, communal onsens (hot baths) and other public areas. Onsen Ryokan Yuen has managed to perfectly combine tradition with modernity, resulting in one of the most elegant ryokan in Tokyo. It's the perfect choose for all those who want something different and unique and live an authentic Japanese experience during their trip.
◆◇◆ Click HERE to book Onsen Ryokan Yuen Shinjuku with the best rate!! ◆◇◆
Did you enjoy my list? 🙂 For more information about Shinjuku area, please check out these articles too!
Where to Eat in Shinjuku?
▶︎Best Restaurants in Shinjuku
▶︎Best Ramen in Shinjuku
▶︎Best Sushi in Shinjuku
▶︎Michelin Star Restaurants in Shinjuku
What to Do in Shinjuku?
▶︎Best Things to Do in Shinjuku
1st: Robot Restaurant
2nd: Shinjuku Gyoen Park
3rd: Golden Gai
4th: Shopping
5th: Tokyo Metropolitan Government Building
▽Related Articles ▽
▼Editor's Picks▼
---