5 Best Sushi in Shinjuku
Best Places to Eat Sushi in Shinjuku, Tokyo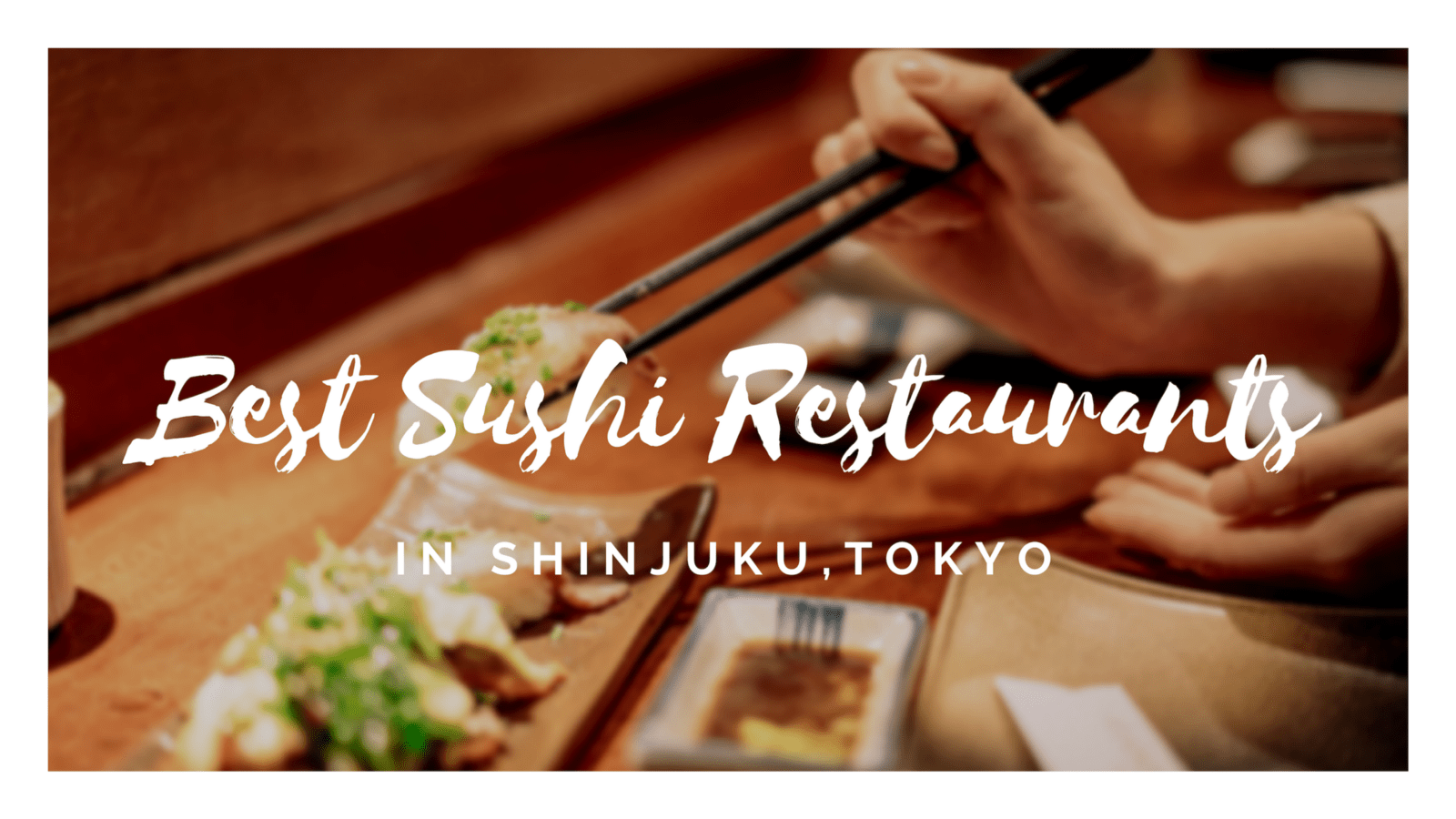 What would you say if you are asked what is the most famous Japanese food? There may be many people who think of various Japanese cuisines such as ramen, tempura, okonomiyaki etc. but nobody will forget to come up with Sushi at first. Today's sushi originated in Edomae Sushi which was born in the Edo period. Sushi back then was on a stall sold like a rice ball and it was a popular fast food for the working class. However, Sushi nowadays generally recognized as a high-class food.
Today I will introduce some famous Sushi restaurants where you can enjoy a variety of side menu as well in Shinjuku, Tokyo.
1. Himawari Sushi (ひまわり寿司)
The form of sushi at Himawari Sushi is called Kaiten Sushi (conveyor belt sushi) which literally means rotation Sushi. Plates with Sushi on conveyor belt go around the customers and you simply pick the Sushi you want to eat. If you are worried about the freshness of fish on the conveyor belt, you can directly ask Itamae (Sushi Chief) to make your own sushi. The best thing about this restaurant is you can eat seafood-don at only 600 yen at lunch time, and that's the most reasonable price in Shinjuku area.
Access: 5min walk from Shinjuku station
Business Hours: 11 AM-10 PM (Mon-Sun)
Price Range: 2000–3000 yen
More info:
2. Shinjuku NADAMAN Hinkan (新宿 なだ万賓館)
If today is a special anniversary for you and you want to have a little gorgeous Japanese cuisine, this restaurant will be your only choice. Not only you can eat sushi gently shaped by Itamae but also other delicious Japanese foods cooked by skilled Japanese cooks. What's interesting in NADAMAN Hinkan is that they will explain the details of the dishes you ordered when they bring them to your table. So, while you enjoy those luxury Japanese foods, you can also be a Japanese food expert.
Access: 6 min walk from Shinjuku station
Business Hours: 11 AM- 10:30 PM (Mon-Sun)
Price Range: 3000–4000 yen (lunch), 6000–8000 yen (Dinner)
As Shinjuku NADAMAN Hinkan is one of the most popular Sushi restaurants in Tokyo, it's highly recommended to make a reservation in advance. Click the attached link below for online reservation.
3. Maguro Shoten (まぐろ商店)
As you can tell from the name of this restaurant, this is a restaurant specialized in tuna (maguro). Tuna is a fish that all parts of the body is edible. And you will be able to try all tuna cuisines at this restaurant. Not only fresh tuna sushi but also many other tuna related cuisines such as roasted tuna and tuna soup. Maguro Shoten in Shinjuku would be a dream place for tuna lovers. and Tuna cutting shows are also available at the restaurant.
Access: 7 min walk from Shinjuku station
Business Hours: 5 PM- 12 AM (Mon-Fri), 12 PM–12 AM (Sat), 12 PM–11 PM (Sun)
Price Range:1000–2000 yen (Lunch), 5000–6000 yen (Dinner)
Make a reservation at the popular Maguro Shoten in Shinjuku, Tokyo
4. Kagurazaka Sushi Academy (神楽坂すしアカデミー)
The famous all-you-can-eat Sushi restaurant in Tokyo, Kagurazaka Sushi Academy offers over all-you-can-eat 50 kinds of sushi and more than 20 dishes at affordable prices: 2,980 yen (women) and 3,480 yen (men).
Various sake and shochu are also available at this place which go well together with sushi, and moreover those alcohols are included in the price mentioned above. The atmosphere of the restaurant is very calm, so you will surely enjoy all kinds of high quality sushi. Kagurazaka Sushi Academy is perfect for dining with your friends, colleagues and families as well as your dates. The restaurant is slightly distanced from Shinjuku area, yet you can reach there within 15 mins by metro.
Access: 6 min walk from Ushigome-Kagurazaka station
Business Hours: 11:30 AM–3 PM, 5 PM-9:30 PM (Mon-Sun)
Price Range: 3000–4000 yen
More info:
5. SUSHI ZANMAI (すしざんまい 東新宿店)
Sushi Zanmai began as Japan's first 24/7 open sushi restaurant all year round. It is one of the most popular sushi restaurants among Japanese which have many chain restaurants across the country including Shinjuku district, Tokyo.
The feature of the sushi restaurant here is that they perform the cutting show of tuna which is brought from the first bid of the season. Then, those sushi will be provided to the customers at very reasonable price. If you want to try many kinds of Sushi, Sushi Zanmai will give you a wide variety of Sushi selections since they are originated from the biggest fish market in Japan Tsukiji.
Access: 5 min walk from Higashi Shinjuku Station
Business Hours: 11:00~5:00am next day
Price Range: 1000–2000 yen (Lunch), 3000–4000 yen (Dinner)
More info:
▽This Complete Sushi Guide introduces all about the authentic Japanese sushi▽
Looking for the best places to eat out in Shinjuku area?? Here are more articles with the latest Shinjuku restaurant info!
▽Related Articles▽
▼Editor's Picks▼
---