5 Best Books to Learn Japanese
Best Japanese language textbooks from my experience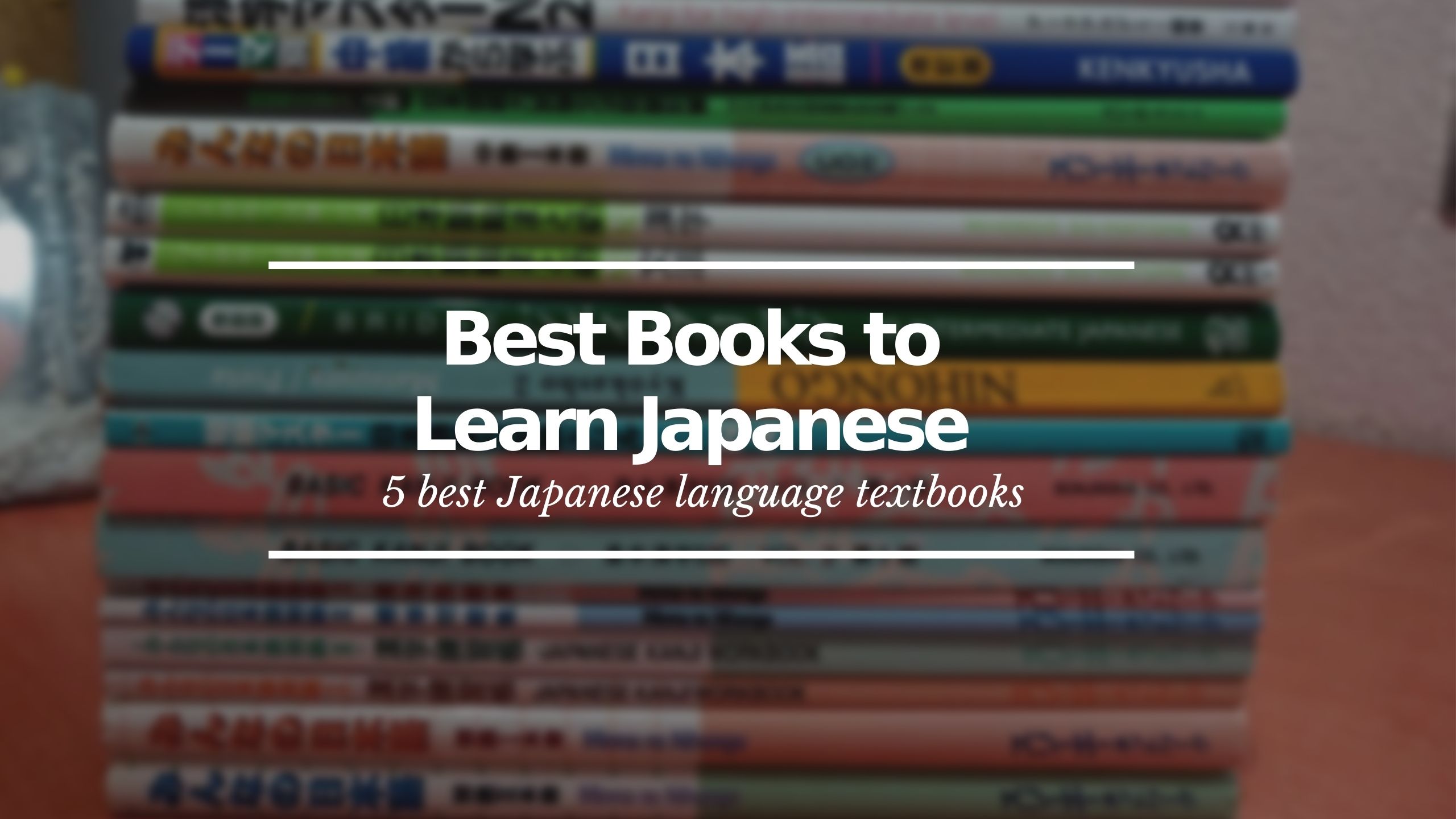 Learn Japanese is difficult, you may think. The Japanese Language has three different types of formats; Hiragana, Katakana, Kanji…and also has complexed grammar.
However, many of you are thinking that you would like to learn Japanese and be able to understand your favorite anime and video game series in their original version. Either you are thinking of coming to live in Japan and you want to have a Japanese base, or simply because you would like to learn Japanese language.
The truth is that learning Japanese in a self-taught way is not easy, and the best thing is to go to an academy with teachers who can explain it to you and answer your questions. But not everyone can afford the costs of an academy, or some prefer to have prior knowledge before starting to study with a teacher. But nowadays there are various Japanese textbooks available on the market, and one can be confused about which to choose to start studying on their own. It's an important decision since it will be your first contact with the Japanese language. If the Japanese textbook doesn't fit you, you will not be able to learn Japanese as much as you would like.
I don't think it can be said that there is a single Japanese book that is the best of all since different things work for each person. But here I'm going to show you what in my opinion are the 5 best textbooks to learn Japanese with a brief explanation of the dynamics of each Japanese textbook so that you can assess which one can best suit you. Let's check them!
Minna no Nihongo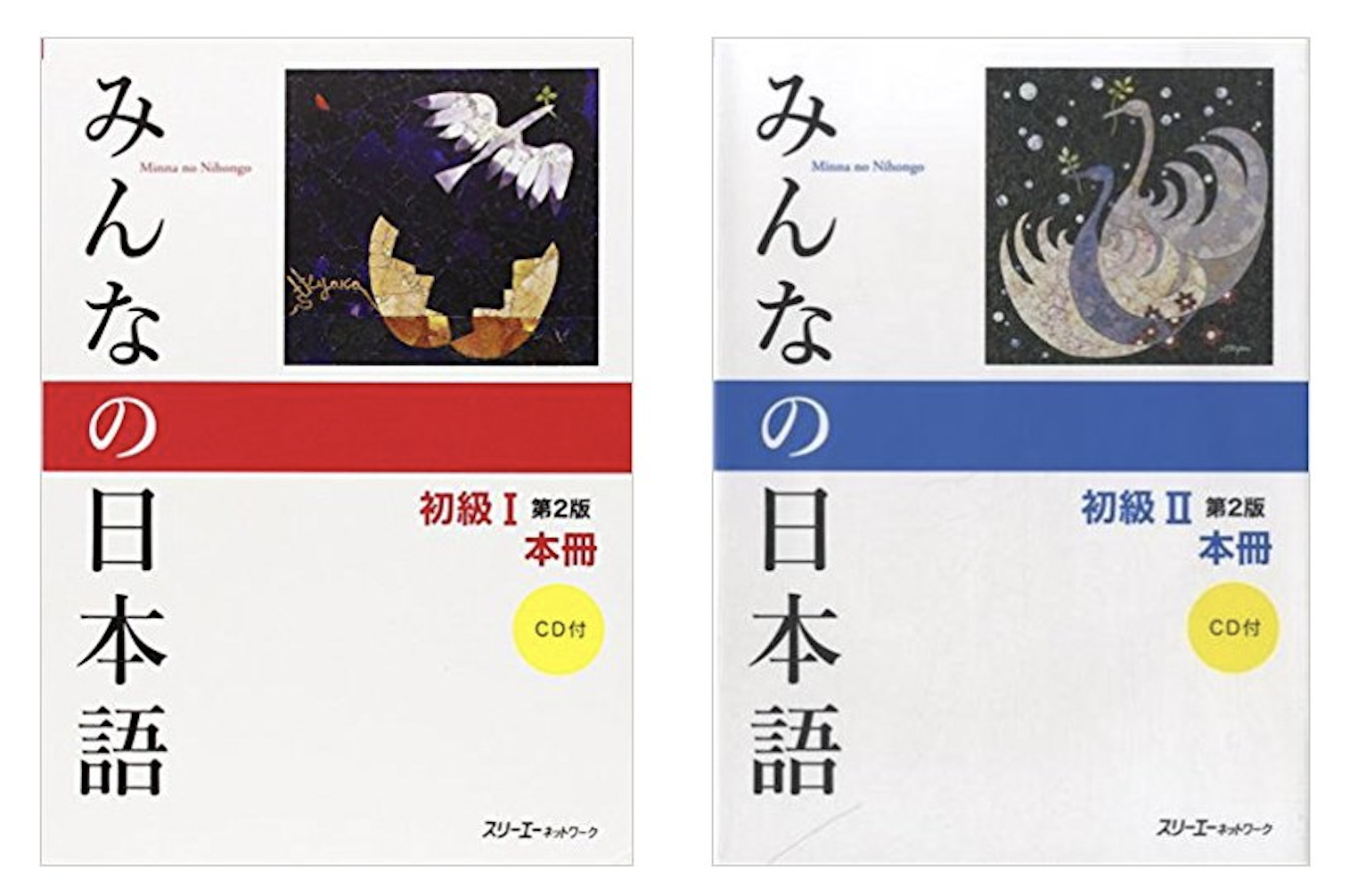 Minna no Nihongo is one of the most famous Japanese language book series and probably the most hated book by most Japanese students. It is the book that 99.9% of Japanese schools in Japan use, so if you want to go to one of these Japanese schools, it's recommended that you start studying with this book on your own before. However, many foreigners consider this series of books to be outdated and not practical for learning Japanese.
But one of the good points about Minna no Nihongo is that they're made with the JLPT (The Japanese-Language Proficiency Test) in mind and it's easy to know at what level you can present yourself based on what level of books you are on. For example, the Minna no Nihongo Beginner II would correspond more or less to a JLPT3 ( According to JLPT, people who got this level can understand Japanese native materials if rewritten with simplified vocabulary and kanji, and can follow everyday conversations at natural speed). Also, if you study books Beginner I and II, you have the Japanese necessary to survive in your daily life.
The Minna no Nihongo is completely in the Japanese language, which some consider as an advantage since it forces you to improve your Japanese but others see it as a disadvantage since it's difficult to understand grammatical rules if it's not in your native language. But the Minna no Nihongo has a companion book available in 14 different languages with the translation and some notes or explanations.
The books are available here:
Minna no Nihongo Beginner I (Japanese Textbook & English version set)
Minna no Nihongo Beginner I- Extra 3 Books Set (Kanji workbook, Exercise Book, Sentence Pattern)
Minna no Nihongo Beginner II (Japanese Textbook & English version set)
Minna no Nihongo Beginner II- Extra 3 Books Set (Kanji workbook, Exercise Book, Sentence Pattern)
Marugoto
Marugoto is a series of Japanese language textbooks created by the Japan Foundation, the organizers of the JLPT. To my surprise, they are not usually mentioned in most articles that talk about Japanese textbooks, although many students consider them one of the best.
Although as I have explained these books are designed by the Japan Foundation itself, they don't follow the order of the JLPT but are adapted to the common European system (A1, A2, B1, etc). Explains grammar and vocabulary in a much simpler way than for example Minna no Nihongo. Also, the books are focused on everyday Japanese and practical in real life.
The books are in full color and come in many languages. But one of the best things is that they have free material to download on the official website (exercises, listening, etc). You can also do some lessons for free online and check if you like it or you prefer a different book.
Official Website with free material: https://minato-jf.jp/
You can buy the books here:
Marugoto A1 (Grammar & Vocabulary 2 Books Set)
Marugoto A2 (Grammar & Vocabulary 2 Books Set)
Genki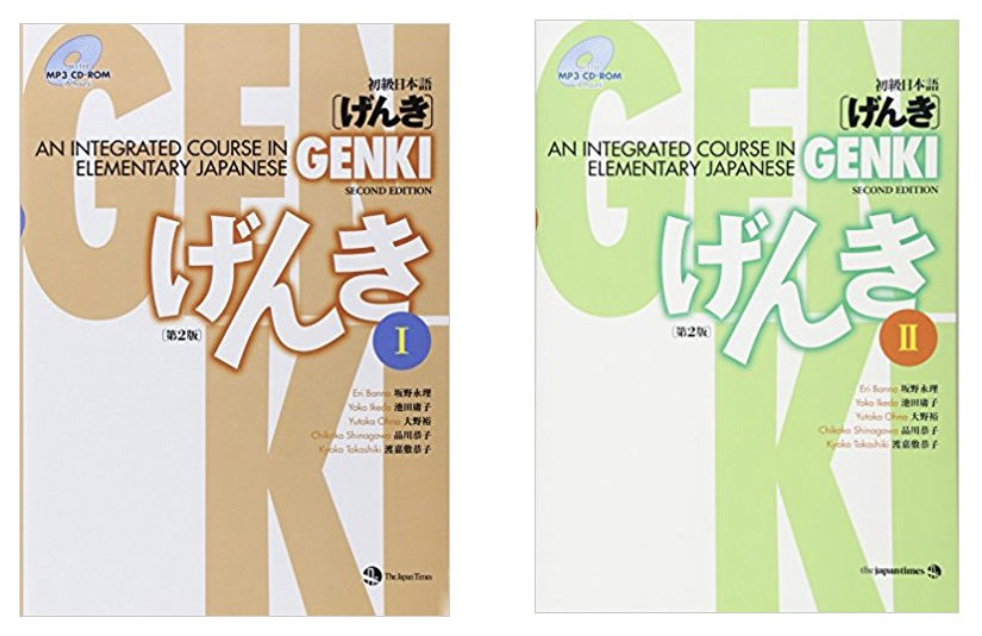 Genki is another of the great favorites and most used Japanese language textbook for beginners along with the Minna no Nihongo. It's used especially in universities since it was designed for Japanese courses at universities so the book follows the adventures of an exchange university student. This means that most of the vocabulary and situations explained in the book are focused on exchange students, and therefore the book is perhaps not so useful if your situation is different.
Although it has similarities with Minna no Nihongo, since in Minna you follow the life of the main character who is a regular worker in Japan, Genki is simpler and easier to follow. The lessons are not so focused on the JLPT but on everyday situations in daily life. In each lesson, they first teach you dialogues and situations that can happen in your day to day, and then they explain in more detail the Japanese grammar and vocabulary that have been used in that dialogue.
But the main difference between Minna no Nihongo and Genki is that Genki is explained in English, which many people find more comfortable and easy.
Buy it now here:
Genki 1 (Textbook & Workbook Set)
Genki 2 (Textbook & Workbook Set)
A Dictionary of Japanese Grammar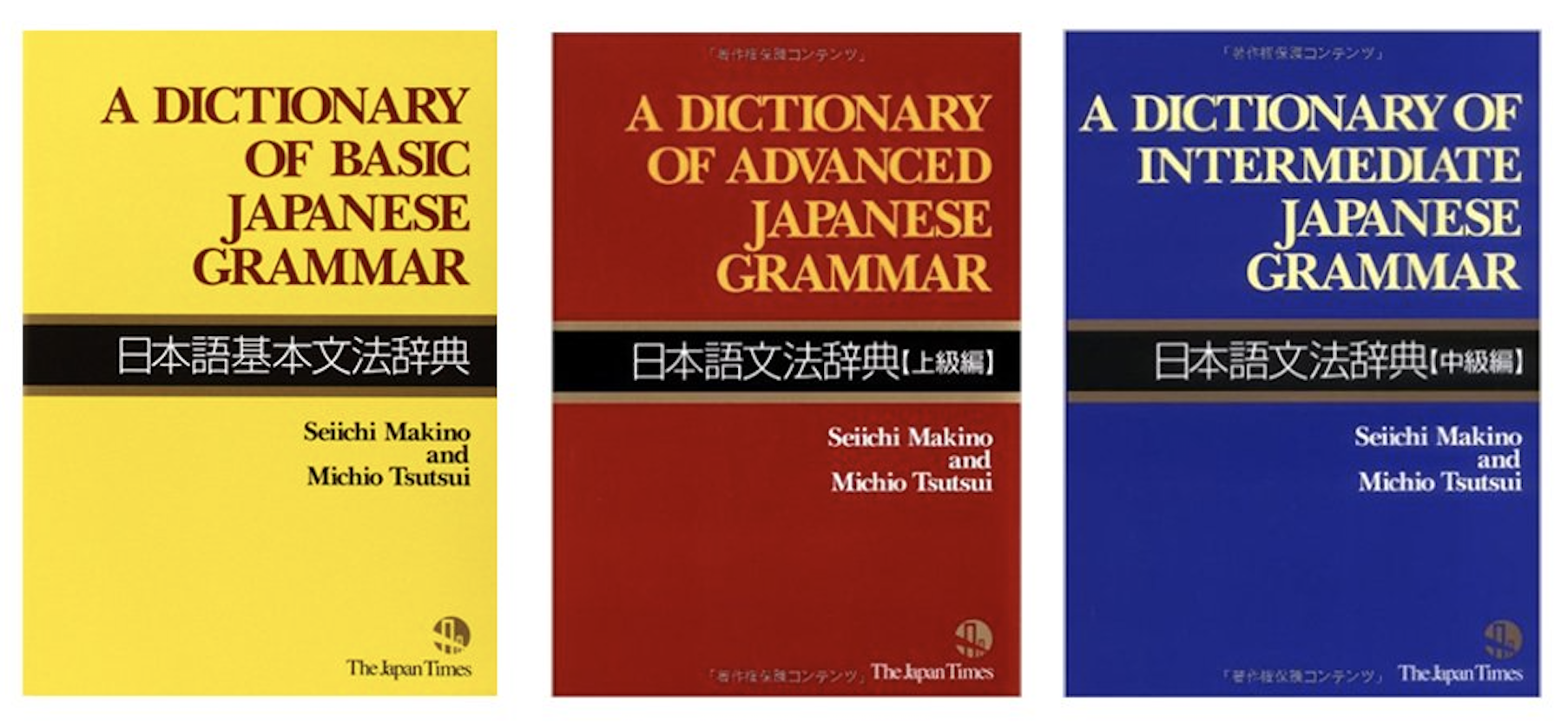 This is a set of three Japanese grammar dictionaries: Basic, Intermediate, and Advanced. They work as other dictionaries: they present the information in alphabetical order, but in this case instead of meanings they show the reader the different grammar points of the Japanese language. Grammar is presented in a very detailed way: every entry includes a translation into English, similar structures in Japanese or related expressions, a detailed explanation of the Japanese grammatical structure, and plenty of examples. They also include other helpful information like verb conjugation charts; lists of suffixes, conjunctions, etc.; specific structures, etc.
The books are available here:
3 Book Bundle Set (Basic, Intermediate, Advanced)
Basic Kanji Book
Besides the grammar, one of the most important things, when you study Japanese, is the kanji. Also, the simplest kanjis are something that is relatively easy to study on your own, without the need for a teacher. You have to memorize the kanji, learn to write it in the order of the strokes, and know its reading and meaning.
Basic Kanji Book is one of the classics for learning kanjis, and in my opinion, one of the most complete. It is a series of two books, and between them, they cover the first 500 kanjis studied in Japanese primary school. In other words, each book has 250 kanjis. The book shows you the stroke order for each kanji and leaves several blanks for you to practice writing yourself. Also show you the meaning of the kanji and the two readings it has. Finally, each unit has simple exercises to practice the kanjis and the words that appear in that unit.
You can buy the books here:
How were my 5 Best Books to Learn Japanese for Beginners? Learning Japanese by textbooks is not the only way but the essential way to learn Japanese correctly. If you want to learn Japanese in a different way, it is also recommended to watch anime!
▽Check out these recommended Japanese schools to learn Japanese efficiently!▽
If you want more information about learning Japanese o things that may be useful to you if you plan to live in Japan or are living in Japan, you can check these articles too!
▽Related Articles ▽
▼Editor's Picks▼
---