Best Beauty Products: Japanese Cosmetics Ranking 2021
The Best Cosmetics Awards 2021: Grand Prize/Hall of Fame/Best New Buys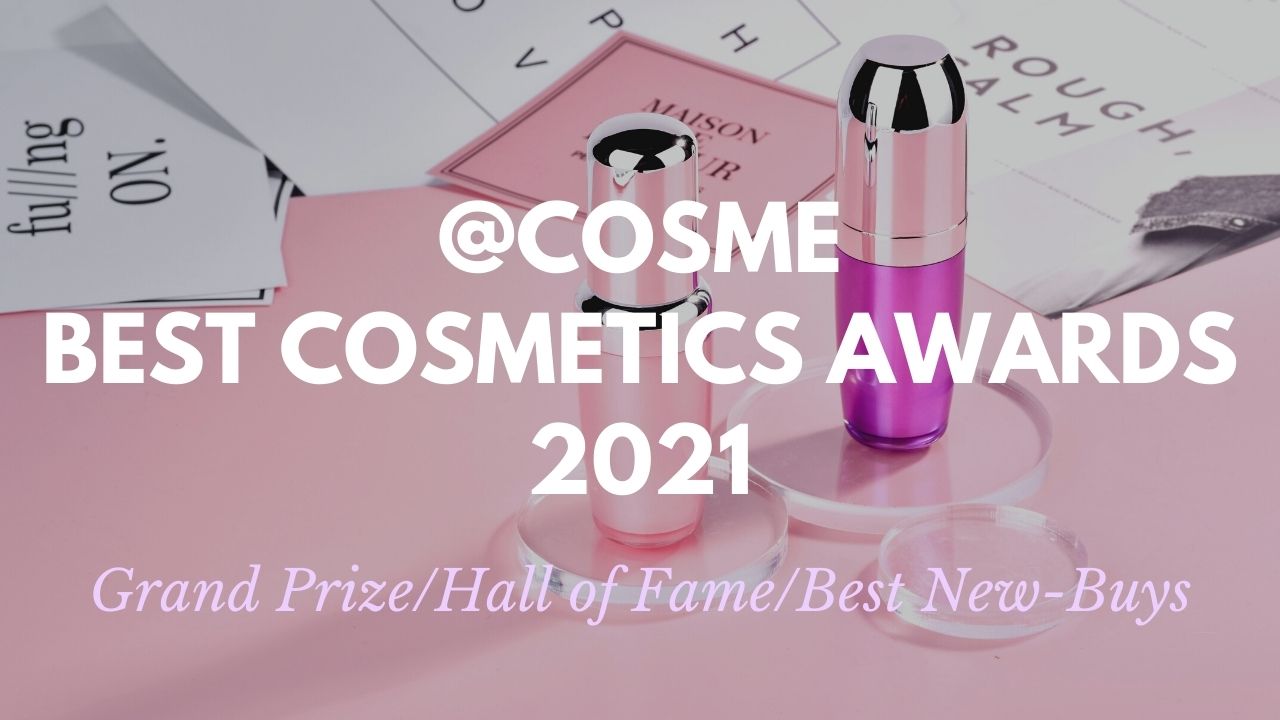 @cosme is Japan's biggest and the most influential beauty website, introducing cosmetics products with reviews of real users. The website hosts beauty awards called The Best Cosmetics Awards twice a year (in June and December) with the up-to-date rankings of popular beauty products in Japan by category. The awards are incredibly influential as they are based on real cosmetics users' voices, and award-winning products tend to become even more popular or sell out quickly after the announcement.
@cosme lately revealed The Best Cosmetics Awards 2021 with the latest rankings of best cosmetics products in Japan.
In this article, I'd like tointroduce the list of the beauty products that won the most honorable titles: the Grand Prize, Hall of Fame and Year-End Best New Buys. Let's find out the best cosmetics products to buy in Japan in 2021–2022!
If you wish to check out more rankings from different categories including skin care and makeup, I have attached links to them on the bottom of the page, too 🙂
🏆 Grand Prizes 🏆
The Grand Prizes go to beauty products that received the most positive feedback from users through the year. The winner of The Best Cosmetics Awards 2021 is IPSA The Time Reset Aqua (lotion category), followed by LANCÔME Advanced Génifique Youth Activating Serum (serum category) and KATE Lip Monster (Lipstick category).
Winner: IPSA The Time Reset Aqua (4,400 yen) [Shop Online]
Runner-up: LANCÔME Advanced Genifique Youth Activating Serum (27,500 yen) [Shop Online]
3rd place: KATE Lip Monster (1,540 yen)
4th place: CANMAKE Creamy Touch Liner (715 yen) [Shop Online]
5th place: uka Scalp Brush KENZAN (2,200 yen)
6th place: dejavu Eyebrow Color (880 yen)
7th place: VT COSMETICS VT CICA Daily Soothing Mask (2,420 yen) [Shop Online]
8th place: DIOR Forever Skin Correct Concealer (4,620 yen)
9th place: shu uemura ultime8∞ sublime beauty cleansing oil (5,060 yen) [Shop Online]
10th place: LANCÔME Clarifique Dual Essence Lotion (12,100 yen)
⭐ Hall of Fame ⭐
The Best Cosmetics Awards "Hall of Fame" title goes to the products that have won the awards multiple times and are considered as all-time best beauty products. Every year, new products are added to the list honorably, and 8 new products made it on to the list in 2021.
CLARINS Fix' Make-Up (4,400 yen)
IHADA Medicated Balm (1,485 yen)
ELIXIR SUPERIEUR Enriched Wrinkle Cream (6,380 yen)
DECORTÉ Face Powder (5,500 yen)
CEZANNE Pearl Glow Highlight (660 yen) [Shop Online]
dejavu Lash Up Mascara (1,320 yen) [Shop Online]
Vaseline Advanced Repair Body Lotion (Open Price)
Bouncia Body Soap White Soap (Open Price)
Check out more beauty products on @cosme Hall of Fame list HERE ▶ Best of Beauty: Award Winning Japanese Beauty Products
🐣 Year-End Best New Buys 🐣
The Year End Best New Buy Awards go to the products that have been newly released in the second half of the year. You can the check the most trending, latest beauty products in Japan with this list. Here are 15 best new-buys of 2021 year-end.
-Skin Care Category
Face Wash: suisai Beauty Clear Black Powder Wash (1,980 yen)
Face Cream: d program Skin Repair Cream (3,960 yen)
Serum: DECORTE Liposome Advanced Repair Serum (16,500 yen)
Eye Care: CLARINS Gran Eye Serum V (6,930 yen)
Face Mask: DEW Clear Clay Fondue (3,080 yen)
-Base Makeup Category
Face Primer: PAUL & JOE BEAUTE Moisturizing Foundation Primer (3,850 yen)
Foundation: ALBION Primp Powderlesst (5,500 yen)
Face Powder: innisfree No Sebum Mineral Powder N (825 yen)
-Makeup Category
Eyeshadow: CANMAKE Silky Souffle Eyes (825 yen)
Eyeliner: Visee Browns Creamy Pencil (1,045 yen)
Mascara: Majolica Majorca Lash Expander Long Long EX (1,210 yen)
Lipstick: Kate Lip Monster (1,540 yen)
Blush: GIVENCHY Prisme Libre Blush (6,600 yen)
-Body and Hair Care Category
Hair Care: Fino Premium Touch Hair Oil (Open Price)
Hand Care: DIOR Miss Dior Hand Gel (3,960 yen)
You can check the newly released beauty products from the first half of the year HERE ▶ Best New Beauty Products: Japanese Cosmetics Ranking 2021 Mid-Year
(The full list of the Best Cosmetics Awards 2021 can be found at the @cosme website! → https://www.cosme.net/bestcosme/)
Do you want to shop listed beauty products?? Some of products are sold overseas or online with global shipping option. You can check the link below to see if your favourite Japanese cosmetics products are available 🙂
>>Shop Japanese Beauty Items Online with FREE Worldwide Shipping<<
For more cosmetics rankings from different categories and the "Hall of Fame" beauty products from @cosme Best Cosmetics Awards, please check out listed articles, below!
▽Hall of Fame▽
▽Japanese Cosmetics Ranking 2021 Mid-Year▽
▽Related Articles▽
---