Best Beauty Products: Japanese Cosmetics Ranking 2020
The Best Cosmetics Awards 2020: Grand Prize/Hall of Fame/Best New Buys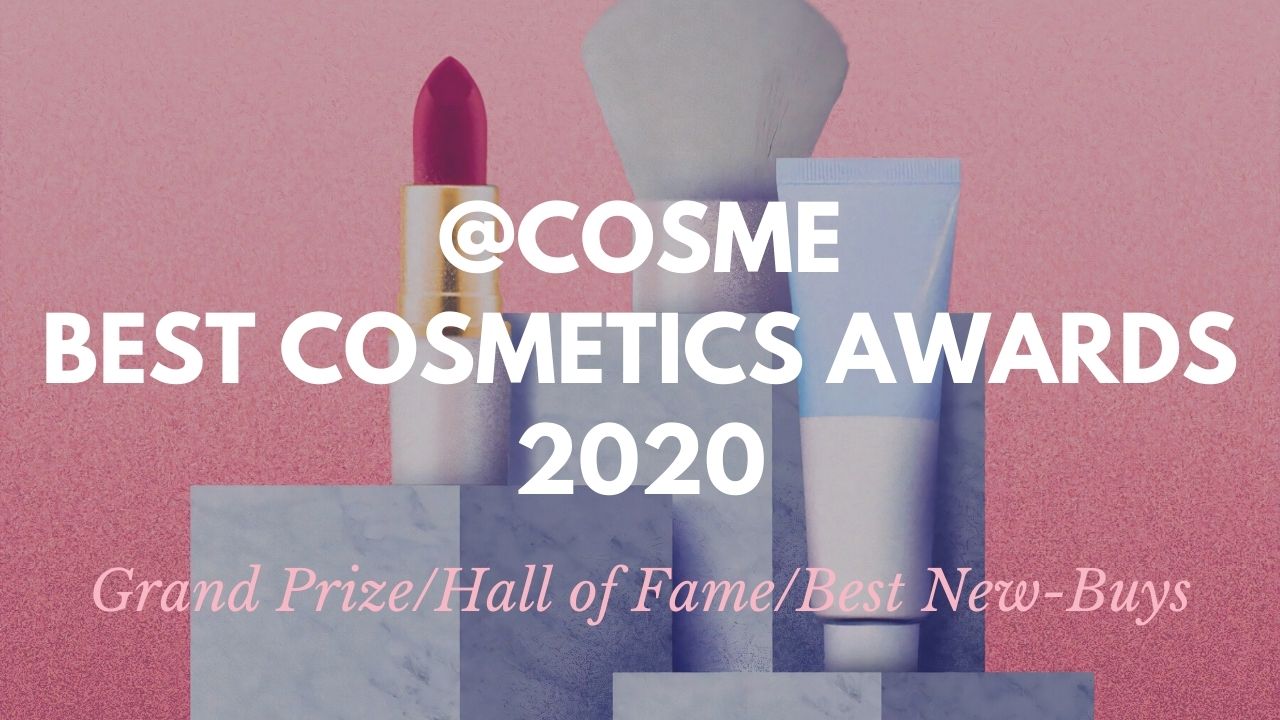 The most anticipated beauty event in Japan, the Best Cosmetics Awards is hosted by @cosme, twice a year in June and December. @cosme is Japan's biggest and the most influential cosmetics and beauty portal website which has a lot of fans across the world.
The awards cover rankings of popular beauty products in Japan from each year, which are listed by category including as skin care, make-up, body and hair care products. The awards also reveal the grand prize winner, the best newcomers and Hall of Face winners which are all based on real users' reviews.
As the Best Cosmetics Awards receive a lot of attentions by cosmetics fans not only in Japan but also overseas, the winning products of the awards tend to become even more popular and tend to sell quickly after the announcement!
So, @cosme Best Cosmetics Awards 2020 has recently revealed with the latest rankings of the best cosmetics products from this year! I have previously introduced the cosmetics rankings from each category, so in this article, I'd like to sum up this year-end beauty awards by sharing the list of the beauty products that won the most honorable titles: the Grand Prize, Hall of Fame and Year-End Best New Buys. Let's find out the best cosmetics products to buy in Japan in 2020–2021!
If you wish to check more ranking of the awards from each category, I have links to them on the bottom of the page, too!
*Please note that this article contains affiliate links.
🏆 Grand Prize 🏆
The Grand Prize award goes to three beauty products that have gained most positive feedback through the year. The winner of the @cosme Best Cosmetics Awards 2020 is LANCÔME Advanced Génifique Youth Activating Serum ( serum category), followed by IPSA The Time Reset Aqua (lotion category) and DECORTÉ Face Powder (face powder category).
Winner: LANCÔME Advanced Génifique Youth Activating Serum (25,000 yen) [Shop Online]
Runner-up: IPSA The Time Reset Aqua (4,000 yen) [Shop Online]
3rd place: DECORTÉ Face Powder (5,000 yen)
⭐ Hall of Fame ⭐
The Best Cosmetics Awards "Hall of Fame" prize goes to the products that have won the awards multiple times and are considered as all-time best beauty products. Every year, several products are added to this list honorably, and 11 new products are newly listed in 2020.
FANCL Mild Cleansing Oil (500 yen) [Shop Online]
MAQuillAGE Dramatic Powdery UV Foundation (3,000 yen) [Shop Online]
LANCÔME Teint Idole Ultra 24h Long Wear Foundation (6,000 yen)
the SAEM Cover Perfection Tip Concealer (780 yen)
ADDICTION THE EYESHADOW (2,000 yen)
excel Skinny Rich Shadow (1,500 yen) [Shop Online]
KATE Designing Eyebrow (1,100 yen) [Shop Online]
CEZANNE Natural Cheek N (360 yen) [Shop Online]
La Sana Sea Weeds Hair Essence Moisturizing (1,000 yen) [Shop Online]
nAplA N. Polish Oil (1,200 yen)
nepia Hana Celeb Tissue (Open Price)
Check out more beauty products on Hall of Fame list HERE ▶ Best of Beauty: Award Winning Japanese Beauty Products
🐣 Year-End Best New Buys 🐣
The Year End Best New Buy Award goes to the products that have been newly released in the second half of the year. You can the check the most trending, latest beauty products in Japan with this list. Here are 17 best new-buys of 2020 year-end.
You can check the newly released beauty products from the first half of the year HERE ▶ Best New Beauty Products: Japanese Cosmetics Ranking 2020 Mid-Year
Cleanser: ROSETTE Yumemiru Cleansing Balm Sea Mud Smooth Moisture (1,800 yen)
Face Wash: SABON Face Polisher Refreshing (4,500 yen)
Lotion: Dr.Ci:Labo VC100 Essence Lotion EX (4,700 yen) [Shop Online]
Emulsion: SK-II Skinpower Airy Milky Lotion (12,000 yen) [Shop Online]
Serum: ASTALIFT Sparkle Tight Serum (4,000 yen)
Face Cream & Gel: Dr.Jart+ Cicapair Cream (4,800 yen) [Shop Online]
Face Primer: clé de peau BEAUTÉ Long-Lasting Hydrating Veil (6,500 yen)
Foundation: YVES SAINT LAURENT Le Cushion Encre de Peau Foundation N (8,000 yen)
Setting Spray: DECORTÉ Comfort Day Mist Set & Protect (3,000 yen)
Eyeshadow: DIOR 5 Couleurs Couture (7,600 yen)
Blush: DECORTÉ AQ Blush (6,800 yen)
Lips: CLARINS Lip Comfort Oil Intense (3,200 yen)
Eyebrows: Fujiko Mayu Tint SVR (1,280 yen)
Mascara: CANMAKE Quick Lash Curler Separate (680 yen) [Shop Online]
Hair Care: STELLA SEED 8 The Thalasso Reset Cleansing & Head Spa Pre-Shampoo (1,400 yen)
Bath Salts & Bubble Baths: AYURA Meditation Bath t (2,000 yen)
Nails: CANMAKE Foundation Colors (360 yen)
The full list of the Best Cosmetics Awards 2020 can be found at the @cosme website! → https://us.cosme.net/bestcosmeRankings
Do you want to shop award-winning beauty products?? Some of products are sold in abroad or online with global shipping. You can check the link below to see if your favourite Japanese cosmetics products are available 🙂
>>Shop Japanese Beauty Items Online with FREE Worldwide Shipping<<
For more cosmetics rankings from different categories on The Best Cosmetics Awards Year-End by @cosme, please check out listed articles, below!
▽Hall of Fame▽
▼THE LATEST BEST COSMETICS AWARDS 2021 Year-End▼
▽Related Articles▽
---