7 Best Japanese Mosquito Repellents
Best effective mosquito repellents and medicines for insect bites in Japan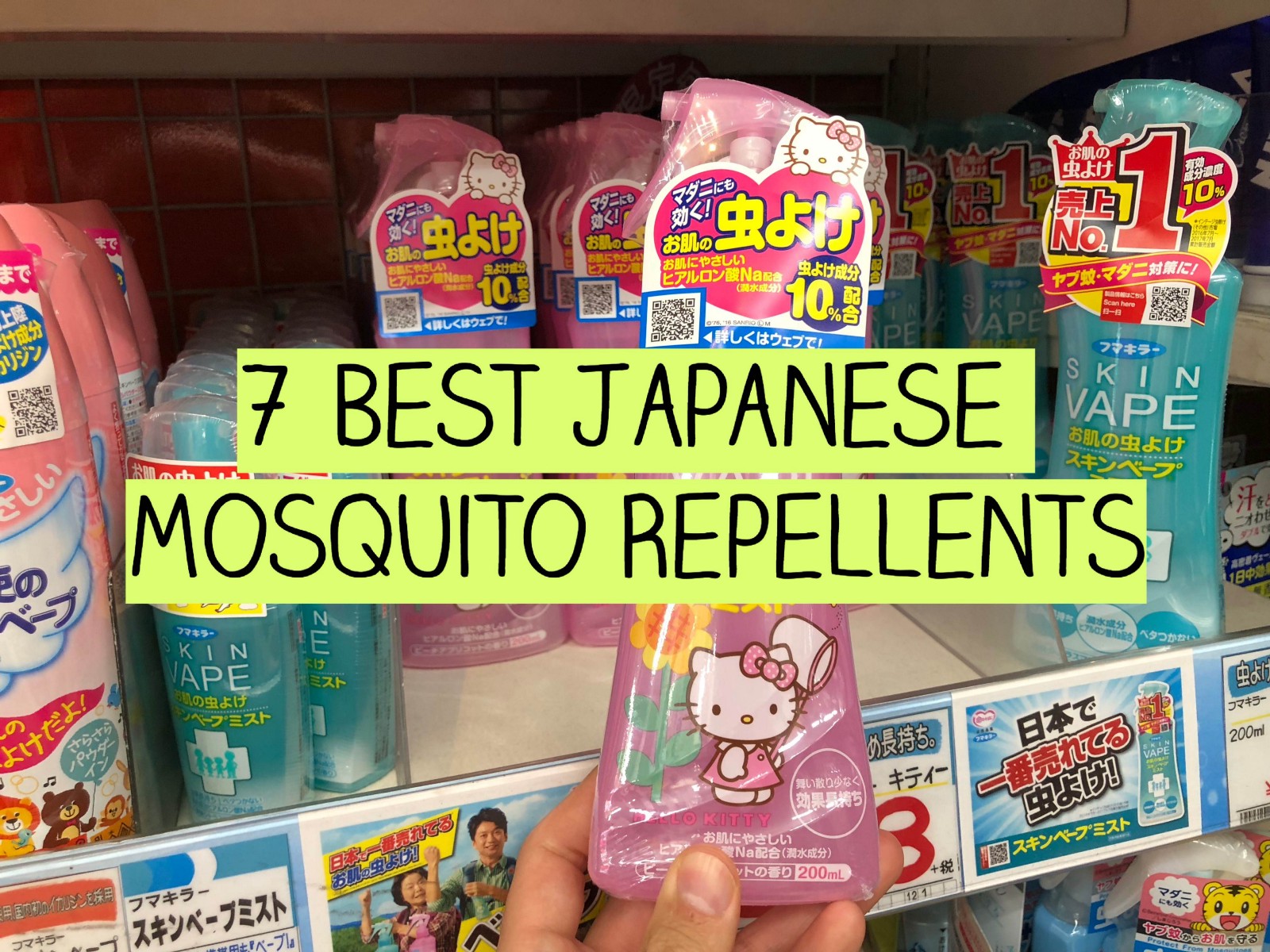 Are you the type of person who always gets bitten by mosquitos and other bugs? Itchy bug bites are one of the most troubling issue in summer or hot-humid areas. Japan in summer is known as the very humid regions and mosquitos increase their own spread. So, mosquito repellents are an essential item in the hot season to avoid mosquito bites.
Today, I'd like to introduce 7 best Japanese mosquito repellents which are sold at drug stores and convenience stores at an affordable price.
Here are also recommended Deet Free mosquito repellents and home remedies for mosquito bites to stop the itch.
1. Fumakilla Skin Vape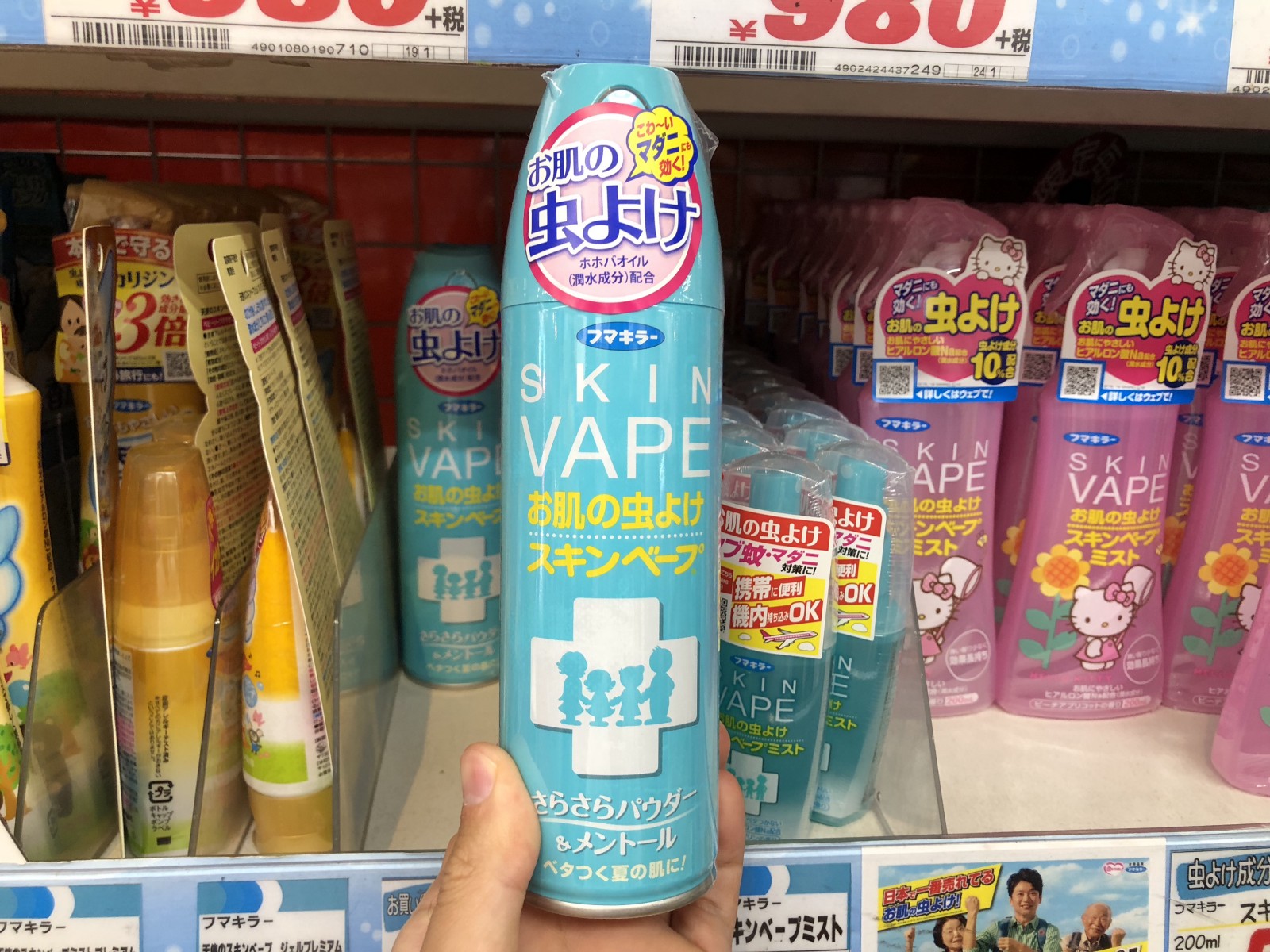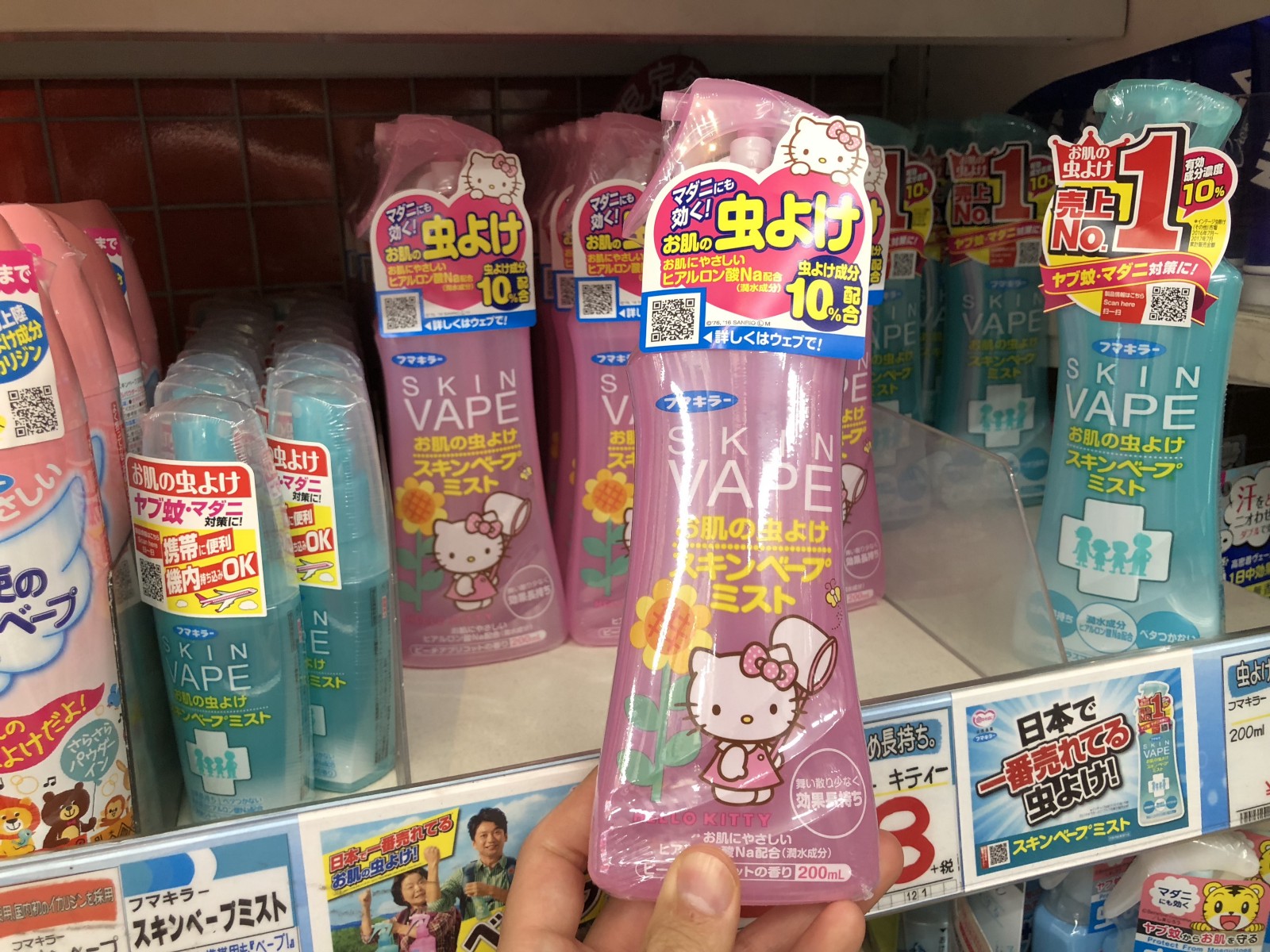 Fumakilla Skin Vape is one of the most popular mosquito repellents in Japan. There are two kinds of the repellent: Fumakilla Spray Skin Vape (フマキラースキンベープ) and Fumakilla Mist Skin Vape (フマキラー スキンベープミスト). These items are good for family for the large amount. Children don't hate them since they are free of stink and have skin-care formula like hyaluronic acid.
Price: around 500 yen
2. Fumakilla Tenshino Gel Skin Vape Premium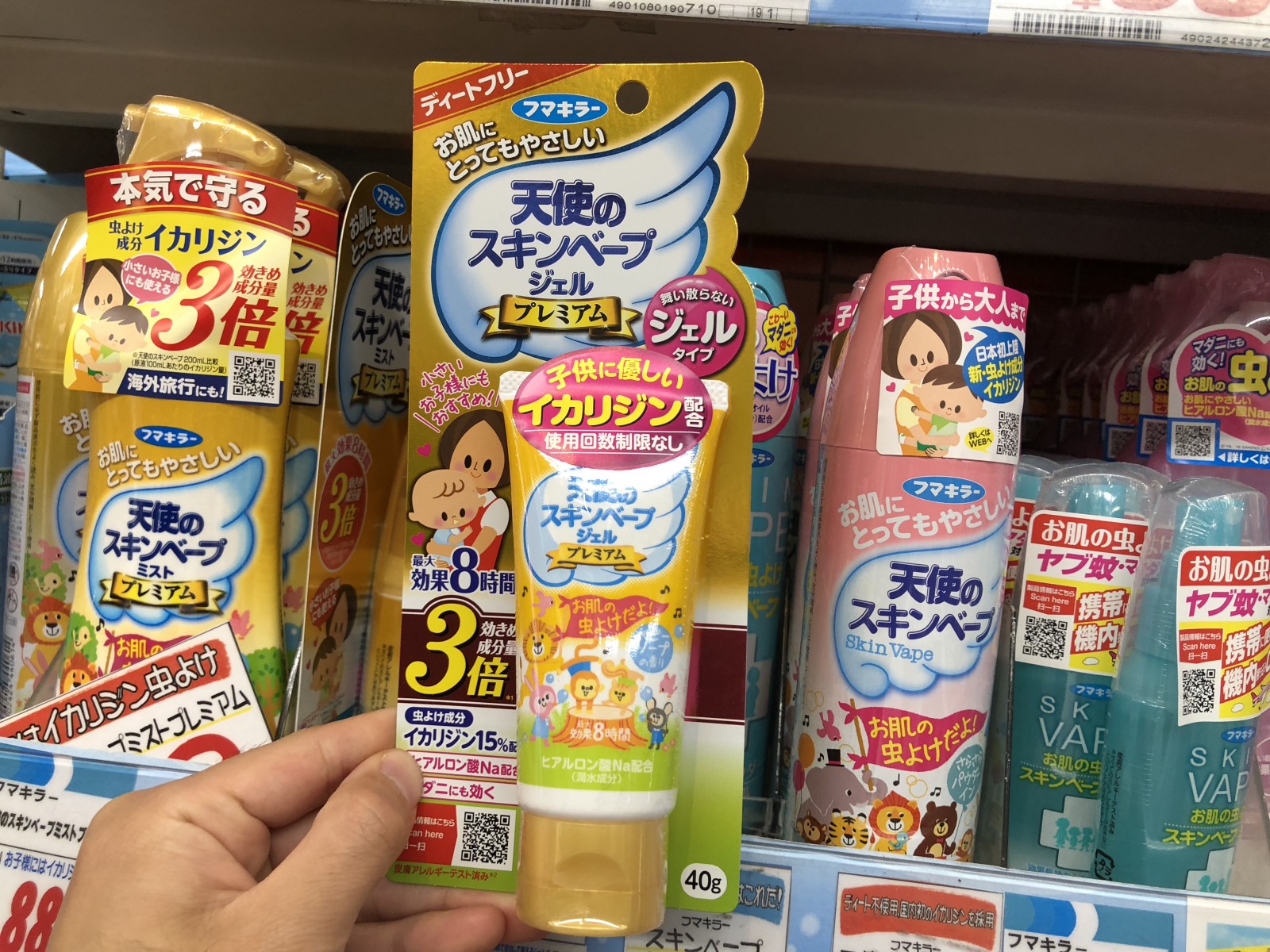 Fumakilla Tenshino Gel Skin Vape Premium (フマキラー 天使のスキンベープ ジェル プレミアム) is a perfect mosquito repellent product for babies and kids since it is Deet Free and has a flavor of soaps. The gel type repellent prevent babies from getting chemicals in their eyes. It also has a long-lasting effect for up to 8 hours.
Price: 500–600 yen
3. Earth Saratect & Moist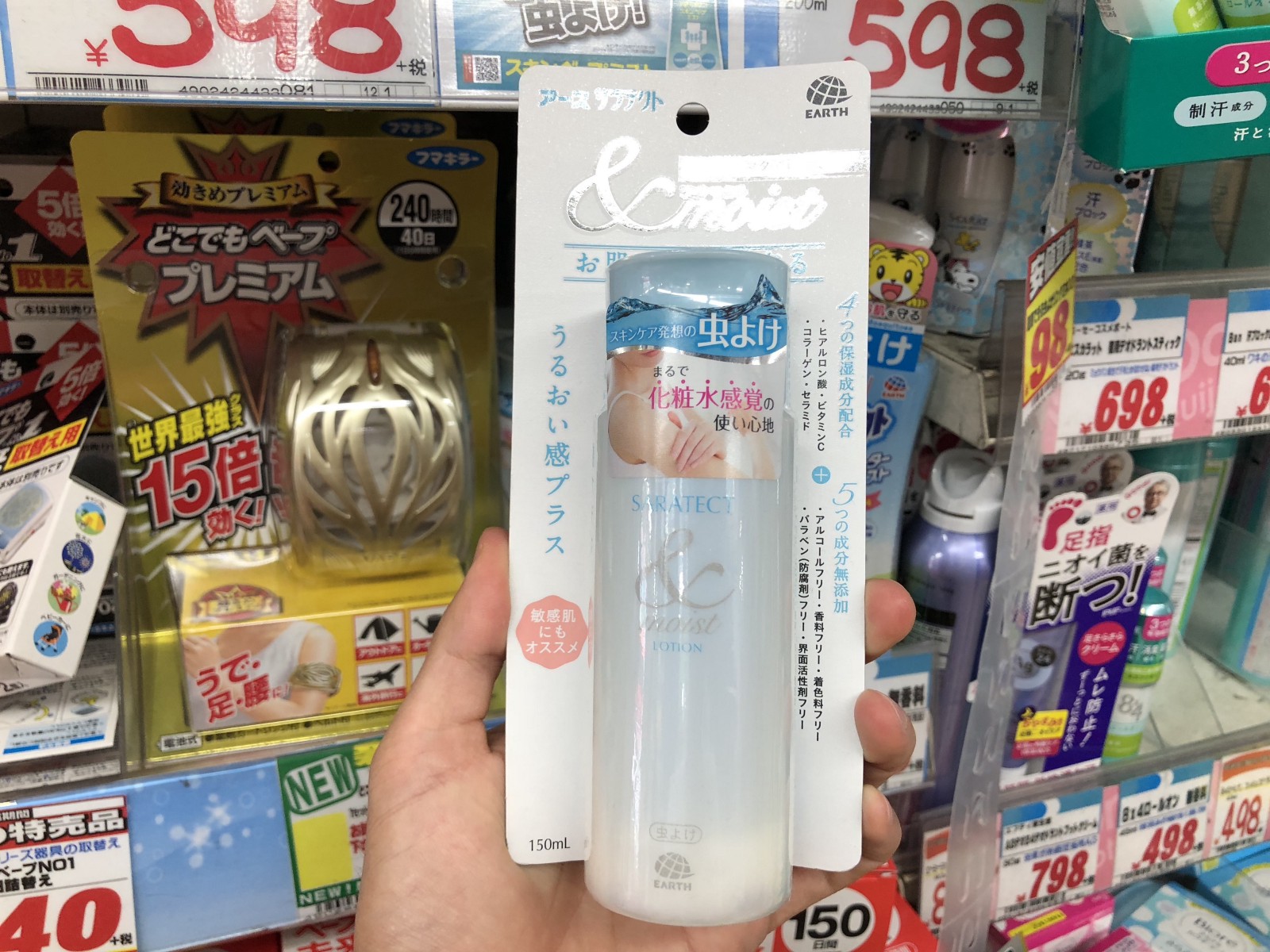 Earth Saratect & Moist (アース サラテクト &moist) is an innovative Japanese mosquito repellent. It can be also used as a skin care lotion including hyaluronic acid, vitamin C, collagen and ceramide. Additionally, the skin care repellent is perfect for sensitive skin. Free from additives such as alcohol and perfume materials.
Price: around 500 yen
4. Earth Bapona Hanging Bug Repellent W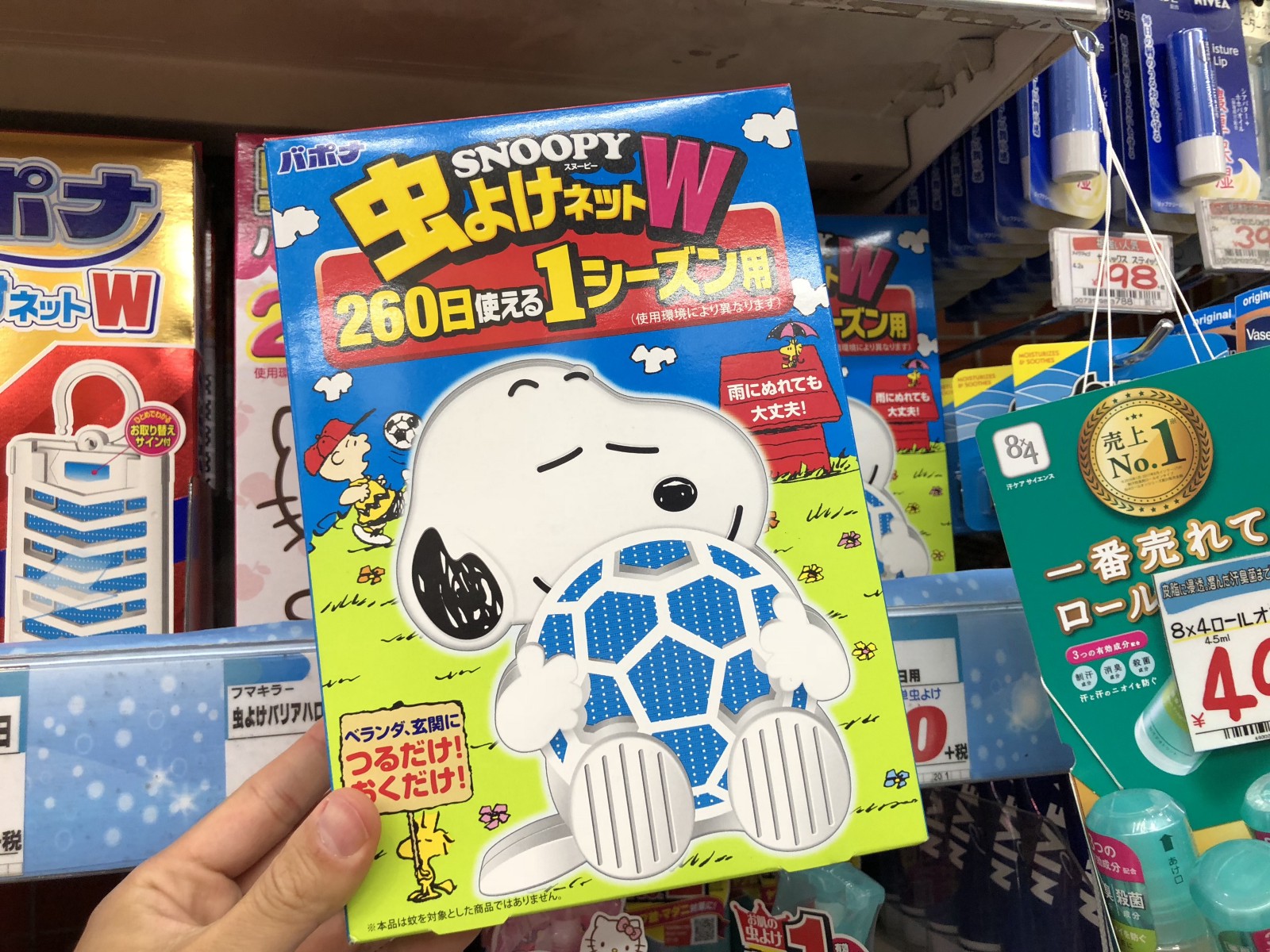 Earth, one of the leading mosquito repellent companies in Japan, produce various effective products. Earth Bapona Hanging Bug Repellent W(虫よけネットW SNOOPY) is also an unique repellent. All you need is hanging the net at the entrance or deck of your house, so that mosquitos and other bugs cannot come close. The effect lasts for 260 days! The design of the product is really cute collaborated with Snoopy.
Price: around 1,000 yen
5. Earth Mosquito Coil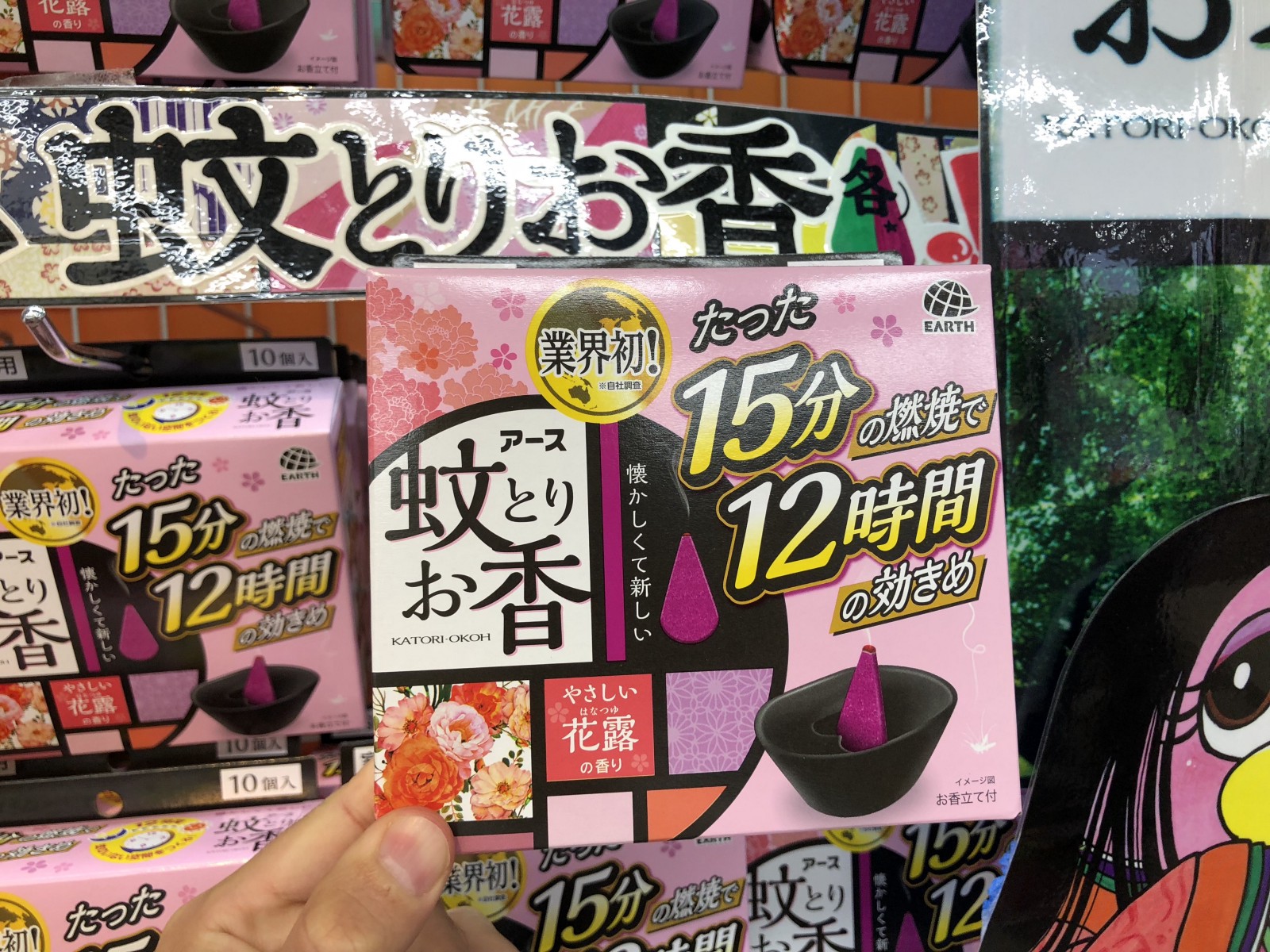 Mosquito coils are Japanese traditional repellent to shut away the bugs. The spiral incense like a coil is burned and the good smells in ther air, which mosquitos hate. Earth Mosquito Coil (アース蚊とりお香 花露の香り) burns out within 15 minutes, but the repellent effect and the flower smell last for 12 hours! This package includes 10 coils.
Price: around 500 yen
6. Wrist Band Repellent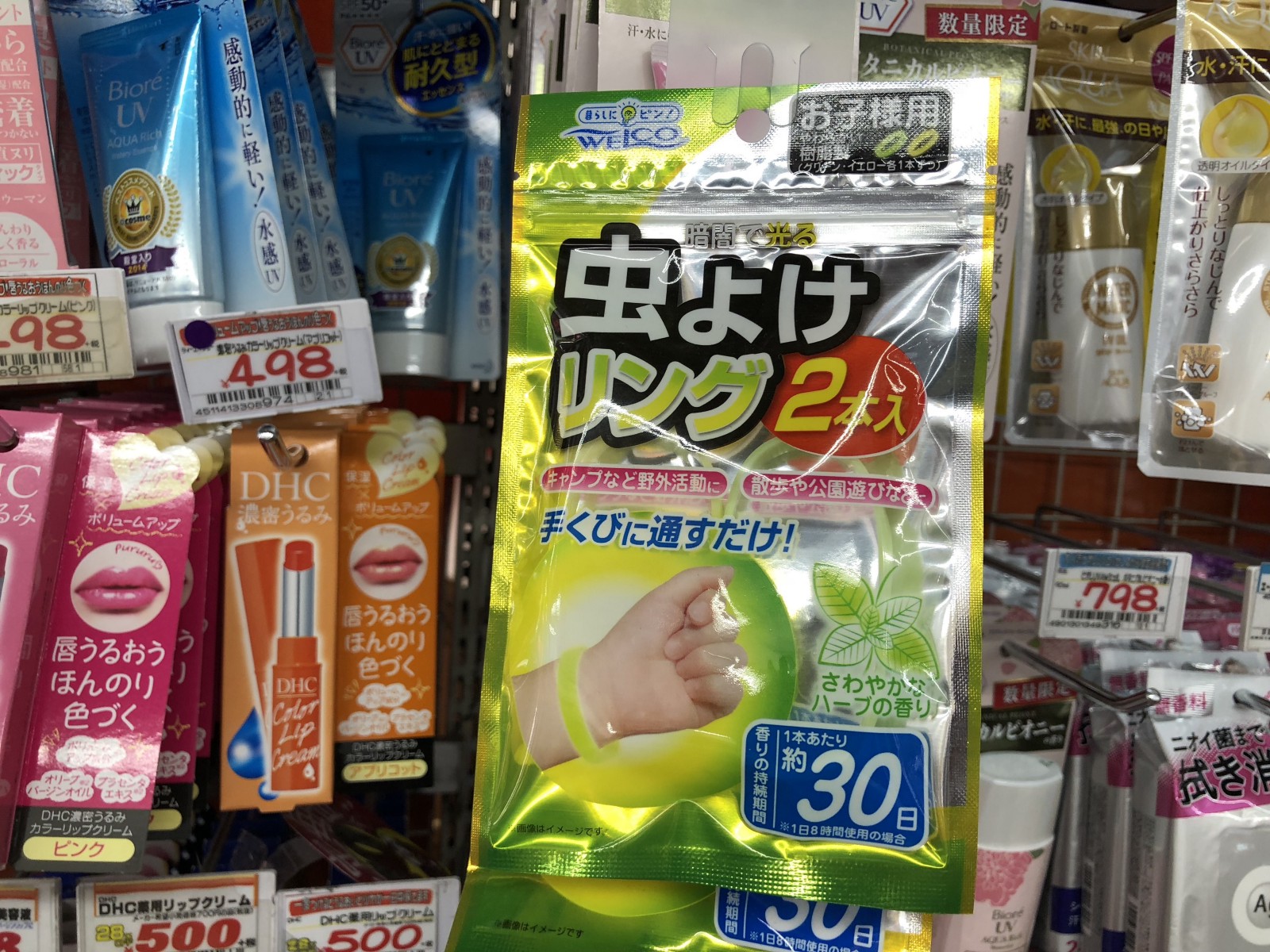 Wrist Band Repellent (虫よけリング), which is literally a wrist band type of mosquito repellent, is the easiest item to keep mosquitoes away. It is very useful especially for children playing around in the park. The effect of the band with the smell of herb lasts for 30 days. Surprisingly, this item is much cheaper than the others in this article!
Price: around 100 yen
7. Muhi (Itch Stopping)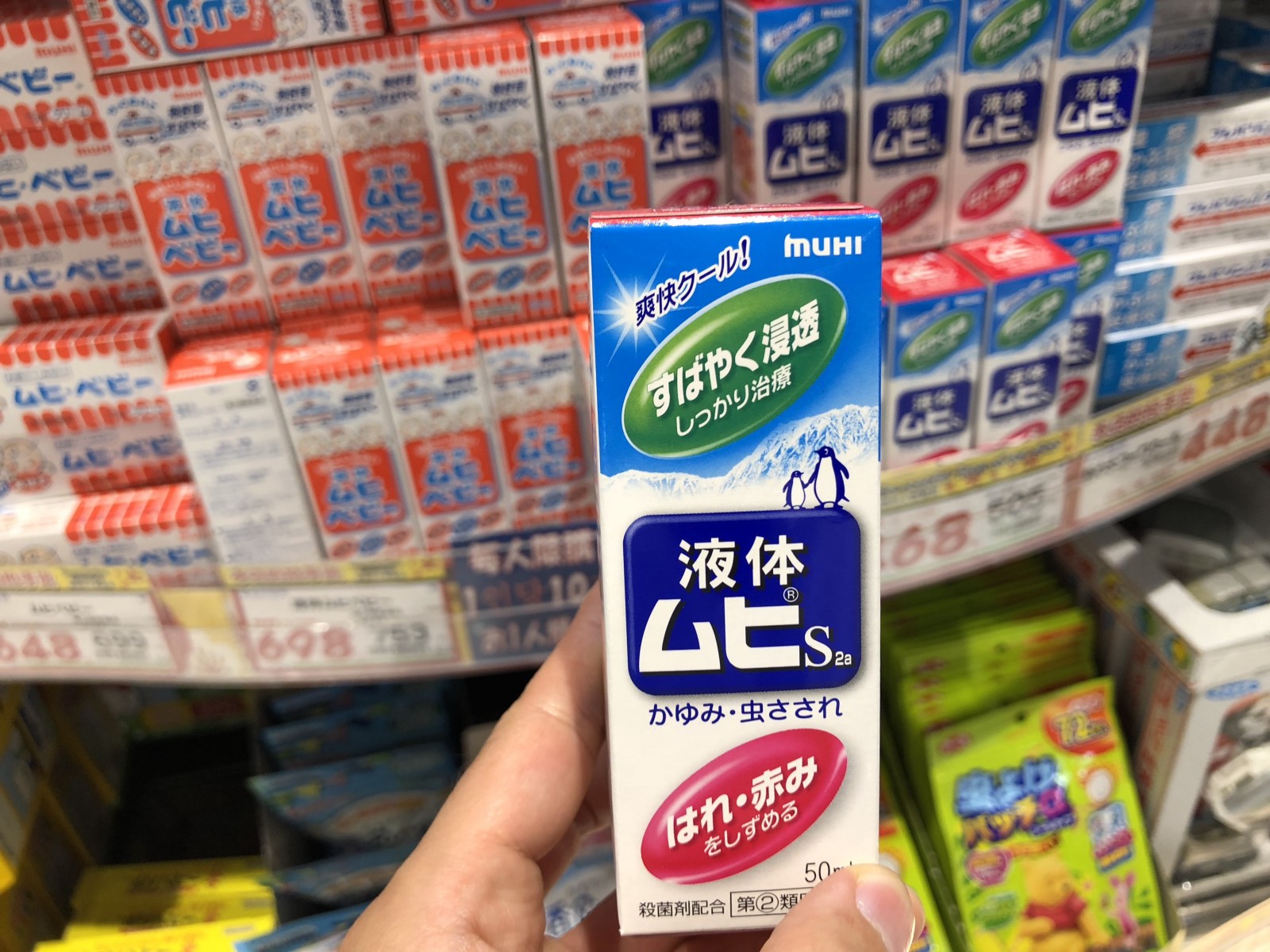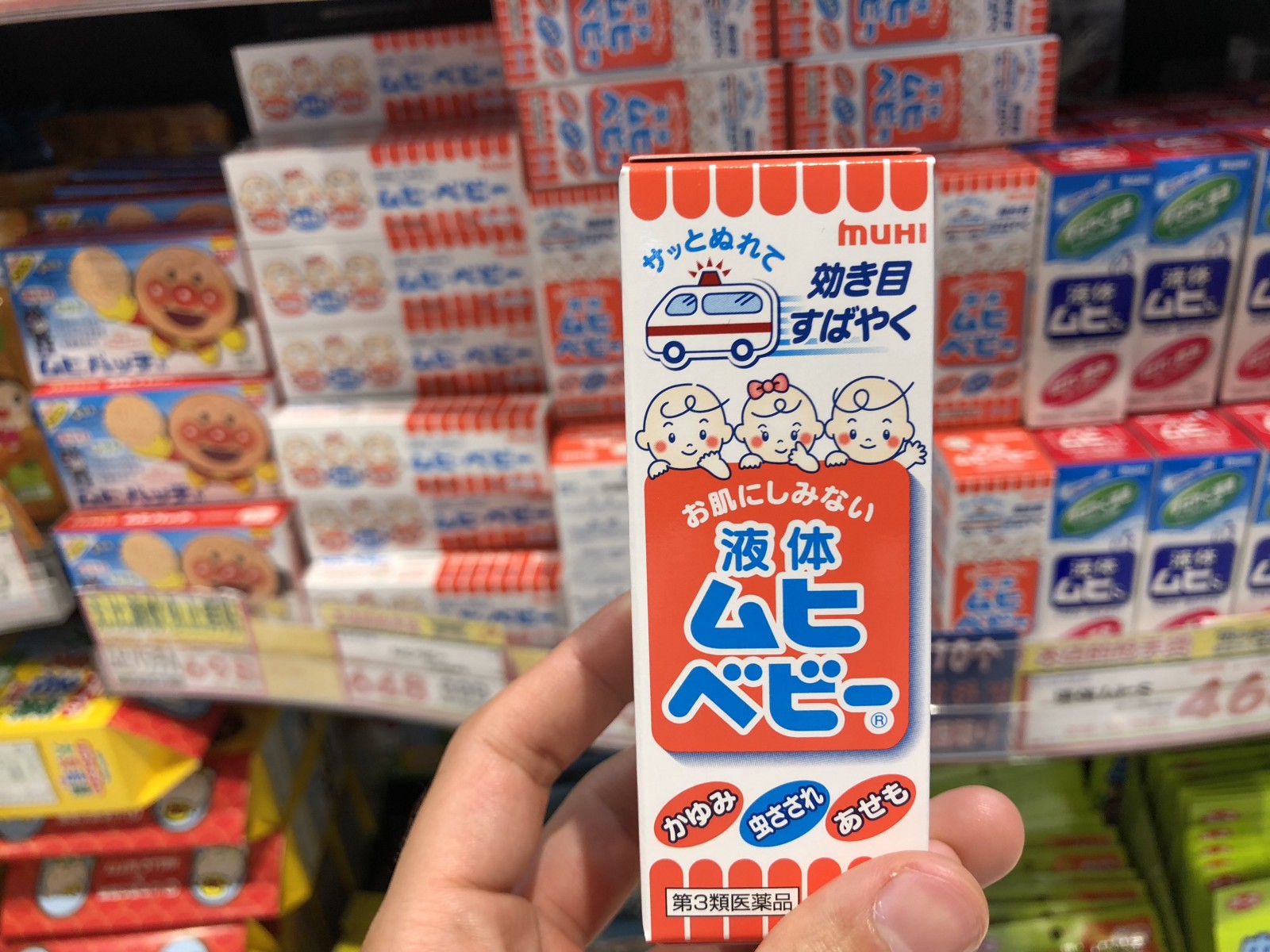 Muhi is known as the best Japanese medicine to relieve insect bites and stop itch. Here are the introductions of two type of Muhi: Muhi S2 (液体ムヒS2) for adults and Muhi Baby (液体ムヒベビー) for babies. Muhi is a handy and really effective remedy which has been loved by Japanese for a long time. You should hold it anywhere especially when you enjoy outdoor activities.
Price: around 400 yen (Muhi S2), around 600-700 yen (Muhi Baby)
▽Where can you buy the mosquito repellents and medicines?▽
Mosquitos bite you not only in summer, so buy one mosquito repellent at least in Japan. Japanese products are budget-friendly and effective. For more info about what to buy in Japan, check these articles below!
▽Related Articles▽
▼Editor's Picks▼
---