Best UNIQLO Outerwears to Buy
Best Coats and Jackets to Buy at UNIQLO Stores in Japan: ULTRA LIGHT DOWN, INES DE LA FRESSANGE and More.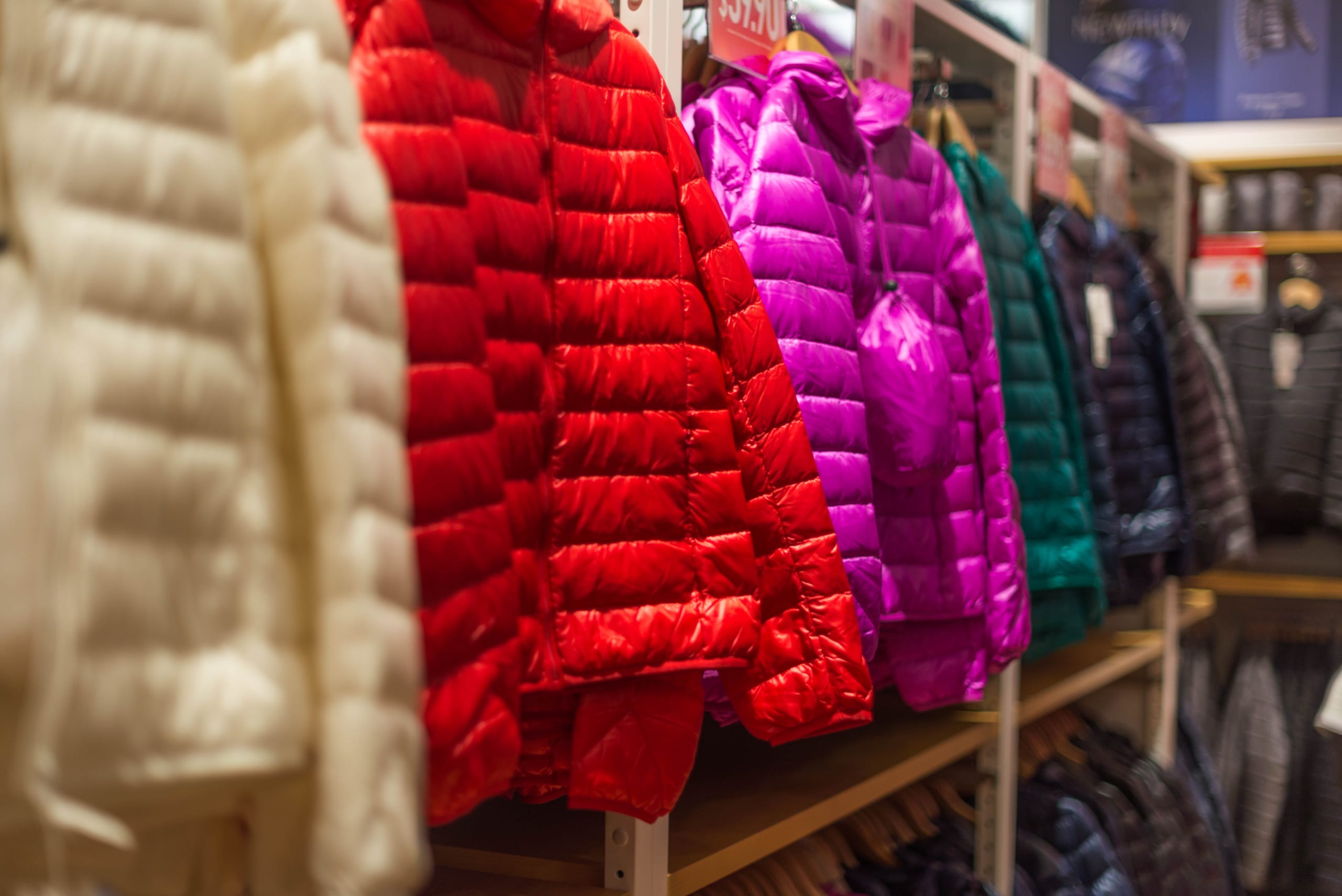 UNIQLO is a popular Japanese clothing brand which has over 1,000 stores across the world and about 800 stores in Japan.
What do you think about UNIQLO products??
I am actually a former UNIQLO staff in Japan, and still use many of their products daily. I personally think the quality of UNIQLO products are very good and great value for money. Especially, UNIQLO outerwear like coats and jackets are made with quality materials that keeps you warm and comfortable. UNIQLO's coats and jackets are around 10,000 yen ($100) which might be slightly more expensive than other products at UNIQLO stores, however, the quality of UNIQLO outerwear is great and they can be worn for a couple of years without problems. Also the design is pretty simple and classic that can be match with various fashion.
Today, I'm going to introduce the best outerwear for women to buy at UNIQLO stores in Japan for winter! So let's check them out now 🙂
1. WOMEN DOUBLE FACE HOODED COAT
Price: 7,990 yen + TAX (Sale Price)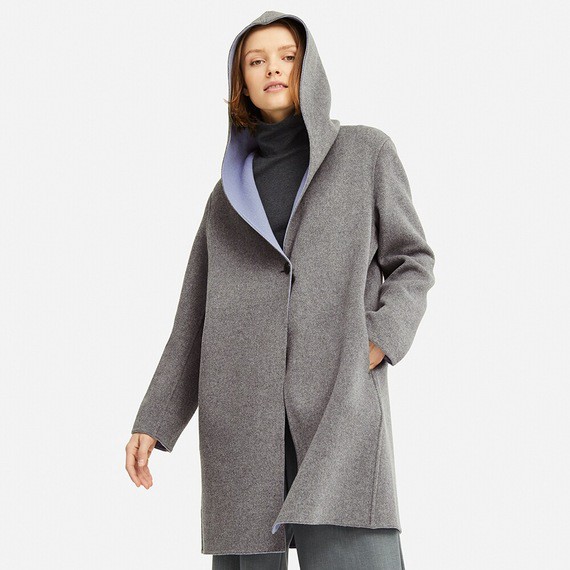 DOUBLE FACE HOODED COAT (ダブルフェイスフーデットコート) is a reversible coat with two different colours on the inside and outside. The coat is made with wool blend material, and has a simple and elegant design with a single button. I like to roll up the sleeves so the inner colour appears as an accent. It's great coat to use for daily, especially when you need to bundle up quickly for a short outing. 4 different colours are available. I have one with the grey and blue combination which matches with most colours.
2. WOMEN TWEED COAT (INES DE LA FRESSANGE)
Price: 14,900 yen + TAX (Sale Price)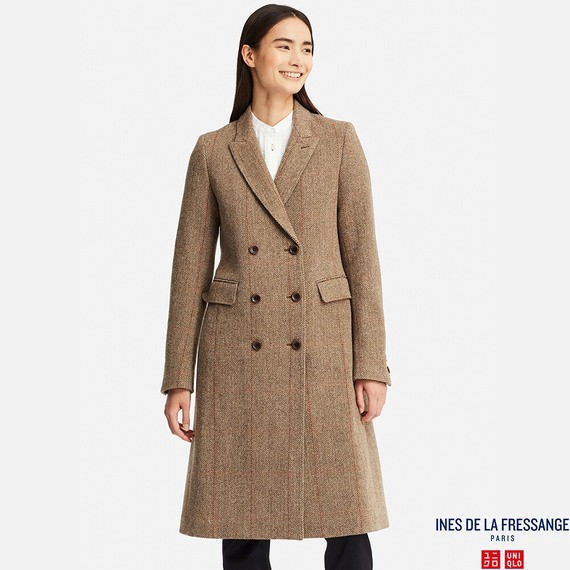 TWEED COAT (ツイードコート) is from the special collaboration collection with INES DE LA FRESSANGE, the famous fashion model and designer from France. The warm tweed coat is made with wool and nylon blend material. The front design is double-breasted for a bold and solid look, and the stitching gives elegant accents. The beautifully shaped coat stays slim and stylish without looking round. The colour is available in beige and grey.
3. WOMEN FLEECE COLLARLESS JACKET
Price: 2,990 yen + TAX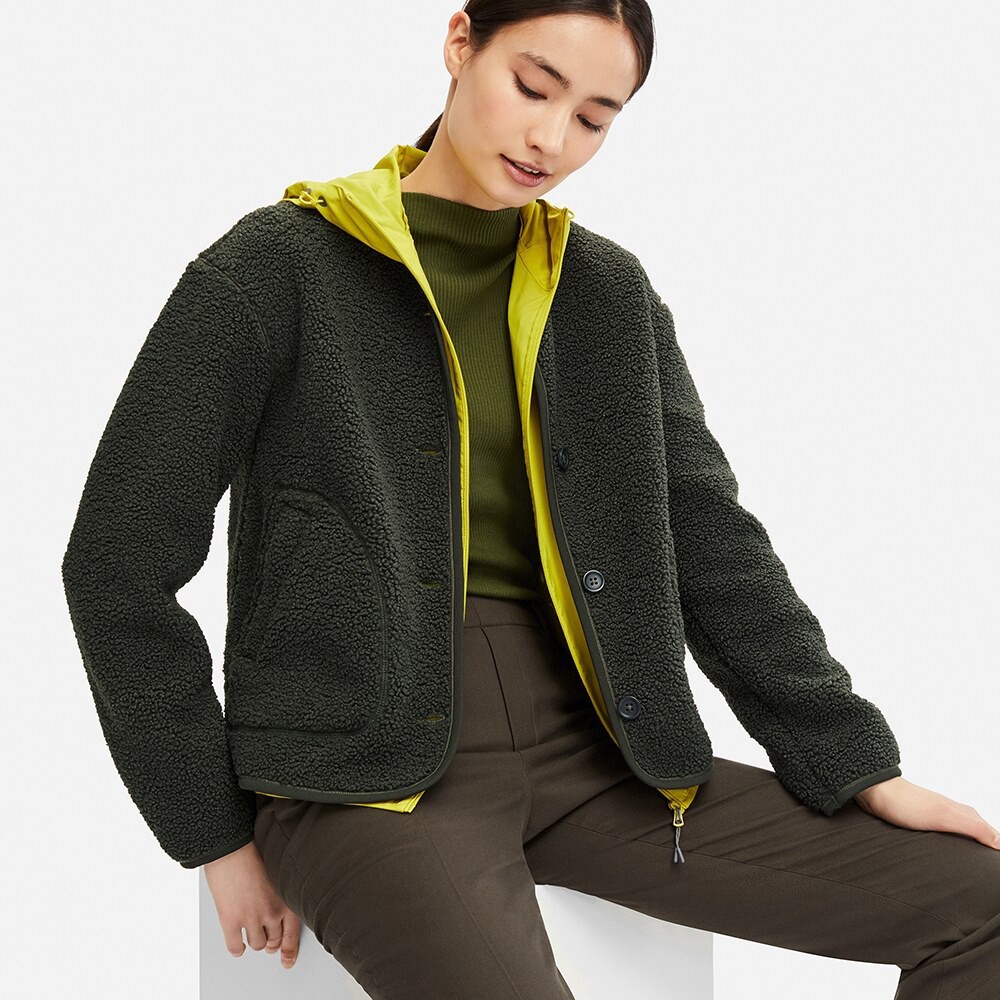 FLEECE COLLARLESS JACKET (フリースノーカラージャケット) is outerwear with fluffy boa fleece which is a big trend for this season. The jacket comes with a short length and it's perfect to use both as inner and outerwear. Boa fleece is a great material to keep you warm. It's light weight and ideal for layer. My recommendation is to use it as an outerwear in autumn and inner wear in winter. The jacket is available in 5 different colours.
4. WOMEN ULTRA LIGHT DOWN COMPACT COAT
Price: 6,990 yen + TAX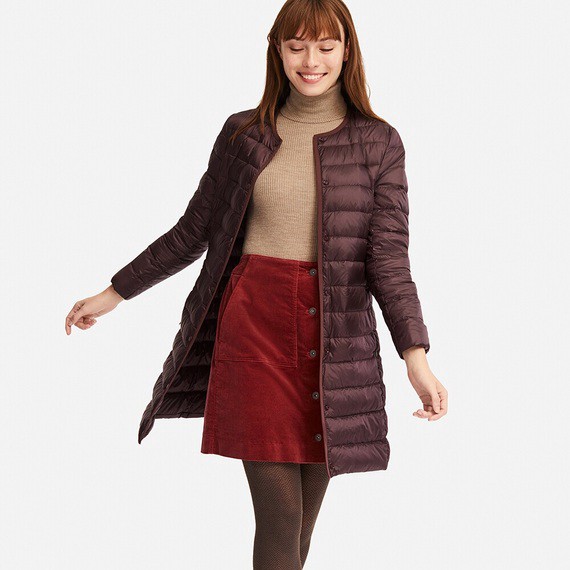 ULTRA LIGHT DOWN COMPACT COAT (ウルトラライトダウンコンパクトコート) is from one of the best selling UNIQLO collections, ULTRA LIGHT DOWN series with a lineup of packable outerwears that are warm, light and portable and extremely useful for travelling. The coat comes in a two-way design that can be both V-neck and U-neck, and you can change it according to the scene. It has a durable water-repellent coating that keeps out light rain and snow. 5 colours available.
5. WOMEN LIGHTWEIGHT WOOL-BLEND HOODED COAT
Price: 9,990 yen + TAX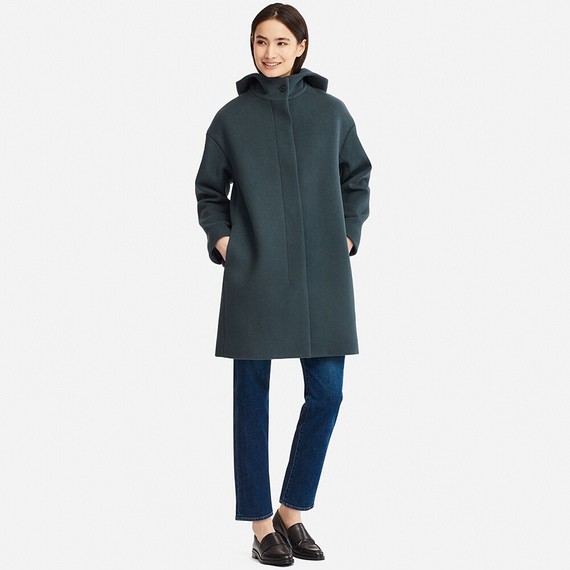 LIGHTWEIGHT WOOL-BLEND HOODED COAT (ライトウールブレンドフーデットコート) is a classic hooded coat with a trendy relaxed shoulder design that gives feminine and elegant look. The blended wool material is lightweight and keeps you warm, and the simple design can suit any sort of style. Now the coat is sold about the half price (4,990 yen + TAX ) at UNIQLO stores in Japan!
How did you enjoy the list??
All introduced UNIQLO coats and jackets are affordable, yet they seem more expensive than the actual prices! Moreover, you can find most of the products at cheaper price since it's a sale season in Japan after New Year 🙂 If you are considering to purchase UNIQLO outerwear, I hope this article would be helpful for your shopping! Let's stay warm in the cold winter !
For more info about shopping in Japan, please check out the listed articles below, too!
▽ Related Articles ▽
▼ Editor's Picks ▼
---