10 Best Vegetarian and Vegan Restaurants in Tokyo
Best places to eat in Tokyo for vegetarians and vegans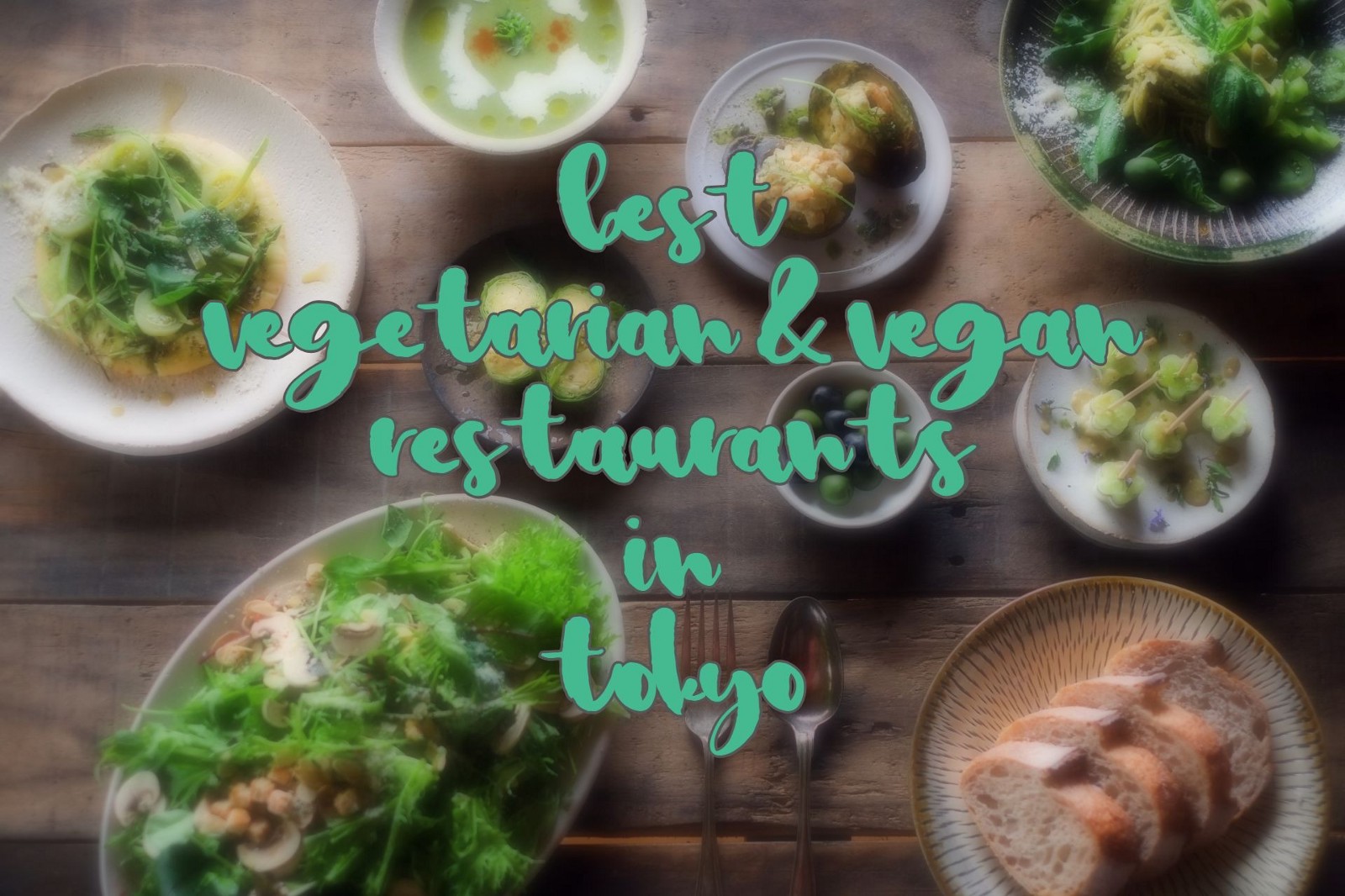 Tokyo is one of the best cities in the world for foodies, and food is definitely the city's top attraction. From authentic Japanese dishes like Sushi and Tempura to trendy Instagram-Worthy snacks, there are no dishes that you can't find in this greedy city.
Not only meat and fish eaters, but vegetarian and vegan can also enjoy the wonderful food culture of Tokyo these days. Tokyo is truly a great city for vegetarian and vegan travellers. The city offers an excellent choice of restaurants serving delicious vegetarian and vegan dishes in various genres such as traditional Japanese cuisine, cafe style food, and international dishes. More and more vegan and vegetarian friendly restaurants and cafes are opening in Tokyo, and you may not able to decide which vegan and vegetarian restaurants to eat out while travelling in Tokyo.
In this article, I have listed top 10 restaurants in Tokyo which offers amazing vegetarian and vegan dishes.So let's check them out 😉
*Please note that this article contains affiliate links.
1. RAINBOW BIRD RENDEZVOUS
RAINBOW BIRD RENDEZVOUSA (レインボーバードランデヴー) is a cozy and casual vegan cafe in Tokyo. The cafe offers a full vegan menu for lunch and dinner as well as a selection of smoothies, coffee and desserts made with selected organic and natural farming ingredients. The cafe is located in Nakameguro area, which is not too far from Shibuya area.
More info:
2. Tokyo Shiba Tofuya Ukai
Tokyo Shiba Tofuya Ukai (東京 芝 とうふ屋うかい) is a fine Japanese restaurant serving authentic Japanese cuisine using home-made Tofu. Tofu is one of the most popular vegan ingredients high in protein to substitute meat. At Tokyo Shiba Tofuya Ukai, you can enjoy the best quality Tofu dishes with Kaiseki style (traditional Japanese multi-course meal), and they do offer a vegetarian option. Besides delicious Tofu dishes, you may enjoy the old-fashioned and elegant interior of the restaurant with a beautiful Japanese garden with a pond. The restaurant is located at the foot of Tokyo Tower.
3. Glutenfree Cafe Littlebird (Closed)
Glutenfree Cafe Littlebird (グルテンフリーカフェ リトルバード) served mouth-watering dishes such as burgers, pizza, pasta, Ramen, fried chicken, pancakes, par fait, etc.. which are all gluten free! There are also vegetarian and diary free option at the cafe. The cafe is located in Yoyogi area, which is near Shibuya and Harajuku area.
4. Shinjuku Gyoen Ramen Ouka (Closed)
Shinjuku Gyoen Ramen Ouka (新宿御苑らーめん桜花) is a friendly Ramen restaurant for all visitors. Their Halal Ramen and Vegan Ramen are two popular dishes among foreign visitors. The restaurant is located within Shinjuku area.
5. Annam Indian Restaurant
A lot of Indian restaurants have opened in Tokyo in the past years, and they are surprisingly good. You don't really need to go to India to taste the best Indian dishes today. Annam Indian Restaurant (アナム本格インド料理) is Tokyo's one of the best Indian restaurants which is located in Ginza area. The restaurant offers authentic Indian cuisine with a wide option including Halal, Vegetarian and Vegan dishes.
6. Vegan Ramen UZU Tokyo
Vegan Ramen UZU Tokyo is a ramen restaurant where you can have an unique dining experience. The restaurant's main branch is in Kyoto, and the Tokyo branch is located inside teamLab Planets, the trending digital art museum in Toyosu, Tokyo. Guests can enjoy delicious vegan ramen in an unique art space of teamLab. Vegan ice cream and a variety of teas are also available.
Map: https://goo.gl/maps/B1EecvTC7HtLHyGE7
Hours: 11:00~19:00 (10:30~ on weekends, and everyday on July and August)
Official Website: https://vegan-uzu.com/pages/uzu-tokyo
7. Ta-im
Ta-im (タイーム) is an Israeli restaurant in Ebisu area, Tokyo. Ta-im serves delicious and authentic Israeli cuisine such as hummus and falafel made with fresh and quality ingredients, and offers great options for vegetarian and vegan. Some of spices and wines are directly imported from Israel.
8. Sasanoyuki (Closed)
Sasanoyuki (笹乃雪) is a long established traditional Japanese restaurant which was established over 300 years ago. The restaurant specialises in Tofu dishes which are served as multi-course meals and the vegetarian and vegan option is also available upon requests. The restaurant is located in Taito ward, and not too far from Ueno area.
9. Brown Rice by Neals'yard Remedies
Brown Rice by Neals' Yard Remedies (ブラウンライス by ニールズヤードレメディーズ) is a stylish and relaxing restaurant/cafe located in Omotesando Street (near Shibuya and Harajuku.) Healthy and well balanced vegetarian dishes and desserts are made with selected seasonal organic ingredients. They also take huge pride in presentation of the dishes to look beautiful.
10. CITRON Aoyama
CITRON Aoyama is a French style DIY salad bar located in Aoyama area (near Harajuku and Shibuya). The stylish and casual salad bar offers over 20 ingredients to choose and create your own Salad with a various dressing on top. Set meals are also available during lunch time with a choice of salad, quiches or gratins served with monthly soup. Dishes are available for eat-in or takeaway.
-Vegetarian/Vegan Food Tour
Explore the Vegan and Organic food culture in Tokyo with a local guide! "Vegan & Organic Food Tour in Tokyo" by Magical Trip is one of the best food tours for vegan, vegetarian and organic foodies, introducing delicious and healthy vegan dishes such as vegetable plate, bowl of Ramen and Matcha dessert! Check out the link below for more details and book the tour with discount!
-Vegetarian/Vegan Cooking Class
Cooking classes are highly popular activities among foreign tourists today as they can learn not only how to make dishes but also enjoy tasting it and learning the authentic Japanese food culture. Check out the link below to find the best cooking classes in Tokyo such as Sushi, Ramen, Gyoza and Bento with Vegetarian and Vegan options!
---
To find delicious Vegan and Vegetarian restaurants in Japan, I'd highly recommend you to use Vegewel! It's the website introducing over 1,300 vegan, vegetarian and gluten-free restaurants all over Japan from Hokkaido to Okinawa! You can search and find the best Vegan and Vegetarian restaurants nearby or depending on what you want to eat!
Did you enjoy the list?? You may like these articles, too!
▽Related Articles▽
▼Editor's Picks▼
---