Tokyo Sakura Jingu Shrine Cherry Blossom
Best Places to See Cherry Blossoms in Tokyo: Sakura Jingu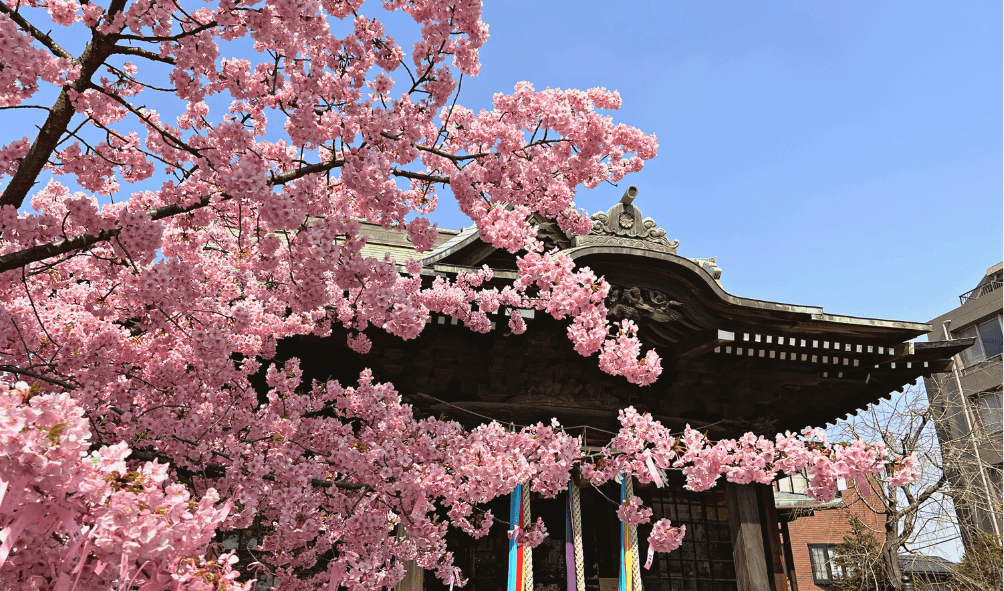 Sakura Jingu is a small Japanese shrine that has gained much popularity in recent years especially in social networks for its particular charm in spring. The Sakura Jingu is located in the popular neighborhood of Setagaya, near Shibuya. Although it has very few cherry trees, they are adorned with adorable pink bows that make them very photo-worthy and instagrammable!
Sakura means cherry blossom in Japanese, so the Sakura Shrine is especially focused on this theme. Not only the cherry trees of the shrine are decorated, but they also sell lucky charms such as ema or omamori with the theme of cherry blossoms. One of the temple's most attractive features are its beautiful goshuin (seal stamps).
The cherry trees on the shrine are Kawazu Sakura (河津桜), a type of cherry blossom flower originally from Shizuoka prefecture that bloom earlier than others and with a more intense pink color. Kawazu Sakura also last longer than other types, so people can enjoy for more time.
Since 2-3 years ago Sakura Jingu became famous in social networks, especially for influencers, and since then more and more people go there. So if you want to take nice pictures of the place I recommend you to go early in the morning when they open because the place is small and crowded.
The Sakura shrine it's near to the popular neighborhood of Naka Meguro, specially famous during Spring for the cherry blossoms at Meguro River, so after visit Sakura Shrine you can go to Meguro and seat in one of the many cafes and restaurants with a terrace where you can enjoy the cherry blossoms views with a drink!
-Sakura Jingu Cherry Blossom

Access: 3 min walk from Sakura-shimmachi Station
Opening hours: 09:00~ 17:00
Best time to visit: late March to early April
---
For more interesting places to enjoy cherry blossoms in Tokyo check this article too!
To know when is the best time to see the cherry blossom in Tokyo, don't miss this article 🙂
– Different Ways to Enjoy Cherry Blossom Viewing in Tokyo
▶ 7 Hidden Cherry Blossom Spots in Tokyo
▶ 5 Best Places to See Night Cherry Blossoms in Tokyo
▶ 5 Best Cherry Blossom Festivals in Tokyo
▶ 10 Best Cherry Blossom Viewing Restaurants in Tokyo
▶ 7 Best Cafes for Cherry Blossom Viewing in Tokyo
▶ 5 Best Cherry Blossom Viewing Cruises in Tokyo
▶ Best Cherry Blossom Spots near Tokyo
---
Hope you liked this spot! Spring is the peak season in Japan and you can enjoy cherry blossom not only by viewing but in several ways, as cherry blossom themed events, drinks and food. Check here some of the best ways to enjoy sakura season in Tokyo!
▽Related Articles▽
▼Editor's Picks▼
---