Todoroki Valley: A Secret Nature Spot in Tokyo
Guide to Todoroki Valley in Tokyo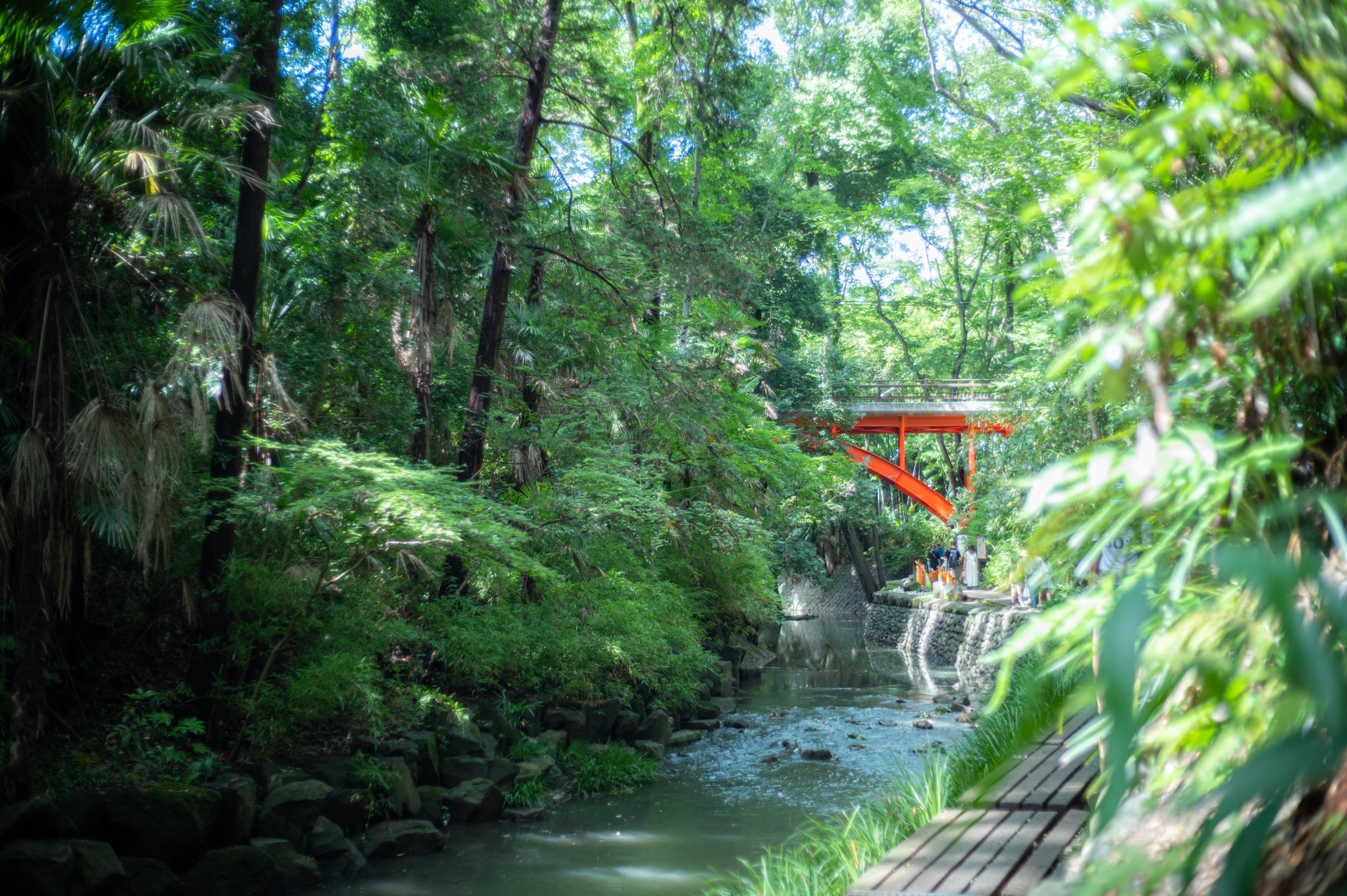 Among the various places you can visit, where do you want to go when you visit Japan? Japan is full of unique experiences such as traditional buildings, Japanese food, anime, and manga. Please take advantage of some of Japan's unique experiences to enrich your trip's memory.
Todoroki Valley is a secret nature spot in Tokyo and the only valley located in the 23 wards of Tokyo. How about experiencing the more relaxing side of Tokyo by letting the negative ions of Todoroki Vally destress you? You can get in touch with beautiful trees, the sound of rivers, and inhabiting plants. I will introduce to you what makes Todoroki Valley such a special location.
Let us take a look at the details of Todoroki Valley.
---
What is Todoroki Valley?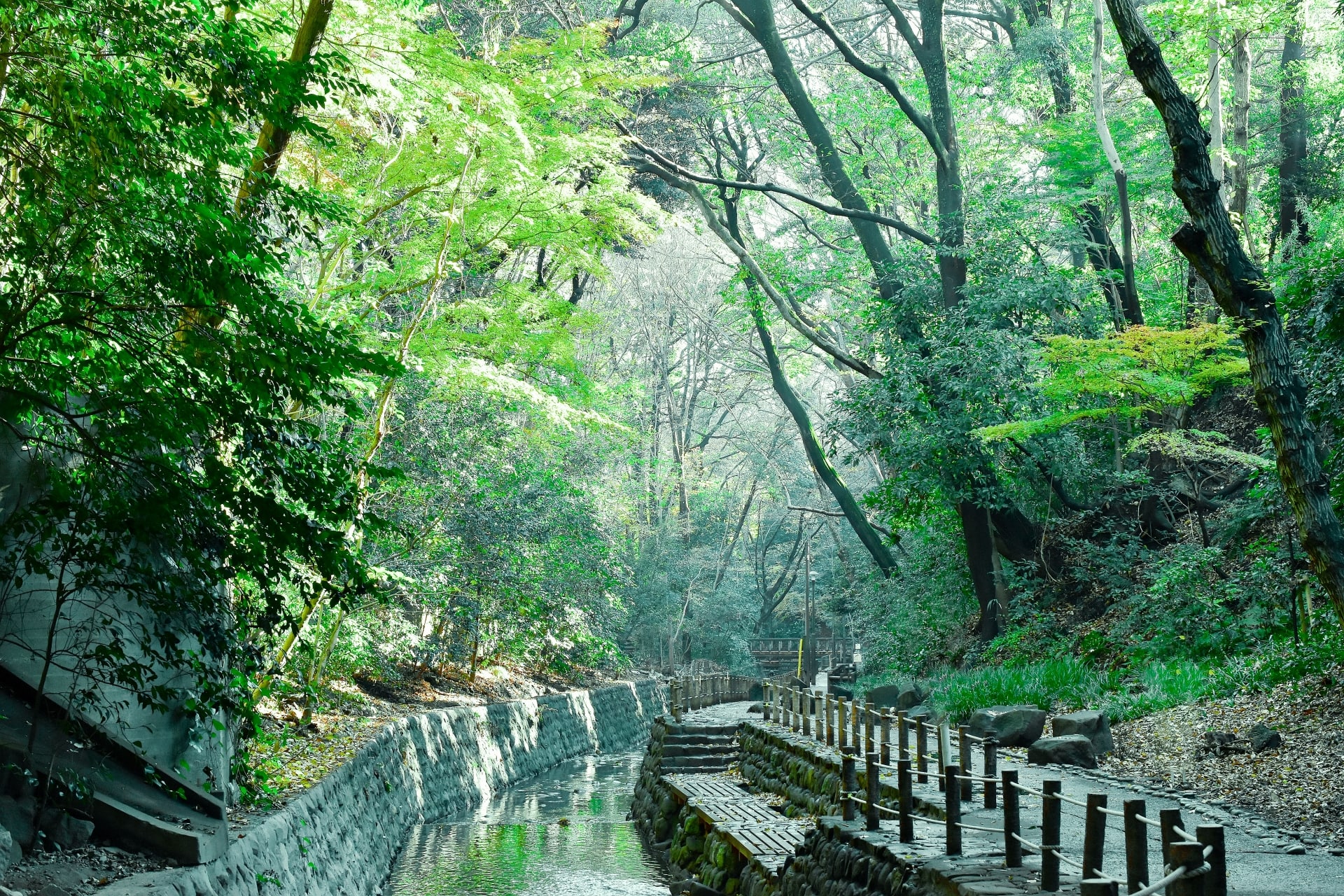 As I previously mentioned, Todoroki Valley (等々力渓谷) is the only valley in the 23 wards of Tokyo.
Todoroki Valley is 1 km in length, and you can go around it in about an hour. The area is 30,210 ㎡, and the altitude is 24 meters from sea level. There are Japanese gardens and the Todoroki Fudoson Temple within Todoroki Valley Park. There is also Noge Otsuka Tumulus nearby.
Todoroki Valley forms a wetland with various plants and more than 30 springs from the rich water source and topography. The natural environment is where trees such as zelkova, konara, and other wet plants can be found due to the rich nutrients in the environment. It is maintained as a Todoroki Valley Park, which is a designated place along the Tanisawa River from the vicinity of the Golf Bridge to the Yagawa Bridge, which you can walk on the I-walk.
The scenery here does not seem to be that of what you expect within Setagaya Ward, which is usually related to residential areas. There, you will find tumuli, a Buddhist temple, and even Japanese gardens along the valley. There are various trees in the valley, and you cannot see the outside, so you can experience it as if you are in an oasis while staying in the city.
What to do at Todoroki Valley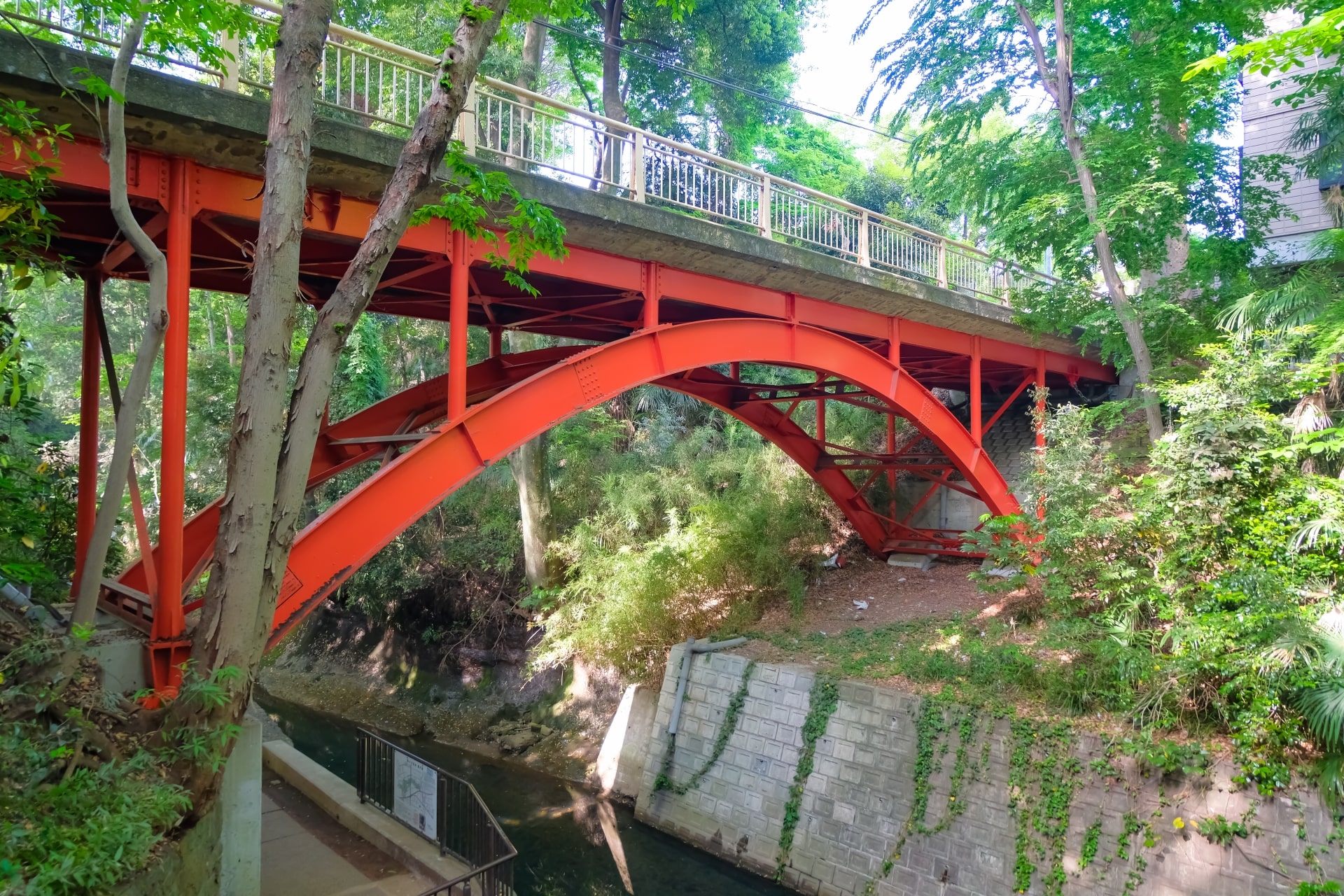 Golf bridge (ゴルフ橋) is a bridge at the entrance of Todoroki Valley. The golf bridge has this name because it used to have a vast golf course nearby. The beautiful red golf bridge stands out among the nearby green trees. This is a photogenic spot, it is recommended to take pictures here.
Todoroki Valley is surrounded by beautiful greenery and you can feel the fresh air and the sunlight falling through the tree branches. During your visit, you may walk along the promenade on the side of the river.
*Note: There are many wetlands and areas where your feet are slippery, so it is recommended to go with shoes that are for wetlands.
While on the bridge of the sword, you can see the Todoroki Fudoson (等々力不動尊) and Fudo no Taki (不動の滝) or the "Fudo falls". This has been a long-known place to go visit. Visitors from all over the country visit this waterfall. There is a saying among the local residents that the sound of the immovable waterfall echoed and the name "Todoroki" came from the place where it roared.
Another thing you can do here is to go to the main hall of Todoroki Fudoson. There is a sunny stage in the precincts and you can overlook the valley from the stage. Cherry blossoms are visible in spring.
How to get to Todoroki Valley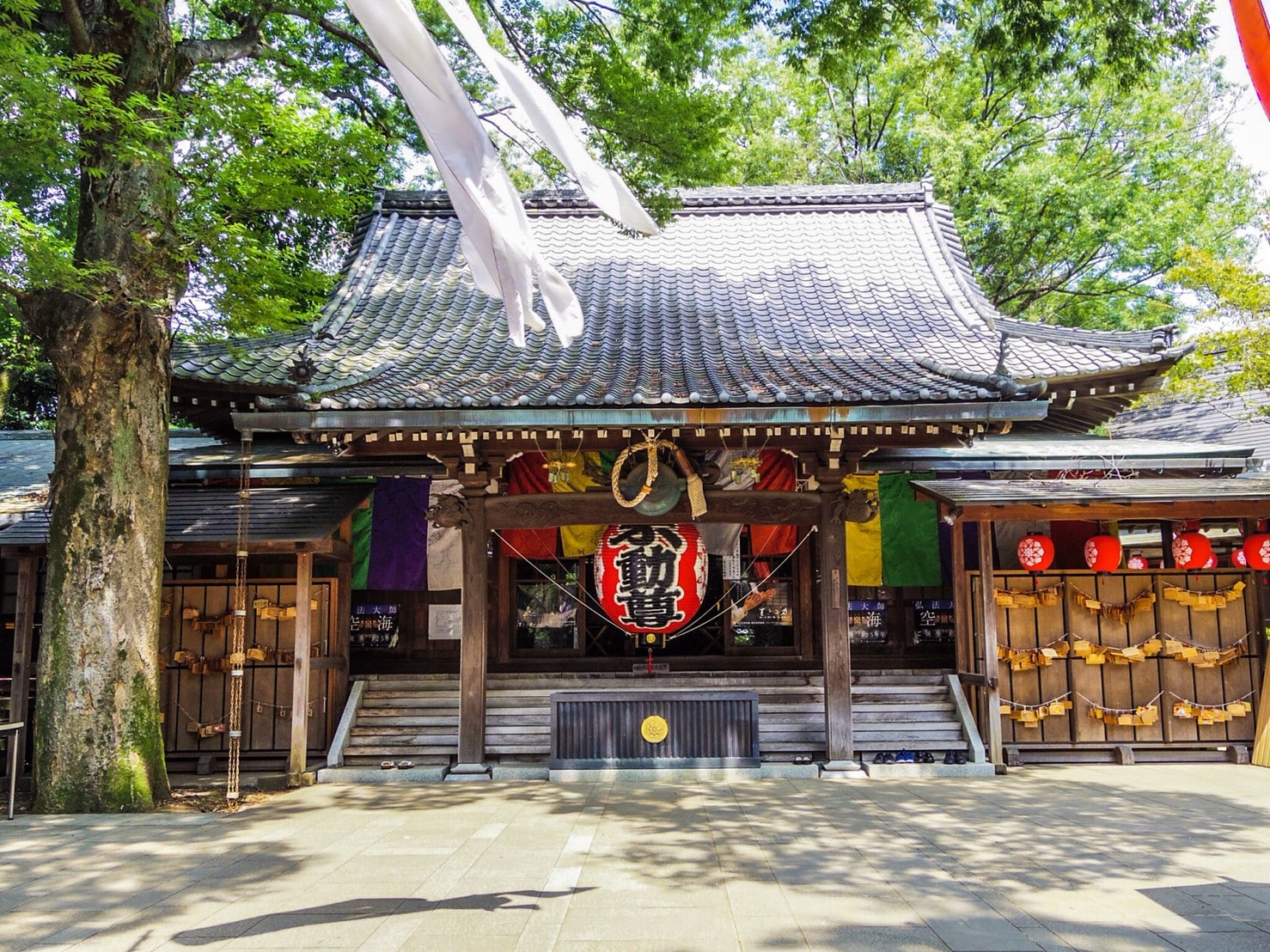 You can get to Todoroki Valley in about 42 minutes from Tokyo Station by train. Take the Keihin Tohoku Line for 16 minutes and get off at Oimachi Station. At Oimachi Station, transfer to the Oimachi Line and take the train for 20 minutes to arrive at Todoroki Station. It takes 1 minute to get to Todoroki valley by foot.
Also, you can get to Todoroki Valley in around 18 minutes from Shibuya Station. Take the Denentoshi Line for 11 minutes and get off at Futakotamagawa Station. Transfer to the Oimachi Line at Futakotamagawa Station, get on for 4 minutes, and get off at Todoroki Station.
Tourist attractions near Todoroki Valley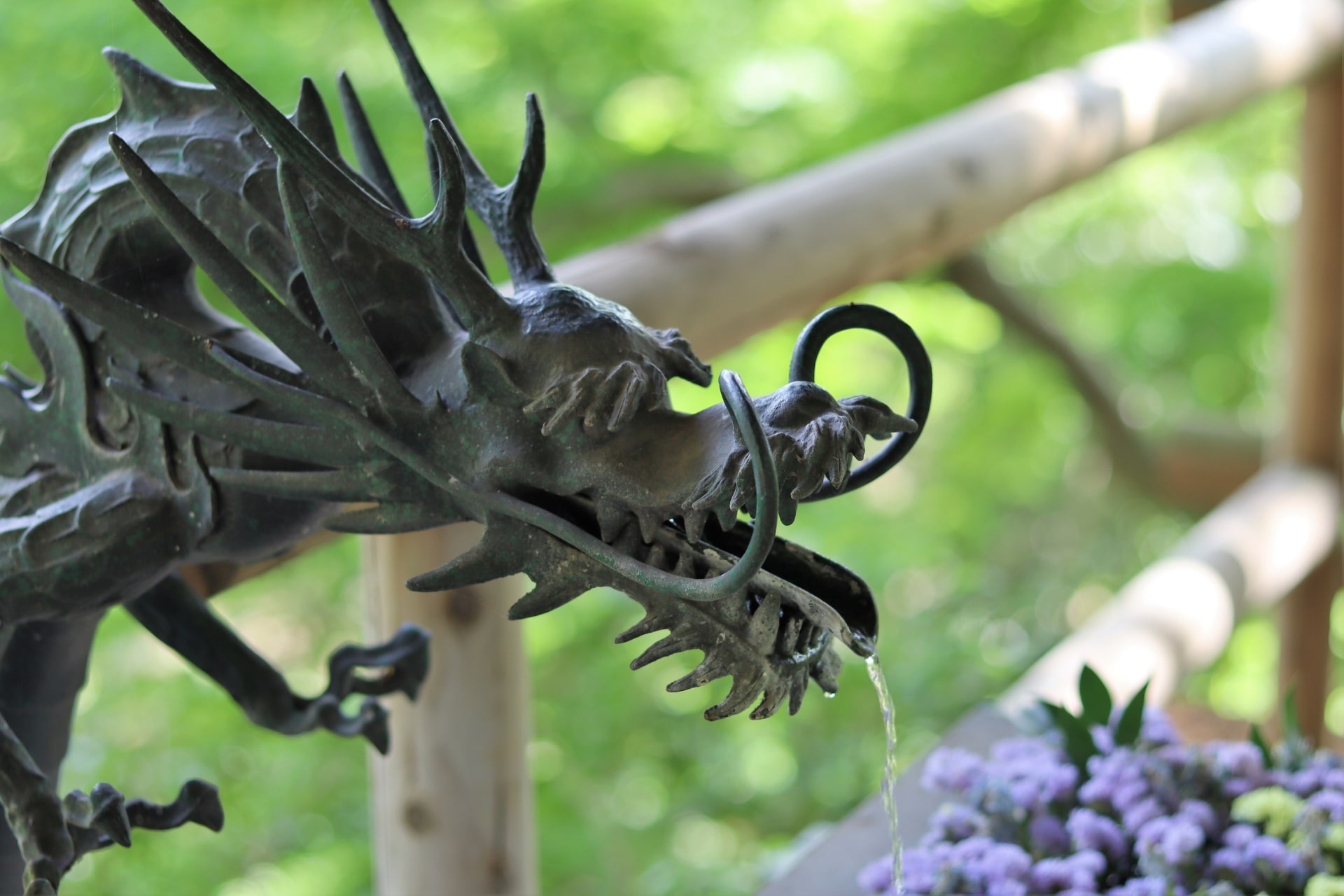 The Gotoh Museum (五島美術館)
Take the Oimachi Line from Todoroki Valley and arrive in about 10 minutes. The Gotoh Museum has a Japanese garden and a tea room.
Futakotamagawa Park (二子玉川公園)
Take the Oimachi Line from Todoroki Valley and arrive in about 10 minutes. Futakotamagawa Park has a Japanese garden and a shoin or a study, where you can enjoy Japanese culture.
Kumano Shrine (熊野神社)
Take the Oimachi Line from Todoroki Valley and arrive in about 10 minutes. Kumano Shrine has a beautiful vermilion torii gat and is said to be good for those who want to have a healthy child.
View Information
Hide
Information
| | |
| --- | --- |
| Access | 1 minute away from Todoroki Station |
| Address | 1-22-26 Todoroki, Setagaya-ku, Tokyo 158-0082 |
| Business Hours | 24 hours |
| Price | free |
---
▽Subscribe to our free news magazine!▽

For more information about travel destinations in Japan as well as travel tips, check these articles below, too!
▽Related Articles▽
▼Editor's Picks▼
---