Starbucks Japan x Peanuts First Collaboration Goods
Starbucks Japan x Peanuts Collaboration "HAPPINESS IS CONNECTING TOGETHER"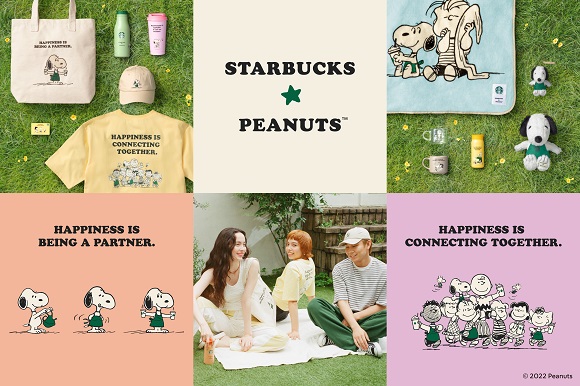 In Japan, it's very common for many companies to make limited editions or special collaborations to attract the attention of their customers. Starbucks Japan is one of the top companies in this aspect. Although Starbucks is a U.S. company present around the world, Starbucks Japan is different from other branches and brings out many more limited time flavors or special goods series. Usually this special editions are mainly based on in-house designs and products, but this time the company has surprised its fans with a special collaboration with Peanuts!
Peanuts, commonly known by the name of its star character Snoopy, is a comic strip written and illustrated by Charles M. Schulz. The adventures of Snoopy and his friends are known all over the world, and there are even many people who haven't particularly read the comics but love the character. With the theme "HAPPINESS IS CONNECTING TOGETHER" Snoopy and his friends will be showing the "Happiness in Everyday Life" in a series of tumblers, mugs, T-shirts, caps, etc. In this collaboration, born out of mutual empathy and respect between Starbucks and Peanuts, we will be able to see Snoopy as a Starbucks worker (with the classic green apron) or enjoying Starbucks coffee.
The first series was released on September 28, 2002 (Wednesday), and the second series will be available from October 5, 2022 (Wednesday) at the Starbucks online store! You can also find some products at Starbucks stores nationwide since October 3, 2022 (Monday).
Do you wanna see the special goods of this unique collaboration? Keep reading!
On sale at Starbucks online store from September 28

On sale at Starbucks online store from October 5
Stainless Steel Logo Bottle PEANUTS 473ml (White, Blue, Green) 4,900 yen
Stainless Steel ToGo Logo Tumbler PEANUTS 473ml 4,900 yen
Canvas tote bag PEANUTS 4,400 yen
Starbucks Card Gift Online Store PEANUTS (2,000 yen deposit) 2,550 yen
Baseball Cap PEANUTS (Off White, Blue) 3,600 yen
Oversized T-shirt PEANUTS (Yellow, Off White) 4,000 yen

Stainless Steel Mini Bottle PEANUTS 355ml (Yellow, Orange) 4,700 yen
Stainless Steel ToGo Logo Tumbler PEANUTS 473ml (Off White, Gray) 4,900 yen
Glass Mug PEANUTS 355ml 3,300 yen
Stacking Mug PEANUTS 355ml (Pink, Grey, Green) 2,900 yen
Cafe Blanket PEANUTS 4,400 yen
Starbucks Green Apron SNOOPY 4,500 yen
Starbucks Green Apron SNOOPY Mini 3,300 yen
On sale in Starbucks stores nationwide from October 3
Reusable cup Peanuts 473ml, 550 yen
Starbucks Card Peanuts Off-White
Starbucks Card Peanuts Pink
* Starbucks Card can be issued up to one Starbucks Card with the same design per person with a deposit of 2,000 yen or more. The sale will end as soon as all cards are sold out.
* Each item is limited to one purchase per person on the first day of sales only.
For more info here you have an official video about the collaboration!
---
Who else is looking forward to get one of these amazing and special goods?🤩
For more activities or events in Japan this Autumn-Winter or Starbucks Japan special goods and stores, don't miss these articles either!
▽Related Articles▽
▼Editor's Picks▼
---