SPY x FAMILY Tamagotchi to be Released in 2022
Bandai Tamagotchi and SPY x FAMILY Collaboration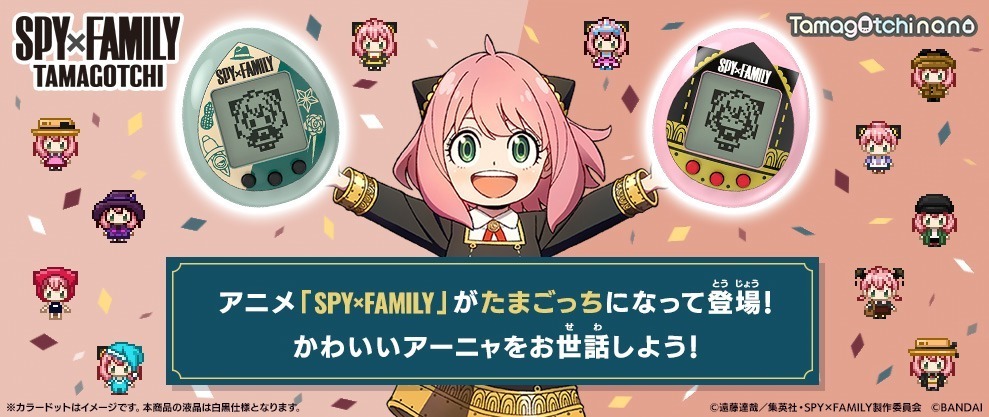 The iconic 1990s toy Tamagochi(たまごっち), released by Bandai in 1997 (1996 in Japan) was a boom for the children of the time, selling over 82 million units. Those children now grown up still remember the handheld egg-shaped digital pet fondly and many are eager to have one again, especially if we add a collaboration with a popular anime on top of it, as has been demonstrated in recent years.
In 2020 Bandai released a version of its famous Tamagochi with the legendary anime Evangelion and later with the trendy anime Kimetsu no Yaiba (Demon Slayer). This year it has announced a collaboration with "SPY x FAMILY", the most popular anime right now in Japan.
SPY×FAMILY is a TV anime based on the popular manga series with the same name written and illustrated by Tatsuya Endo. The manga was published for the first time on the Shosen Jump+ in 2019 and has just been adapted into anime. The story is a light comedy that narrates the adventures of Loid Forger (alias Twilight), a skilled spy, Anya, a psychic, and Yor, a professional assassin, establish a temporary family. But except for Anya, neither knows the other's secret and they pretend to be normal people.
The anime has quickly become one of the most watched anime in Japan and collaborations, such as a themed cafe or a collection with UNIQLO, haven't been long in coming.
Bandai's Tamagotchi nano toy series collaboration with SPY x FAMILY will go on sale at toy stores, department stores, and electronics retailers nationwide from December 17, 2022 for 2,530 yen. It will be available in two different designs. The "Spy Green" design features motifs of Lloyd, Anya and Yor, while the "Anya-chi Pink" design is inspired by Anya's outfit, including her cute cat ears-shape hair ornament.
In this SPY x FAMILY version Tamagochi instead of taking care of a pet you have to raise Anya, and you can even change her outfit! Anya starts the game with her school uniform, but also comes with other clothes like her pajamas, swimsuit or a detective costume. But that's not all! She will also have original outfits exclusive to her Tamagochi version, such as a wizard costume or a dress-up code.
And if you're still hesitating, one thing Tamagochi and SPY x FAMILY fans will love is that Anya's Tamagochi has 5 different facial expressions inspired by her funniest and cute faces in the anime! And of course Anya's favorite snack, peanuts, was a must.
You will have to feed Anya using of course Anya's favorite snack, peanuts. And you need to be careful since if you don't spoil her, Anya will run away! In addition, you will have three types of mini-games that can be played with Anya. The results of these games will also affect her growth.
Tamagotch Online Store: https://toy.bandai.co.jp/series/tamagotchi/spyfamily/
---
For more latest information in Japan or best animes to watch, please check these articles too!
▽Related Articles▽
▼Editor's Picks▼
---