Neon Genesis Evangelion Tamagotchi to be Released in 2020
Evatchi: Bandai Tamagotchi x Evangelion Collaboration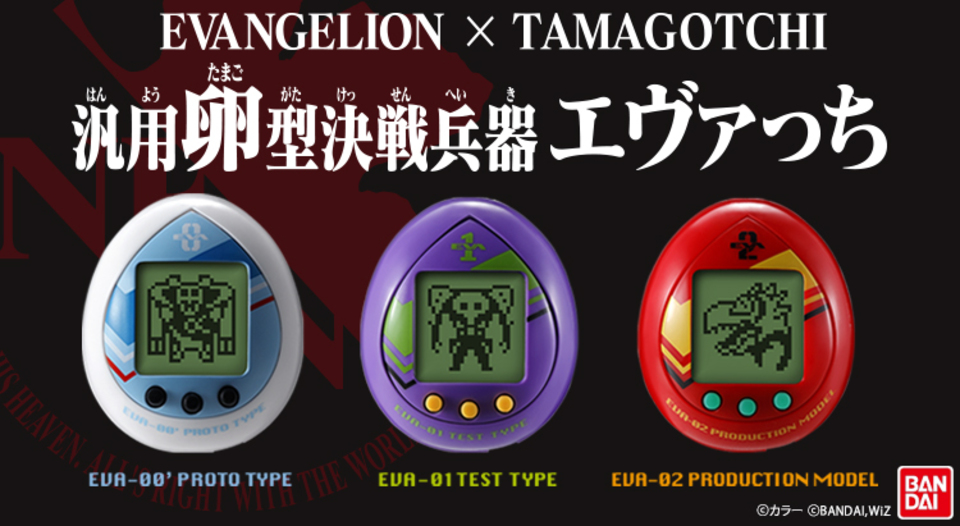 Tamagotchi (たまごっち) is a handheld egg-shaped digital pet released by Bandai in 1996 in Japan (and 1997 in the rest of the world), which quickly became one of the top selling toys across the world selling over 82 million units. If you are a late 90s-early 00s kid, Tamagotchi might be a big part of your childhood.
In 2020 summer, the legendary toy Tamagotchi is collaborating with Neon Genesis Evangelion, a popular post-apocalyptic Japanese anime franchise. Bandai is releasing "Evatchi (エヴァっち)" the Evangelion themed Tamagitchi which you can raise your own Angel (Shito).
Evatch is available with three image colours of main characters of the anime series (Shinji, Asuka and Rei).
You can start raising an Angel from a fetus, and it develops into a cocoon, then becomes one of over 20 kinds of Angels from the anime series depending on how you take care of it. It's important to look after your own Angel frequently and keep it happy, otherwise it may shut its mind and create an AT Field barrier.
Bandai also revealed that as you take care of an Angel, there is a possibility of seeing an appearance of human characters from the anime series such as Rei Ayanami. There are several more contents on this toy that will entertain Evangelion fans such as mini games and trainings.
Evatchi will be released on 13 June 2020, widely available at toy stores, department stores, electronics stores and online shopping sites. The price is 2,530 yen (tax included).
Tamagotch Online Store: https://tamagotch.channel.or.jp/tamagotchi/evangelion/
Bandai Online Store: https://p-bandai.jp/item/item-1000145041
EVANGELION Online Store: https://www.evastore.jp/products/list?category_id=1055
Evangelion: 3.0+1.0 (シン・エヴァンゲリオン劇場版:||), the final movie in the Rebuild of Evangelion reboot film series will be released in 27 June 2020, and there will be various special events and merchandise available to celebrate a new released of the movie including UNIQLO UT Evangelion Collection. 2020 will be a big year for EVA fans so stay tuned and don't miss more news to come 🙂
Latest Update: Evangelion: 3.0+1.0 has been delayed due to Coronavirus and the new release date will be announced once it's confirmed.
---
Here is one more exciting news for Japanese anime/Tamagotchi fans! In 2020 autumn, BANDAI will released a new Tamagotchi collaborating with Demon Slayer: Kimetsu no Yaiba!! Kimetsu Tamagotchi will be go on sale in autumn in 2020. Click the link below to find more details!
For more latest information in Japan, please check these articles, too!
▽Related Articles▽
▼Editor's Picks▼
---