Okonomiyaki All You Can Eat in Tokyo!
Best Okonomiyaki Restaurants in Tokyo with all-you-can-eat deals!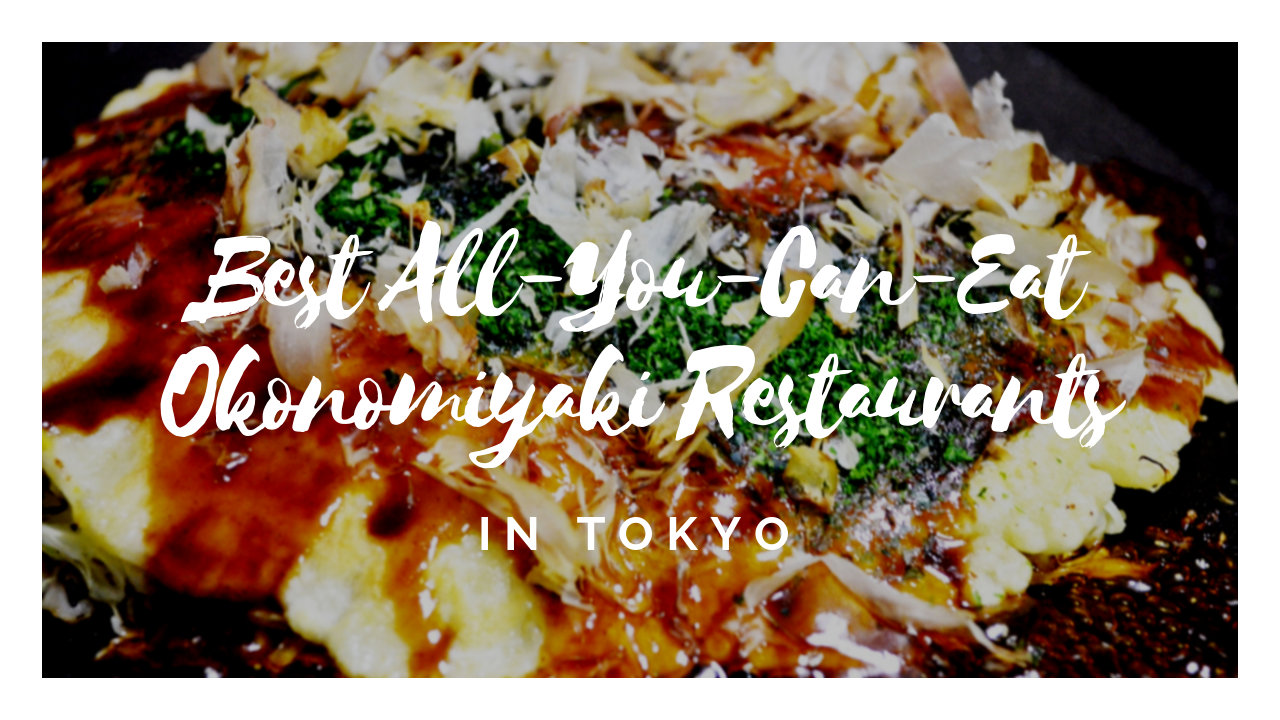 Osaka's significant dish "Okonomiyaki" is now the nation's favourite food! Well, I should say that it might become the world's favourite one in near future. It's one of the top 10 most popular dishes in Japan among foreign visitors! There are Okonomiyaki restaurants pretty much everywhere in Japan, but today I'm going to introduce some of restaurants in Tokyo especially for gourmands. Okonomiyaki All-You-Can-Eat!
---
-Sakura Tei (さくら亭)
Sakura Tei in Harajuku is an Okonomiyaki restaurants with their unique and artistic decor. Not only the colourful interior makes this place outstanding but they have great deal of all-you-can-eat style course (ONLY 1,100 yen for lunch!!) as well as their general menu. Choose ingredients to create your own Okonomiyaki from over 20 toppings! They also serve Monjayaki which is often eaten in Kanto region like Okonomiyaki but much thinner and more liquid.
Address: 1F,3–20–1 Jingumae, Shibuya-ward, Tokyo
Nearest Station: 8 minutes walk from Harajuku station (JR Yamanote line)
Hours: 11:00 to 24:00
Seats: 180
Price: Lunch 1,100 JPY for 90 mins (one drink included)/Dinner 2,100 JPY for 120 mins
Related article:
Sakura Tei: Coolest Okonomiyaki Restaurant in Harajuku, Tokyo
Okonomiyaki Mura (お好み焼き むら)
Okonomiyaki Mura is a popular Okonomiyaki restaurant located in the heart of Shibuya district. This long-established restaurant has been running their business for over 40 years, serving delicious and authentic Okonomiyaki and other Teppanyaki dishes at cozy and homey atmosphere. Okonomiyaki Mura's great all-you-can-eat deal can be enjoyed for lunch and dinner, offering Okonomiyaki, Monjayaki and Yakisoba dishes with various toppings for 90 mins.
Address: B1F, 1-29-2, Shoto, Shibuya-ward, Tokyo
Nearest Station: 8 minutes walk from Shibuya station (JR Yamanote line)
Hours:
Weekdays 17:00-3:00 am
Saturday 12:00-3:00 am
Sunday and Holiday 12:00-23:30
Seats: 30
Price: Lunch 1,550 JPY /Dinner 1,980 JPY for 90 mins
Related article:
-Dotonbori (道頓堀)
Dotonbori is a franchised Okonomiyaki restaurant which has stores in all around Japan and a few in abroad. In center Tokyo, there is one in Hiroo (next to Shibuya). Although the area is known as a pricey district, at Dotonbori you can eat Okonomiyaki as much as you want with 2,480 yen including Monjayaki and other meaty and seafood Teppanyaki dishes! Also they offer even more affordable deal for lunch everyday.
Address: 1-5-20 Hiroo, Shibuya-ward, Tokyo
Nearest Station: 7 minutes walk from Hiroo station (Tokyo Metro Hibiya line)
Hours: 11:30 to 23:00
Seats: 68
Price: 2,480 JPY for 120 mins
-Okobore (おこぼれ)
An amazing Okonomiyaki restaurant which serves all-you-can-eat with ONLY 1,100 yen!!! Okobore is located in Katsushika-ward near Chiba prefecture, where Tokyo's downtown nostalgic atmosphere remains. The restaurant has been local's favourite for over 40 years and If you wanna try the true taste of local, this place is worth visiting!
Address: 4-37–7 Kameari, Katsushika-ward, Tokyo
Nearest Station: 5 minutes walk from Kameari station (JR Joban line)
Hours: 17:00 to 02:00
Closed: Mondays and 4th Tuesdays
Price: 1,100 JPY for 90 mins
-Yorozuya (よろずや)
This place literally can make you speechless.. Can you imagine all-you-can-eat Okonomiyaki under $5??! The jaw-dropping restaurant, Yorozuya is located in Sumida ward where the Tokyo Sky Tree locates. Although you must pay 100~200 yen for additional toppings, nowhere else can be better for hungry budget travelers!
Address: 2–6–9 Kotobashi, Sumida-ward, Tokyo
Nearest Station: 1 minutes walk from Kinshicho station(Tokyo Metro Hanzomon line)
Hours: 24 hours
Price: 462 JPY for 90 mins (Monday to Thursday 14:30~22:00)
Related article:
Yorozuya Kinshicho: Cheapest Okonomiyaki/Yakitori Izakaya in Tokyo
↓↓↓For more articles about Japan, check these links!! ↓↓↓
▽Related Articles▽
▼Editor's Picks▼
---