Okonomiyaki Mura Shibuya: Okonomiyaki All-You-Can-Eat
All-you-can-eat Okonomiyaki in Shibuya, Tokyo: Okonomiyaki Mura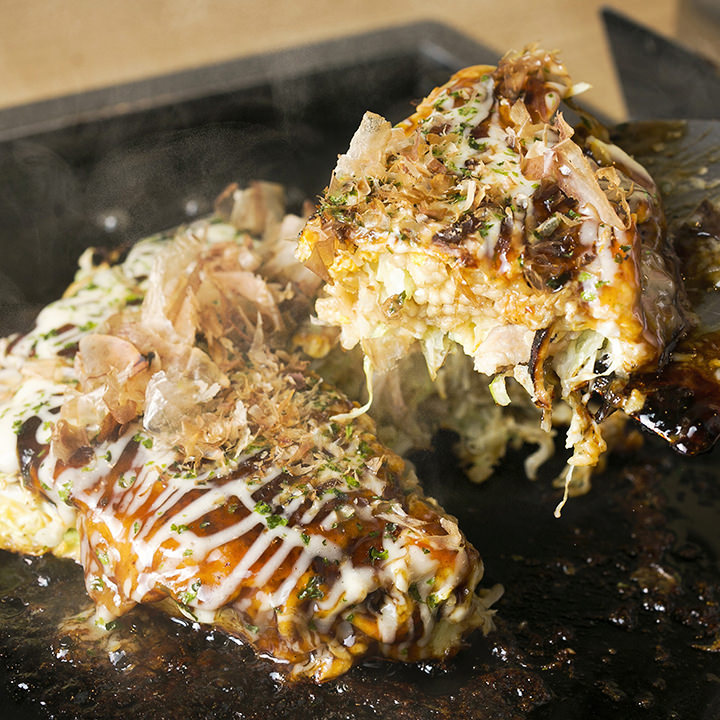 Okonomiyaki is one of the most popular Japanese food which is often described as Japanese Pizza or Japanese Pancakes. It's originated in western part of Japan (especially, known as the signature dish from Osaka) and now become one of the nation's favourite dishes. Okonomiyaki is now becoming a hugely popular dish among foreign visitors since it's tasty and also fun to make as many Okonomiyaki restaurants allow guests to make their own Okonomiyaki dishes. Hundreds of Okonomiyaki restaurants are located in Tokyo, and especially many of them gather in Shibuya district, the center of Tokyo's young culture.
Okonomiyaki Mura (お好み焼き むら) is one of the most pouplar Okonomiyaki (Japanese savory pancake) restaurants in Shibuya area, Tokyo. The restaurant has been running the business for over 40 years, and was recently relocated and opened the new store in the heart of Shibuya, only 8 mins walk from Shibuya Station. The restaurant offers authentic Okonomiyaki dishes with the original dough made of blended soup stock with selected ingredients. Their huge menu also includes other Teppanyaki (iron griddle) dishes such as Monjayaki and Yakisoba as well as side dishes that can be enjoyed with chilled beer at a homey atmosphere.
Okonomiyaki is available with 26 different toppings including pork, seafood, vegetables, cheese and more. Each table has built-in iron griddles and the instruction which customers can enjoy making dishes by themselves. (Of course, you can ask staff for assistance of making dishes).
Okonomiyaki Mura is also a great place to dine for someone with big appetite as the restaurant offers All-You-Can-Eat deals at affordable price for both lunch and dinner. The all-you-can-eat menu costs 1,550 yen for lunch and 1,980 yen for dinner, offering Okonomiyaki, Monjayaki and Yakisoba dishes with a choice of toppings for 90 mins.
---
Access: 4 mins walk from Shinsen Station or 8 mins walk from Shibuya Station
Hours:
Weekdays 17:00-3:00 am
Saturday 12:00-3:00 am
Sunday and Holiday 12:00-23:30
Budget: lunch 1,000~2,000 yen / dinner 3,000~4,000 yen
Genre: Okonomiyaki, Monjayaki, Teppanyaki
---
For more information about dining out in Shibuya area, I have listed more articles for you to check out 🙂
▽Related Articles▽
---